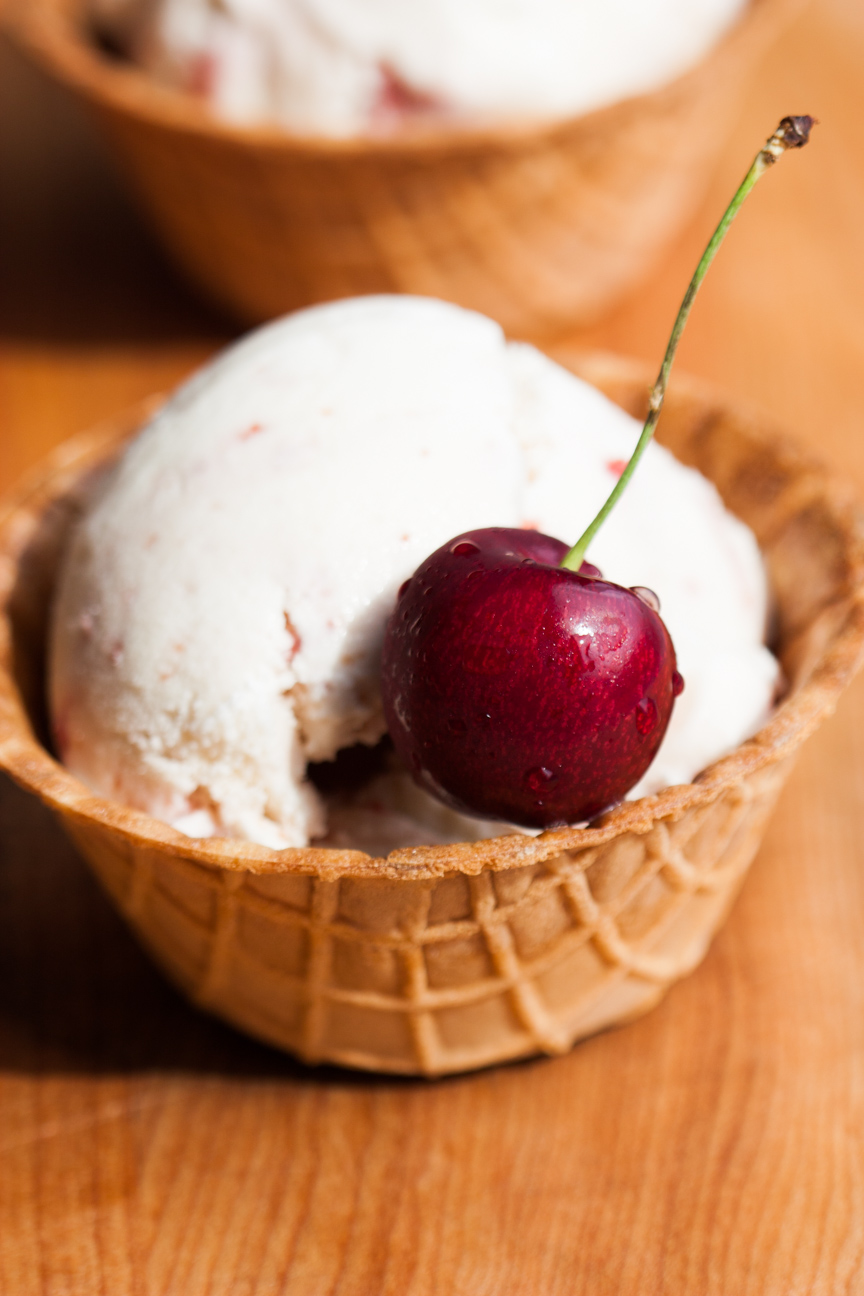 With all this hot weather we've been having, all I want to eat is ice cream. I just want to sit in a floaty chair in the pool and eat a big frosty bowl of ice cream – summer at it's finest.
Ice cream was the first thing I wanted to make when I bought my annual 20 pound bucket of sour cherries. This combination of Honey-Vanilla Ice Cream with Cherry-Galliano Swirl is so perfect on a hot summer day!
When we were little, my sister and I always chose the wildest flavours of ice cream we could find. We had a favourite ice cream parlour, Donna's Lunch in Burford, Ontario, which was on the way to our grandmother's house. We loved going there and were always excited to see what new flavours she would have.
Everyone else in our family ordered the traditional vanilla, strawberry or chocolate flavours. But Ruth and I loved the craziest, at the time, of flavours: bubble gum, cotton candy, blueberry swirl and our favourite to this day, tiger tail.
A few wild flavours that I've seen in Ottawa lately are: Hong Kong Milk Tea, Fruit Loops Cereal Milk from Moo Shu Ice Cream Shop; Unicorn and Pink Grapefruit from The Beachconers Microcreamery; and Ferrero Rocher and Raffaelo + Coconut from Stella Luna Gelato Shop. It seems like when it comes to ice cream, anything goes.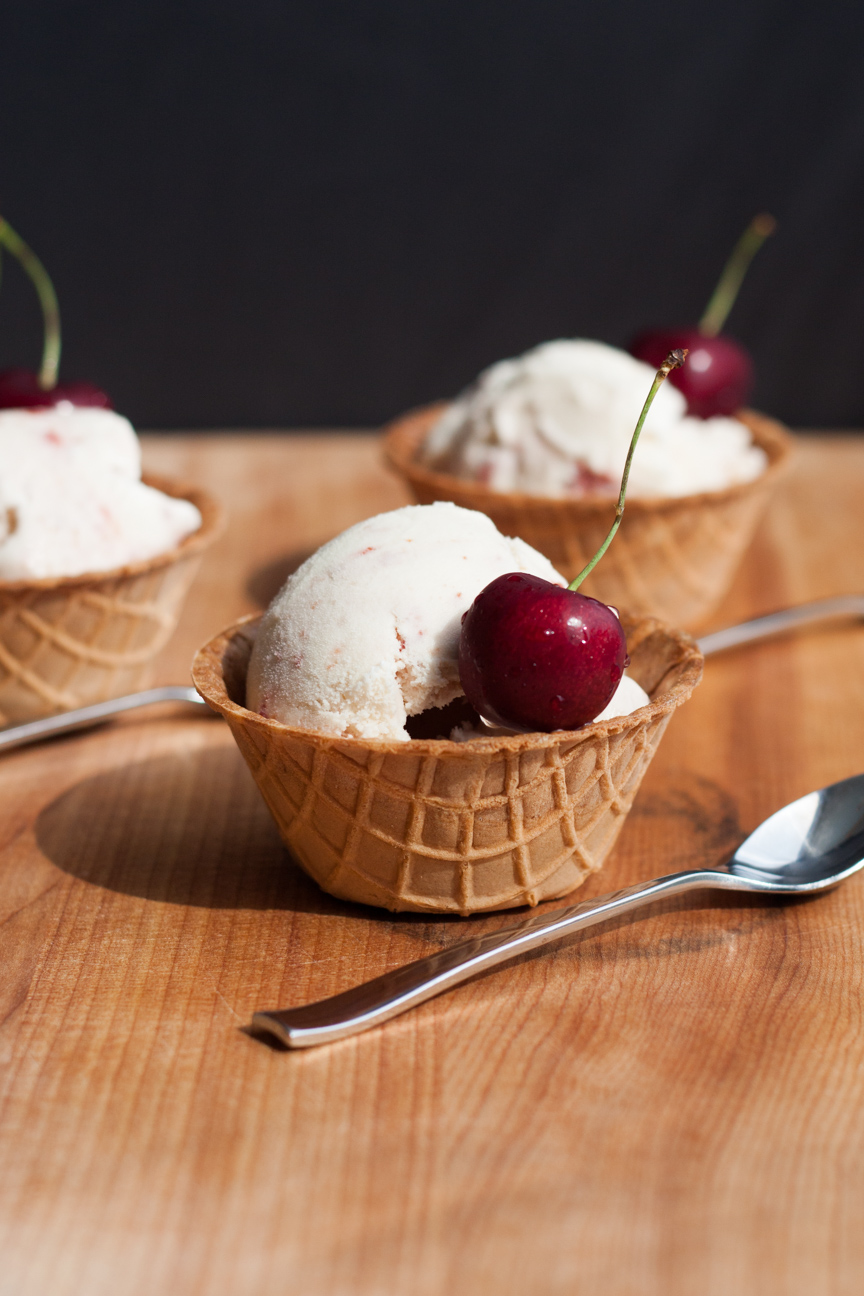 The Galliano in this recipe is optional, but really boosts the flavour. Galliano is a vanilla flavour liqueur. It was originally produced in 1896 in Tuscany, Italy by a local distiller named Arturo Vaccari. He named this liqueur after Giuseppe Galliano, an Italian hero of the First Italo-Ethiopian War.
If you don't have Galliano you could substitute it with brandy or another vanilla liqueur, or just leave it out. It will still taste amazing.
What's your favourite flavour?
Enjoy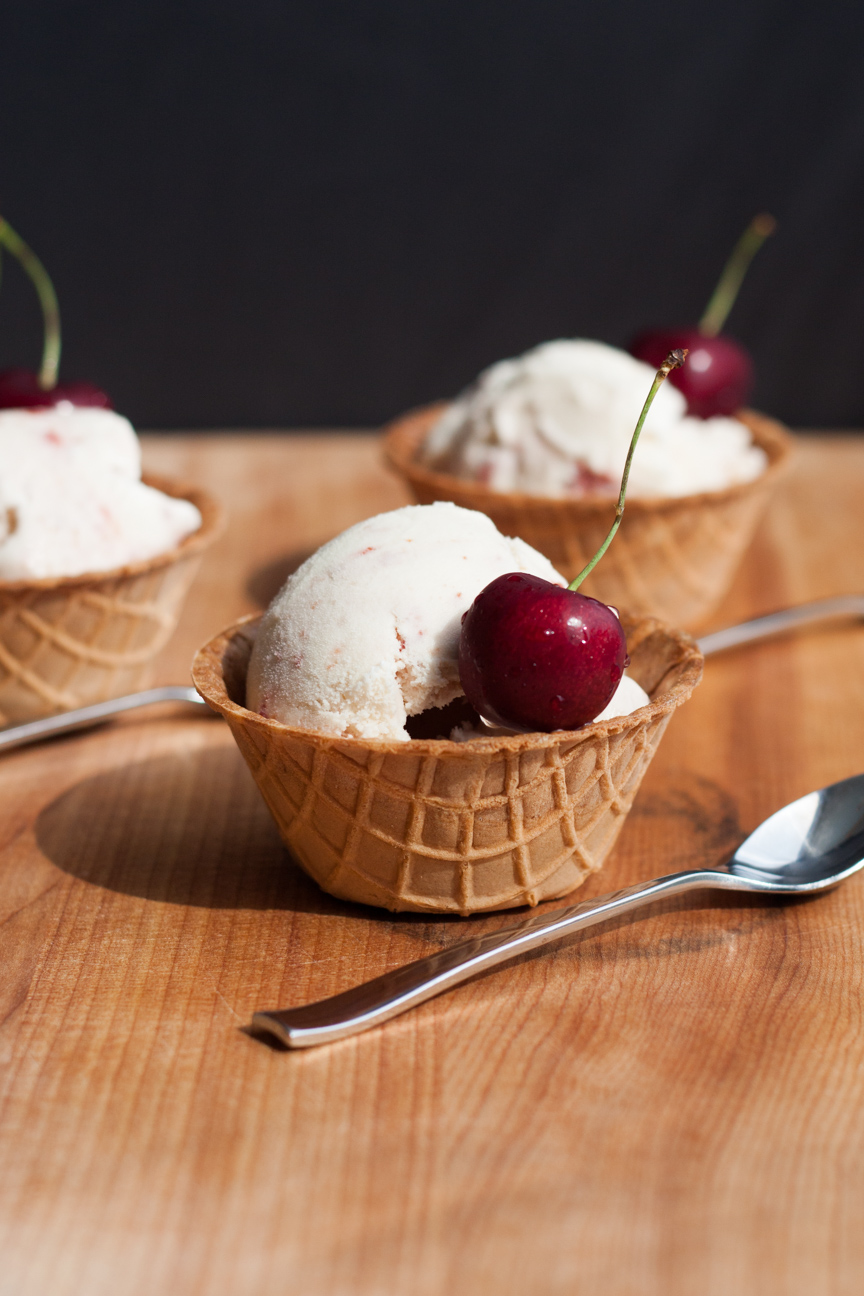 Print Recipe
Honey-Vanilla Ice Cream with Cherry-Galliano Swirl
Ingredients
For the Honey-Vanilla Ice Cream

2 cups cream

1 cup milk

1/2 cup honey

For the Cherry-Galliano Swirl

140 grams sour cherries, pitted

20 grams sugar

2 Tbsp Galliano
Instructions
1
Heat 1 cup of cream and 1 cup of milk together with the honey until warm and honey is melted. You can do this on the stove top or in the microwave. Don't get the milk too hot to avoid forming a skin on top of the liquid.
2
Place the mixture in a container in the refrigerator for a few hours, or overnight, until it is very cold.
3
After it is cold, add the remaining 1 cup of cream.
4
Place in your ice cream maker and follow instructions.
5
For the swirl, heat the cherries and sugar until the sugar is dissolved thoroughly. This can also be done in the microwave or on top of the stove.
6
Place this mixture in a container in the refrigerator for several hours or overnight until cold.
7
When the cherry/sugar mixture is cold, blitz in your food processor or blender until the cherries are very finely chopped. Add the Galliano.
8
Pour churned ice cream into a rectangular or square container that can go in the freezer.
9
Pour the cold Cherry-Galliano mixture in two lines on top of the soft ice cream. Draw figure eights through the cherry and ice cream to create a swirly pattern. Do this until the cherries are swirled throughout the ice cream. If you do it too much, you will have less of a swirl, but the ice cream will still taste amazing.
10
Place in freezer for several hours or preferably overnight. Serve in a bowl, cone or waffle bowls.