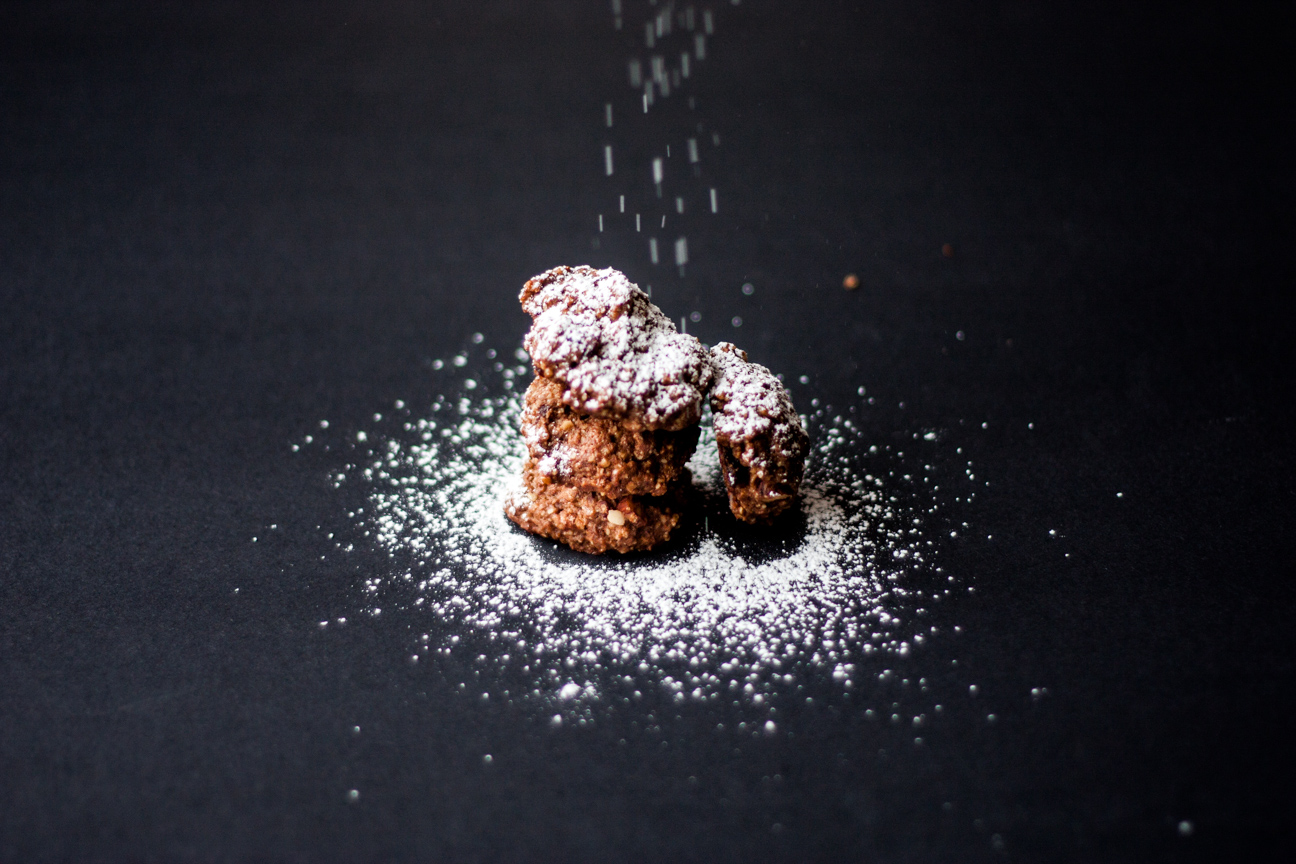 Christmas Cookie baking has begun! I started my baking season with these Vegan Mocha, Almond, Brandy Strazzate. This cookie is normally made with Strega, a herbal liqueur from the Basilicata Region of Italy, which supposedly goes really well with chocolate. That liqueur is difficult to find where I live, so I used brandy, which I always have on hand this time of year., and which also works well with the mocha, almond flavours in this cookie.  This is a super delicious cookie, made without eggs or butter.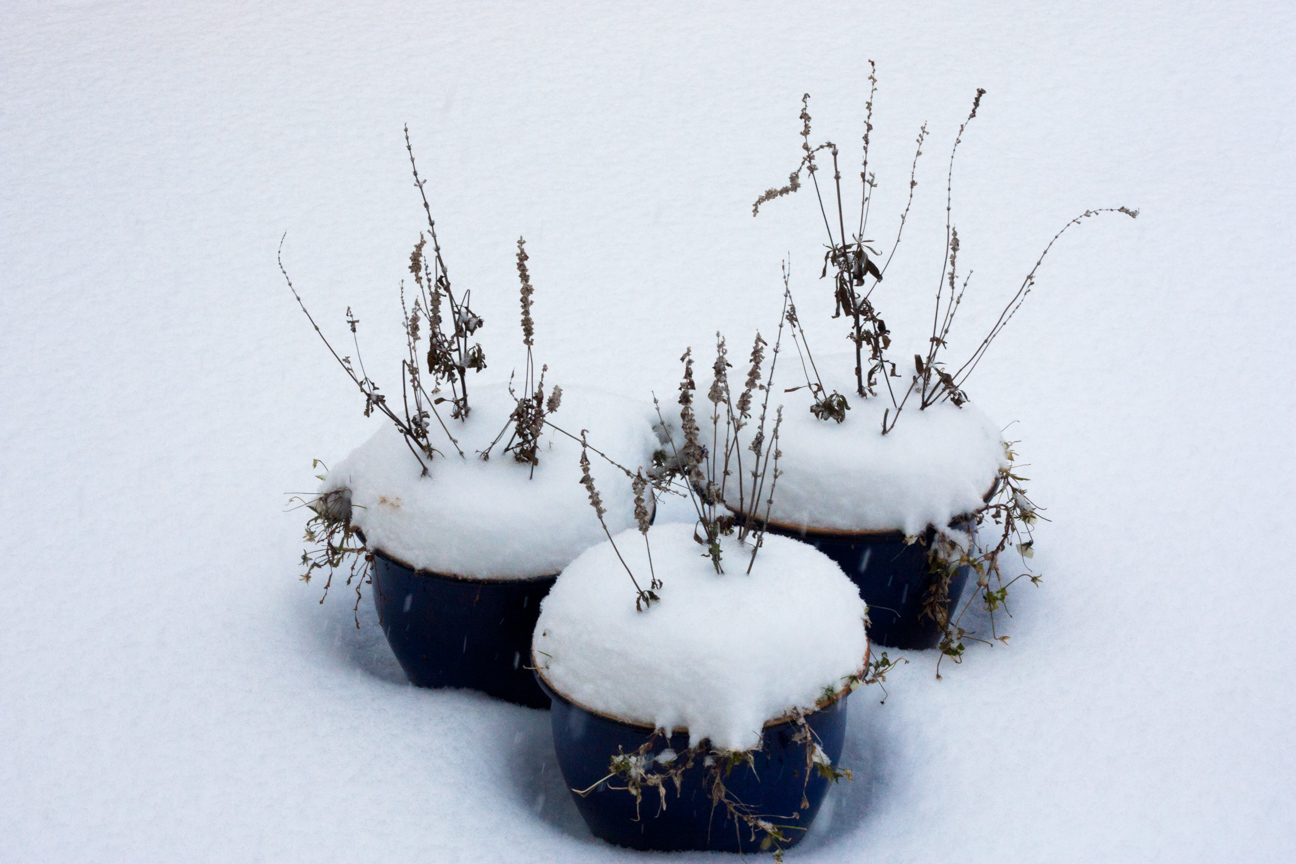 I woke up the other morning to this snowy site and decided it was the perfect day to begin my Christmas Baking.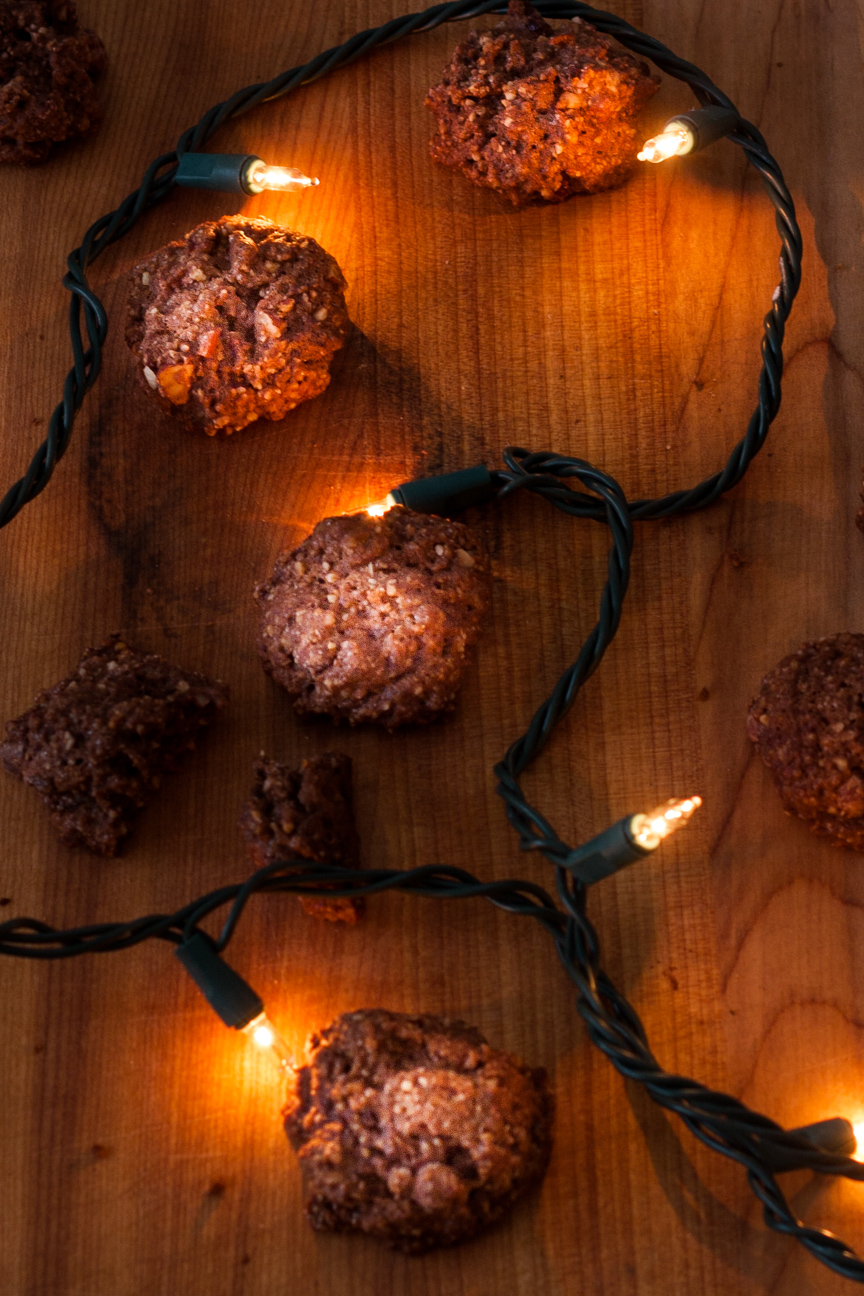 It's never too early to start baking Christmas cookies or playing around with Christmas lights: two of my favourite winter activities.
These Mocha Almond Brandy Strazzate cookies come together very quickly. And the taste is divine. A cookie dough made with cocoa powder and chocolate chips so you get chocolate goodness in every bite. The dough also contains ground almonds + chopped almonds – double goodness again! And the espresso coffee blends with the chocolate to create than umami mocha flavour that is so powerful.
Like I mentioned above, this cookie is traditionally made in the Basilicata Region of Italy where Strega is made. I think any liqueur/liquor that goes with mocha and almonds would work. If you don't drink alcohol, try a strong spiced herbal tea or chai. Those would work too.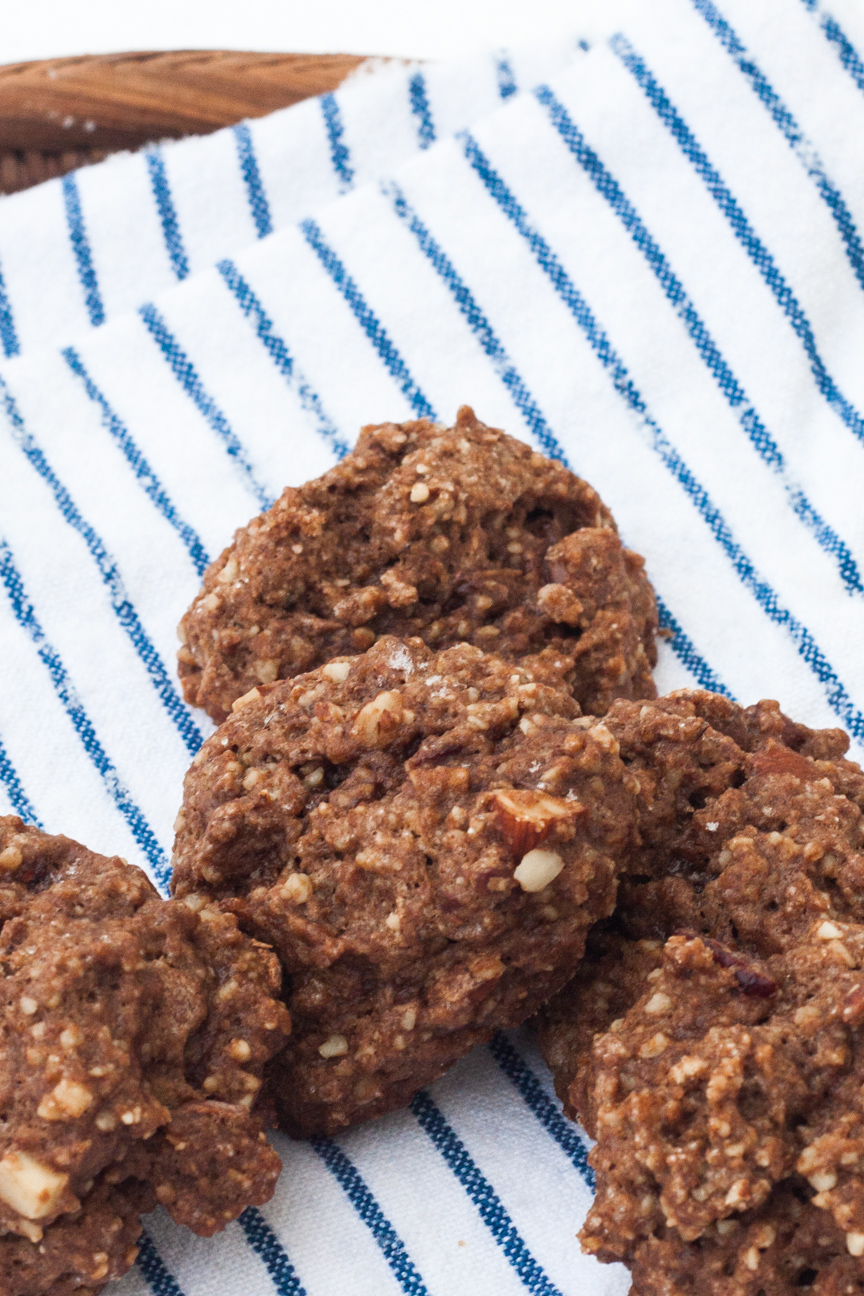 You can eat them plain, or sprinkled with some icing sugar. So tasty. Make a splash with your Christmas Baking this year. Try something new.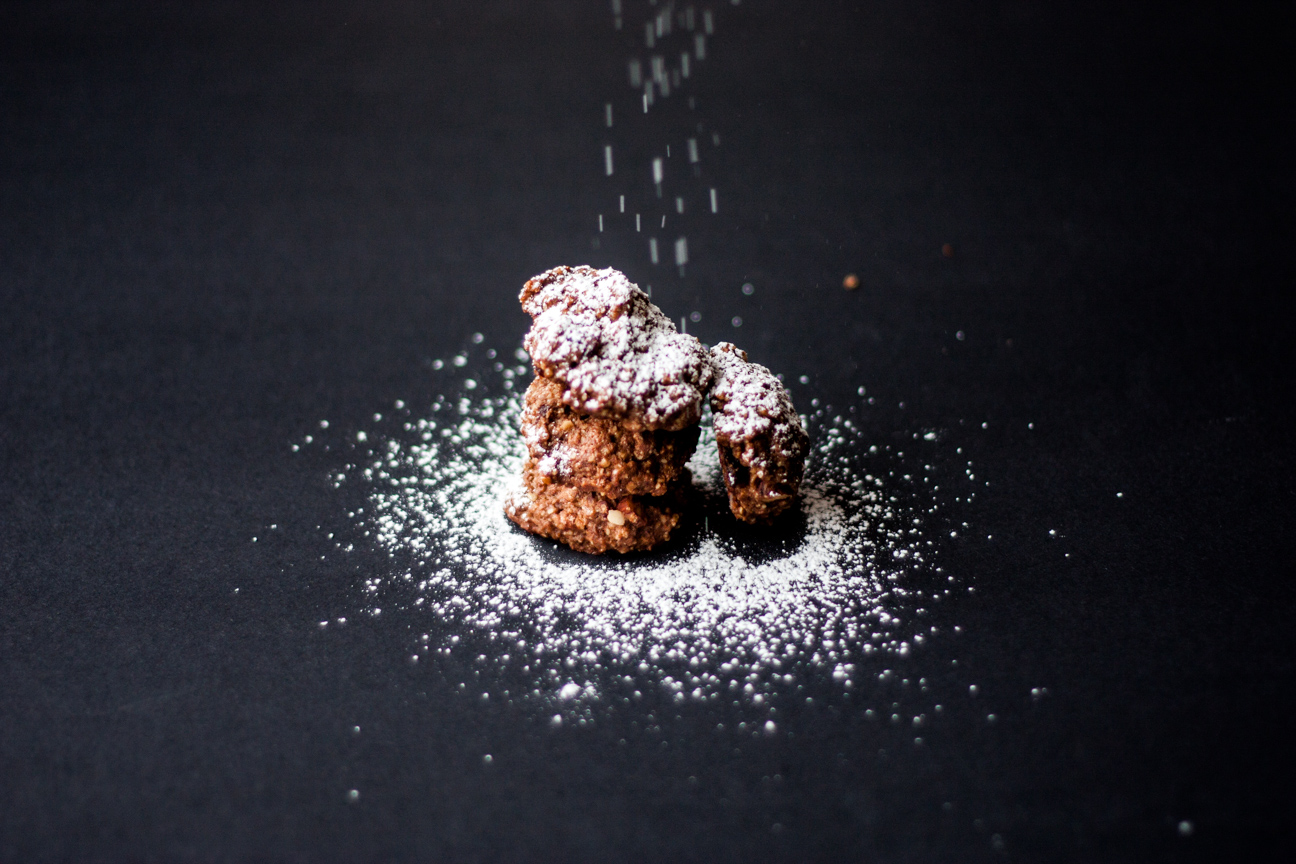 Print Recipe
Mocha, Almond, Brandy Strazzate
Ingredients
1/4 tsp baking powder

3/4 cup + 2 tbsp finely ground almonds

1 tbsp roughly chopped almonds

3/4 cup + 1 tbsp white flour

1/2 cup dark brown sugar

1 tbsp chocolate chips

1/2 tbsp cocoa powder

2 tsp olive oil

1/4 cup brandy

2 tsp espresso powder, dissolved in 1/4 c. boiling water
Instructions
1
Preheat oven to 325 degrees F.
2
Mix together the ground almonds, chopped almonds, flour, brown sugar, chocolate chips and cocoa powder and olive oil.
3
Dissolve the baking powder in 2 teaspoons of hot water.
4
Add baking powder solution, coffee, and liqueur.
5
Give it all a good brisk stir. The dough will be very wet.
6
Form into 30 gram balls (or 1 ounce).
7
Place on parchment paper about 1 inch apart.
8
Bake in oven for 30 minutes, until dried out and set. The bottom will be slightly golden.
9
After 30 minutes, remove from oven.
10
Let dry on baking tray for 2-3 minutes.
11
Remove from baking tray to cool on a rack.
Notes
These cookies will keep in a coo, dry place or 3-5 days. Or you can freeze them for up to one month.
Recipe slightly adapted from Saveur Magazine February 4, 2013.