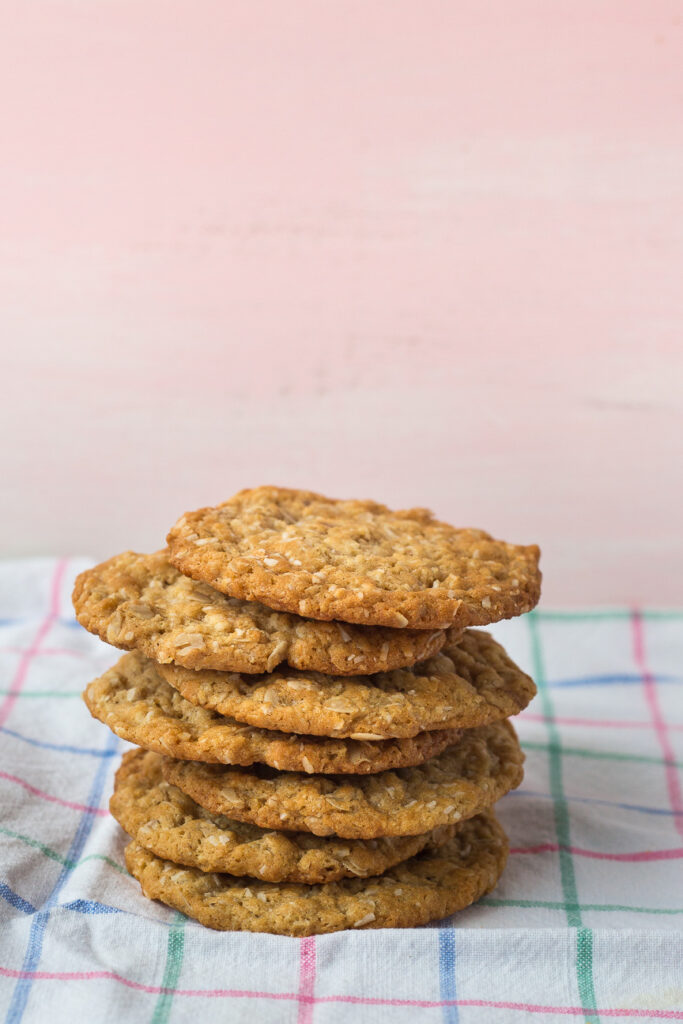 Anzac Cookies are a delicious mixture of oats, flour, coconut, dark brown sugar, maple syrup plus a few more things. I have added orange extract to brighten up the nutty flavours. In the middle of winter I just love a burst of orange! These Orange Coconut Anzac Cookies have a nice sweet, nutty taste.
Anzac cookies originated in Australia and New Zealand and were made popular during World War I. I had read for years that women would bake these cookies and send them to soldiers fighting on the front lines and that's how they came by that name. However, this appears to be a myth. They were, however, baked for fundraisers back home to raise funds for the war effort. A connection was made between these cookies and soldiers fighting during the war, so they became known as Anzac Cookies.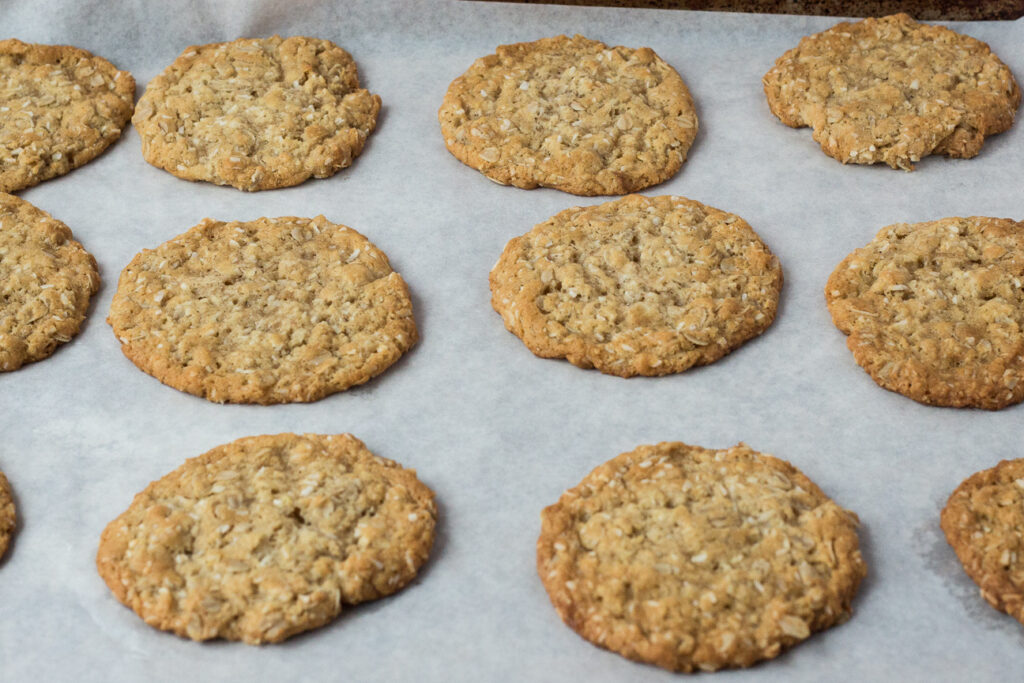 Anzac stands for Australian and New Zealand Army Corps and is protected under Australian law. Anzac cannot be used in Australia without permission from the Minister of Veterans Affairs, especially for commercial purposes.
These Big and Chewy Orange Coconut Anzac Cookies are made without eggs, and therefore keep quite well. You can make them chewy or crisp, but this recipe makes quite chewy cookies.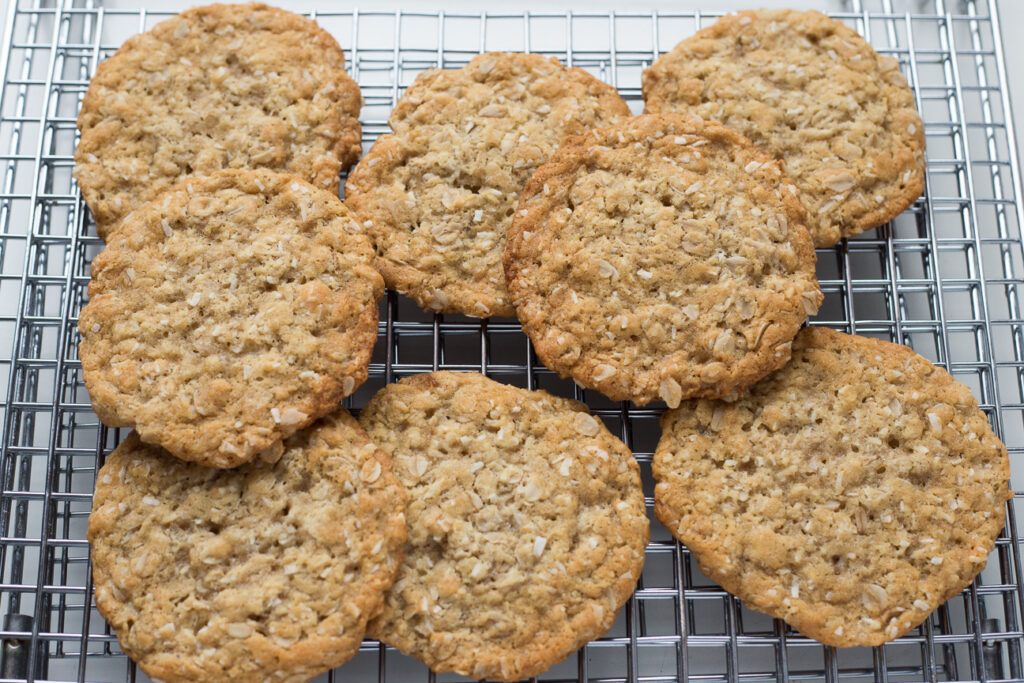 After the cookies have cooled on the baking tray, you can transfer them to a cookie rack until they are completely cold.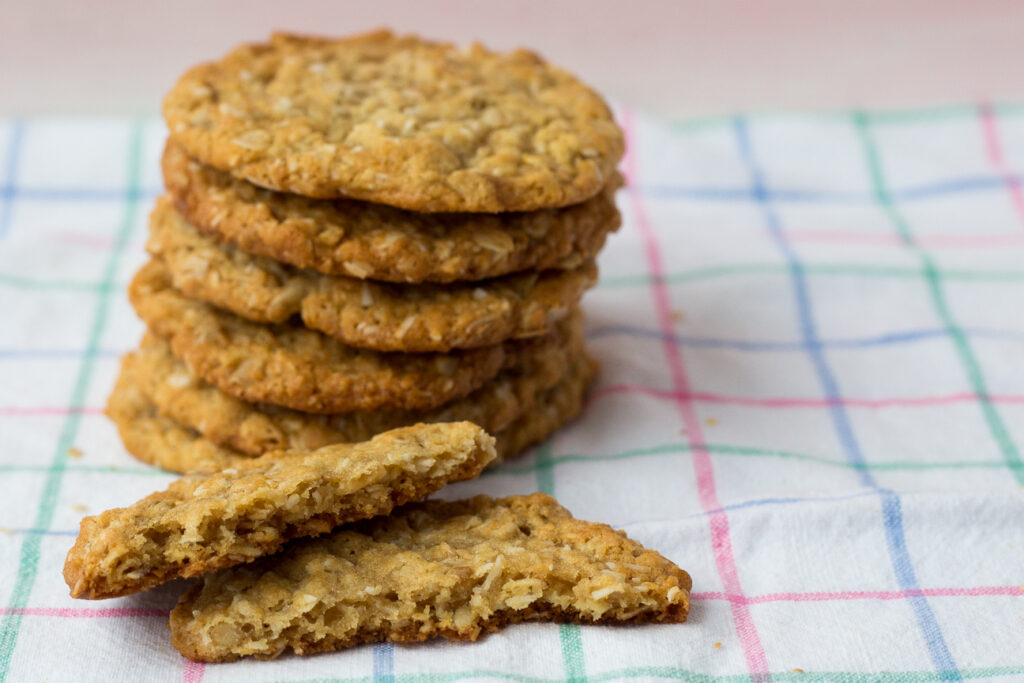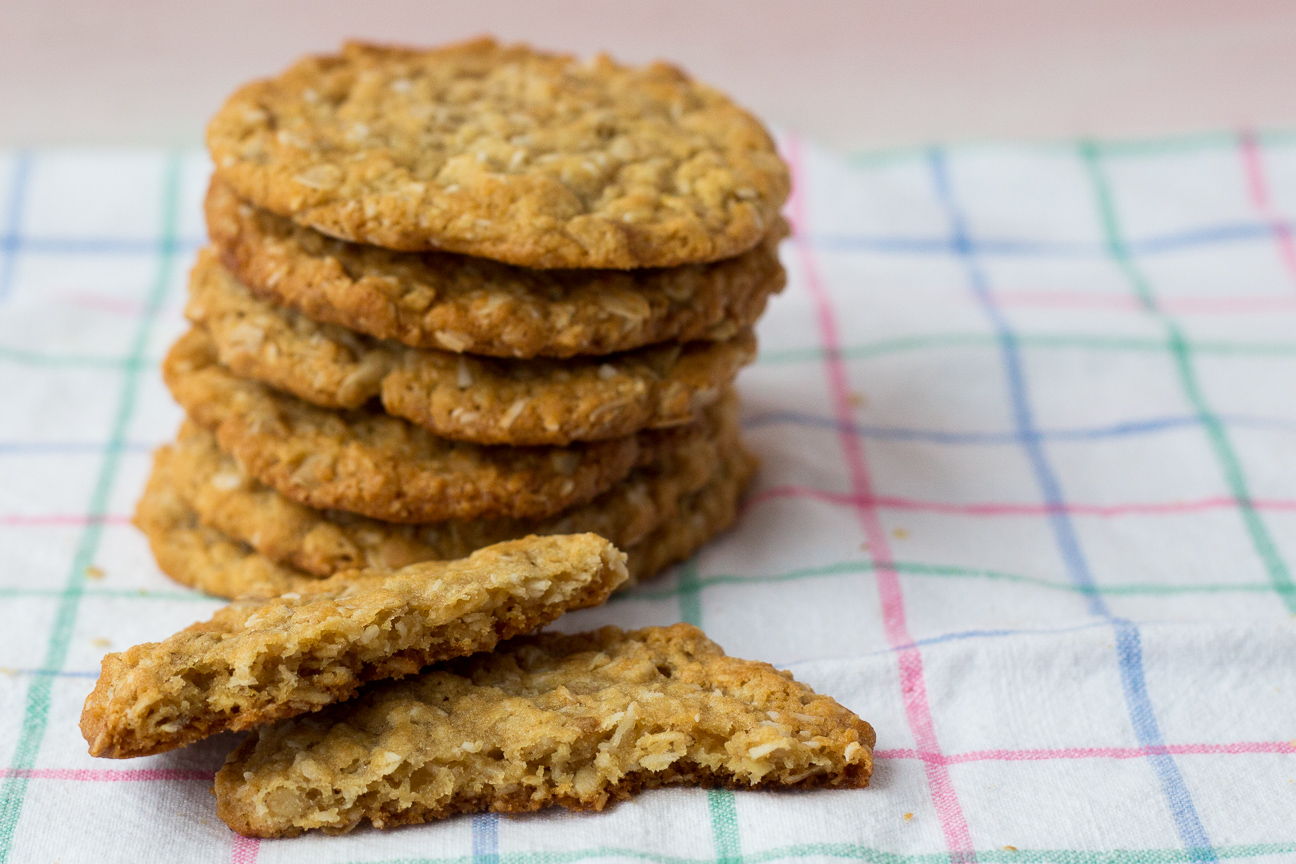 So yummy. I make them big, so they're quite chewy and almost bendable. They're a perfect treat when you're in the mood for something nutty and sweet. If you want to make vegan Orange Maple Anzac Cookies, swap up the butter for vegetable oil.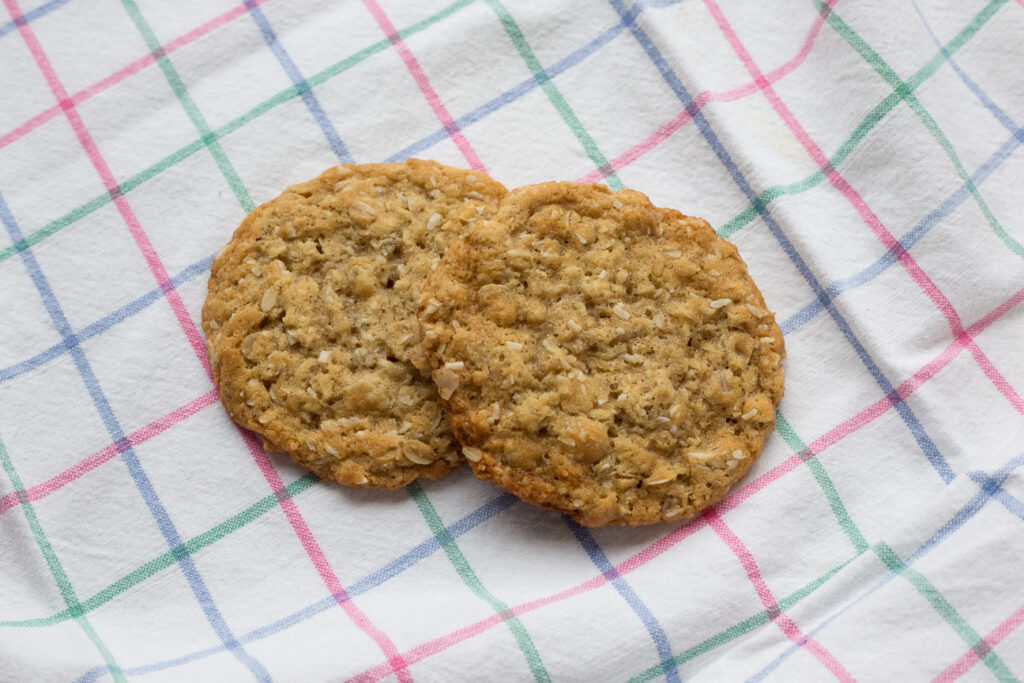 Super simple.
 One of these cookies goes very well with a hot beverage on a cold wintery day.
Enjoy!
Suzanne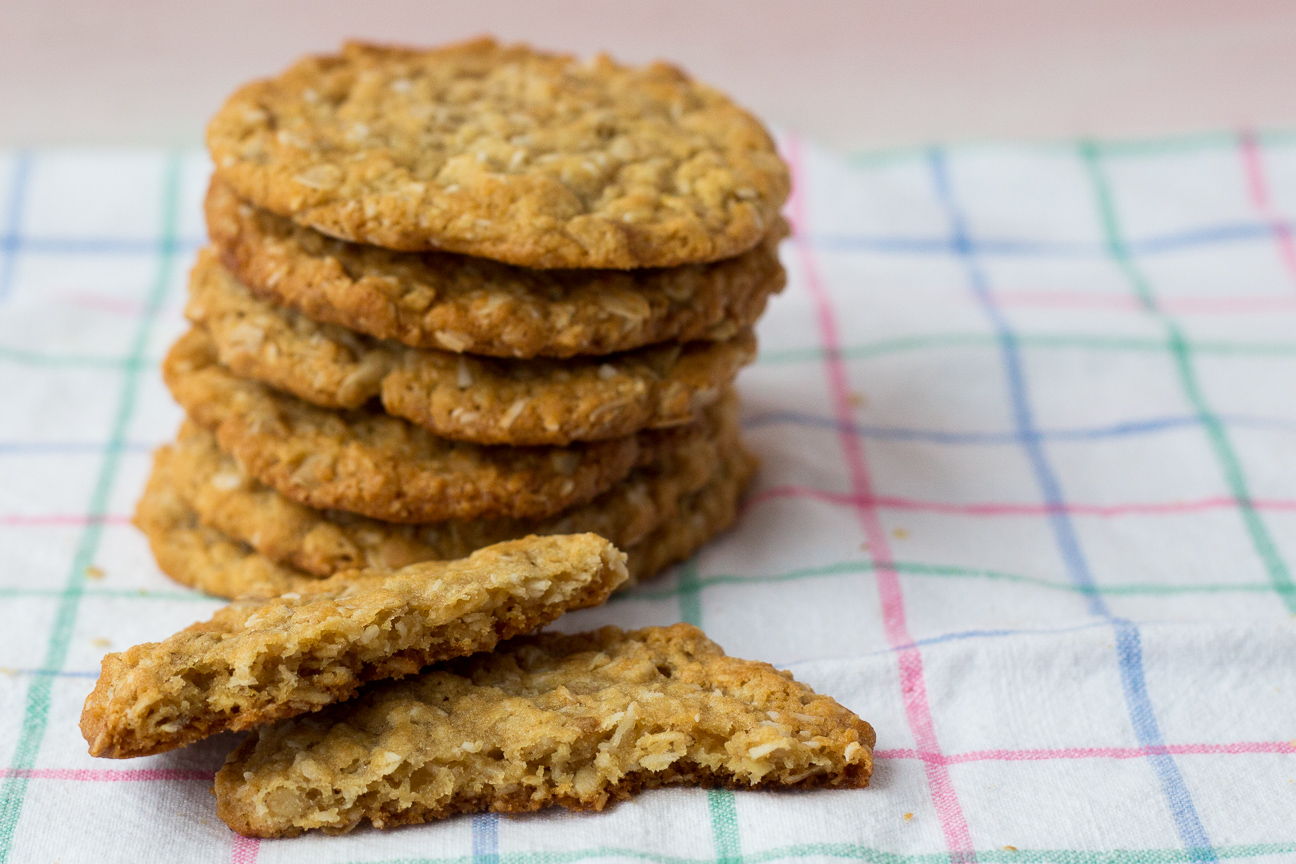 Print Recipe
Orange Coconut Anzac Cookies
Ingredients
1 cup rolled oats

1 cup flour

3/4 cup unsweetened coconut

2/3 cup dark brown sugar

100 grams butter

2 Tbsp maple syrup

2 Tbsp boiling water

1 tsp baking soda

1 tsp orange extract
Instructions
1
Preheat oven to 350 degrees fahrenheit.
2
Stir together the dry ingredients.
3
Melt the butter in a small pot or in the microwave.
4
Add maple syrup to butter.
5
Add baking soda to 2 Tbsp boiling water.
6
Pour baking soda mixture into butter and maple syrup.
7
Add the orange extract to liquid ingredients.
8
In a large bowl, add wet ingredients to the dry ingredients.
9
Stir well to incorporate.
10
Divide dough into 12 pieces, around 48 grams each.
11
Shape each piece into a ball and place on lined baking sheet.
12
Leave 1.5" inches between cookies, as they will spread.
14
Bake for 10-12 minutes until lightly golden around edges and slightly soft in the middle.
15
Leave on baking tray to cool.
16
Then transfer to wire rack.
17
After they have cooled they should be bendable and soft and chewy.
Notes
To make this recipe vegan or dairy-free, replace the melted butter with a liquid oil of your choice.