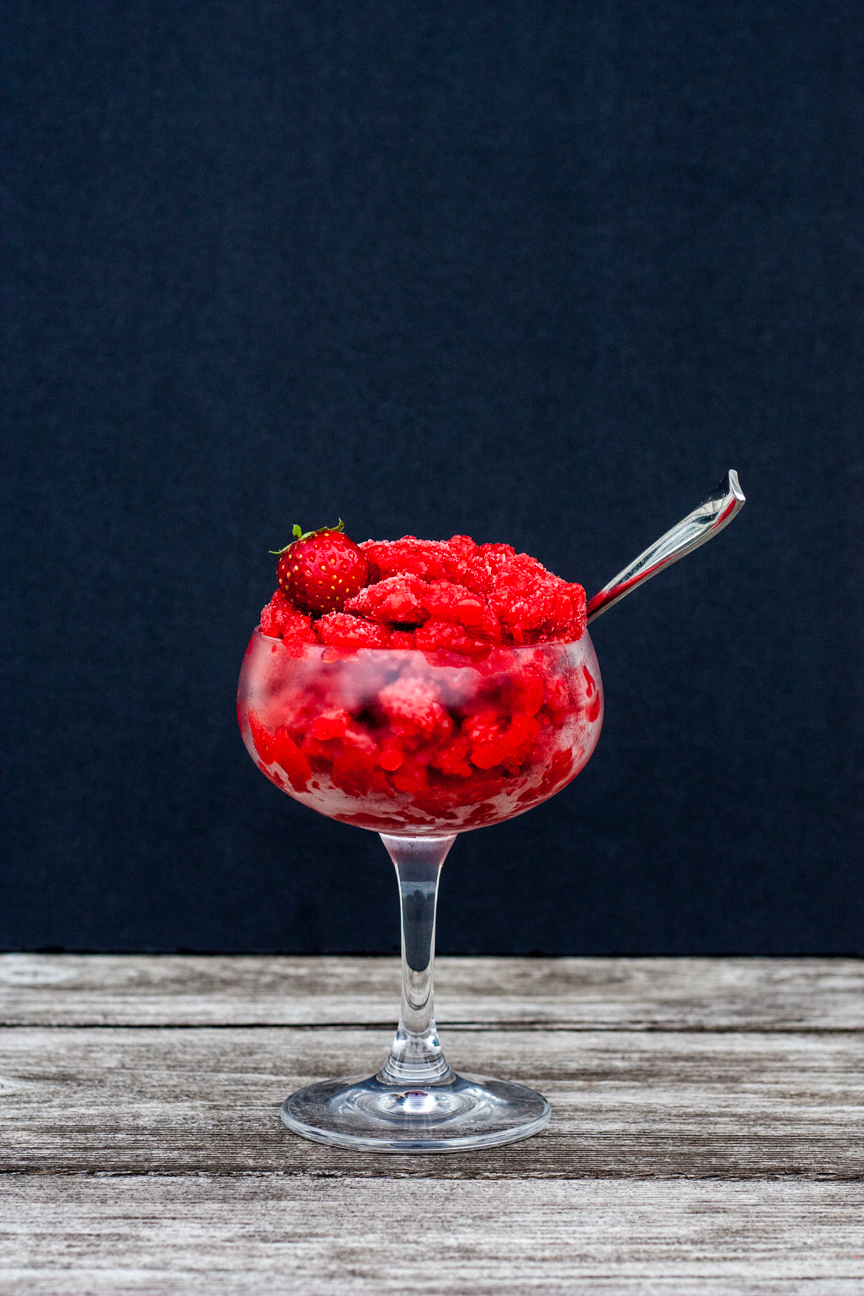 Wow! I'm not sure what the weather is like where you're living, but the forecast for tomorrow in Ottawa is 40 degrees C.  That's hot, hot, hot! And the best way for me to stay cool in hot, humid weather is by eating fruity frozen desserts.
This Strawberry Lime Elderflower Granita is so perfect for cooling down in the heat. Granita is a frozen mixture of fruit, sugar, water. It is the simplest frozen dessert you can make. And it's a great dessert to make with your kids.
Granita is similar to sorbet but is made without an ice cream machine. The ice crystals that form are large and coarse and will be crunchy when you take a bite, but seconds later the granita will just melt away in your mouth. Divine.
To make granita, simply puree some fruit, water, sugar and any extra flavouring you may want to use, in a blender. Pour it into a shallow tray and place in the freezer. Check on it after an hour, and if it has begun to freeze, start breaking up the crystals with a fork. Place it back in the freezer for another 30-45 minutes. Repeat this process until it is all frozen and flaky.
There are many ways to enjoy granita. Of course, you can eat it plain in a bowl. You could also have it layered with whipped cream in a parfait glass. Some people also enjoy it spooned overtop of yogurt.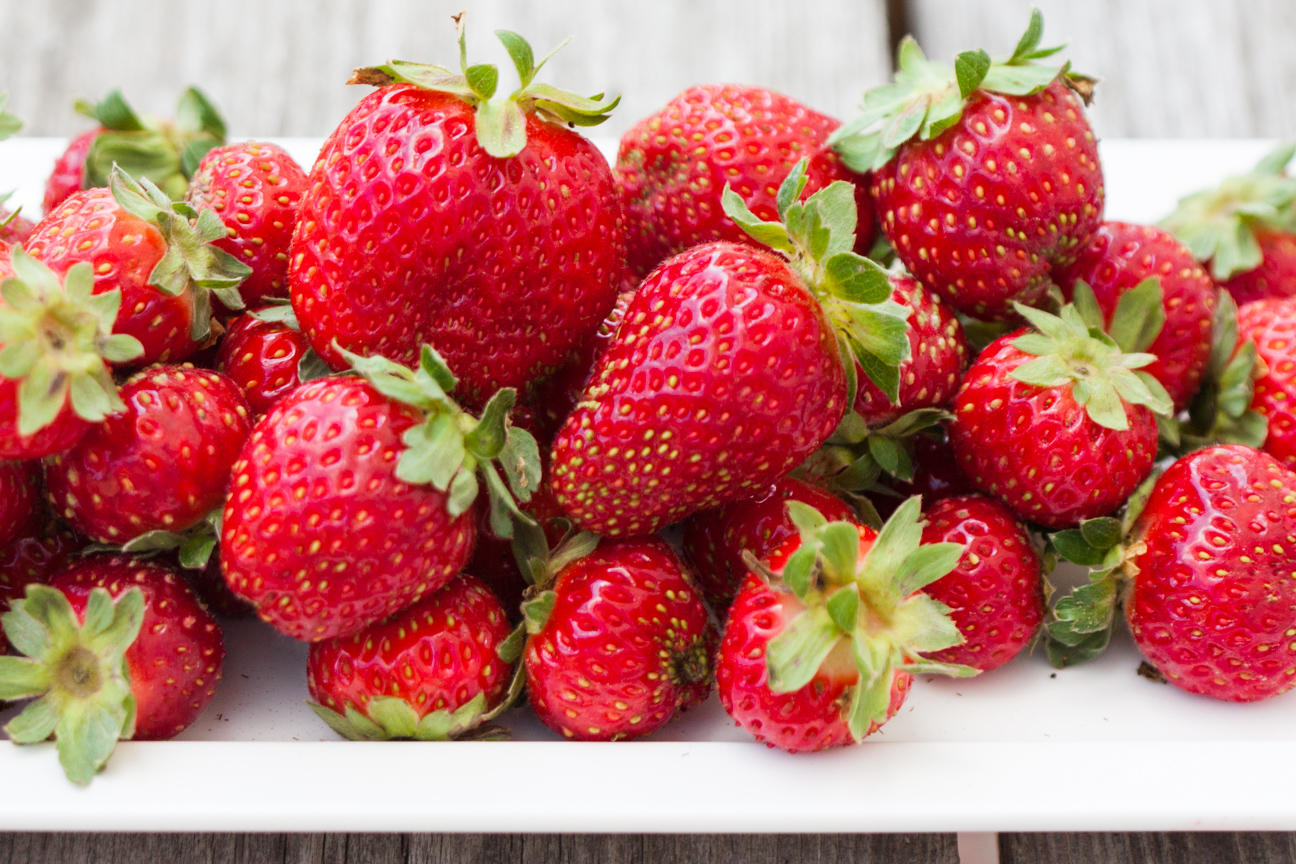 Strawberries have always been very symbolic of summer and a perfect fruit to use in granitas. But now with day-neutral strawberries, we can buy local strawberries until the frost hits! Yay!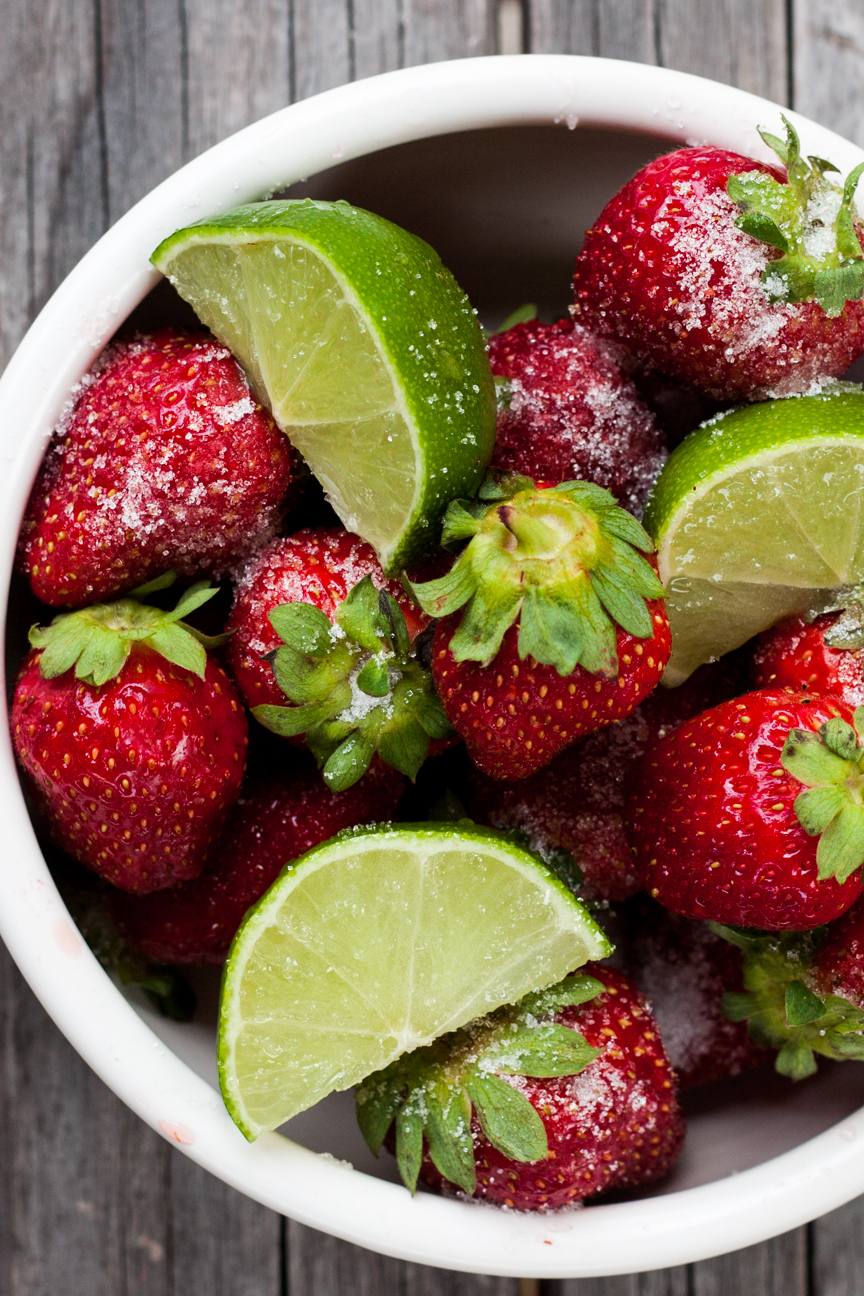 Strawberries and limes go amazingly well together.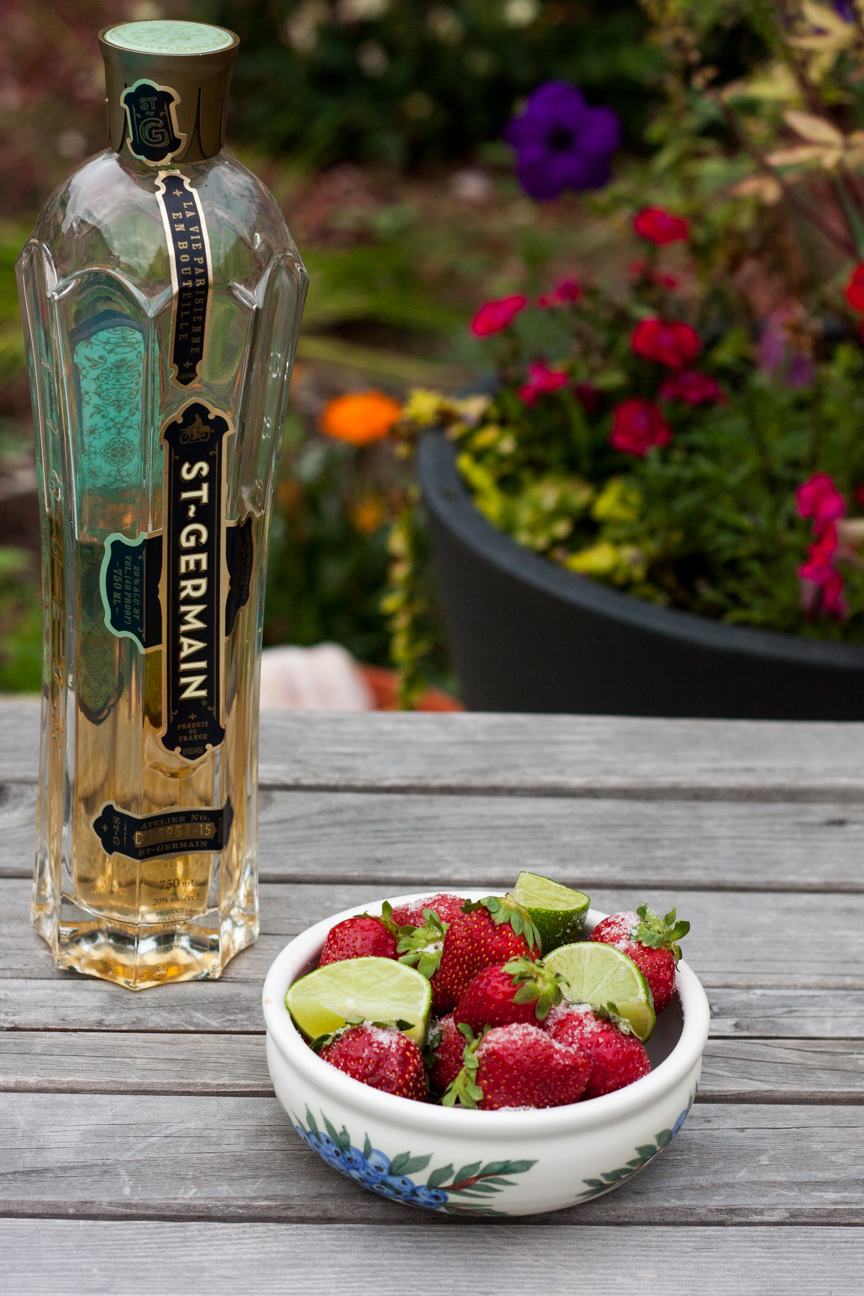 And when you add a few drops of Elderflower Liqueur…the flavour is heavenly.
There are so many fruits you could use in granita: blueberry, melon, watermelon, raspberry, blackberry, mango, or espresso coffee…. or mix them up and come up with your own flavour. The possibilities are endless.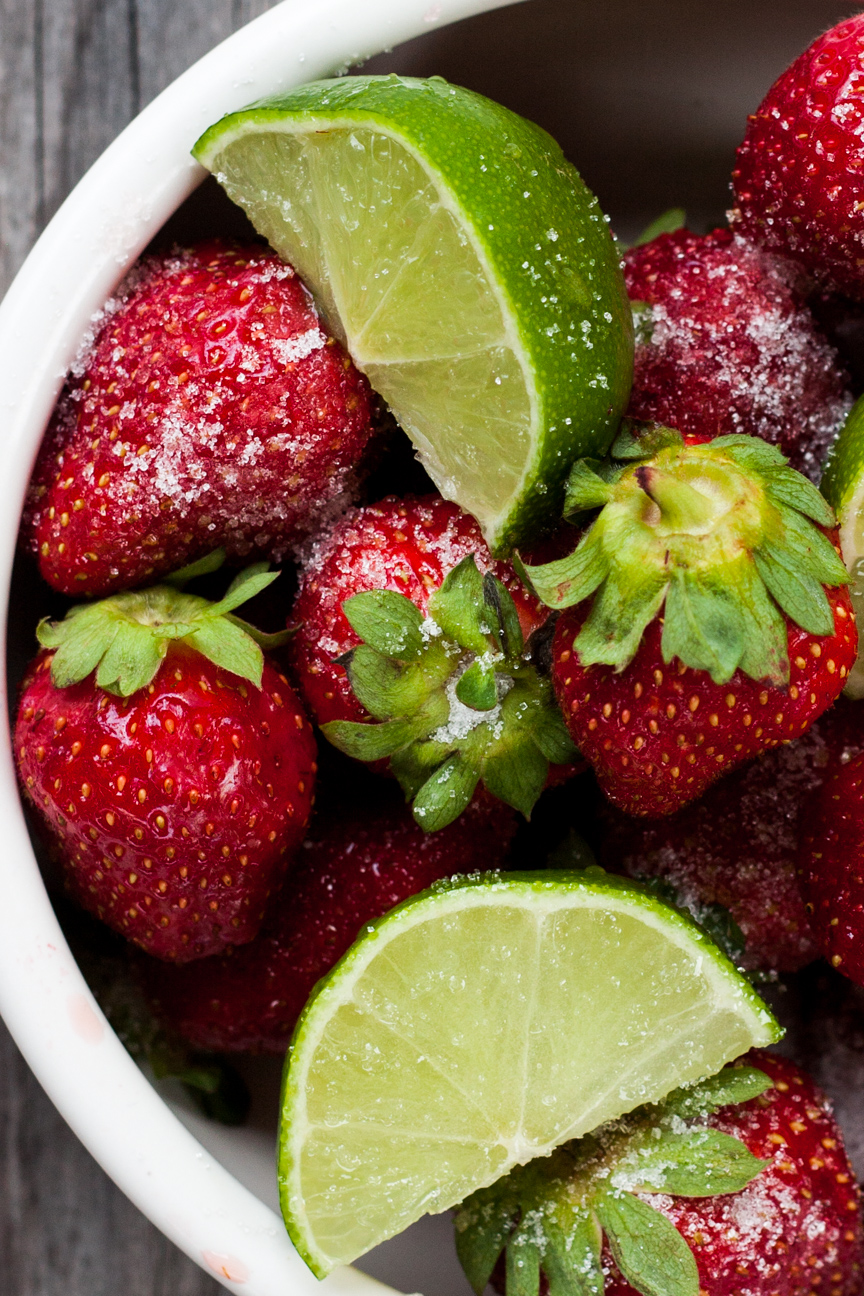 Print Recipe
Strawberry Lime Elderflower Granita
Ingredients
1 kg strawberries, hulled and sliced

150 grams icing sugar

1/2 lime juice and zest

1 ounce of elderflower liqueur (optional)

1 cup water
Instructions
1
Mix strawberries and icing sugar. Let sit one hour.
2
Place strawberry sugar mixture into a blender. Add lime juice, lime zest, water and elderflower liqueur (if using). Blitz on high until a smooth puree is formed.
3
Strain mixture through one layer of cheesecloth to remove seeds.
4
Pour mixture into a rectangular shallow container and cover with lid. Place in freezer.
5
After one hour, check mixture. If ice crystals have started to form, rake a fork through the crystals to break them up somewhat. You don't want the tray to freeze into a giant ice cube. Keep checking every 30 to 45 minutes and continue to break up the frozen parts with a fork.
6
When it's ready, the tray will be filled with fluffy ice crystals.
7
Enjoy on it's own, or layered with whipped cream, or overtop of yogurt.