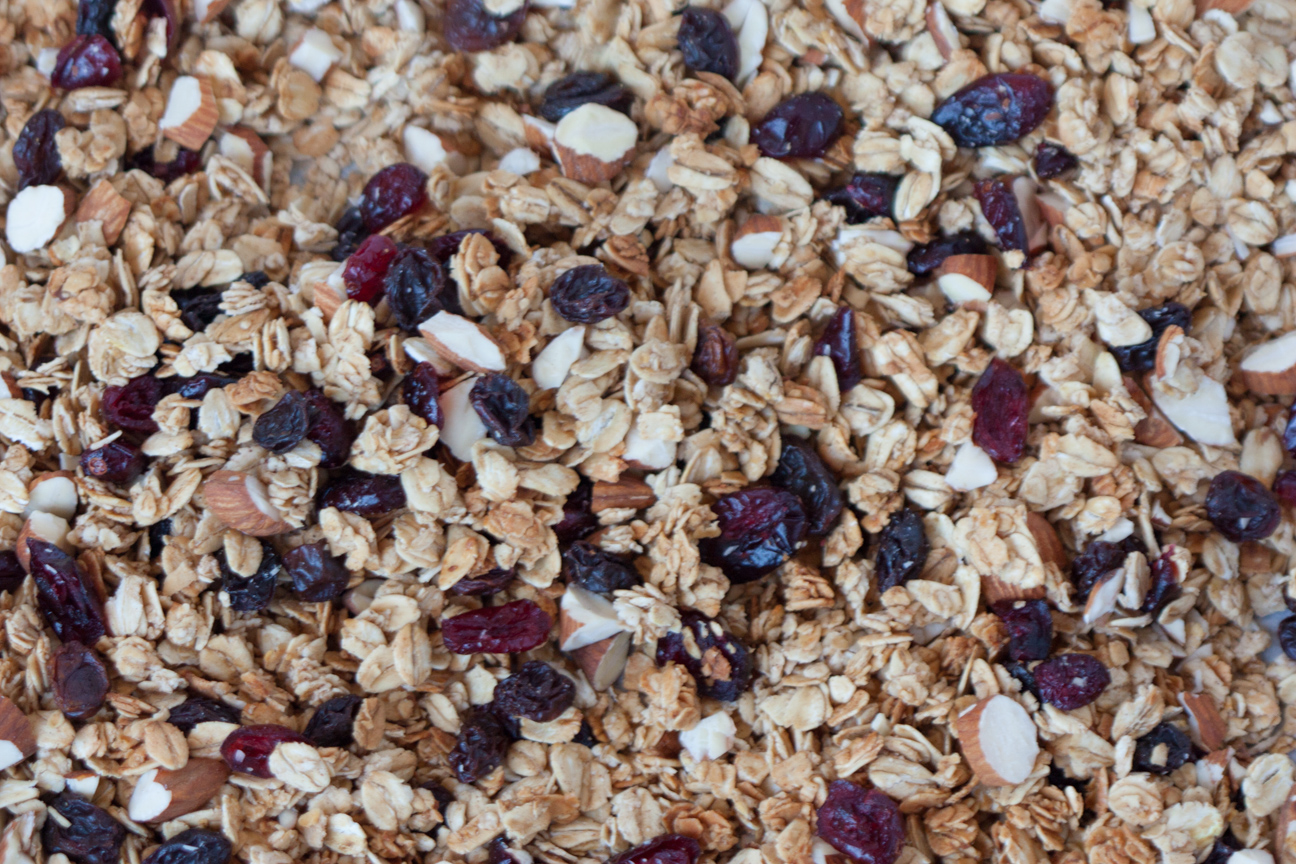 This is a fantastic recipe for Honey Maple Whole Oat Granola. It is chock full of dried fruit, nuts and toasty oats.
When I was a teenager I went through a phase of making granola for practically every big gathering with my friends.  I made granola for potluck dinners, going away parties and camping trips. Whatever the event,  I would be there with a 3 pound bag of my latest granola invention.
Granola is super easy to make. You don't really need a recipe to make granola, but it is good to have a basic one to know the proportions of wet to dry ingredients as well as the amount of fruit and nuts to use. Homemade granola is also much healthier as it is lower in sugar and salt than store bought. And just by changing the sweeteners and using an assortment of nuts, dried fruit, and grains you can make hundreds of different combinations.
You could increase the sweetness to go on top of an apple crumble or to sprinkle on ice cream for dessert. Use less sweetener for a breakfast granola, or extra nuts for energy snacks for hikes or bike rides. A handful of chocolate chips or chocolate nibs after baking adds a burst of sweetness for a fantastic boost in energy. Excellent sweeteners to use range from maple syrup in the spring when the sap is running or honey in the fall when farmer's market stalls are bursting with pails of wild flower, clover or buckwheat honey.
My son and I really like this granola for breakfast or snack with yogurt. It's not too sweet and the cinnamon and ginger adds a lovely hint of flavour.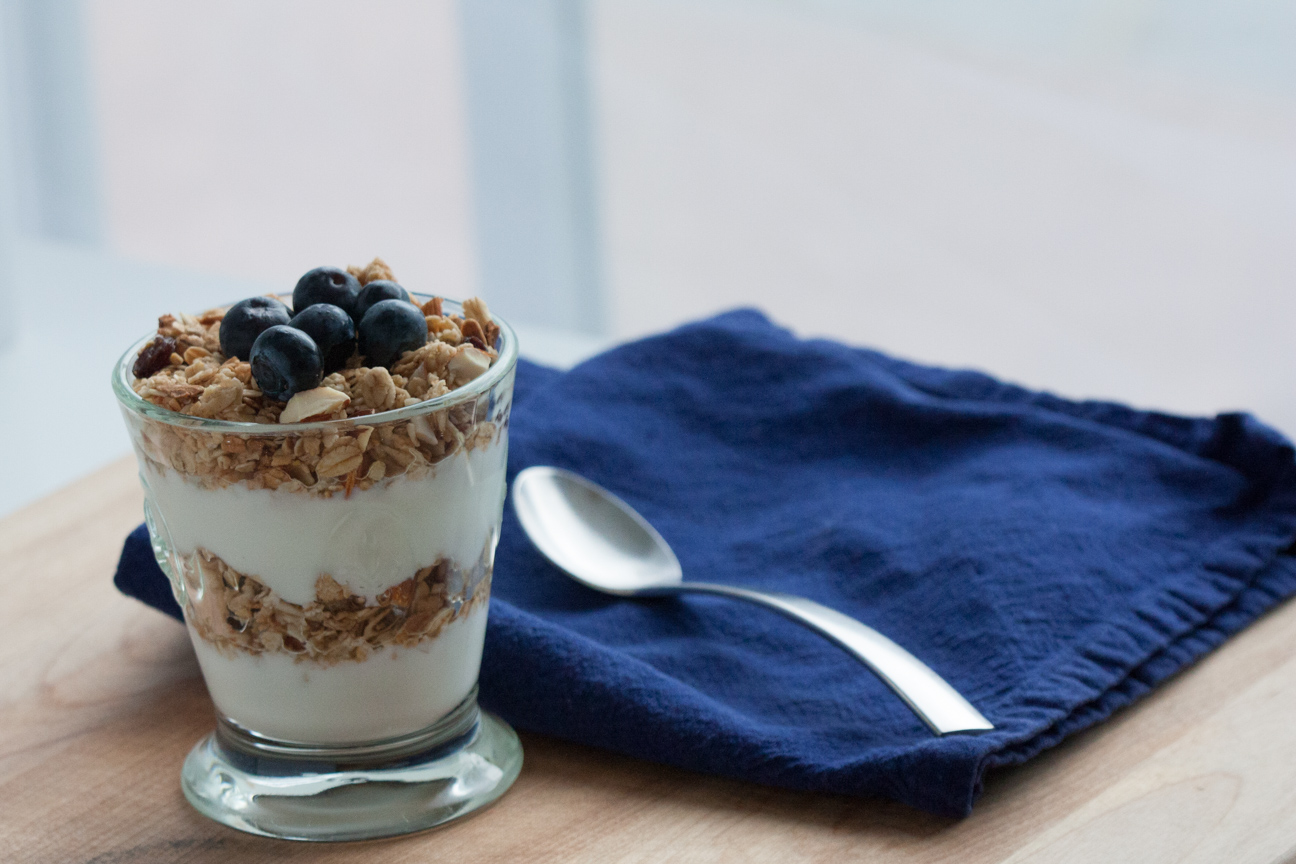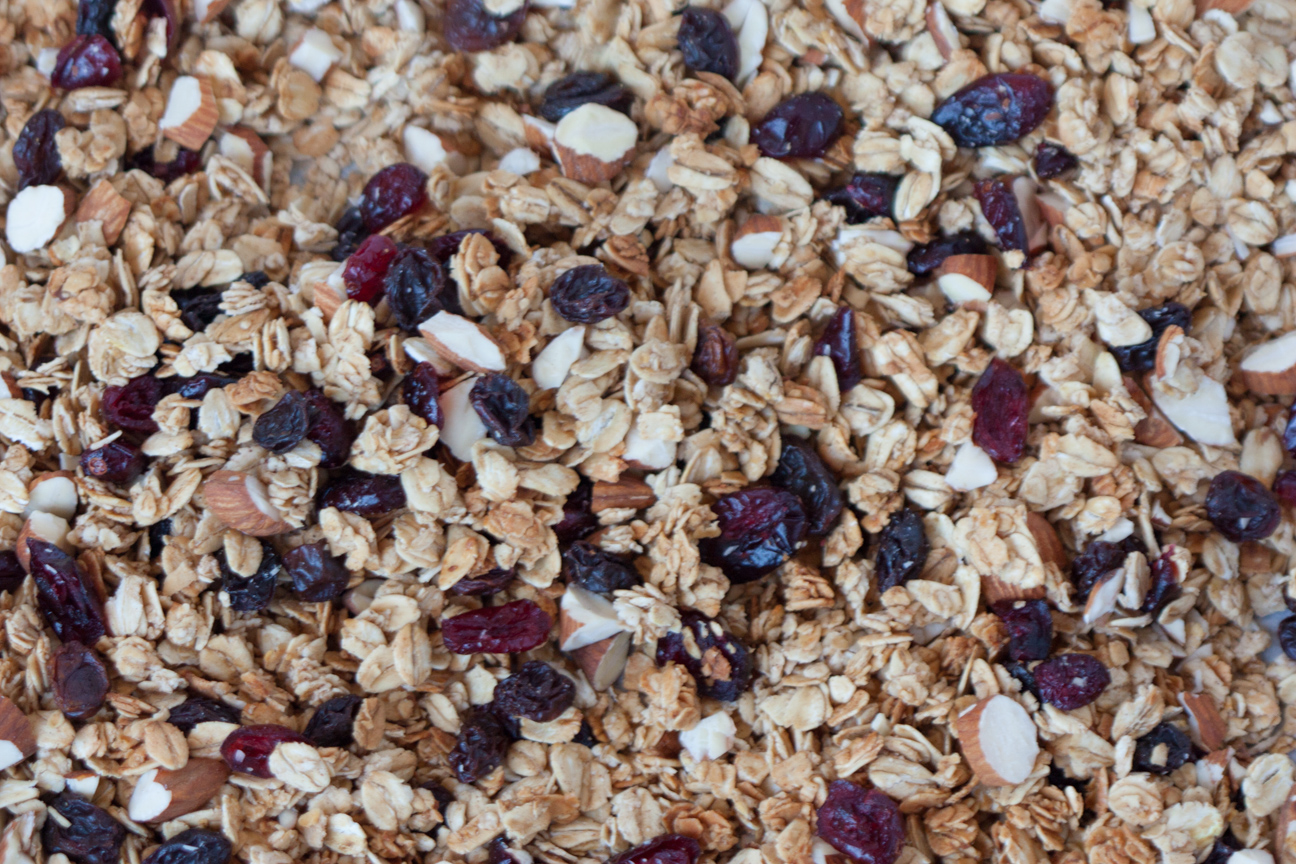 Print Recipe
Honey Maple Whole Oat Granola with Vanilla and Cinnamon
Ingredients
1 3/4 cup quick oats

1 1/4 cup whole oats

1/4 cup honey

2 T butter

1 T maple syrup

1/2 tsp cinnamon

1/4 tsp ginger

1/2 tsp vanilla

1/4 cup dried cranberries

1/4 cup raisins

1/4 cup whole almonds, chopped
Instructions
1
Preheat oven to 325 degrees.
2
Line baking sheet with parchment paper.
3
Melt the honey, butter, vanilla and maple syrup in a small pot on the stove or in a bowl in the microwave.
4
Mix together the two oats and spices. Pour the liquid into the oat mixture and stir to combine.
5
Pour onto the baking sheet lined with parchment paper. Spread out the oat mixture a bit, but not too thin as the individual oats will cook too fast and dry out or burn.
6
Bake granola for 10-12 minutes, stirring after 5 minutes then add: the cranberries, raisins and chopped almonds.
7
Continue cooking for about 5 minutes more, until oats are starting to turn golden, then remove from oven.
8
Put the tray on a wire rack. Leave the granola on the tray until cool. Store in a cool, dark place.