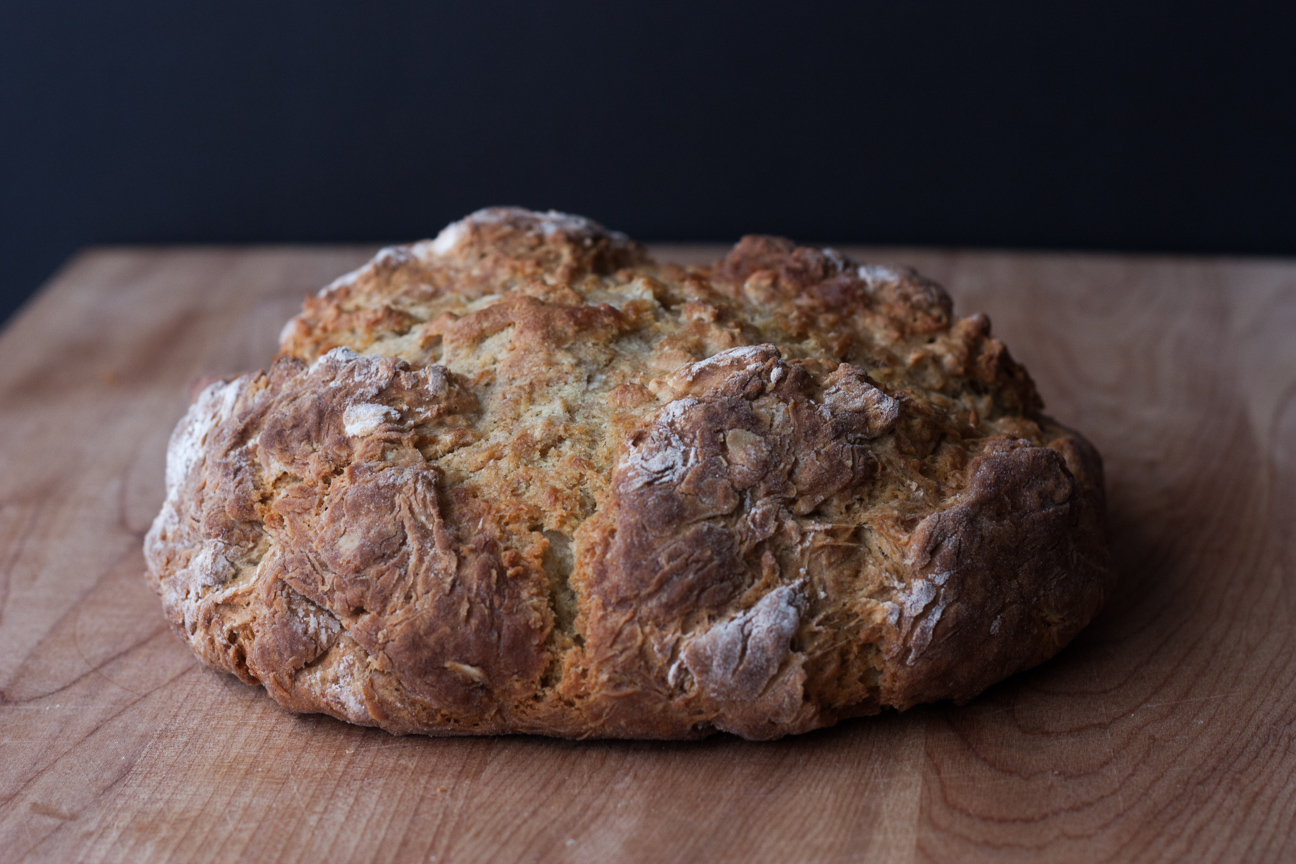 Irish Oat Soda bread is an amazing bread to make. You can make it so fast. It's great for beginners or even experienced bakers who want some fresh baked bread on the table in under an hour. The first time I made soda bread I couldn't believe how quick it was ready.
Irish Oat Soda bread can be made quickly because it is leavened with baking soda, not with yeast like most breads. When mixed with an acidic ingredient, in this case the buttermilk, the combination of the baking soda and acid produces carbon dioxide after it is exposed to heat.
When baking with baking soda, it is important to measure accurately. Too much baking soda and your batter will rise too much and then collapse. Also, using too much baking soda, or baking without an acidic ingredient such as buttermilk, yogurt, brown sugar, molasses, chocolate and cocoa will make your baked goods taste soapy. This happens because the baking soda doesn't have anything to react with  and will break down to produce sodium carbonate which is very alkaline and makes your baking taste soapy.  Too little baking soda will produce a flat and dense product. So, measure accurately and always double check that there is an acidic ingredient in the recipe to react with the baking soda.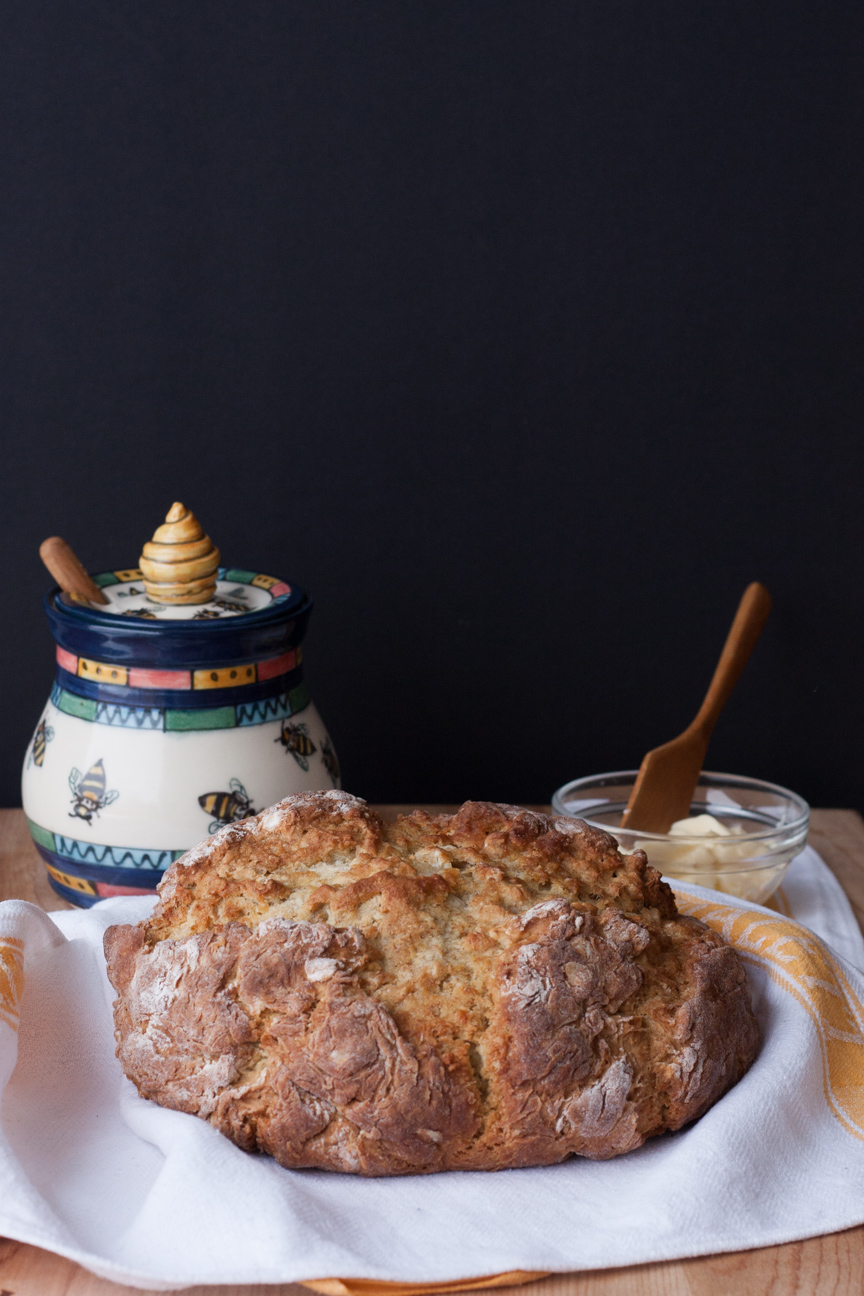 Cutting an X or cross across the top of the bread allows the center of the loaf to cook properly as it's such a thick loaf and rises and bakes ratherly quickly.
I love the dense earthy aroma of the wheat and oats and the smooth and tangy flavour of the buttermilk. Since soda bread is made from very basic ingredients: flour, baking soda, soured milk (or buttermilk) it's easy to whip up on the spur of the moment. In this recipe I've added butter, but some recipes leave that out. You can also add raisins or caraway seed, but traditionally, it is just those three basic ingredients.
Originally, soda bread was made regularly in Irish farming households.  Unlike families in England, who would buy their bread from local bakeries, many Irish families lived in isolated farmhouses, far from any shops, so everyone had to do their own baking.  The introduction of baking soda around 1840 provided poor Irish families with a means to make delicious bread as often as they wanted and for a very low cost.  Homes in Ireland did not have ovens, only open hearths. So the bread was cooked on griddles over aromatic turf fires. The bread would be tender and dense with a nice thick crust and was eaten every night for dinner.
Soda bread is made all over Ireland but each region makes it differently.  In the north, it is flattened into a disk,  cut into 4 equal sized wedges and then cooked on a griddle. These are also called Soda Farls. The word, farl, comes from the scottish word, fardell, meaning  a fourth. In the south, it is shaped into a thick round disk and the top is scored deeply with a large X or a cross.
Here are some Soda Bread Secrets as recommended by Colman Andrews in The Country Cooking of Ireland.
Use irish flour if possible as it's a soft flour. if you don't have access to any, (like me), use pastry flour that is stone ground, organic and fresh.
Sift your flour, or atleast make sure there are not any lumps.
Use cold buttermilk, not warm as you would with yeasted breads. Warm milk will activate the baking soda too early and prevent it from rising in the oven.
Use a very light kneading if you must – but not kneading at all is the best.
It is better to overbake your Irish Soda Bread than underbake it. Just don't burn your bread!
Soda bread is best eaten within 24 hours or so.
Happy St. Patrick's Day!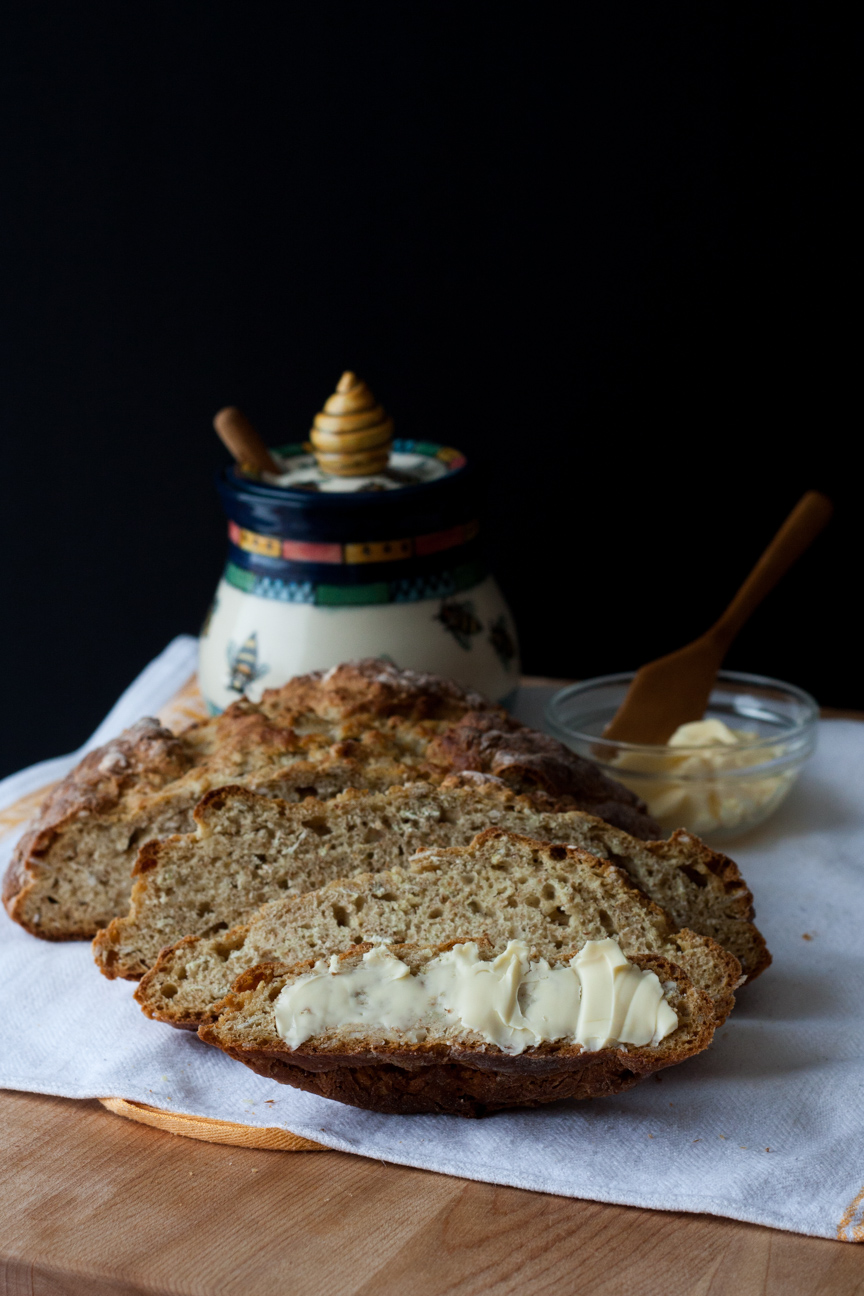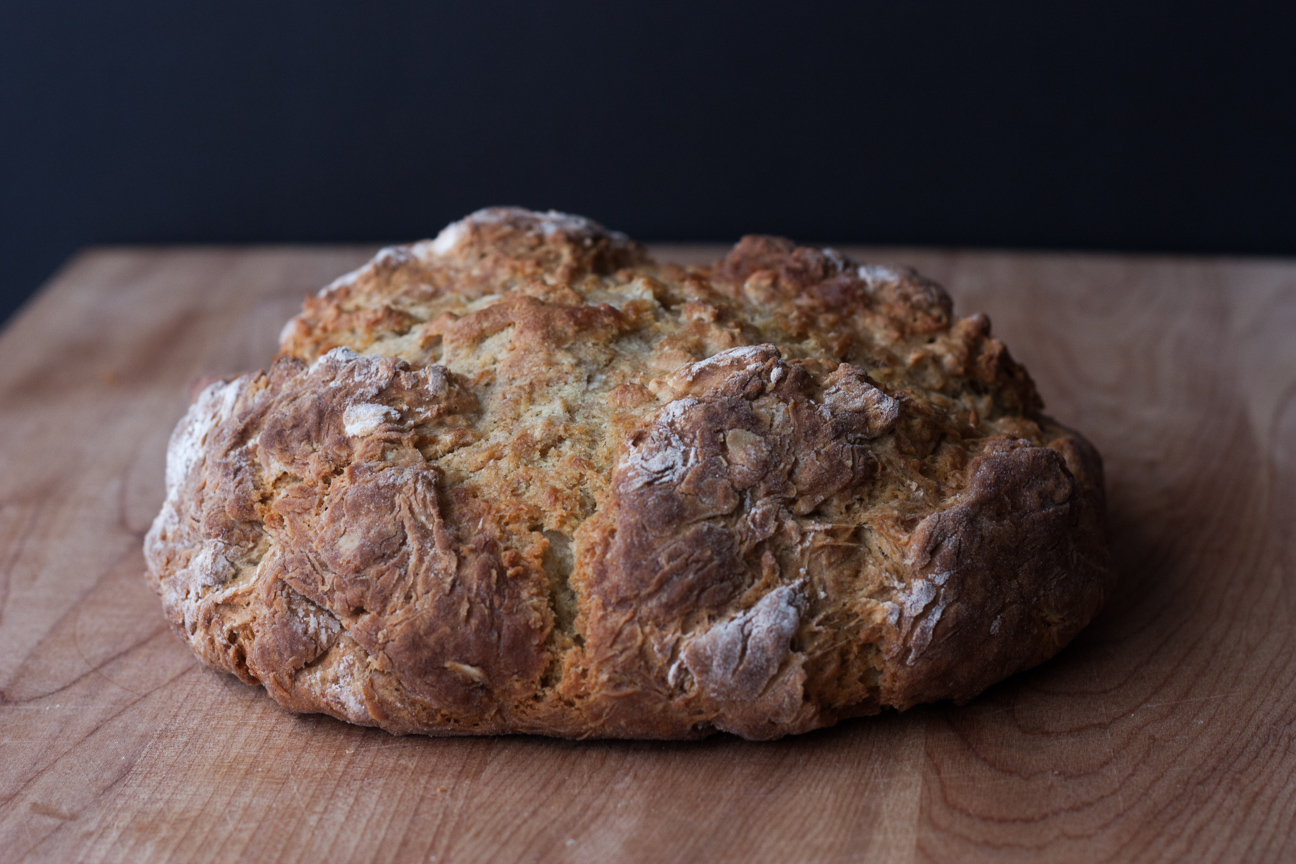 Print Recipe
Irish Soda Bread with Oats
Ingredients
1 1/4 cups unbleached white pastry flour

1 1/4 cups unbleached whole wheat pastry flour

1/2 cup whole oats

1 1/2 tsp baking soda

1 tsp salt

1/2 stick cold butter, cut into small cubes

1 1/3 cup buttermilk, cold and cut into small cubes
Instructions
1
Preheat oven to 425 degrees F.
2
Mix together all of the dry ingredients. Stir to combine thoroughly.
3
Add the butter and cut it into the dry ingredients with a pastry cutter. You can also use your hands to quickly mix the butter into the flour, until the butter is pea sized and coated with flour.
4
Add the cold buttermilk. Mix quickly.
5
Sprinkle your table with some flour. Place the soft sticky dough on the flour and quickly shape into a loaf about 6 inches across.
6
Cut an X on the surface of the dough. No more than 1/2 an inch.
7
Bake on parchment paper on a baking tray for 20-25 minutes.
8
Let cool slightly on a baking rack.
adapted slightly from The Gourmet Cookbook