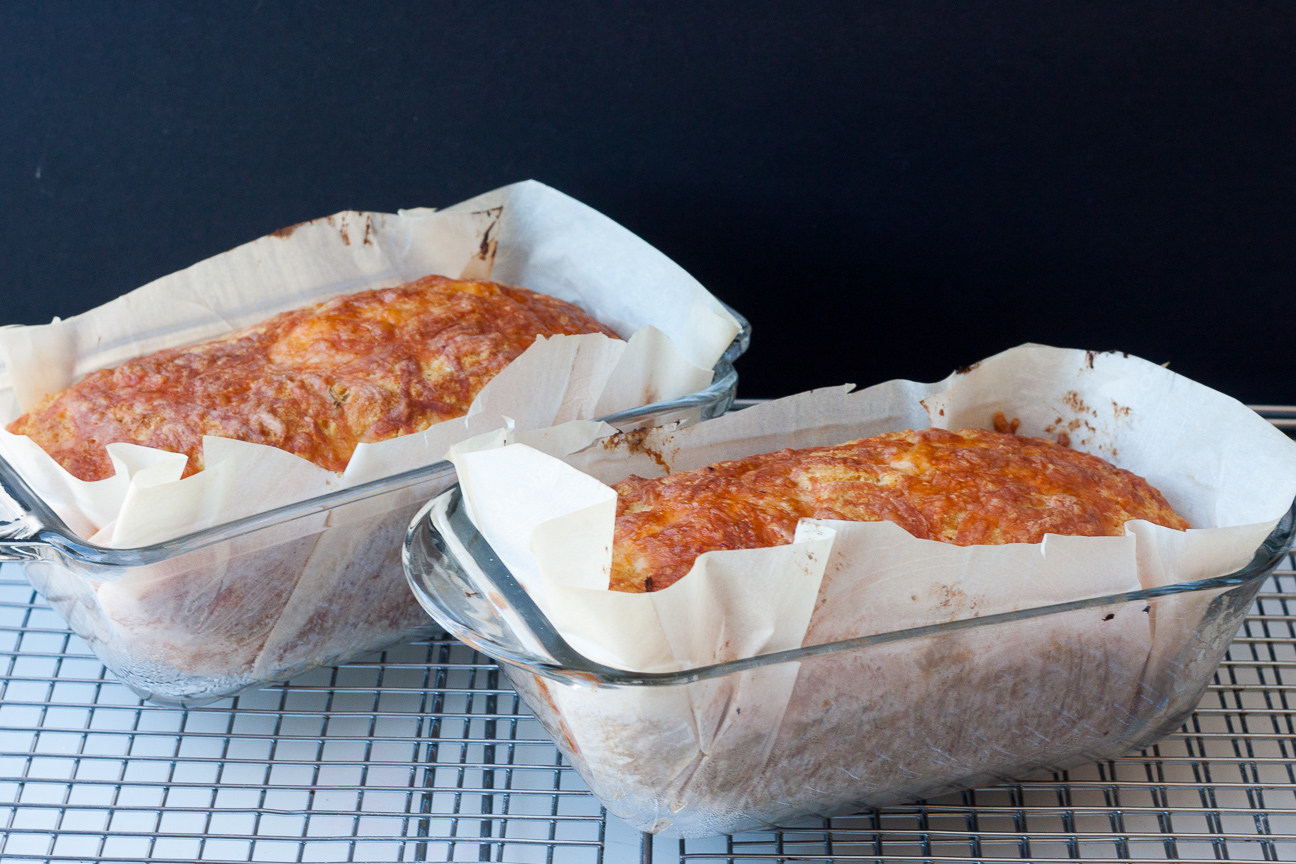 I love love love cornbread, and this Cheddar Jalapeno Corn Bread has it all! This corn bread is going to take any meal up a notch with its A-list of ingredients: corn kernels, buttermilk, loads of cheddar cheese and a few nice spoonfuls of pickled jalapeno peppers.
I don't know if you're like me, but for some dinners, I just love having bread on the table. I don't really have time to make yeasted breads everyday, and I don't necessarily need that kind of bread every meal. Quick breads are amazing, because not only are they quick, but they are often fill with amazing flavours! For us, this quick bread really hits the spot. You can have it ready for dinner in about one hour. And it's just so darn good.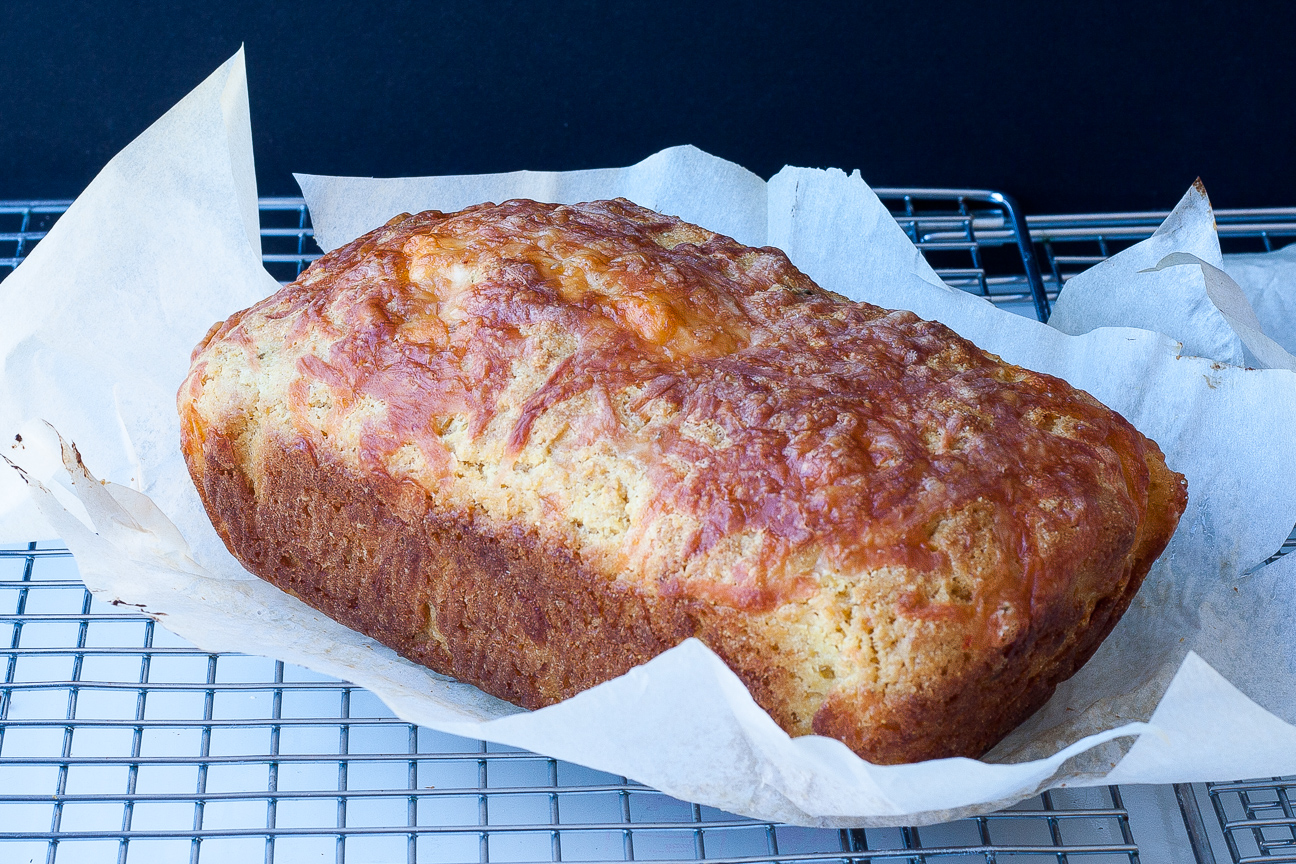 Let the cornbread cool on a rack until it's just slightly warm…but without the parchment paper!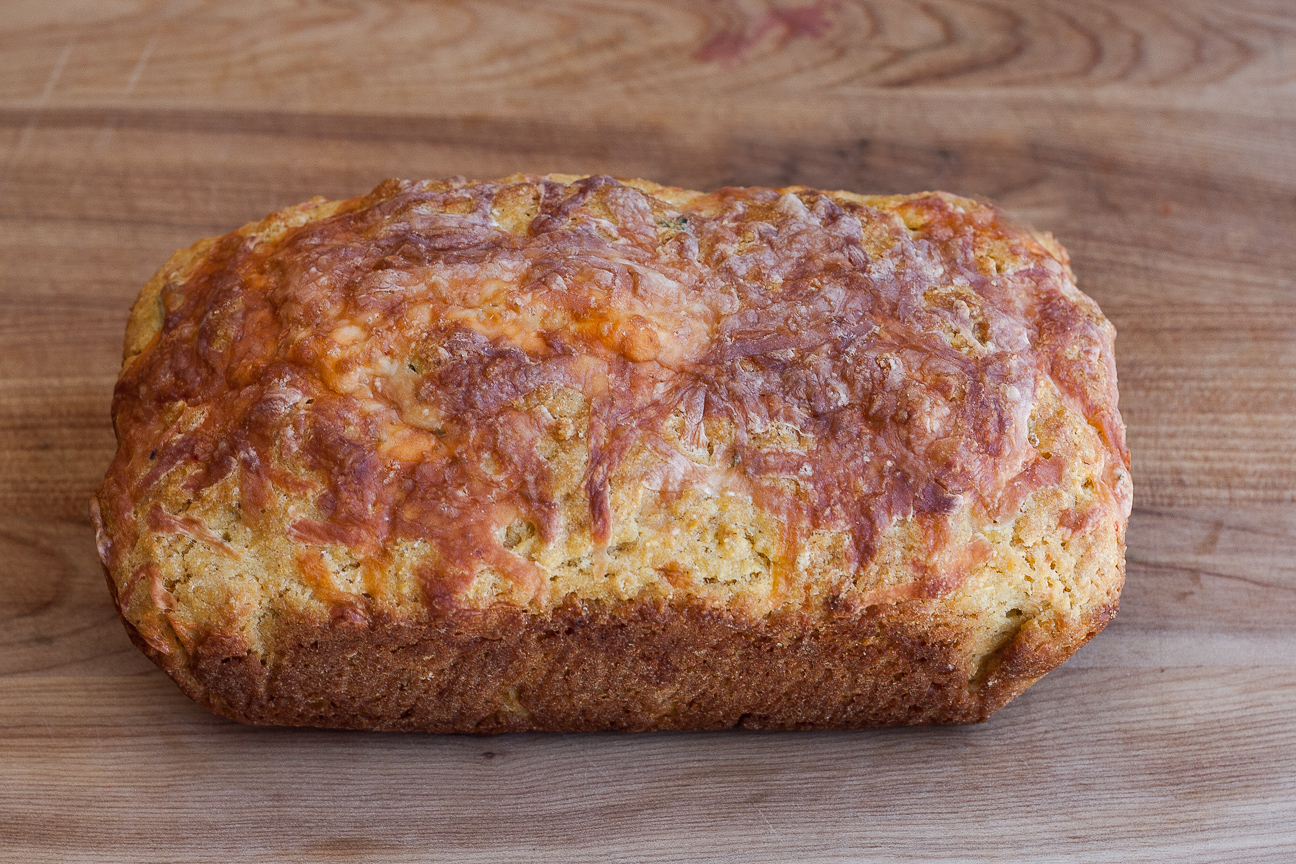 All ready for slicing up!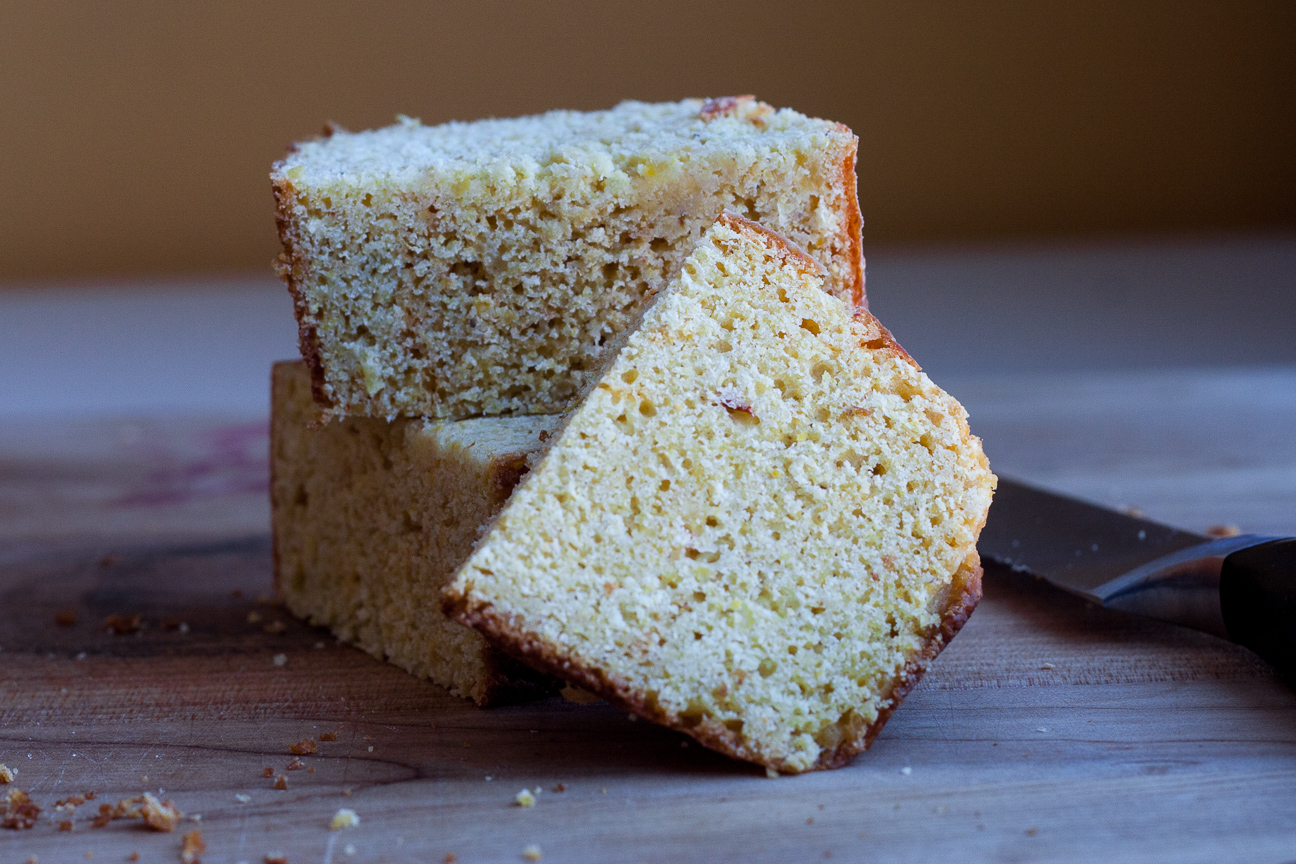 This cornbread has a nice amount of cheddar cheese and just the right hit of jalapeno peppers. It has a bit of brown sugar in it, but it's just enough to give this cornbread a nice mellow flavour.
You can also bake this cornbread in a square 8 inch pan, if you like. I personally like using loaf tins, especially glass ones. The outside of the cornbread browns up really nicely in a glass pan.
This cornbread is delicious on its own, or you can spread it with butter if that's what you prefer. Also, if you have a favourite flavoured butter recipe, now would be a good time to pull that out and whip some up. Not that this cornbread needs anymore flavour, but there are some great flavoured butter recipes that could take this up a notch.
Cheddar Jalapeno Corn Bread can accompany so many dishes: soups, chili, ribs or stews. Easy to make, and so nice to enjoy.
Let me know how yours turns out!
Enjoy!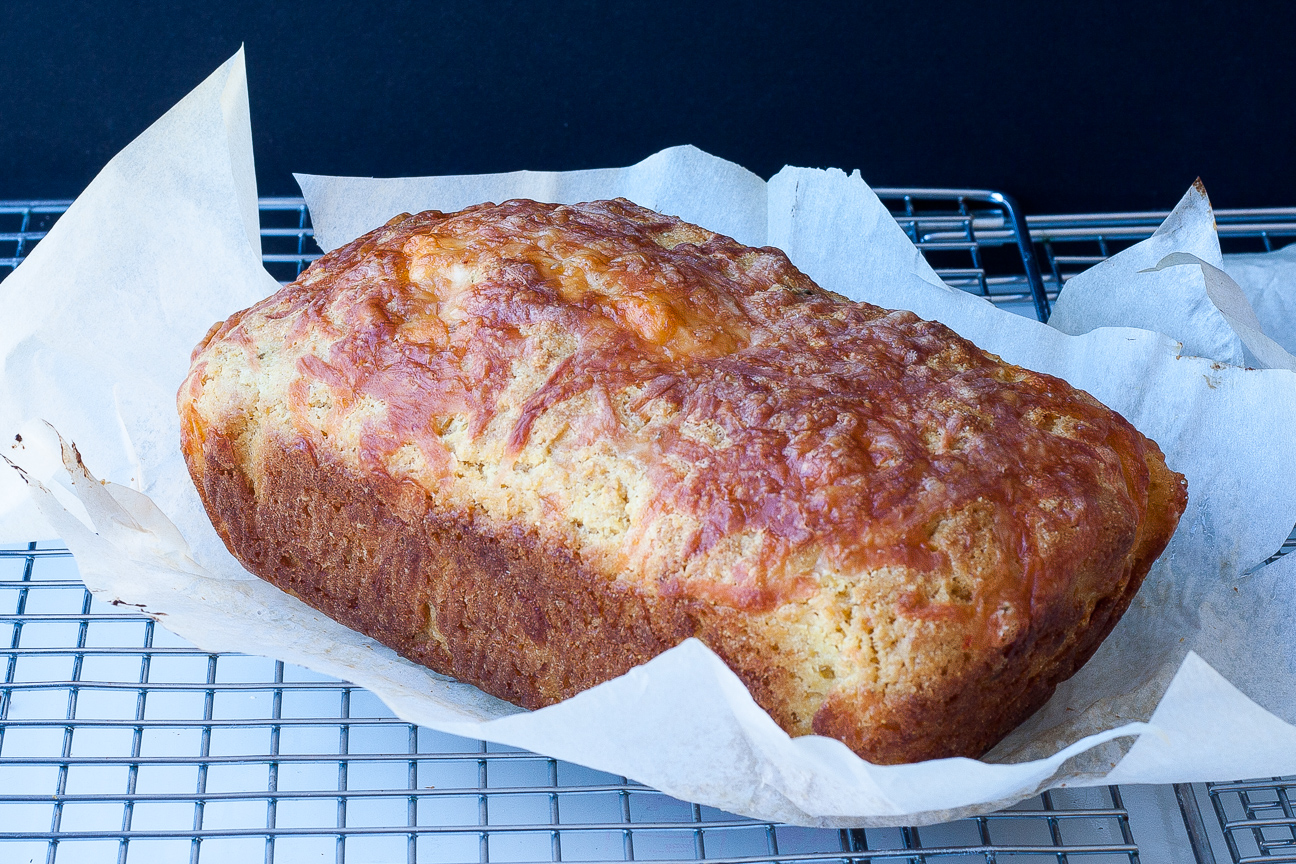 Print Recipe
Cheddar jalapeno Corn Bread
Ingredients
3 cups all-purpose flour

2 cups corn meal

4 teaspoons baking powder

1/2 tsp baking soda

1/4 cup brown sugar

1 1/2 cup frozen corn, thawed

2 cups buttermilk

4 large eggs

1 cup melted unsalted butter, cooled

1/2 tsp cayenne pepper

2 cups shredded cheddar cheese, divided

3 pickled jalapeno peppers, finely minced
Instructions
1
Preheat oven to 400 degrees fahrenheit.
2
Line two bread loaf pans with parchment paper.
3
Whisk together the flour, cornmeal, baking powder, baking soda, cayenne pepper and 1 cup of grated cheese.
4
In a food processor, add the brown sugar, corn, and buttermilk and blitz for about 5 seconds. Add eggs and blitz another 5 seconds.
5
Stir the jalapeno peppers into this mixture after it has been processed.
6
Pour the wet ingredients into the dry in a big bowl.
7
Fold the ingredients together, until just combined.
8
Add the melted butter and fold some more until the mixture looks moistened.
9
Pour the batter equally into the two lined bread pans.
10
Sprinkle the remaining cheddar cheese on top of each loaf.
11
Bake until the cornbread is a nice deep golden colour which should be about 25-30 minutes.
12
Let the loaves cool in the pans on a rack for about 10 minutes.
13
Then remove from pans and let the loaves cool for another 10 minutes.
14
Serve warm or at room temperature.
Notes
These loaves freeze up beautifully. Wrap the loaves well, pop in the freezer and use within one month.
slightly adapted from Cook's Illustrated Baking book