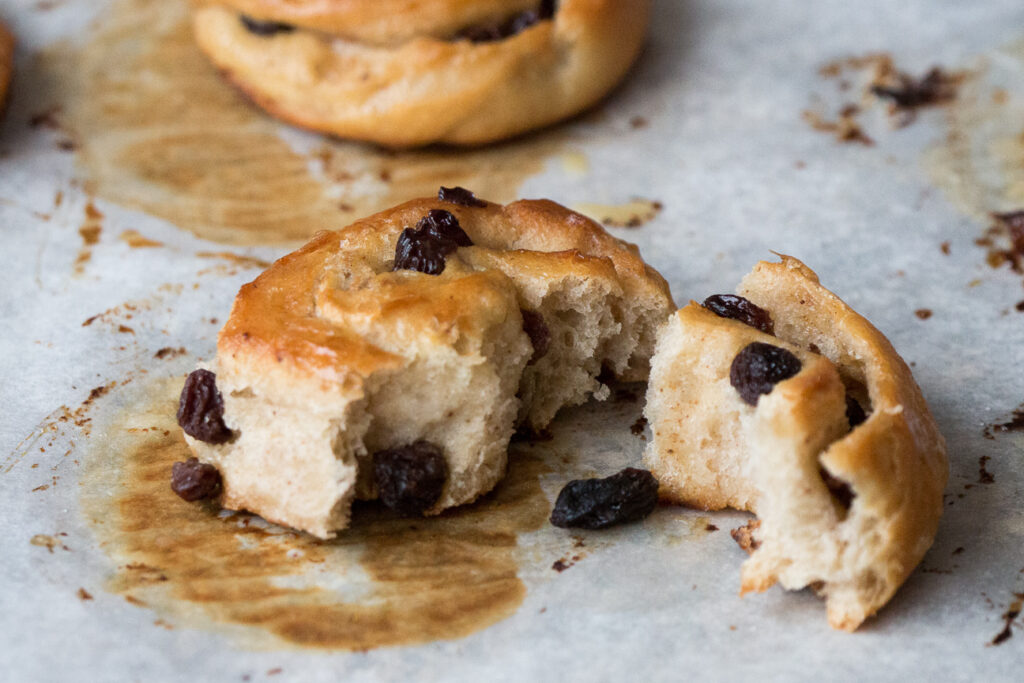 There is something special about making a fancy pastry that you normally buy in a coffee shop or bakery. It's very satisfying to produce a baked good that looks like it came from a shop but tastes homemade. I felt this way when I baked some Apple Cider Pain au Raisin last week.
I love love love Pain au Raisin. They are not overly sweet and the combination of pastry + raisins + spiced sugar – so good! In this recipe for Apple Cider Pain au Raisin, I substituted apple cider for water. It's not completely necessary, and if you don't have any apple cider, you can just use water. But I liked the extra apple flavour.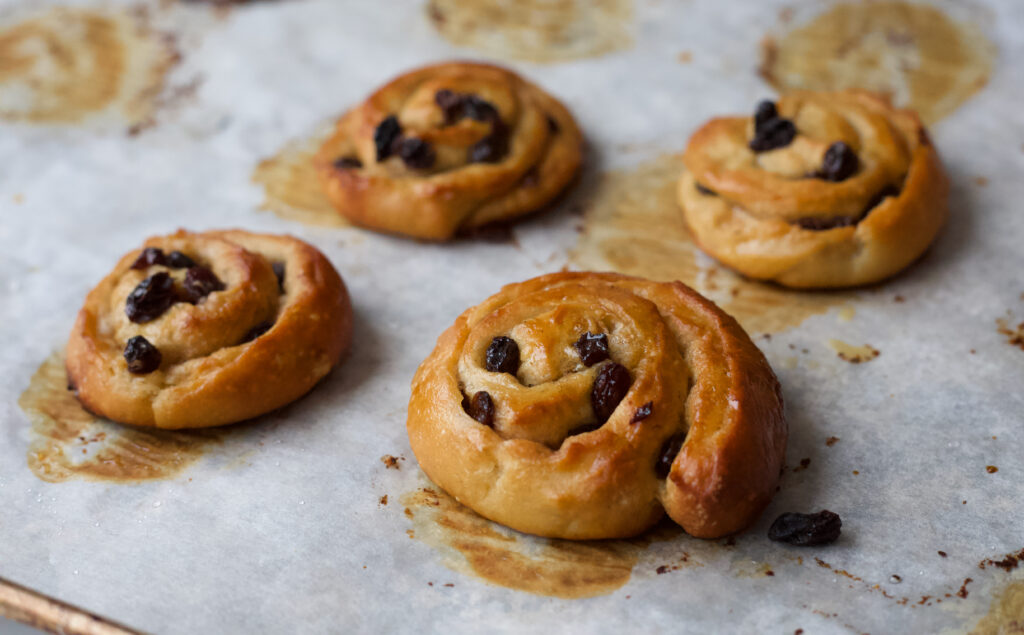 I made this pastry last week, as a reminder of my birthday trip to London England in February 2020. While we did see many scones and tea cakes, seeing this pastry in so many coffee shops was a surprise.
What is Pain au Raisin?
Pain au Raisin is made with danish pastry. It is rolled up with sugar and raisins and then sliced into individual pices, like cinnamon rolls. And it is glazed after baking with either a sugar syrup or strained apricot jam. It's delicious warm or room temperature.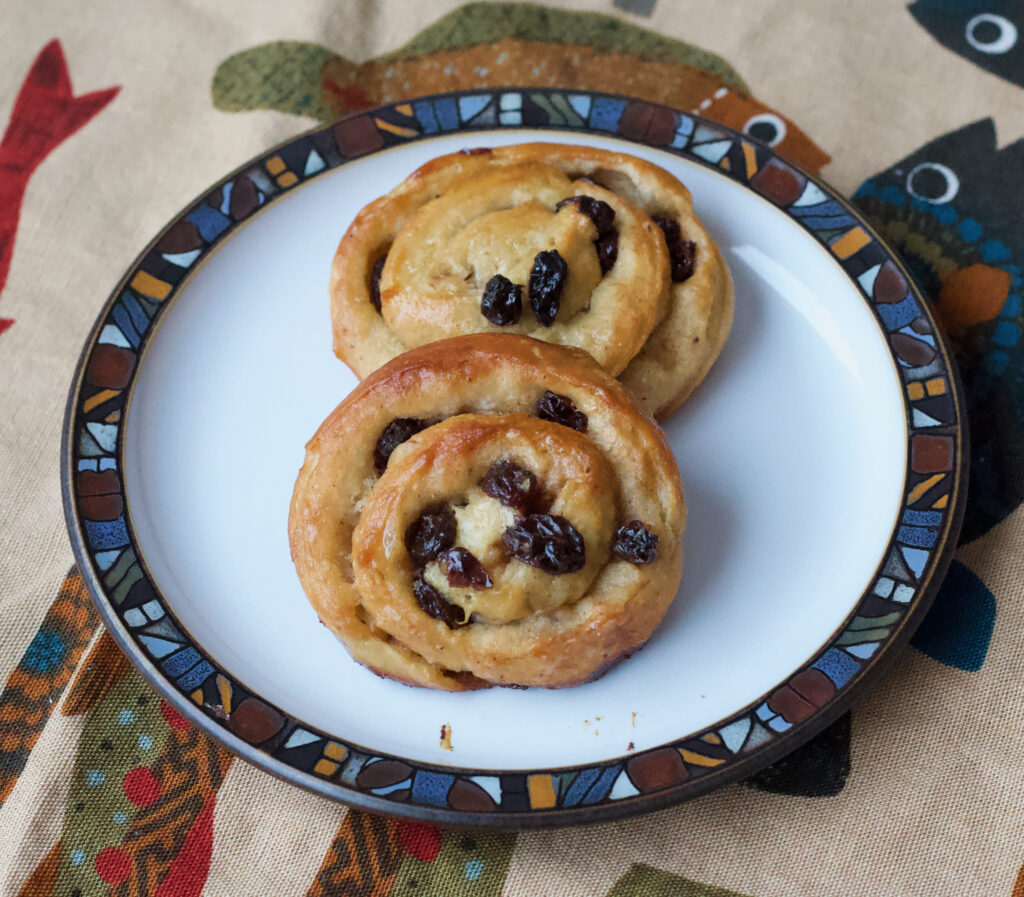 What is Danish Pastry?
Danish pastry is a rich sweet pastry made by layering cold butter throughout your pastry dough. It is not difficult to make, but it does take several hours.
Is Danish Pastry difficult to make?
Danish Pastry is not difficult at all. I actually find pie pastry much more difficult to make. Danish pastry is very soft and pliable and dotted with butter. While making danish pastry is not difficult, it does take a very long time to make. So, you should set aside an entire day at home to make it. You won't be in the kitchen for the whole day, but you'll be popping in and out every 1-2 hours.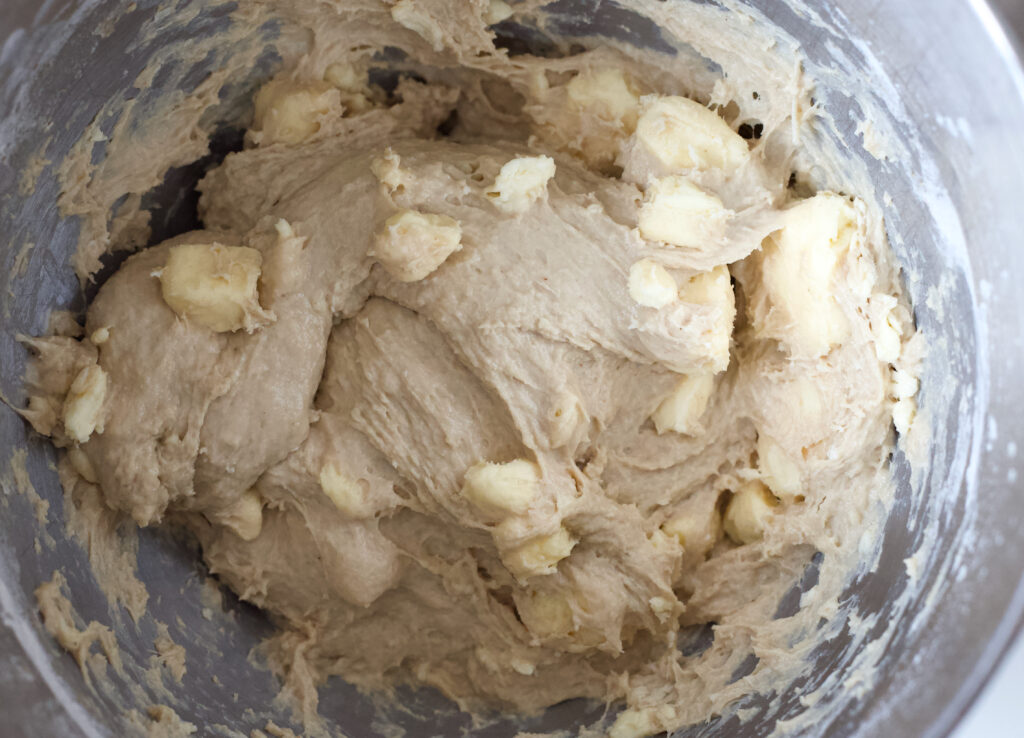 To get started, you first mix together the yeast, warm apple cider and 1 cup of flour. After that, add everything into your mixer bowl. Then, the cubed cold butter is added a few cubes at a time. But, even at the end of the mixing, you will still have large pieces of butter. That's normal.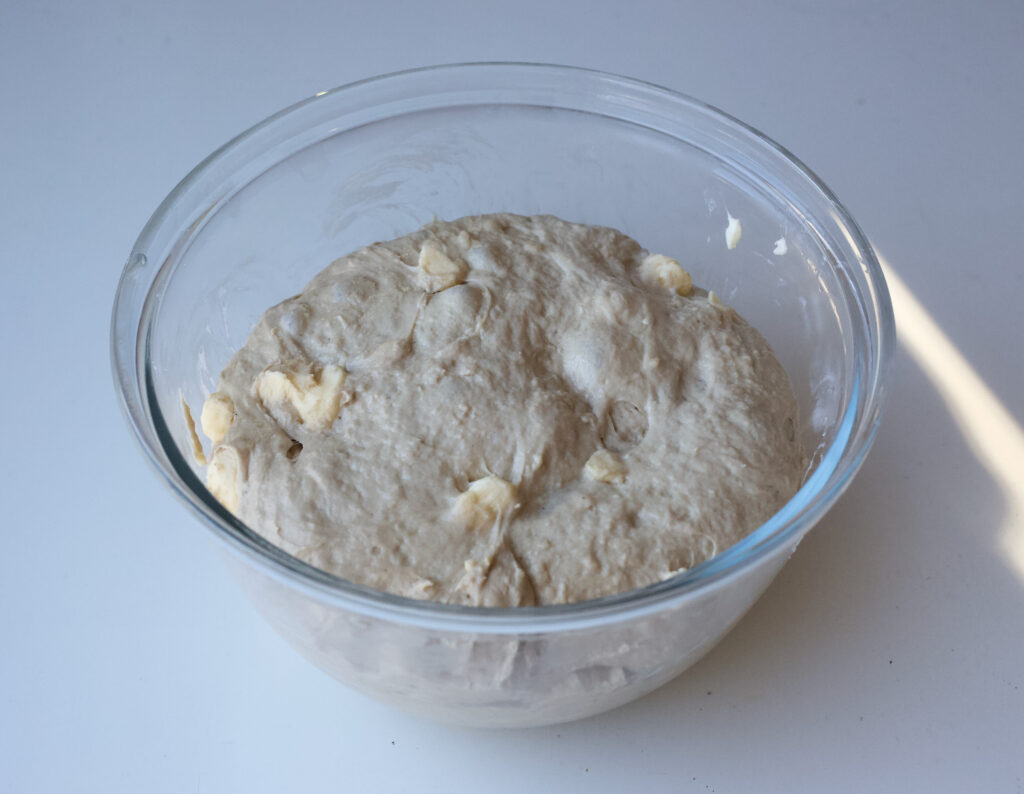 Wrap the dough and leave on the counter for 30 minutes. Chill in the fridge for 2 hours.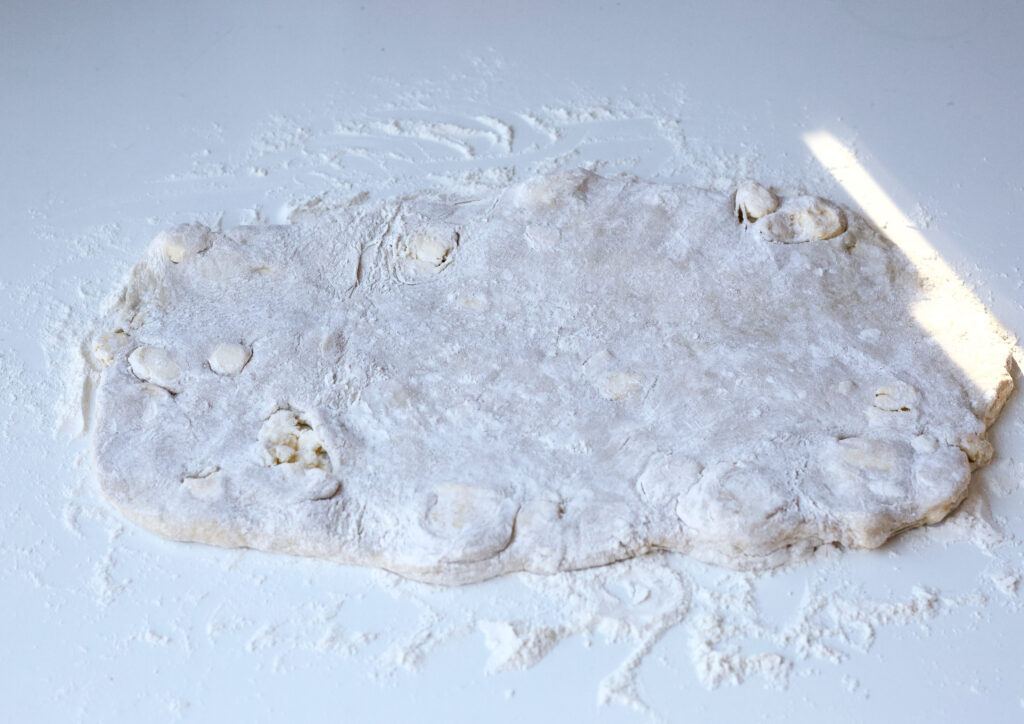 After two hours in the fridge, roll your dough out on a floured surface. It is ok if there are still large pieces of butter in the dough.That's normal. If they are super large, you can cut them in half, and place them in the dough where there isn't much butter.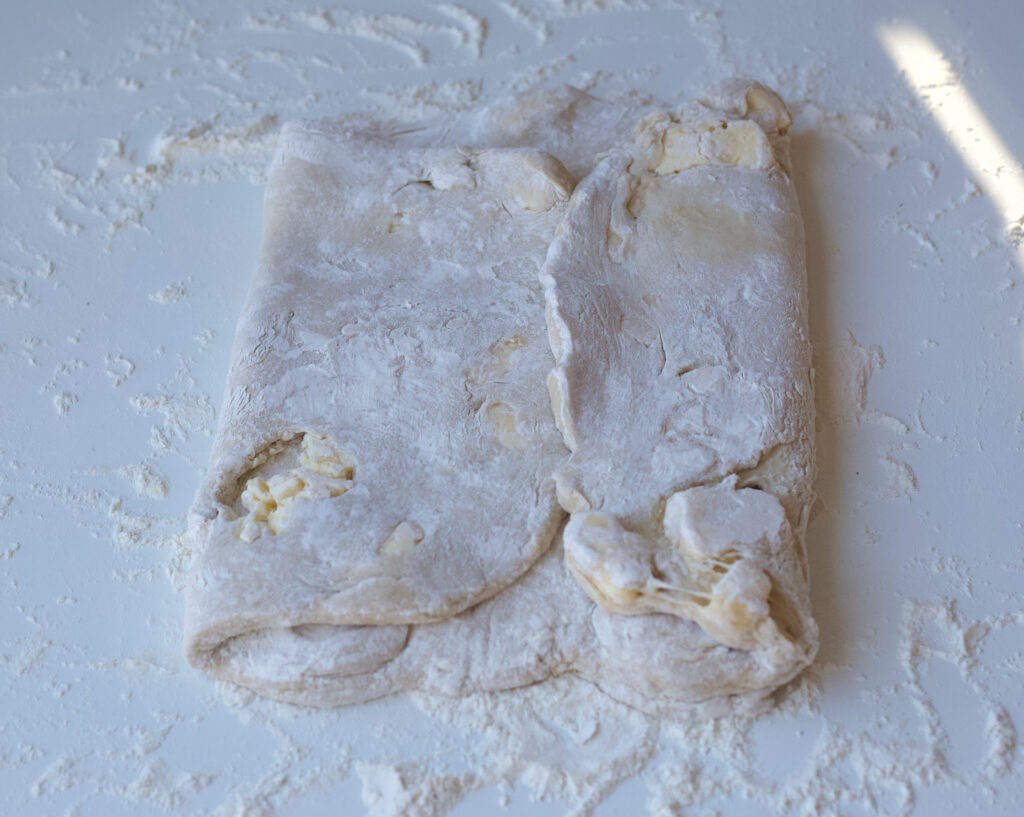 Then fold the dough using the book fold method. Fold the ends into the middle, and then one side goes on top of the other. This dough is so nice to work with. It's very soft and will not break apart like pastry dough does sometimes. I took this photo, because I want beginners to see that it's perfectly ok if the dough looks all lumpy at this stage. It will still turn out ok.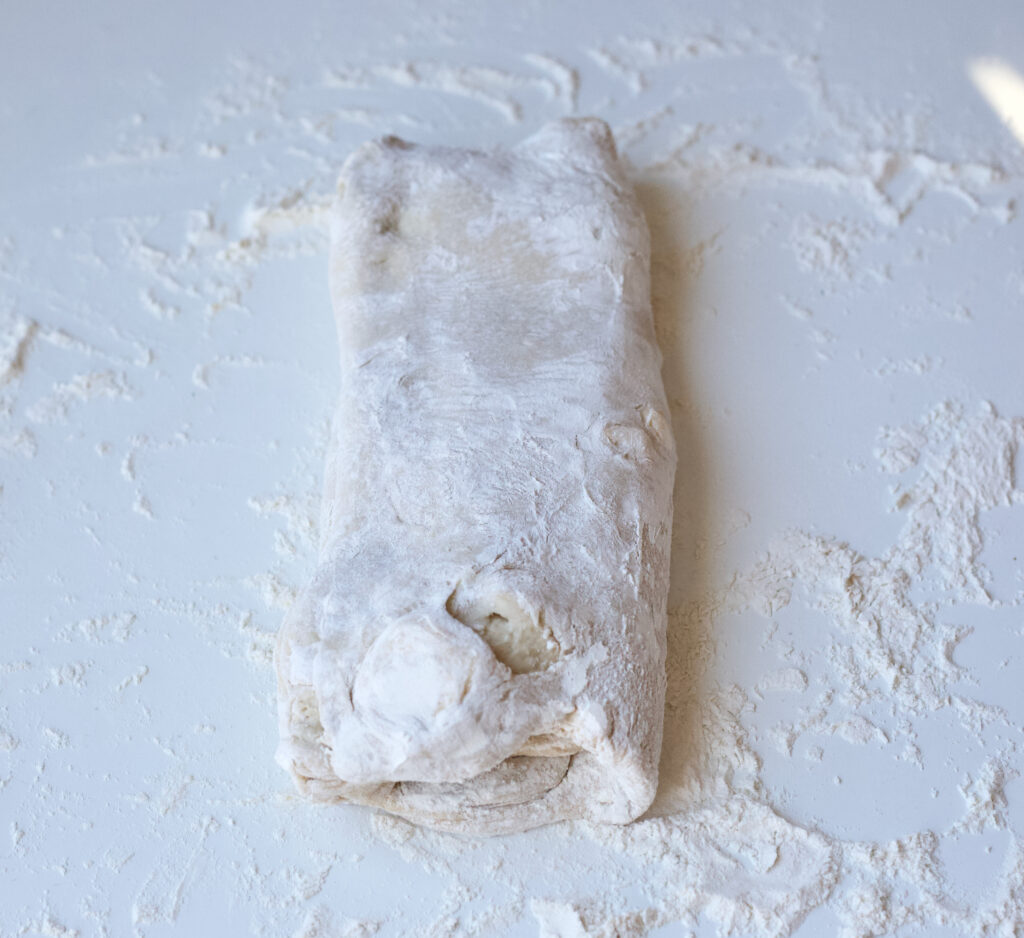 This is a book fold. Still large pieces of butter in the dough. Don't worry, that's normal. Wrap the dough up, and place it in the fridge for one hour.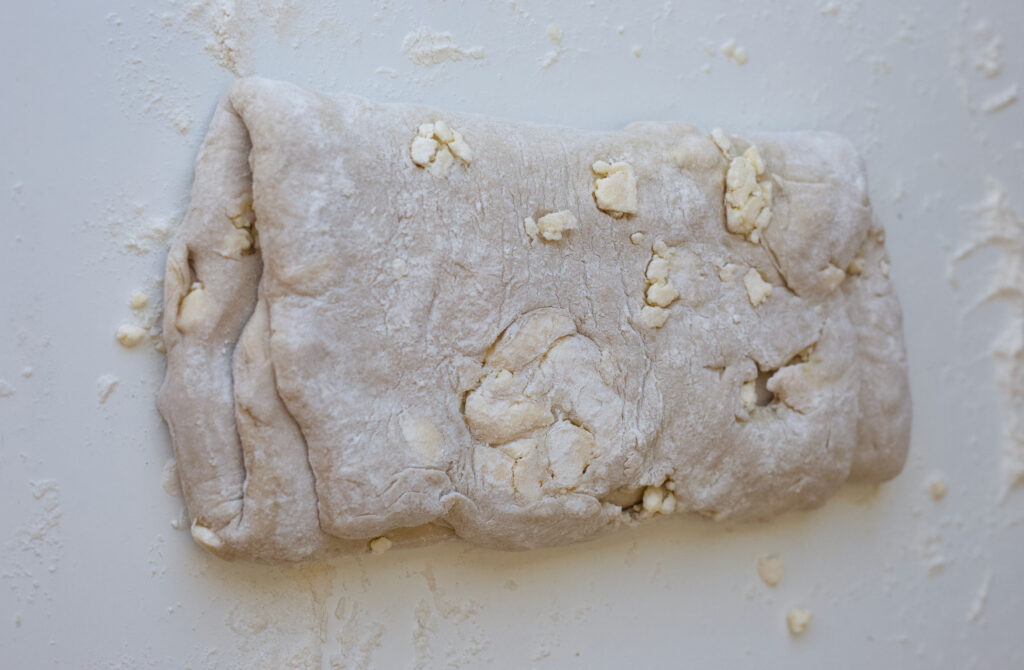 After one hour in the fridge, roll the dough into a rectangle and then fold it into thirds. iThe above photo is thirds. Fold one side into the center and the other side on top. And then back in the fridge for 1 hour. Repeat this one more time.: roll out, fold into thirds and then back into the fridge for one hour.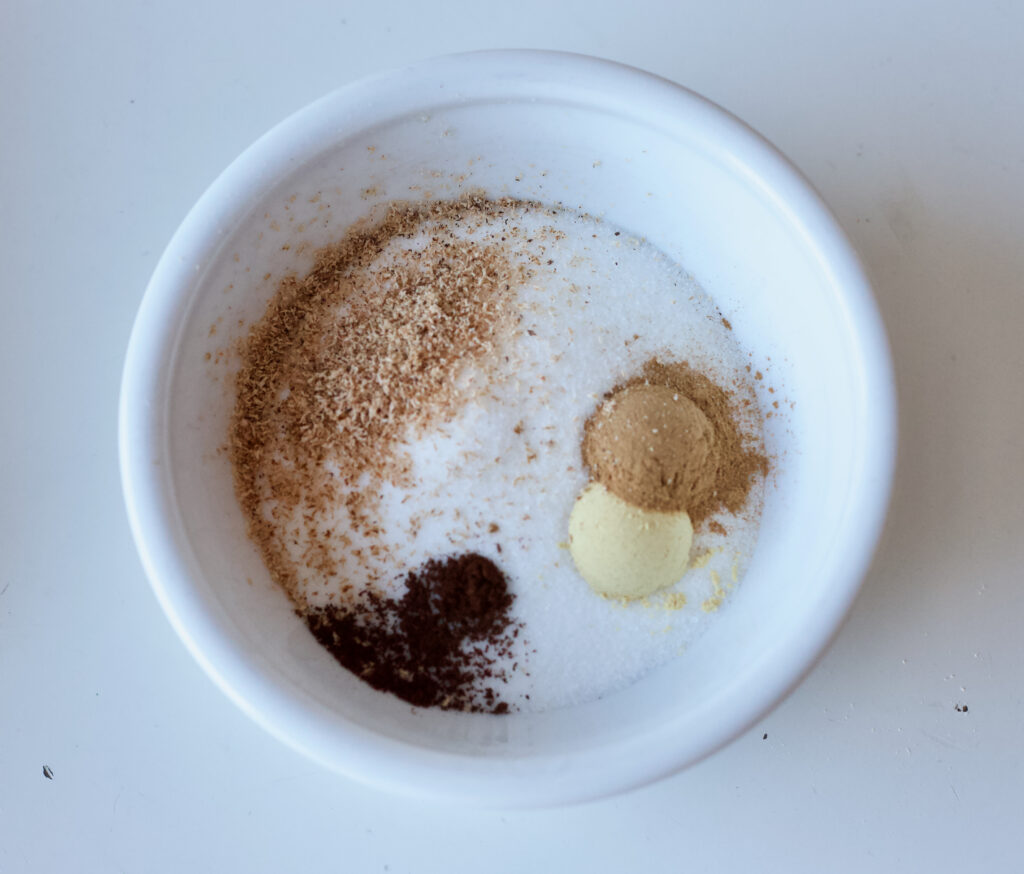 In the meantime, mix together your spice mix. Or use a store bought one, if you have one in the cupboard.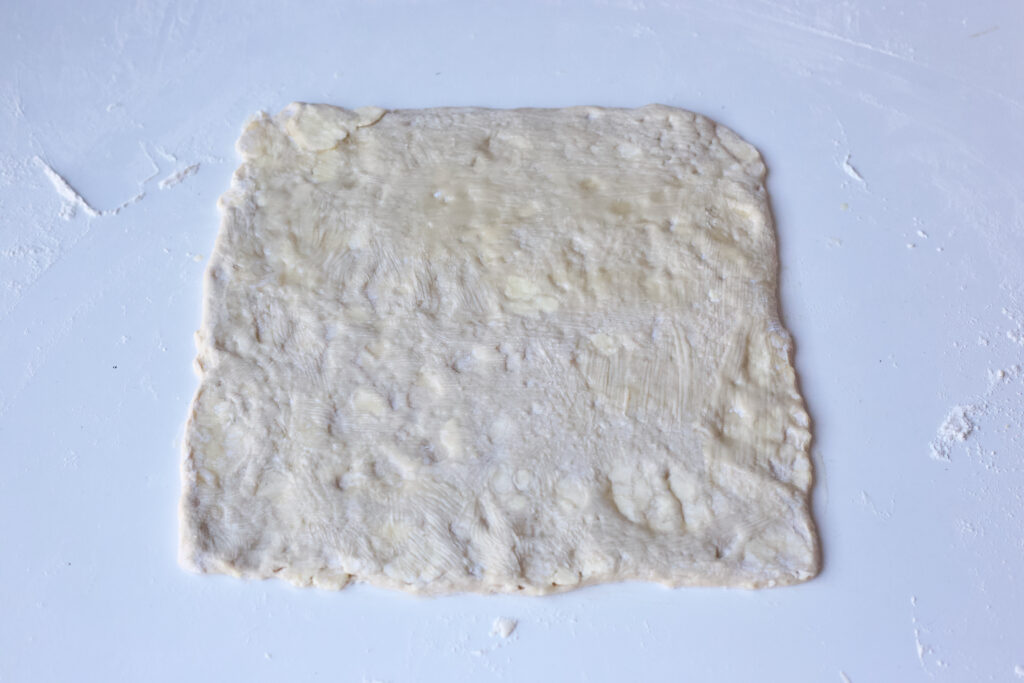 When the dough comes out of the fridge, cut the dough in half. Roll one half of the dough into a square. This will make 12 Apple Cider Pain au Raisin. You can freeze the remainder of the dough for later, or you can make 24 pastries.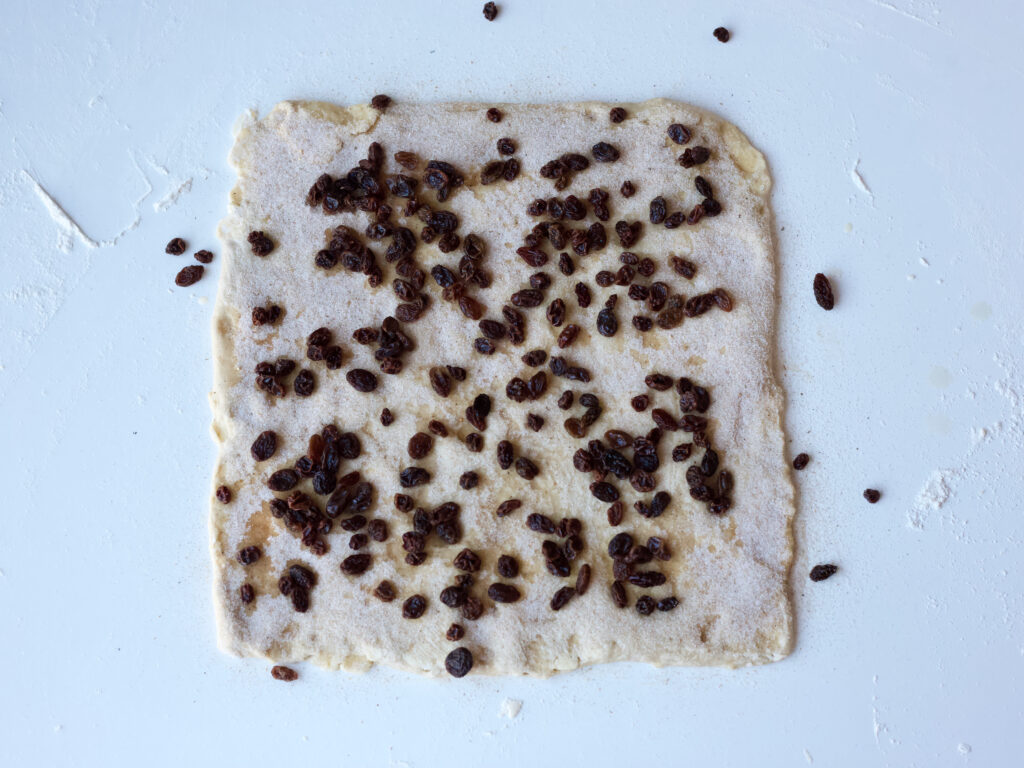 Brush melted butter on the dough, just enough to help the spiced sugar and raisins stick. Sprinkle with the sugar and then the raisins.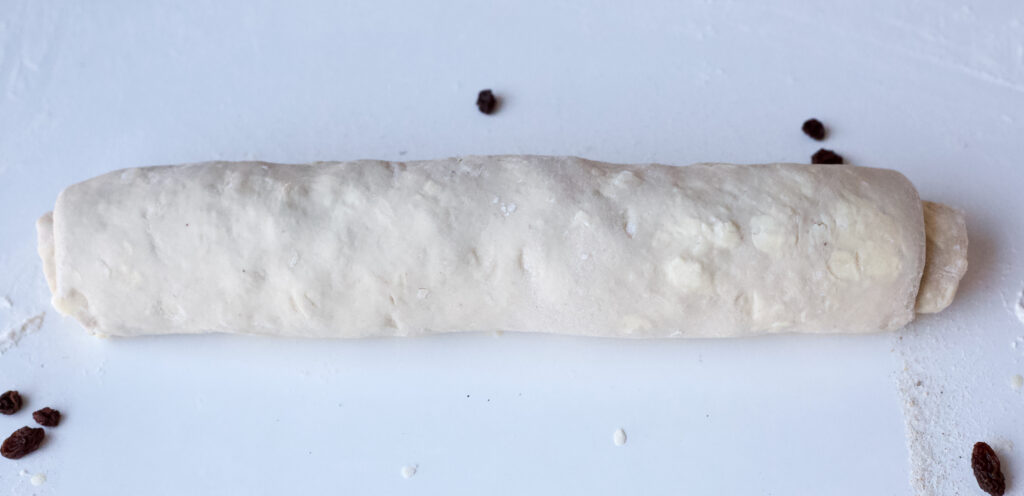 Roll the dough lengthwise, rolling it tightly as you go. You don't want any air pockets inside.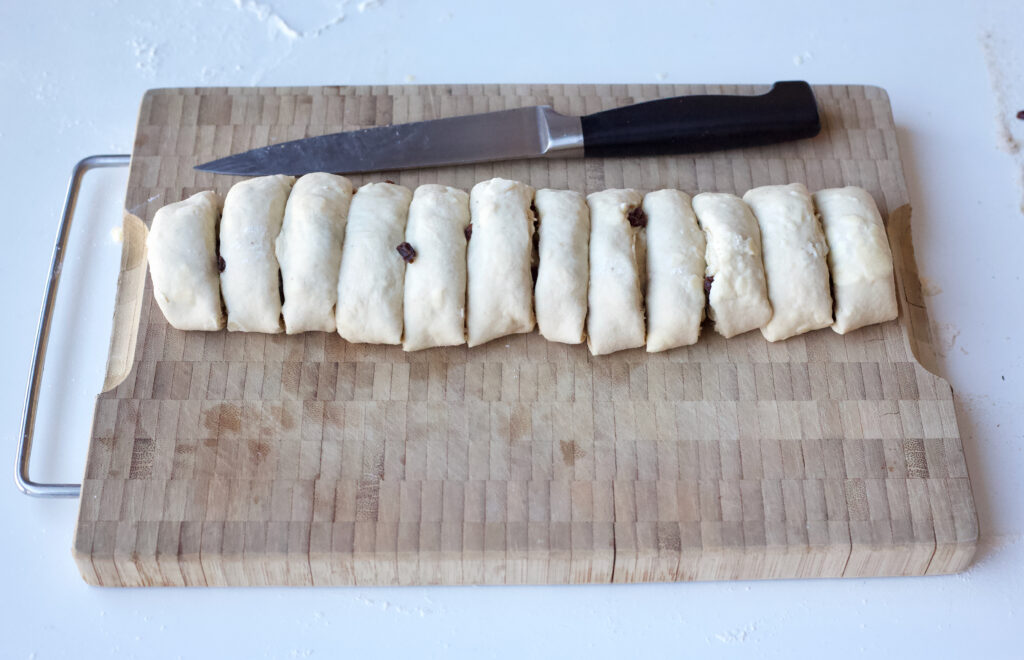 Cut the rolled dough into twelve pieces. To help you do this evenly, cut the log in half, then into quarters, then each quarter into thirds. That way each of the 12 pieces will be the same size.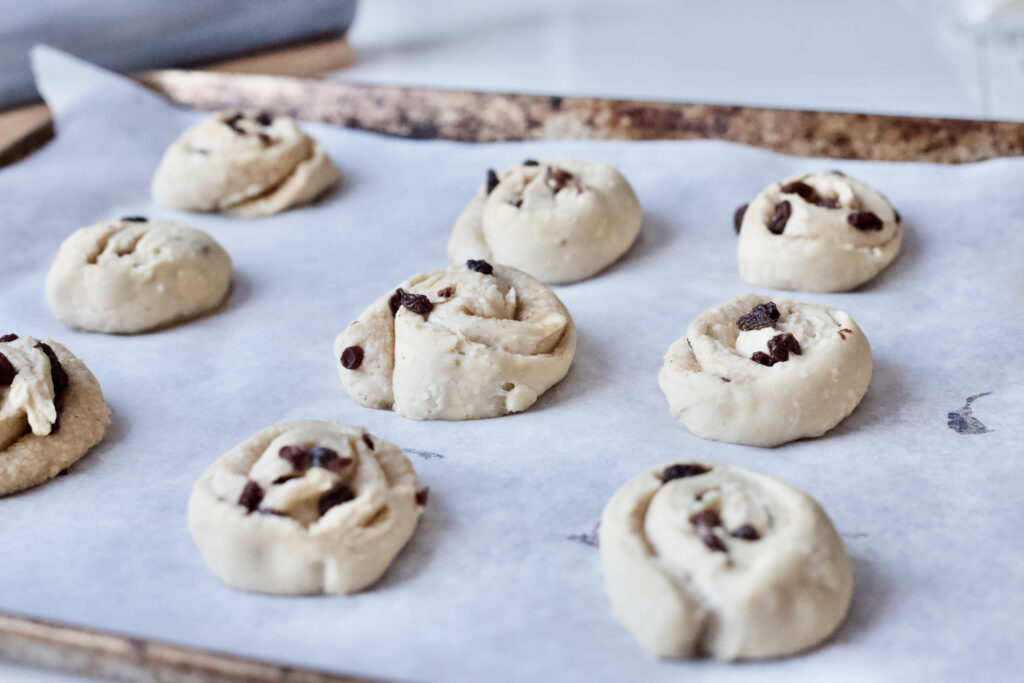 All ready for the oven.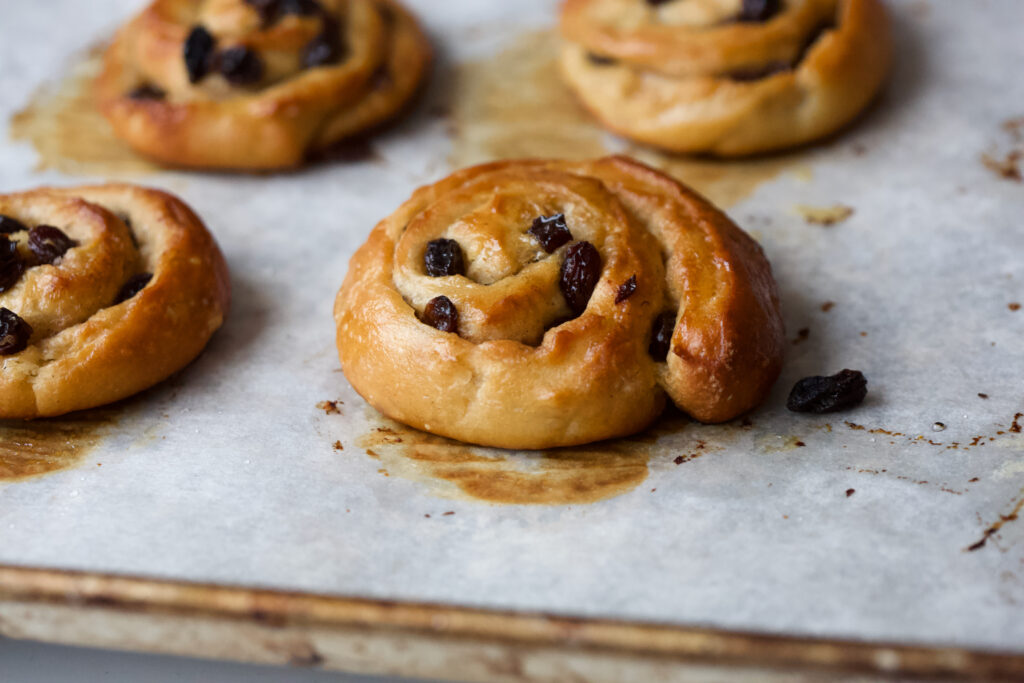 After they come out of the oven, brush on a sugar syrup glaze or strained apricot jam jam. It really gives them a finishing touch.
Enjoy your Apple Cider Pain au Raisin!
Suzanne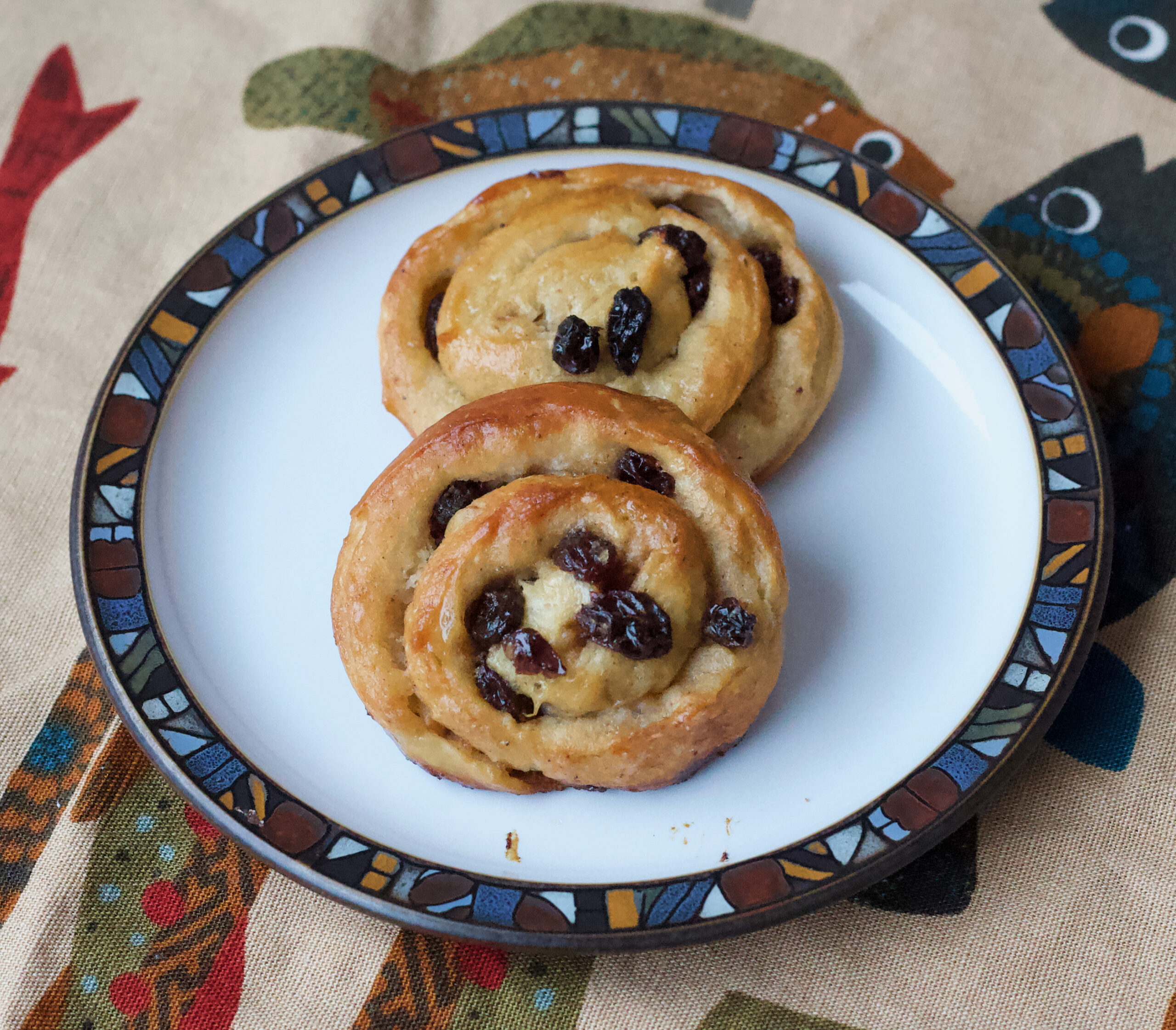 Print Recipe
Apple Cider Pain au Raisin
Ingredients
1 1/2 cups apple cider

1 Tbsp yeast

1 cup flour

2 3/4 cup flour

1 tsp salt

2 Tbsp sugar

1 1/4 cup cold butter, cubed

melted butter to brush on the pastry (about 1/4 to 1/3 cup)

spiced sugar (1/2 cup sugar mixed with 1 tsp cinnamon, 1 tsp ginger, 1/2 tsp nutmeg, 1/2 tsp cloves)

raisins (1/2 to 1 cup)

sugar syrup (1 cup sugar to 1/2 cup water heated in a pot on the stove until the sugar dissolves. or strained apricot jam: heat the jam on the stove and then strain).
Instructions
1
Dissolve yeast in warm apple cider.
4
Add the above into a mixing bowl, add the rest of the flour, salt, sugar and 1/4 cup of the cold butter.
5
Mix with your mixer using the dough hook.
6
It is done when the dough is elastic and there are hunks of butter incorporated into the dough.
7
Let this sit on the counter for 30 minutes.
8
Cover the dough with saran wrap and place dough in the fridge for 2 hours.
9
Roll the dough on your floured table into a rectangle.
10
Do a book fold. Fold the two sides into the middle and then one side on top of the other.
11
Wrap in plastic. And place in the fridge for one hour.
12
Remove the dough from the fridge and roll it into thirds; one side is folded into the middle, and the other side goes on top.
13
Place in the fridge for one hour.
14
Repeat rolling and folding it into thirds one last time.
15
Rest in the fridge for an hour or overnight.
17
Cut the rolled up dough in half.
18
Roll out one half into a square.
19
Brush melted butter over the surface. You just need enough to make the cinnamon sugar stick.
20
Sprinkle with about 1/2 cup raisins.
21
Roll the dough up tightly.
22
Cut the rolled up dough in half.
24
And cut each remaining piece into thirds. So you will have a total of 12 evenly sized pieces.
25
While placing each pastry on the baking tray, place the end of the spiral underneath so that it doesn't unravel.
26
Let the dough warm up on your counter for about 90 minutes.
28
Brush with an egg wash (one whole egg + 1 Tbsp of water).
30
Spread with a glaze of sugar syrup or strained apricot jam.
31
Serve warm or room temperature.
Notes
This recipe makes 24 pastries. If you don't want to make 24, you can freeze the dough just before the pastries are shaped.