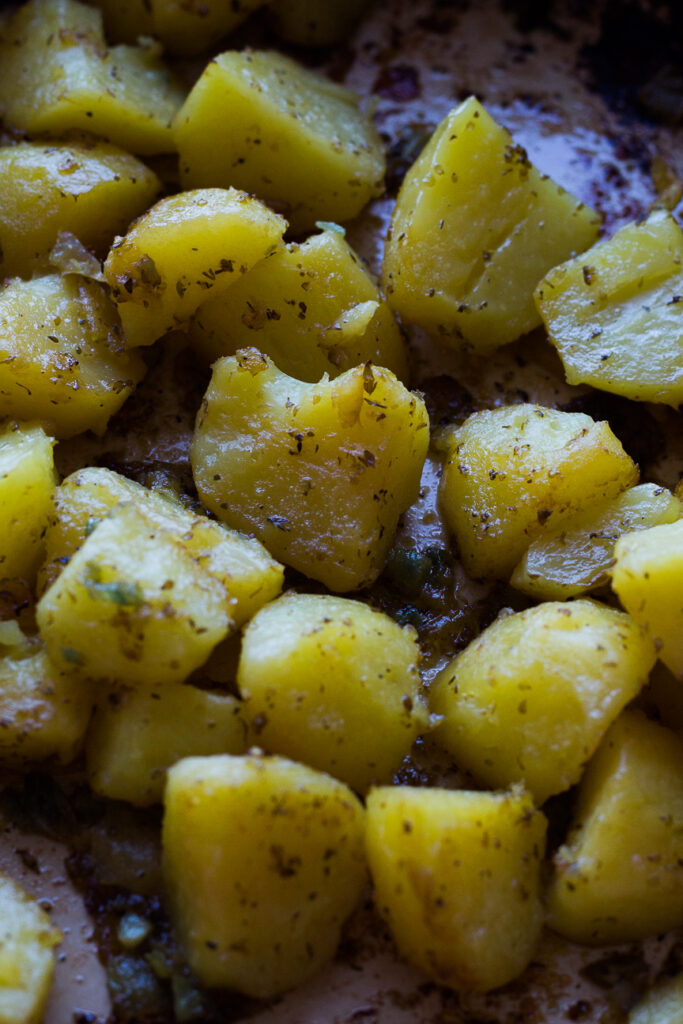 Happy Easter! Lately, I have been really craving potatoes. I love potatoes any style: baked, boiled, fried or roasted. But, I have to say, these Lemon Greek Potatoes are one of my favourites. They have a lovely creamy texture. And they are loaded with lots of lemon, oregano, and garlic flavours. So good.
I'm a huge fan of Greek food; greek salad, feta cheese on anything, oregano, olive oil, lemon, garlic flavours. I love all of those. If you are too, then you might want to check out my Greek Horiatiki Pasta Salad or my Alevropita Feta Tart.
My Lemon Greek Potatoes are quite simple to make, but you do need a bit of time. They are baked in the oven for a little over an hour. Of course, the great thing about baking in the oven is that it's hand-free and you can spend that hour washing up, setting the table, finishing dinner or relaxing while someone else does all of that.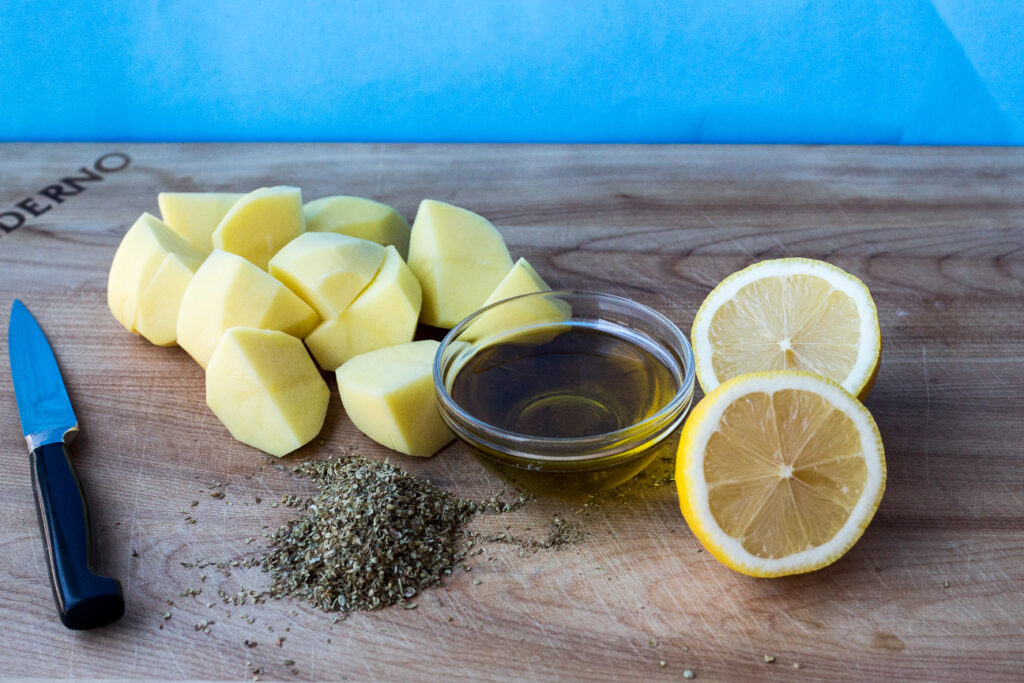 With only a few ingredients, this dish is so so simple to prepare. I like to use yukon gold potatoes because they turn out soft and creamy without falling apart.
What's the difference between Yukon Gold Potatoes and Russett Potatoes?
Yukon Gold Potatoes are waxy potatoes. They are slightly sweet and have a creamy, moist texture. Yukon Gold potatoes are good for roasting, making french fries or just boiling. They retain their shape well. A very good, all-purpose potato.
Russett Potatoes have a neutral flavour. Russett Potatoes are considered starchy potatoes. They are best for baking, french fries or mashed. But they do not hold their shape very well, for example: for gratins or potato salad.
How do I know when my potatoes are done?
They are done when the potatoes are very soft. You can test this by poking them with a butter knife. There should be no resistance.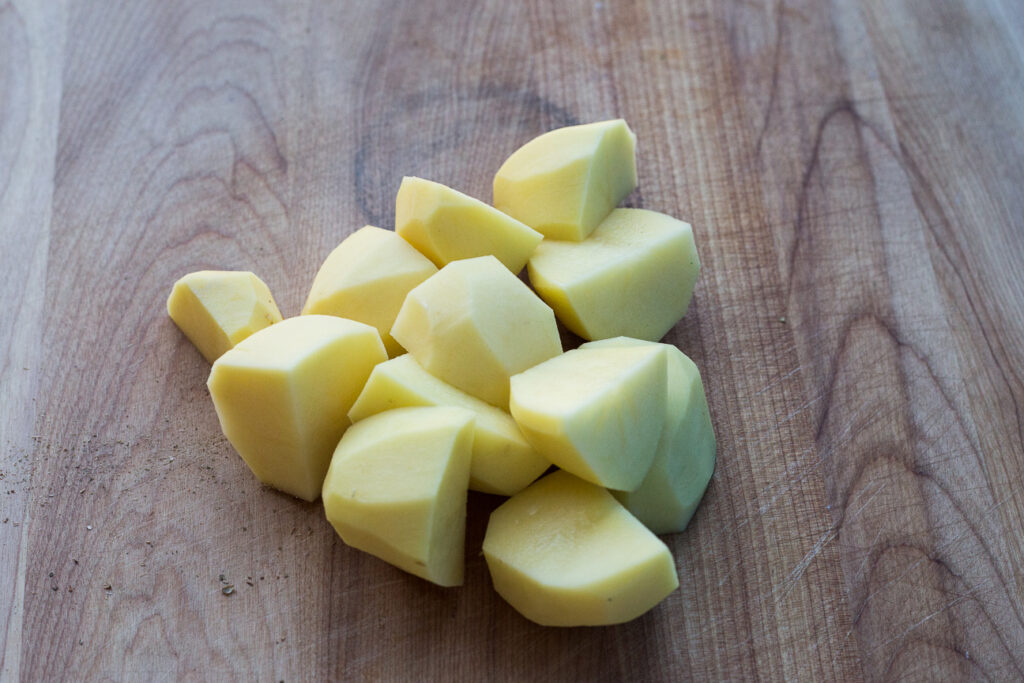 I cut each of my potatoes into quarters. I like this shape because the potato pieces seem to cook evenly. You could also cut them lengthwise, if you prefer. But, it's personal preference. If you do cut them lengthwise, they may cook quicker.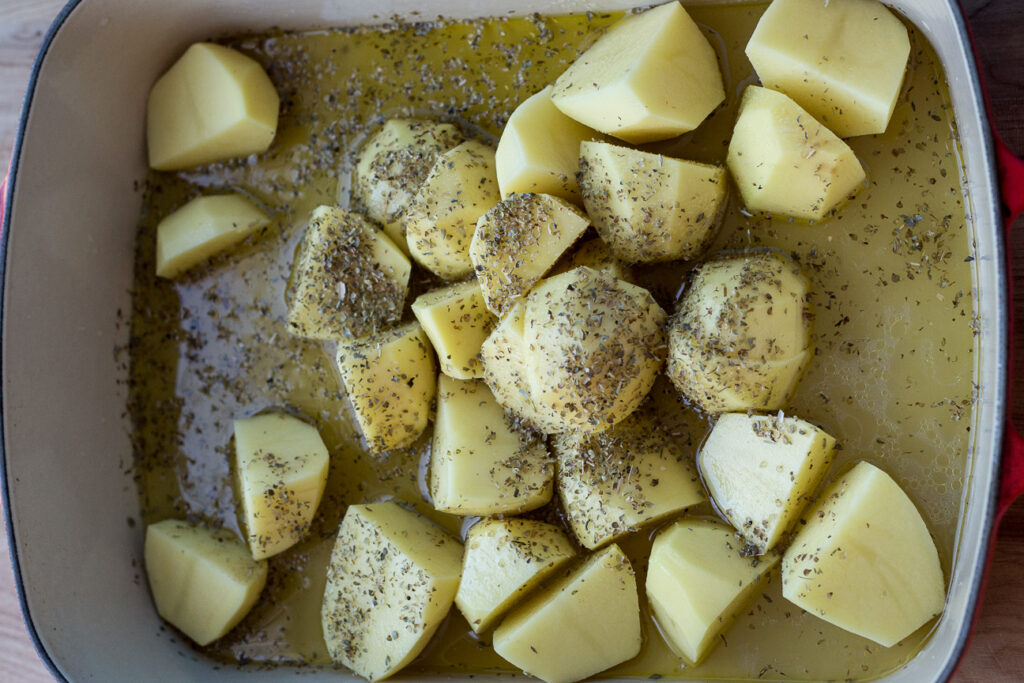 Place all of your ingredients in the baking dish. Stir everything all around (I used my hands).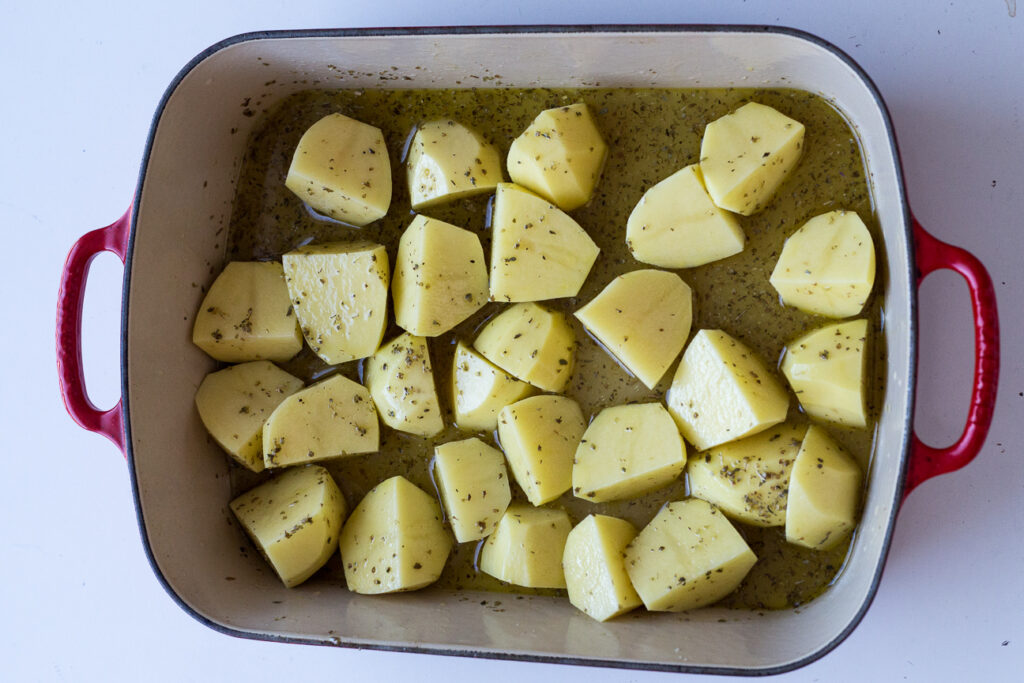 After a good mixing, all of the ingredients will be uniformly spread out in the pan. Cover your pan completely with tin foil and then pop it in the oven and check on it after about 45 minutes.
After about 45 minutes, the potatoes should be very soft and a fair bit of the liquid evaporated. If this is not the case, cover your pan back up and place in the oven until the potatoes are very soft (check them every 10-15 minutes, until very soft).
Remove the tin foil when the potatoes are very soft. Place the uncovered dish back in the oven for about 20 minutes. Continue to cook until the potatoes are starting to dry out and most of the liquid has evaporated.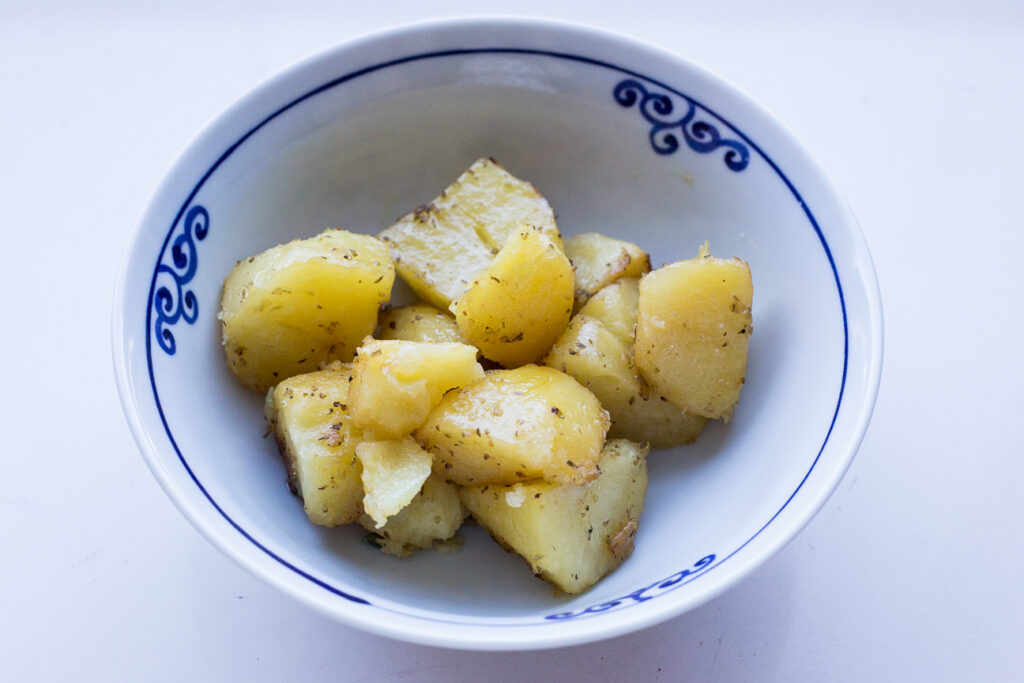 Lemon Greek Potatoes go well with a number of dishes, but I especially like them with pork or chicken or vegetarian entrees.
If you're a real potato lover like me, here is a great post to read about all the different types of potatoes.
A guide to every type of potato you need to know
Enjoy!