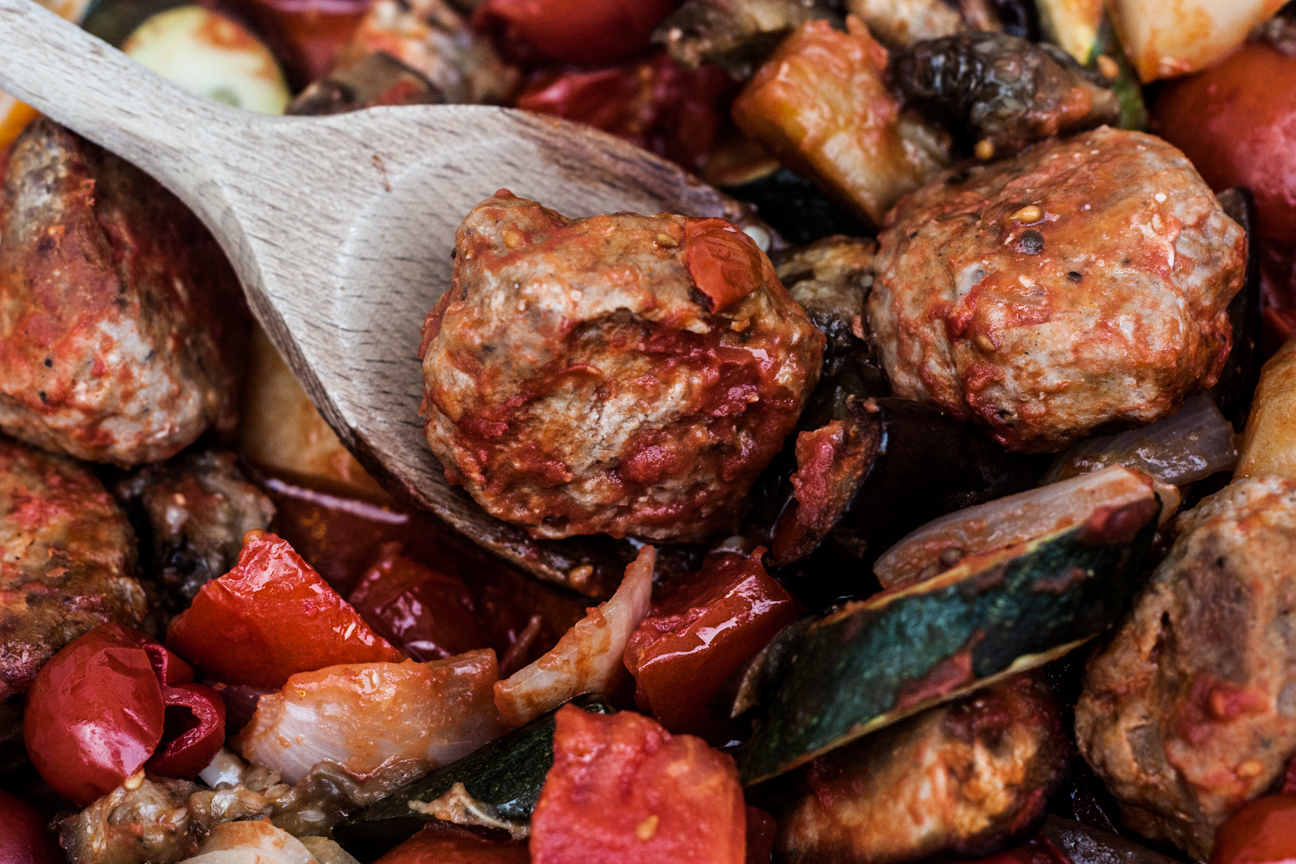 I love turkey dinners. But it seems that major holidays are the only times that I think of serving it for dinner. And yet there are plenty of ways to cook turkey without having to roast a whole bird. This recipe for my Awesome Turkey Meatballs with Roasted Vegetables is easy and nutritious. Plus, as it bakes in the oven you can sit back and relax and let the oven do all the work for you!
I really like using ground turkey (ground chicken would also work if you can't find turkey).  Turkey is very versatile and has a delicate flavour so it will compliment many other flavours.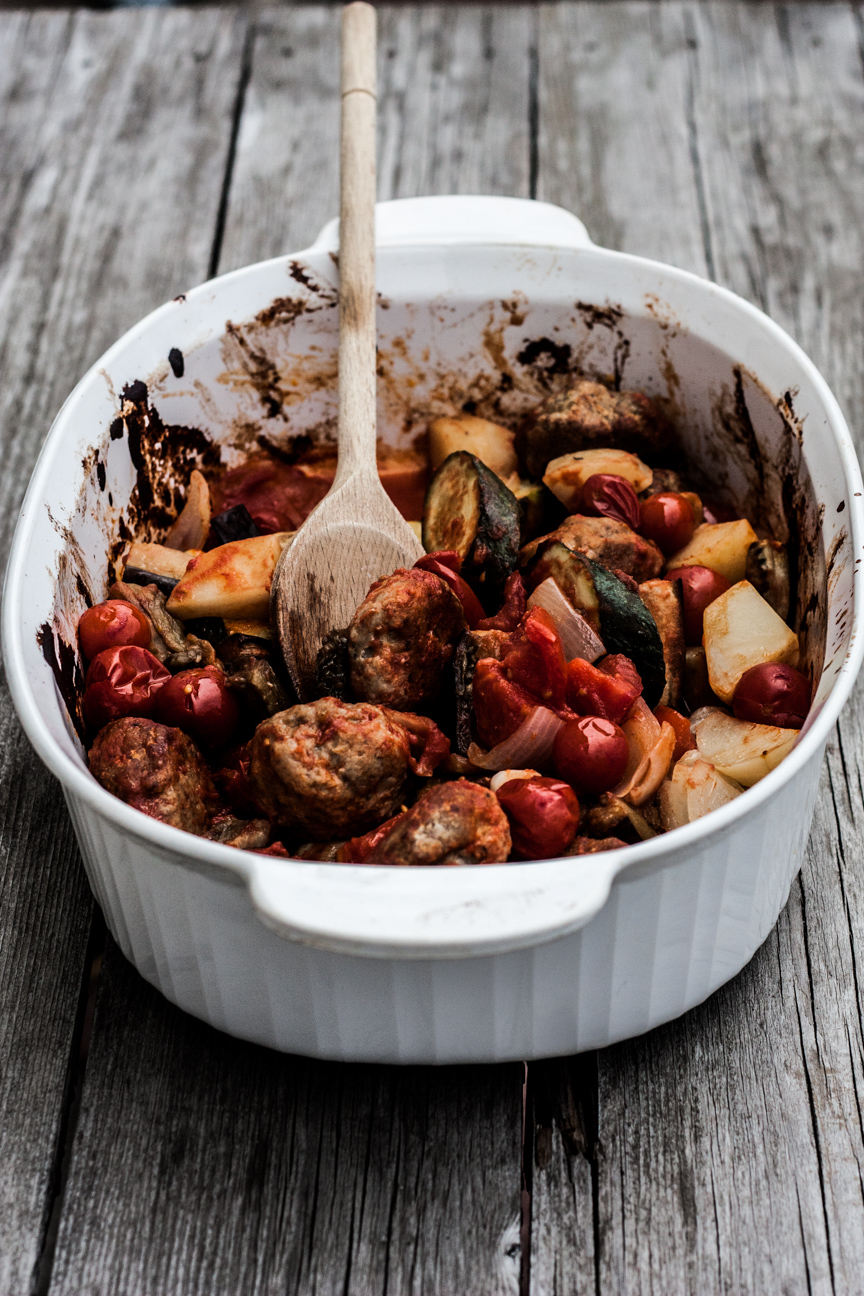 This turkey meatball dinner is an easy healthy one-pan dish that you will want to make again and again.
All of the ingredients are cooked all together in one pan: potatoes, autumn vegetables and turkey meatballs. I love dishes like this. While everything is baking in the oven, I can set the table and get drinks ready or sit for 30 minutes and read another chapter in one of my on-going reads.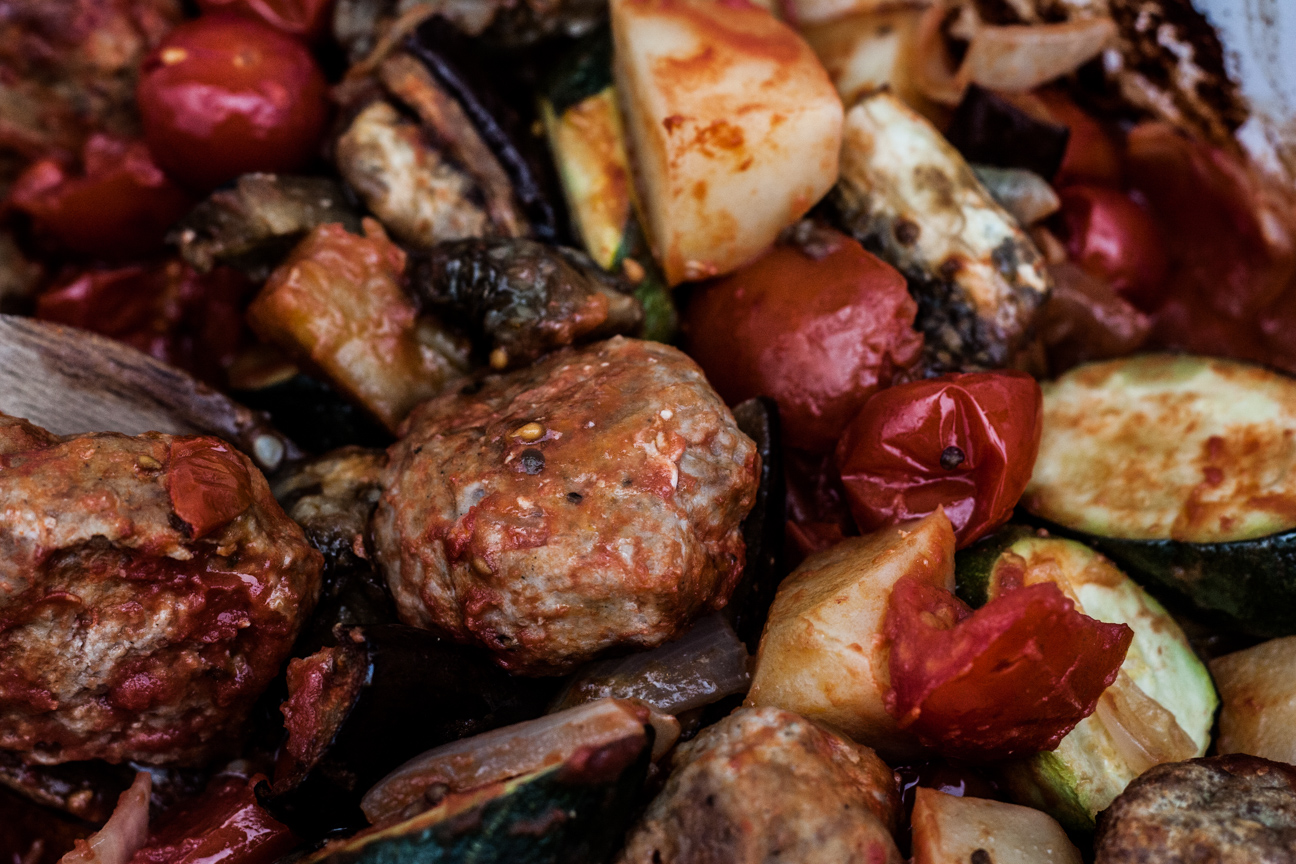 The vegetables caramelize slightly in the pan while the turkey meatballs bake to a nice golden brown. Halfway through baking, pour over a tin of cherry tomatoes to create a scrumptious thick tomato sauce.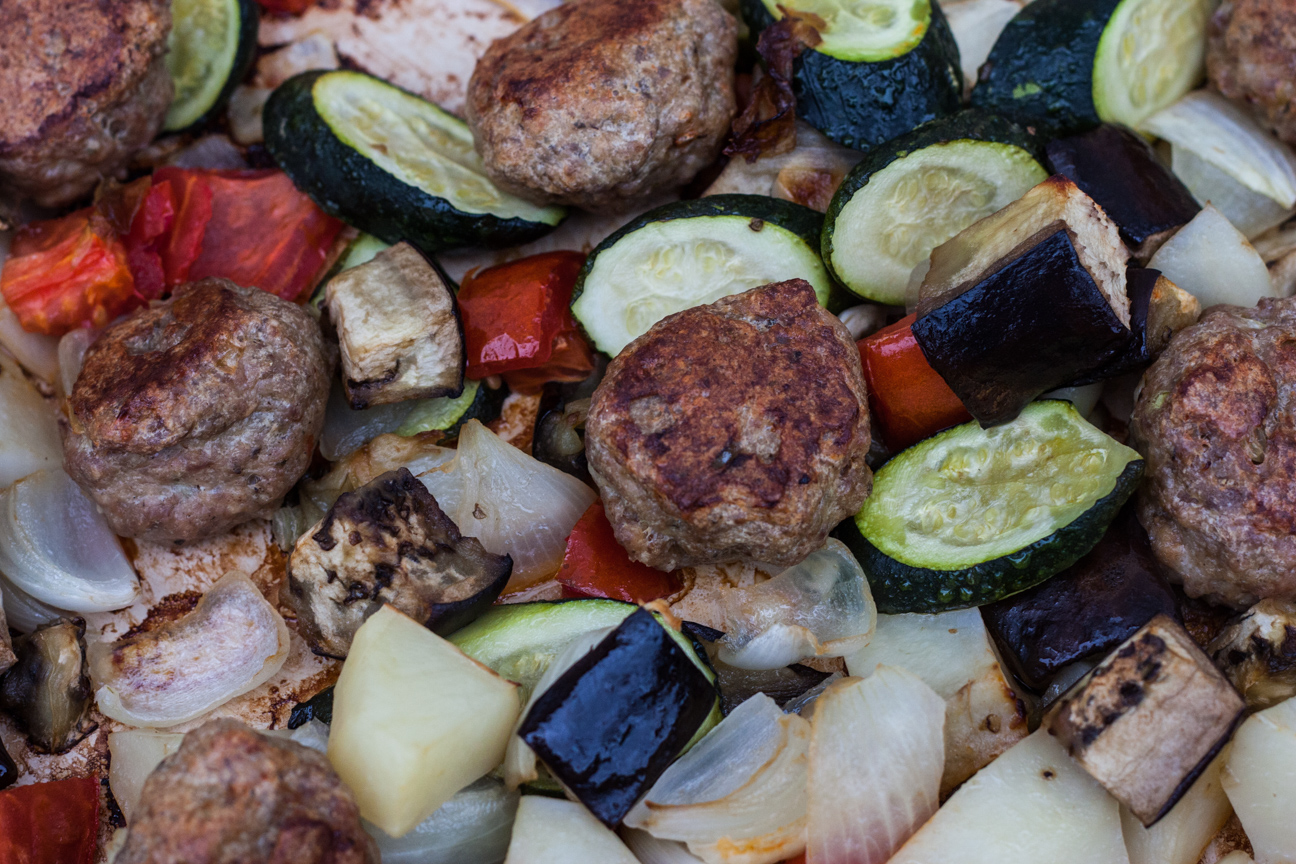 This dish is also tasty without the tinned cherry tomatoes…just turkey, veg and potatoes!
With or without the tinned tomatoes, this one-pan dish comes together in a flash and is just SOOOO yummy!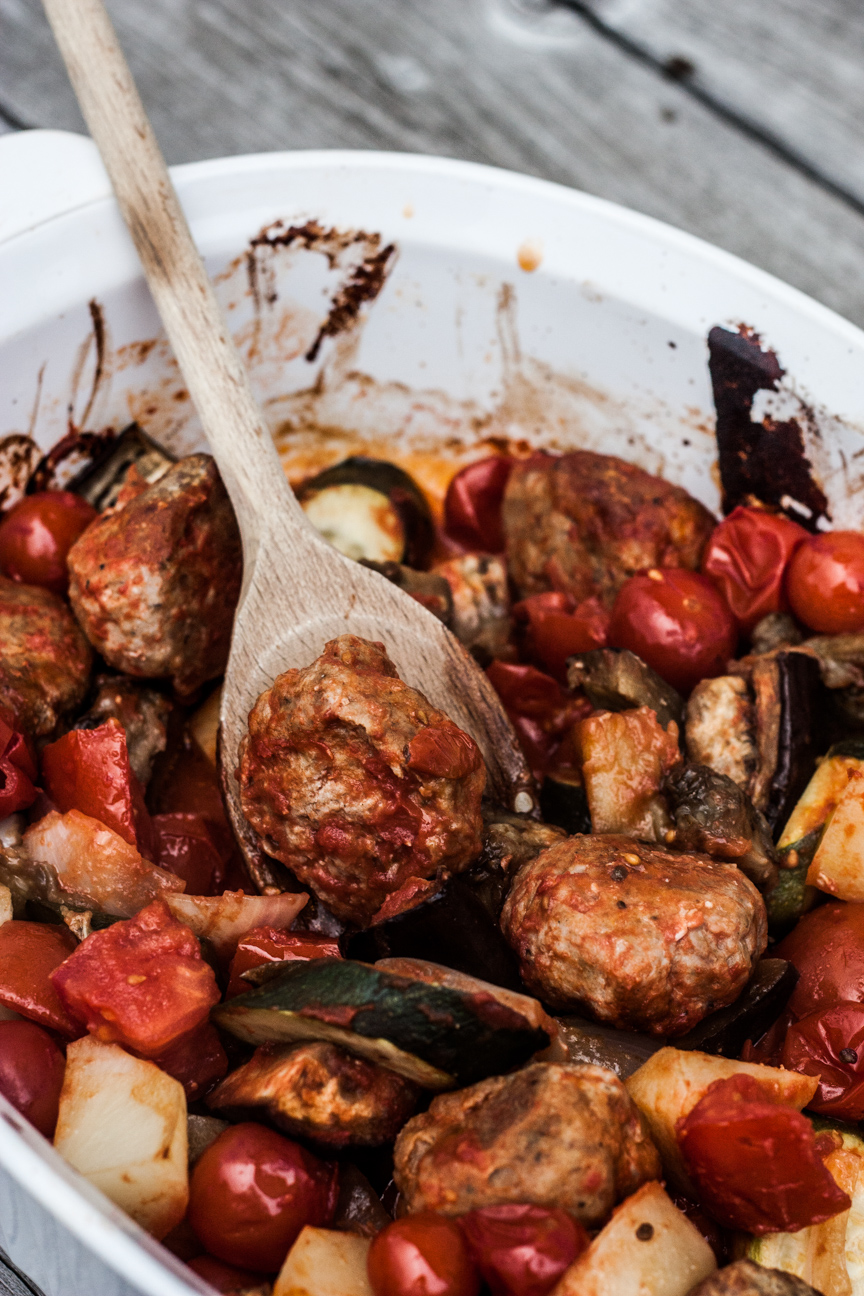 Serve this dish up with a glass of your favourite wine, some baguette and jazz music in the background.
Enjoy!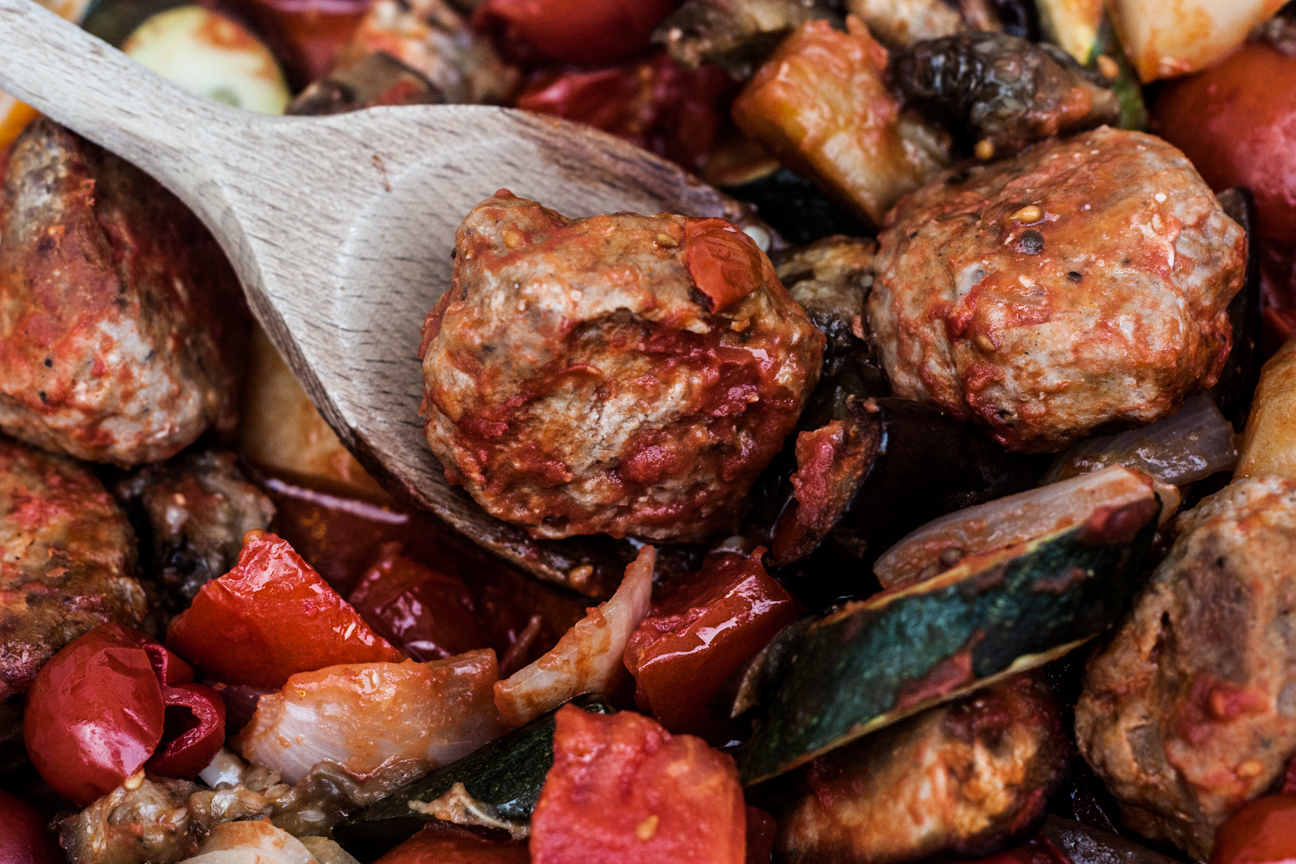 Print Recipe
Totally Awesome Turkey Meatballs with Roasted Vegetables
Ingredients
450 g ground turkey

75 g dry breadcrumbs

2 eggs

1 tsp oregano

1/2 tsp thyme

1/2 tsp salt

1 eggplant, cubed

3 medium zucchini, sliced thickly on diagonal

3 plum tomatoes, cubed

1 onion, chopped roughly

2 garlic cloves, sliced

4 medium potatoes, cut into 1" cubes

olive oil

1 14 ounce can of cherry tomatoes (optional, but we preferred this dish with the extra tomatoes)
Instructions
1
Oil two 9 X 13 inch trays.
2
Mix together meatball ingredients. Form into 12-16 meatballs.
3
Place meatballs on trays.
4
Place prepared vegetables around meatballs.
5
Drizzle everything with olive oil (about 2 Tbsp)
6
Season with salt and pepper.
7
Bake at 375 degrees F for 25 minutes. If you want, pour one 14 ounce can of cherry tomatoes over all of the vegetables and meatballs.
8
Continue to cook for another 20 minutes. Meatballs and vegetables will be golden brown.