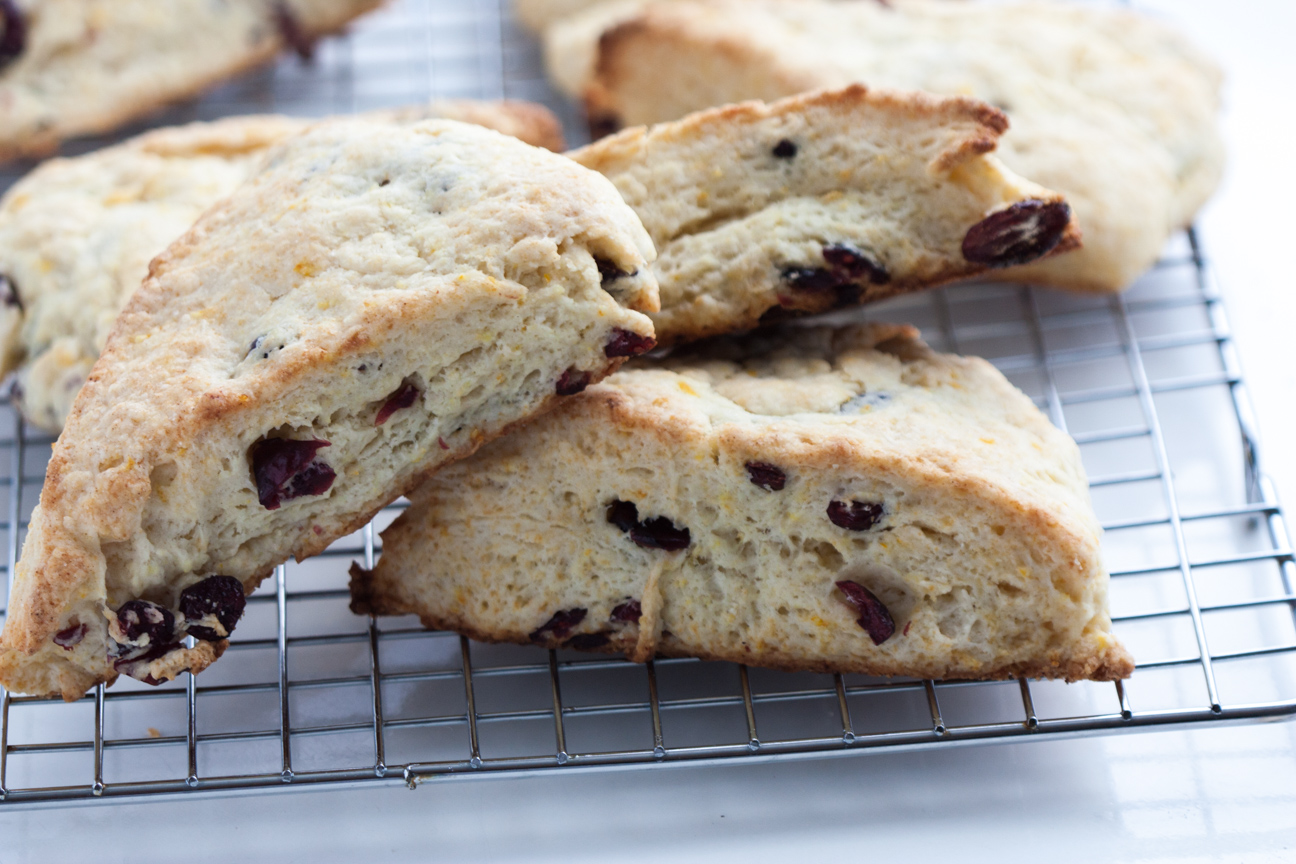 Scones are my favourite go-to treat ever. I love them with tea for a morning snack, in the afternoon with a mug of hot cocoa as well as in the evening spread with jam. This recipe of Classic Cream Scones with Orange and Cranberry is certainly not a low-fat scone, and as it's made with ample cream and butter you don't really need to spread it with more butter. Add a dollop of jam if you want to amp up the sweetness.
These scones come together very fast. As such, they make a particularly perfect gift for any occasion. They would be the ideal thing to make for a new mom with a newborn, a neighbour who needs cheering up, a bake sale at your local church or school, or a fundraiser for flood relief, or a sports team. They make an excellent thank you gift for a neighbour who has been collecting your mail, shovelled your driveway after a big snowstorm, or cut your grass when you couldn't get to it.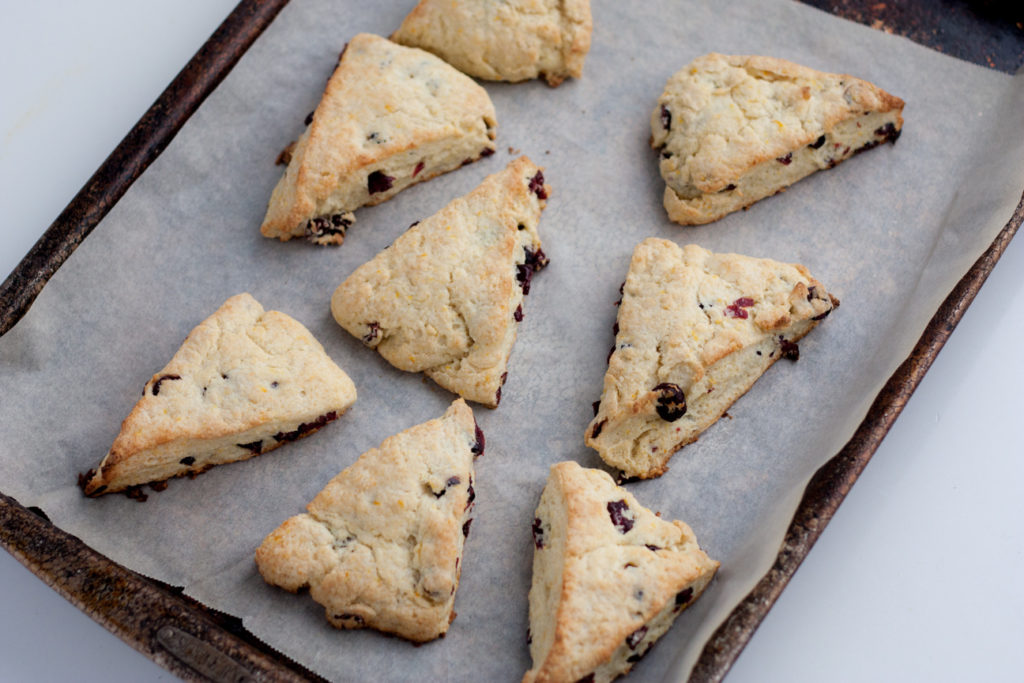 I baked a few dozen of these scones last November for my son's high school Craft Fair. They sold out within a couple of hours. Many people came back to my table to tell me how amazing they were. I made a few different variations but the Cranberry Orange Scones were the most popular. You could also make cinnamon and raisin, chocolate chip or chopped ginger. I'll make some more variations in the future and post the recipes.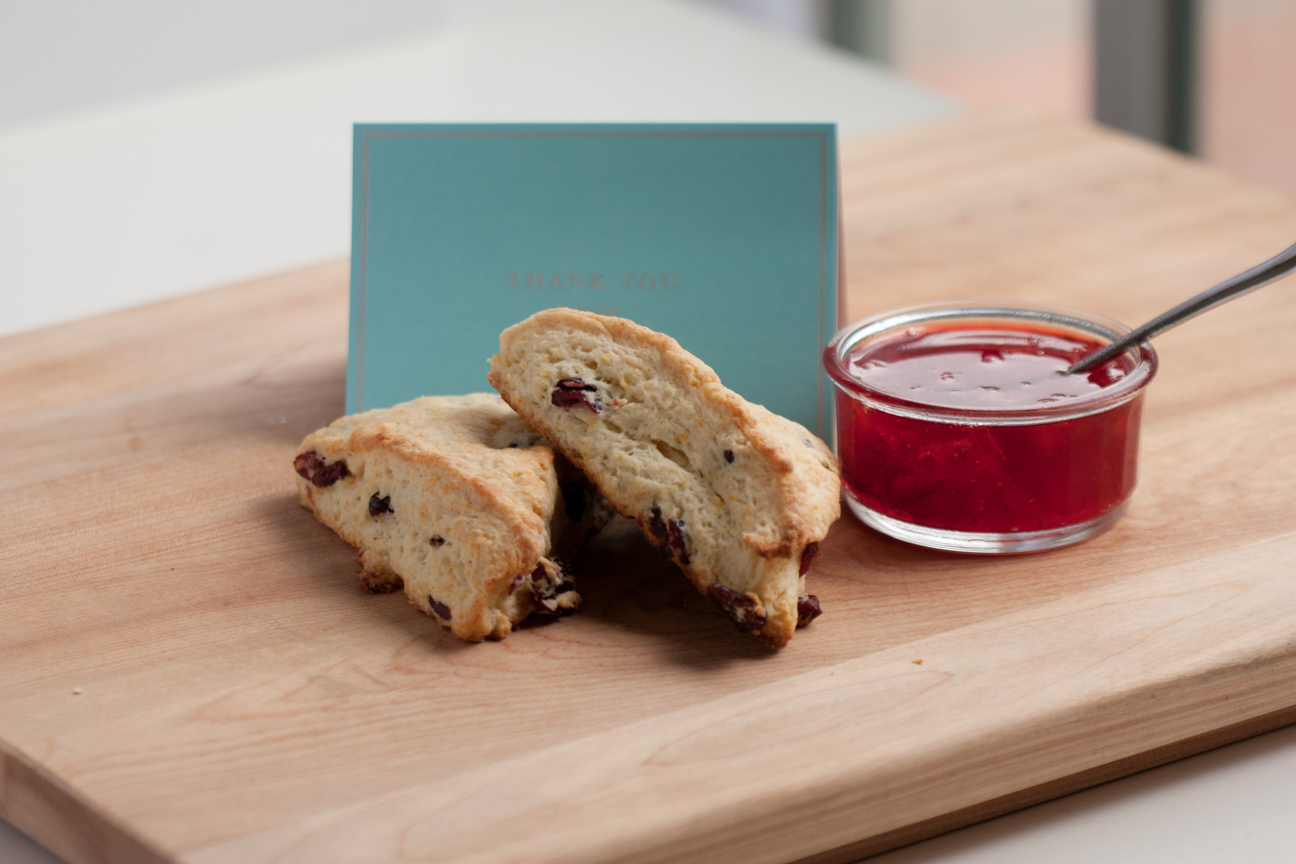 Ingredients
2 cups (10 ounces all-purpose flour)

3 tablespoons white sugar

1 tablespoon baking powder

5 tablespoons butter, cut into 1/4 inch pieces and chilled

3/4 cup dried cranberries

1 tsp grated orange zest

1 cup whipping cream
Instructions
1
Line baking sheet with parchment paper. Preheat oven to 425 degrees F.
2
Put dry ingredients into a food processor and pulse 3-5 pulses. Add cubes of butter and orange zest. Pulse until butter-flour mixture is blended together like bread crumbs, it's ok to have a few larger pieces.
3
Pour into mixing bowl and add dried cranberries and stir until cranberries are coated in flour, separate any stuck together. Stir in cream until a nice dough starts to form.
4
Place dough and any unmixed ingredients onto table and knead the dough until it all comes together to a nice somewhat smooth dough. Flatten out into a circle, trying to keep edges smooth, until it has a 9 inch diameter.
5
Cut the disc into 8 triangles and place each triangle on parchment paper, about 2 inches apart.
6
Bake for 5 minutes, then turn pan in oven; bake for another five minutes or so, until nicely golden on top.
7
Remove from oven and place tray on a rack. Let scones cool for 5 minutes or so on tray, then remove from tray and place on rack. You can eat them warm or at room temperature. Store in a cool dark place 2-3 days. You can also freeze the scones for about one month.
Recipe via
Cook's Illustrated Baking Book.