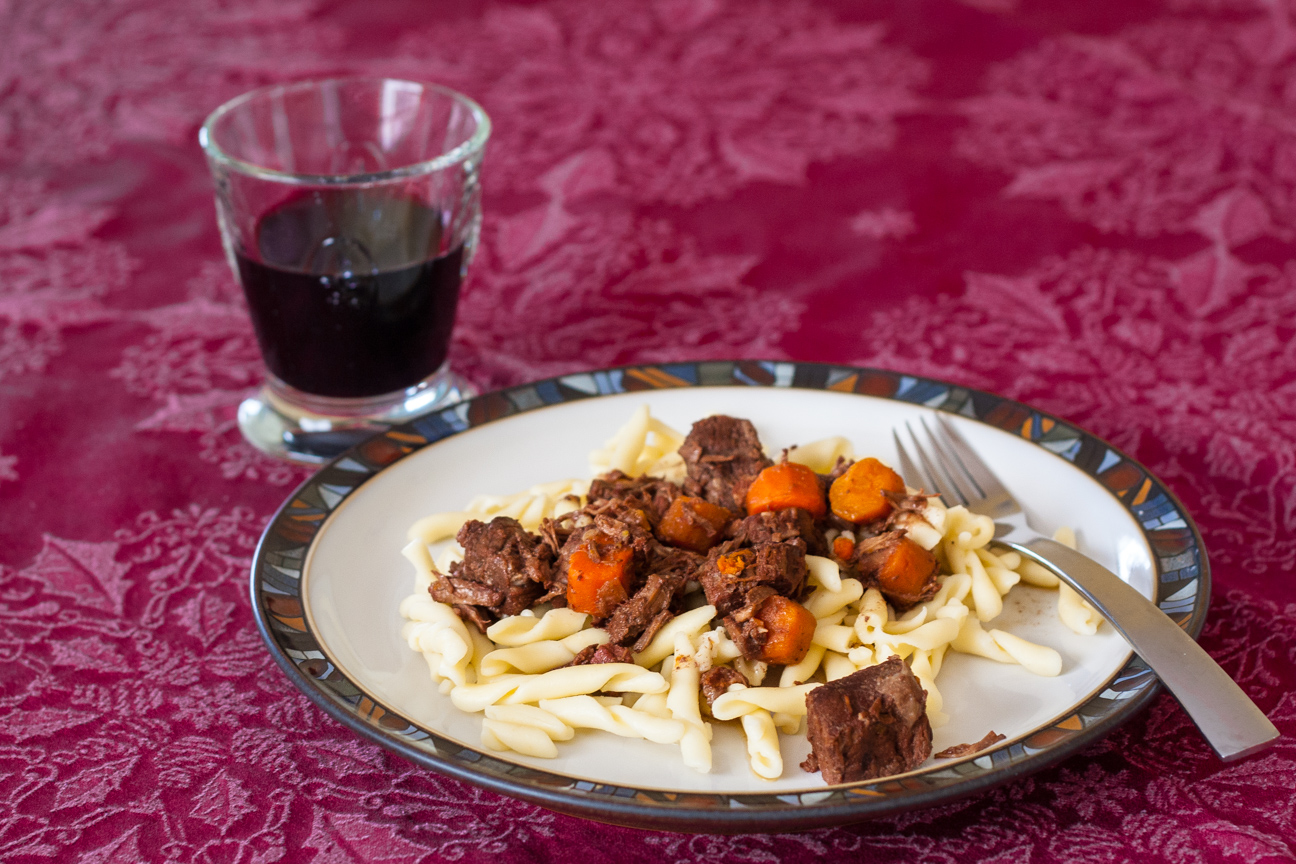 The days are getting longer and the sun warmer, but in our part of the world there is still a lot of snow on the ground, so it still feels wintery.
For our family, winter weather means hearty, comforting slow-cooking dinners. A slow-cooking stew is one of my husband's favourite family dinners during the long cold winter days; the kind of stew that simmers away in the oven for hours filling the house with the fragrant aroma of beef, wine and aromatic herbs.
I made this Boeuf en daube Provençale many years ago for a New Year's Eve party and everyone just loved it. It was sooo good. It was the first stew I ever made. I'll never forget how I lingered over every detail, wanting to get it just right: from buying a nice french red wine, choosing really good stewing beef and making sure my pan was 'hermetically sealed' as stated in the instructions. My husband had bought this cookbook for me for Christmas that year and I couldn't wait to make something from it right away. Even though that cookbook is a few years old now, I still love it with the photos of French vineyards, lavender gardens and braids of garlic. It certainly reminds me of my travels through France.
For me, cooking any french dish is a game-changer. The ingredients required and the techniques used are so particular, I feel as if I have to follow the instructions precisely or it just won't be authentic, even if I have nothing to compare it to. French cooking is so different from what I grew up with.  The stew that my mom made could change on a whim. She could add a lot of potatoes or just a few, depending on how many there were in the fruit cellar. (anyone remember fruit cellars?) Sometimes she would use parsnips (my dad's favourite) or if she didn't have any, she would add carrots. But the ingredients for Boeuf en Daube Provençale are very specific and highlight the local produce.
In fact, Boeuf en Daube Provençale, is so unique, it is supposed to be made in a specially designed pot called a daubiere. Who knew??? A daubiere is a bulbous shaped pot that is narrow at the top and sealed tight with a concave lid. Water is poured on top of the lid, which keeps it cool, so the liquid in the pot condenses on the inside and drips back down into the bottom of the daubiere. This allows the meat to cook in a small amount of liquid without drying out. I don't own a daubiere (but now I want one). When I make this stew, I seal the top of my pot with tin foil and then place the lid on top to make sure no liquid escapes. If you're intrigued about the daubiere, like I am, I have listed where to purchase one, at the bottom of this post. (no one is paying me to write that…I'm just super curious about these pots now).
This stew is a very special dish. But you don't have to wait until New Year's Eve to try it. It would actually be the perfect dish to serve after going out for a late winter snowshoe, or hike in a park, or you could even just play a game of cards and drink cocktails in front of a cozy fire while it's stewing.
It's super easy to make as all the ingredients marinate together in the fridge overnight. The next day, all you need to do is just pop it in the oven and let it slow-cook for a few hours.  I love that, don't you? And the flavours – Oh My! – succulent cubes of beef and earthy slices of carrot simmering in red wine scented with bouquet garni, aromatic spices and a thick curl of orange peel. It is the quintessential wintery beef stew. It's so delicious, don't count on leftovers, but if there are any, this stew is super yummy the next day.
So, before the snow melts and the bulbs pop up and we swap hearty casseroles, warming soups and rib-sticking pasta dishes for cool and refreshing veggie salads and seasonal fruits, try to get outside for one more winter activity knowing that when you get back home, Boeuf en Daube Provençale will be waiting for you.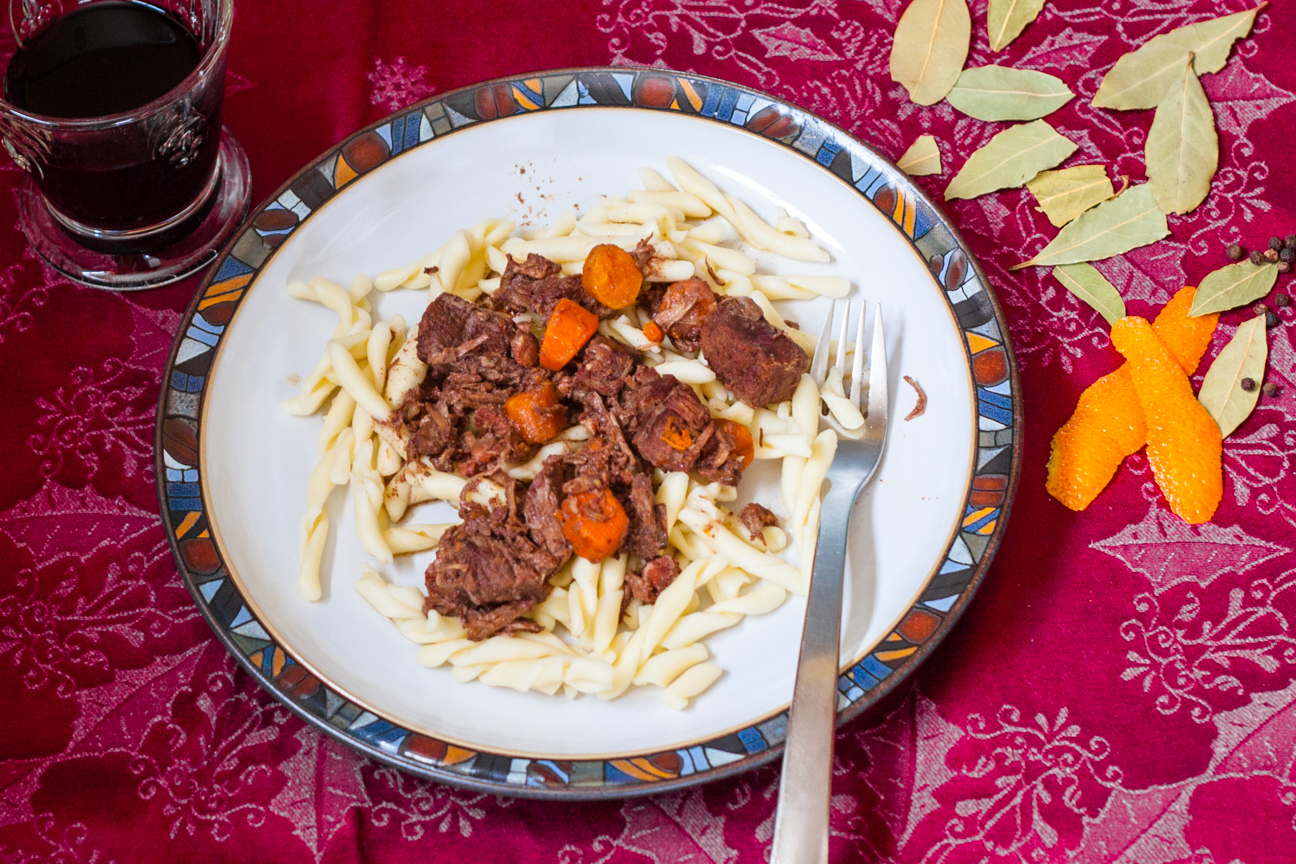 More fun info on stews
A list of french stews to read up on
Everything you ever wanted to know about a daubiere
Paula Wolfert: The Queen of Clay Pot Cooking
Where to buy a Traditional Daubiere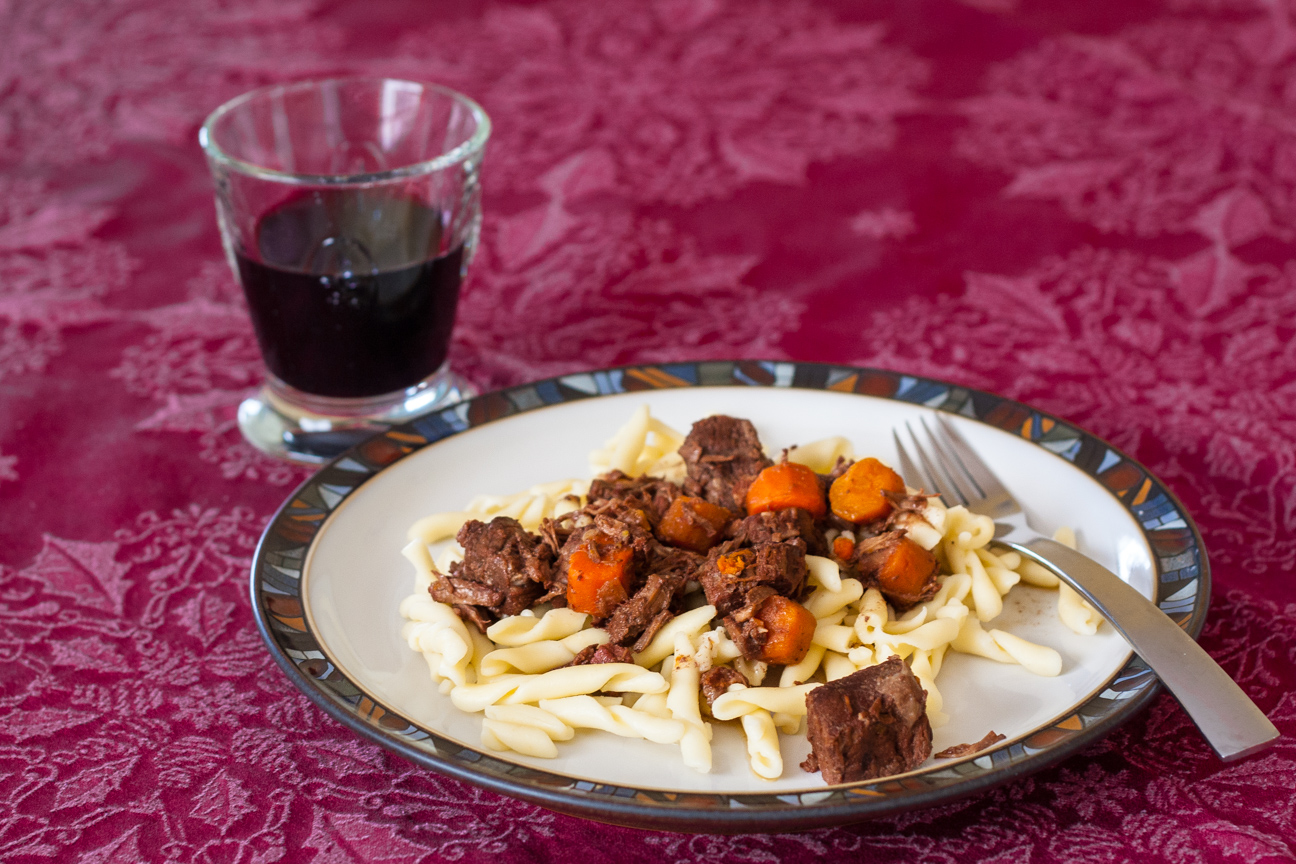 Print Recipe
Boeuf en Daube Provençale Stew Recipe
Ingredients
2 kg best stewing beef

20 grams (1 cup) diced bacon

2 big onions

3-4 carrots

bouquet garni

bay leaf

salt and pepper to taste

1 bottle red table wine

100 ml (1/2 cup) red vinegar

3-5 garlic cloves

1 curl of orange peel

450 ml (2 cups of water)
Instructions
1
Cut the stewing beef into even-sized cubes.
2
Marinate the beef with one chopped onion, sliced carrots, bouquet garni, bay leaf, red wine and vinegar.
3
Cover the stew and put it in the fridge overnight.
4
The next day, preheat your oven to about 300 degrees farhenheit.
5
Saute the bacon and onion together.
6
Dry the pieces of beef on a paper towel and add the beef to the onion and bacon mixture to brown the beef.
7
Place a heaven iron casserole dish on the stove top. Use one that you can use on top of the stove, as well as in the oven. And the hopefully has a lid.
8
Place the bacon, onion and beef into a heavy iron casserole dish.
9
Add the marinade and all the other ingredients.
10
Add the crushed garlic and the orange peel.
11
Add some hot water until all the ingredients are just covered and bring to a boil.
12
Seal the casserole dish with tin foil and then place the lid on top. Make sure it is well sealed.
13
Cook in the oven for 4-5 hours.
14
It will be ready when the beef is very very tender.
15
Serve overtop of noodles.
Recipe adapted slightly from A Taste of Provence