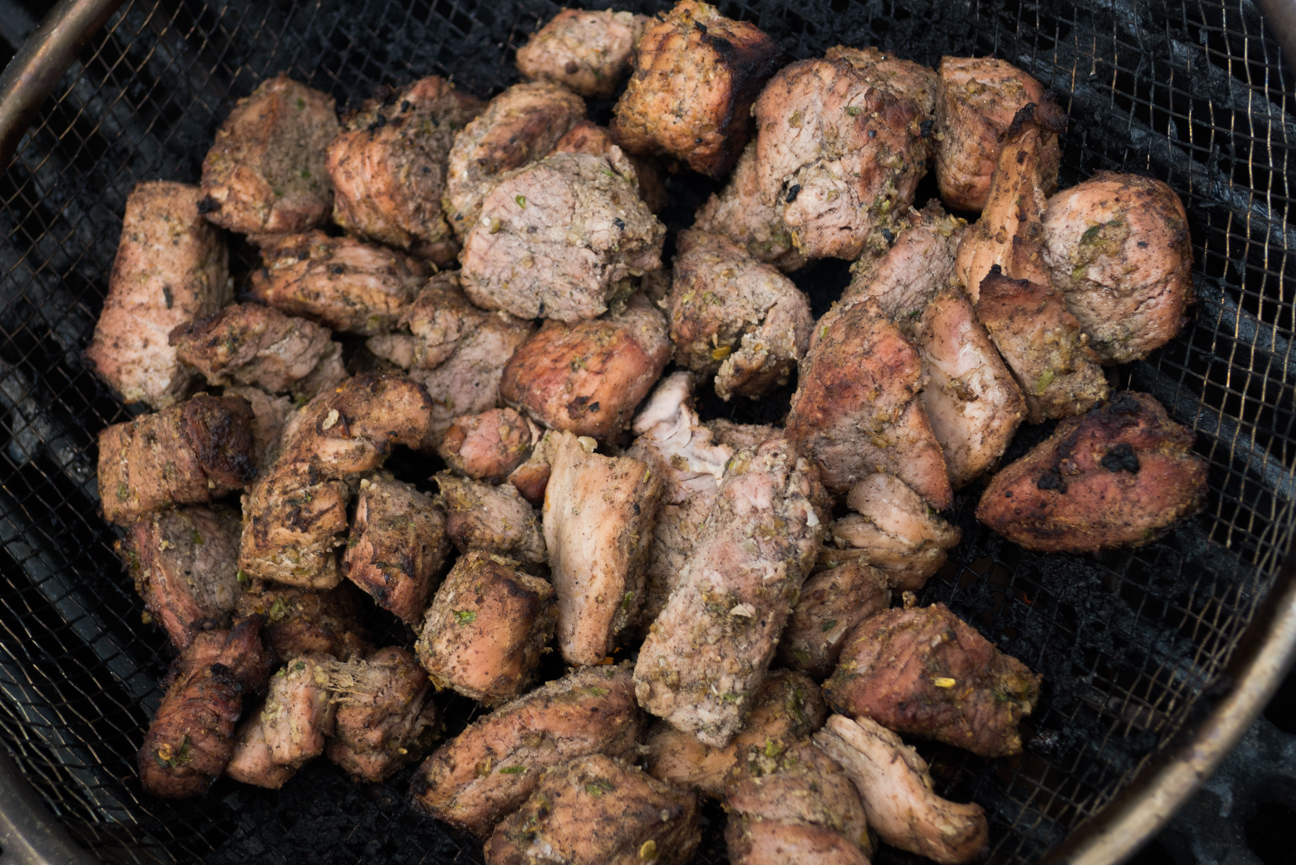 Even though the summery weather is slowly fading, I'm happy that we can still barbecue for another few weeks. Jamaica Jerk Pork is perfect Autumn barbecue food because the gentle heat of the jerk spices warm you up as the evening cools down. My husband and I loved camping in the fall: the campgrounds were quiet and still, the lake water still warm from the heat of the summer and the bugs had all but disappeared.  And whenever we camped, we always made Jamaican Jerk Pork.
Homemade Jamaican Jerk Pork is so perfect for the home barbecue, or outdoors campfire. The direct heat from the barbecue or campfire gives this dish its special characteristics: smoky, spicy and seared with flavour. Jamaican Jerk Pork is made from cubes of pork seasoned with a spicy, aromatic marinade. After the pork has marinated for a minimum of a four hours (although we always did it overnight) the pork is cooked on the campfire or barbecue until the meat is seared to a deep golden brown on all sides and cooked through. It is pure heaven. We always served the jerk pork with fresh juicy local-grown tomatoes and crisp iceberg lettuce wrapped up in a warmed pita. The heat of the jerk with the coolness of the fresh vegetables is a unique combination.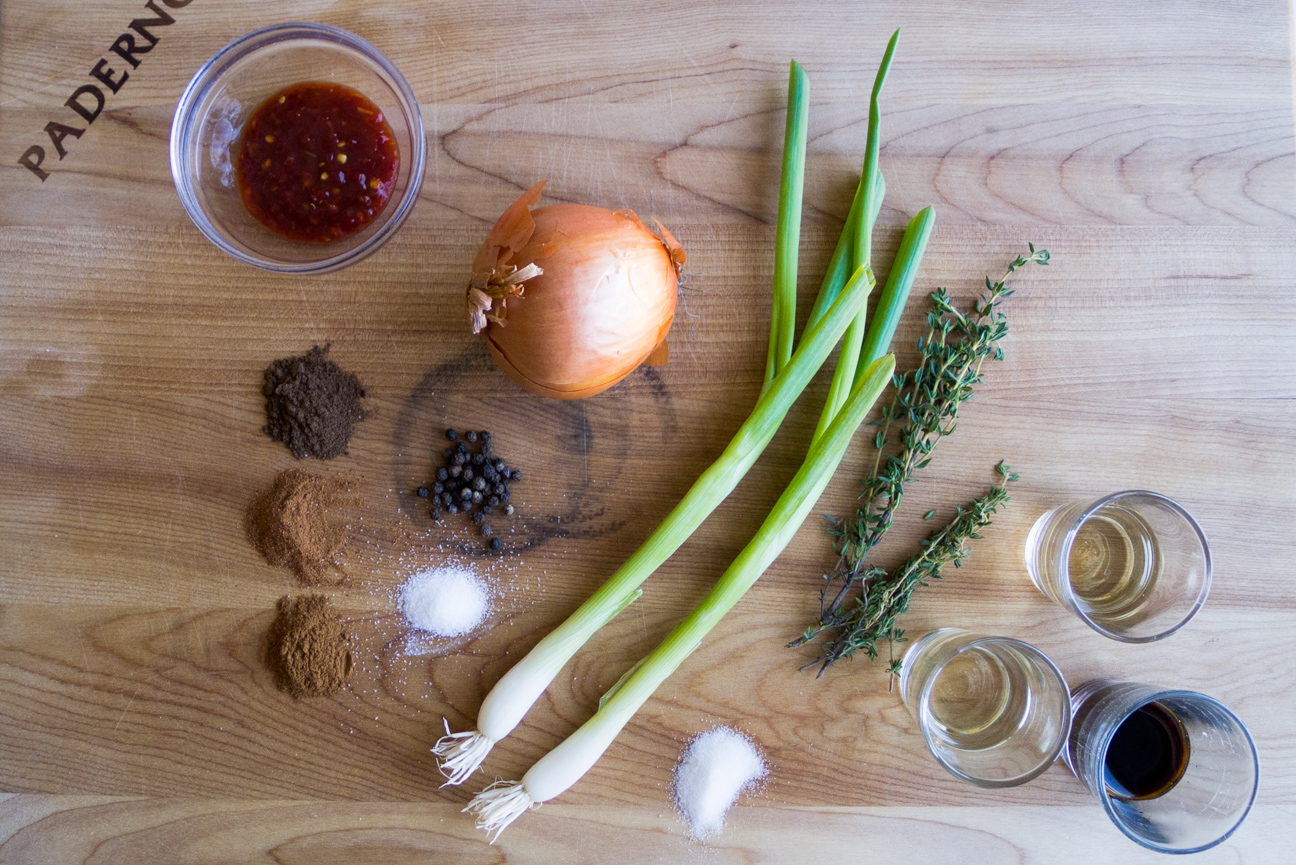 Jamaican Jerk is really easy to make with white and green onion, thyme, soy sauce, oil and a few pantry spices.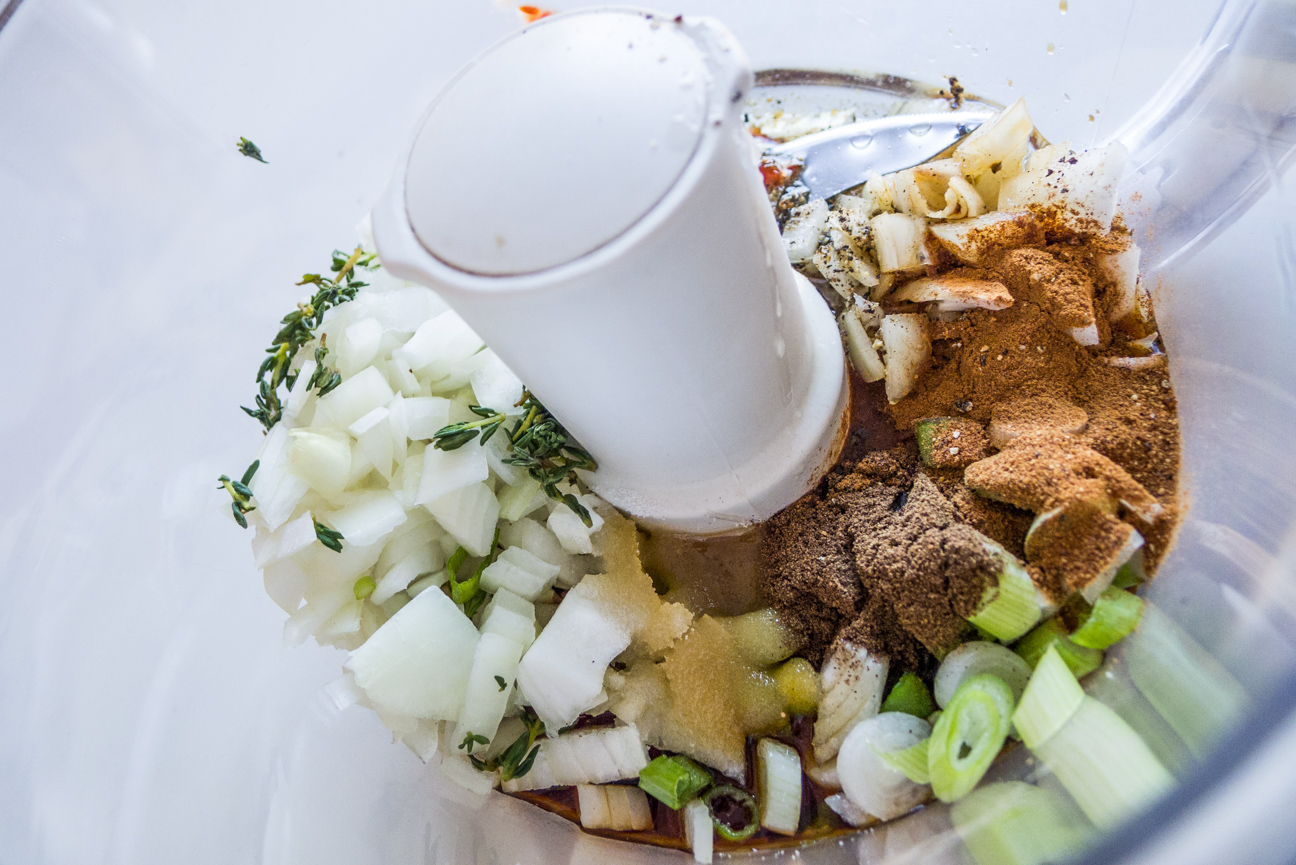 Finely chop all of the ingredients in the food processor.
Barbecuing the pork is super easy. There are two ways that you can barbecue the pork. 1) either on skewers, or 2) in a perforated pan. I usually wrap the pita bread in tin foil and heat it gently by the fire.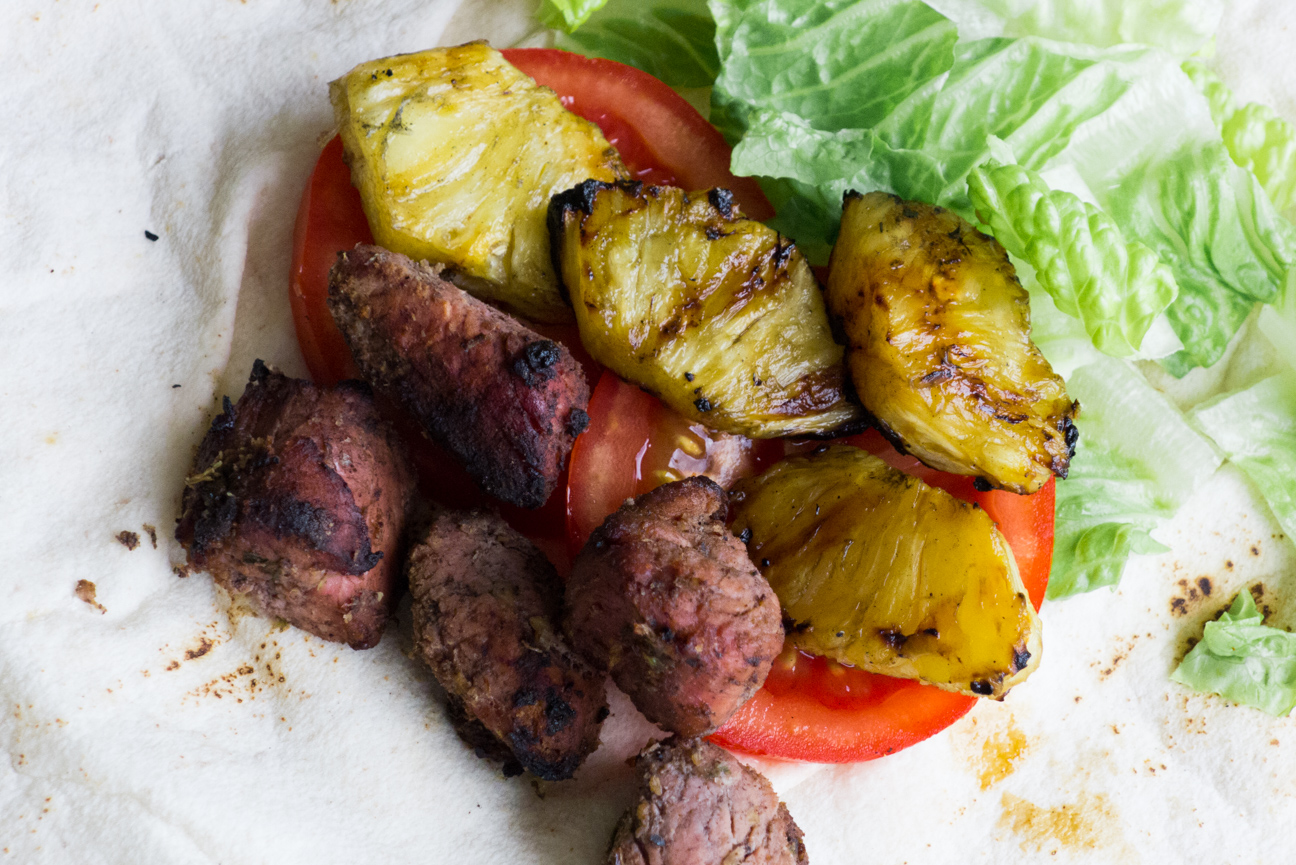 Place the grilled pork cubes, into pita bread or a wrap grilled pineapple, tomato and lettuce.
So perfect!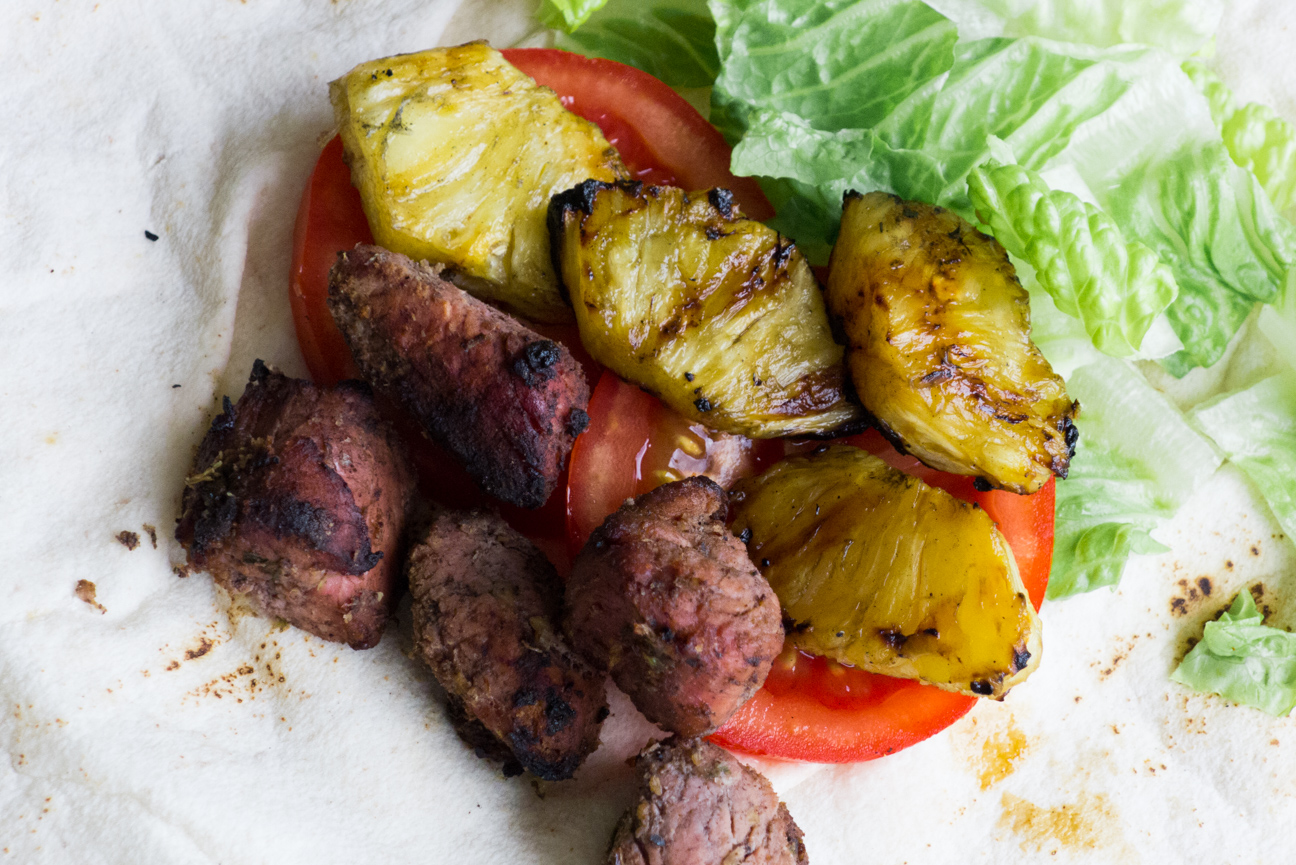 Print Recipe
Ingredients
For the marinade:

1 onion, finely chopped

1/2 cup scallion, finely chopped

2 teaspoons fresh thyme leaves

1 teaspoon salt

2 teaspoons sugar

1 teaspoon ground jamaican pimento (allspice)

1/ teaspoon ground nutmeg

1/2 teaspoon ground cinnamon

1 hot pepper, finely ground (see Note)

1 teaspoon ground black pepper

3 Tbsp soy sauce

1 Tbsp cooking oil

1 Tbsp cidre or white vinegar

3 pounds pork tenderloin

condiments:

tomatoes

lettuce

grilled pineapple

pita bread

condiments such as BBQ sauce or salsa
Instructions
1
To Make the Marinade: Place all marinade ingredients in a food processor and blitz until everything is finely chopped.
2
Cube the pork into pieces about 1". Mix pork cubes and jerk marinade together. Marinate a minimum or 4-6 hours or overnight in the refrigerator.
3
Next day, thread cubes of pork on skewers and barbecue until meat registers 145 degrees F on a cooking thermometer. Meanwhile, warm pita bread in low oven (about 300 degrees) for about 10 minutes. Or, if you are cooking outdoors, wrap the pita in tin foil and place on top of grate to warm up. Don't get them too hot or they will just toast.
4
Place jerk pork in a bowl and serve with diced tomatoes, grilled pineapple, chopped lettuce and pita bread cut in half and popped open. Alternatively, you can place ingredients on top of pita and just roll up. Serve with your choice of barbecue sauce or salsa if you like.
Notes
Tip: The peppers you choose will depend on how spicy you want the jerk marinade. The most common hot peppers available in supermarkets are: jalapeno (mild to hot), serrano (hot), habanero (very hot), bird's eye chill peppers (very very hot). And remember! when working with fresh peppers, be extra careful and never rub your eyes, nose, or mouth when working with peppers. Wash your hands with soap and water immediately after cutting the peppers up. Extra Cooking Tip: We love grilled pineapple with the Jamaican Jerk Pork. If you buy fresh pineapple in the grocery store that has the skin and top removed, slice the whole piece down the centre so you have two halves. The slice the two halves in half. This makes it easy to remove the core. After you have sliced away the core (the woody fibrous part in the centre, slice each segment into pieces about 1/2 inch thick and grill these in a perforated vegetable tray on your barbecue.
Recipe adapted slightly from Jerk, Barbecue from Jamaica by Helen Willinsky.