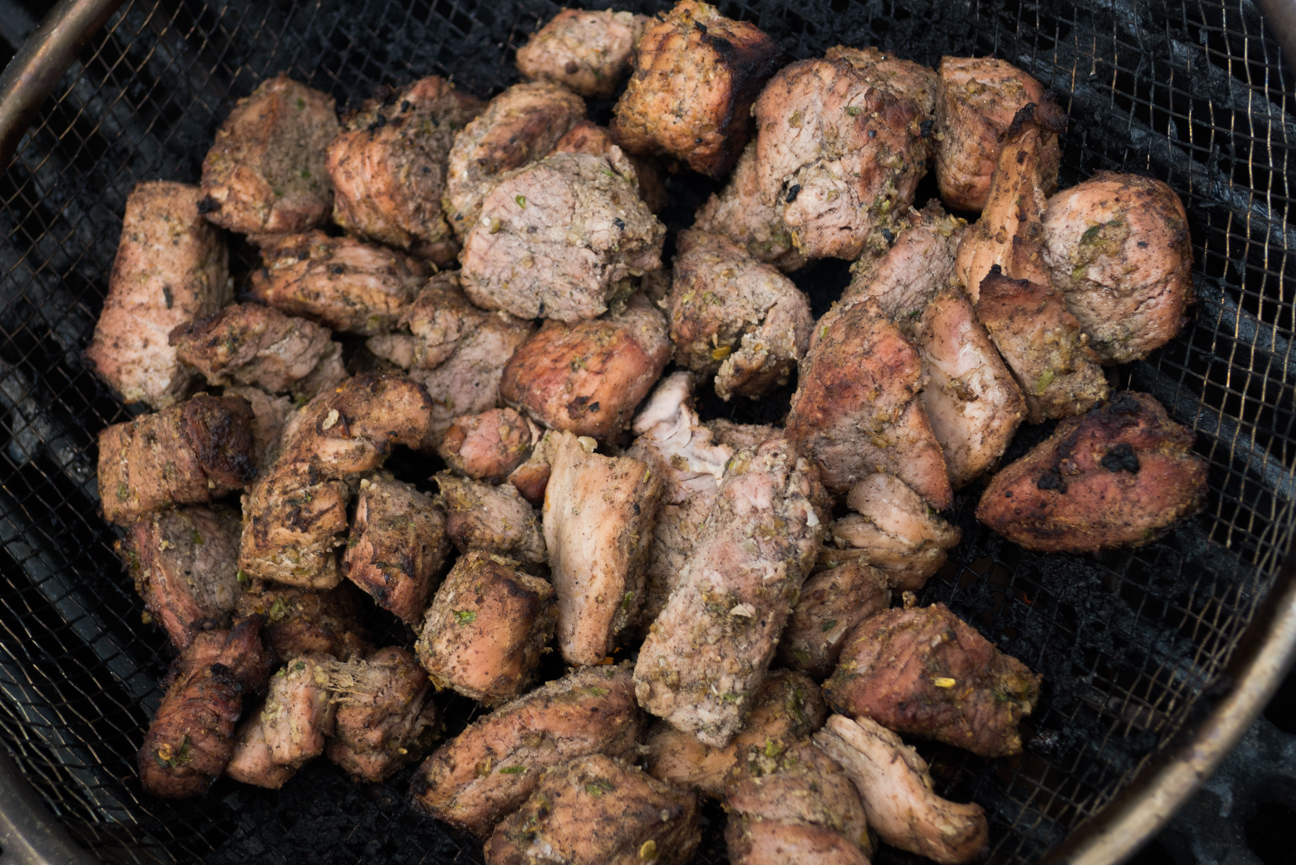 Summery weather is slowly fading, but we'll still be able to barbecue for awhile. While I love everything about summertime: the warm weather, flowers bursting with colour, camping and barbecuing, I also love autumn.
My husband and I always loved camping, especially in the late summer or early fall, when the lakes had warmed up, the bugs had mostly left and the evenings were warm and still.  And whenever we camped, we always made Jamaican Jerk Pork.
It was fun getting ready for our camping trips. We would make the Jerk marinade the night before our trip, a family tradition, like making fruitcake at Christmastime.
Arriving at the campground too was always exciting. We would set up our tent and make it cozy with our foamies, sleeping bags and pillows. Luke would hang the clothes line and I would get the fire ready for dinner.
Homemade Jamaican Jerk Pork is so perfect for the barbecue, or campfire. Marinated cubes of pork in a spicy, aromatic marinade made with scotch bonnet peppers, allspice, fresh thyme and other ingredients. It is pure heaven. We always served the jerk pork in pita bread or wraps with fresh juicy local-grown tomatoes and crisp iceberg lettuce. The heat of the jerk with the fresh coolness of the vegetables are a perfect match.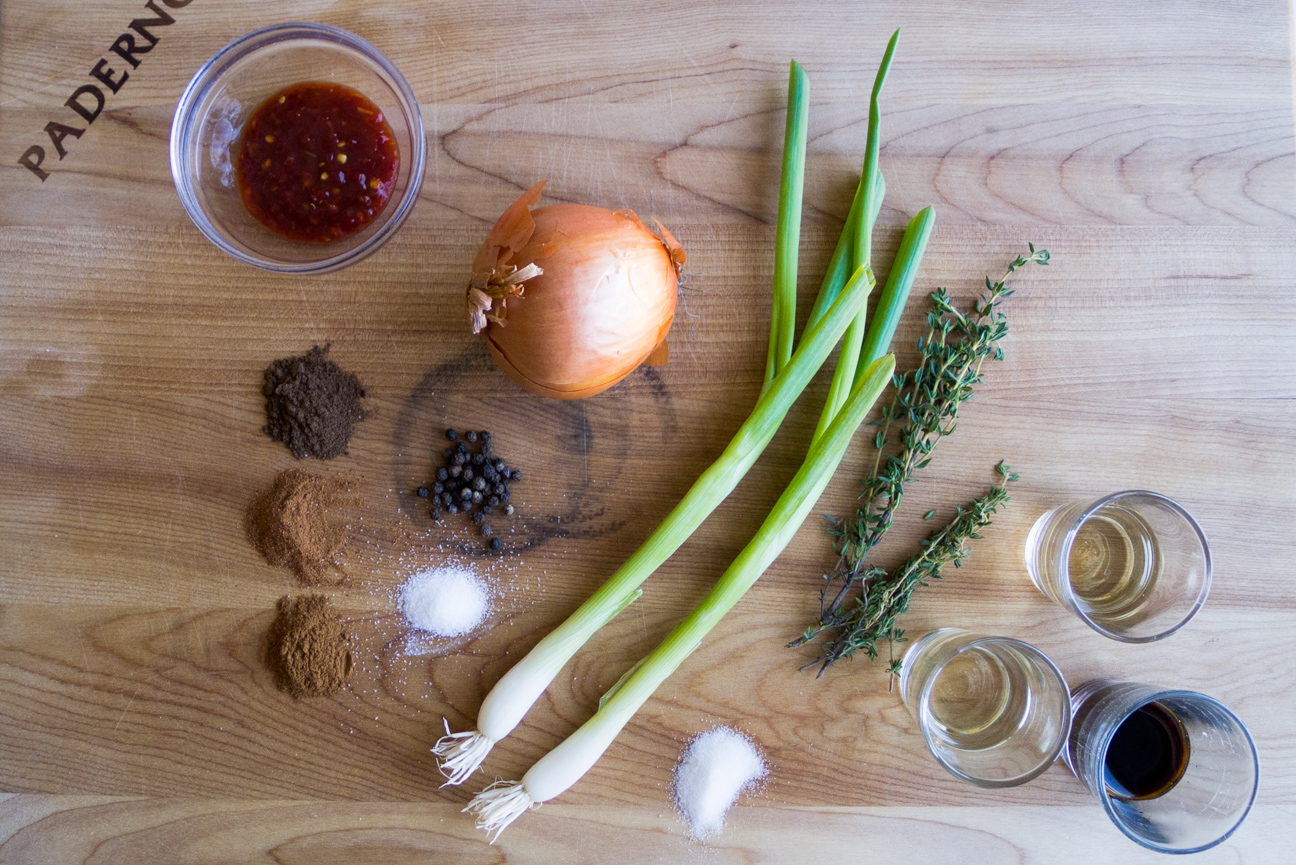 Jamaican Jerk is really easy to make with white and green onion, thyme, soy sauce, oil and a few pantry spices.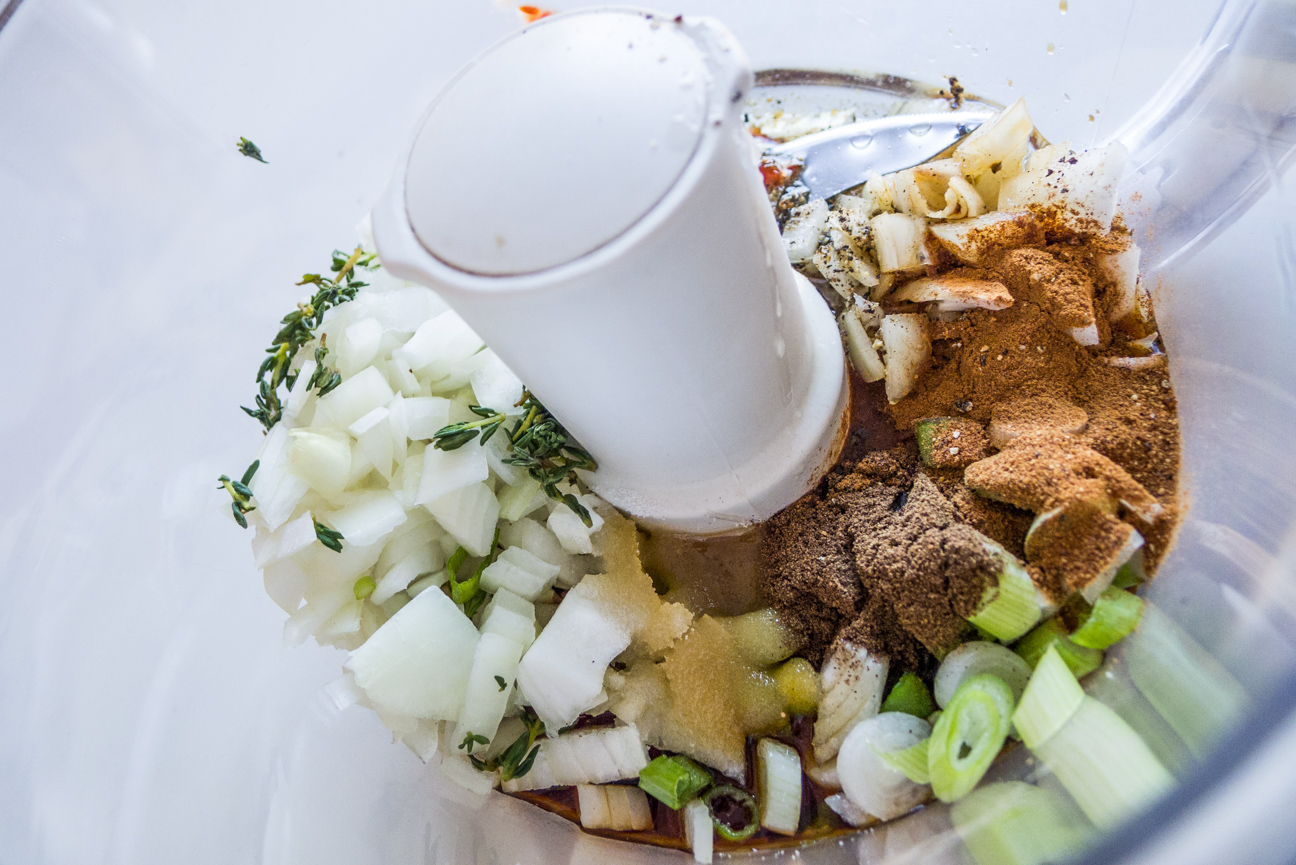 All the ingredients go into the food processor to get finely chopped and mixed together.
Barbecuing the pork is super easy. You can barbecue the pork cubes either on skewers, or in a perforated pan that's designed for barbeques. I usually wrap the pita bread in tin foil and heat it gently by the fire.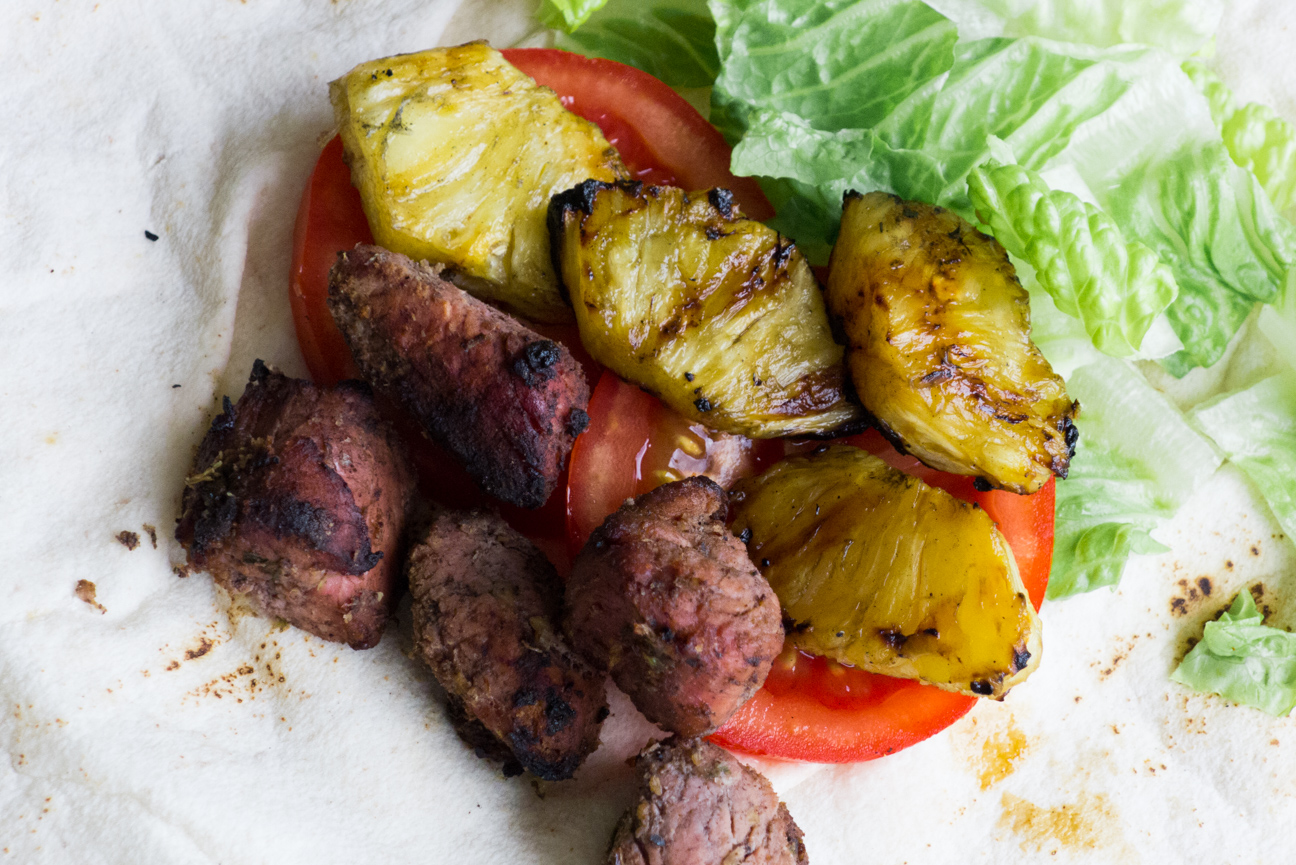 When the pork cubes are finished cooking, fill some pita bread or a wrap with pork cubes, grilled pineapple, tomato and lettuce.
So perfect!
Ingredients
1 onion, finely chopped

1/2 cup finely chopped scallion

2 teaspoons fresh thyme leaves

1 teaspoon salt

2 teaspoons sugar

1 teaspoon ground jamaican pimento (allspice)

1/ teaspoon ground nutmeg

1/2 teaspoon ground cinnamon

1 hot pepper, finely ground (see Note)

1 teaspoon ground black pepper

3 tablespoons soy sauce

1 tablespoon cooking oil

1 tablespoon cidre or white vinegar

3 pounds pork tenderloin

tomatoes

lettuce

pita bread

condiments such as BBQ sauce or salsa
Instructions
1
Place all ingredients (except pork) in a food processor and blitz until everything is finely chopped.
2
Cube pork. Mix pork cubes and jerk marinade together. Marinate overnight in the refrigerator.
3
Next day, thread cubes of pork on skewers and barbecue until meat registers 145 degrees F on a cooking thermometer. Meanwhile, warm pita bread in low oven (about 300 degrees) for about 10 minutes. Or, if you are cooking outdoors, wrap the pita in tin foil and place on top of grate to warm up. Don't get them too hot or they will just toast.
4
Place jerk pork in a bowl and serve with diced tomatoes, chopped lettuce and pita bread cut in half and popped open. Alternatively, you can place ingredients on top of pita and just roll up. Serve with your choice of barbecue sauce or salsa if you like.
Notes
The peppers you choose will depend on how spicy you want the jerk marinade. The most common hot peppers available in supermarkets are: jalapeno (mild to hot), serrano (hot), habanero (very hot), bird's eye chill peppers (very very hot). And remember! when working with fresh peppers, be extra careful and never rub your eyes, nose, or mouth when working with peppers. Wash your hands with soap and water immediately after cutting the peppers up. Another thing that works very well for seasoning this marinade is to add a tablespoon of a good store bought jerk marinade (such as The Shizzle Sauce (VooDoo Hot), Walkerswood, or Pikkapeppa Jerk Sauce, to name a few) and add a tablespoon to your homemade marinade. The store bought sauce won't go bad for months (unlike peppers) and adds extra flavour as well as some heat. You could also freeze tablespoons of sauce or peppers and they will keep for months in the freezer. Thaw them on the counter or microwave on low to soften up to use. You might wonder - well why not just use store bought jerk sauce? Because I still think this homemade sauce is better than any store bought sauce.
Recipe adapted slightly from Jerk, Barbecue from Jamaica by Helen Willinsky.