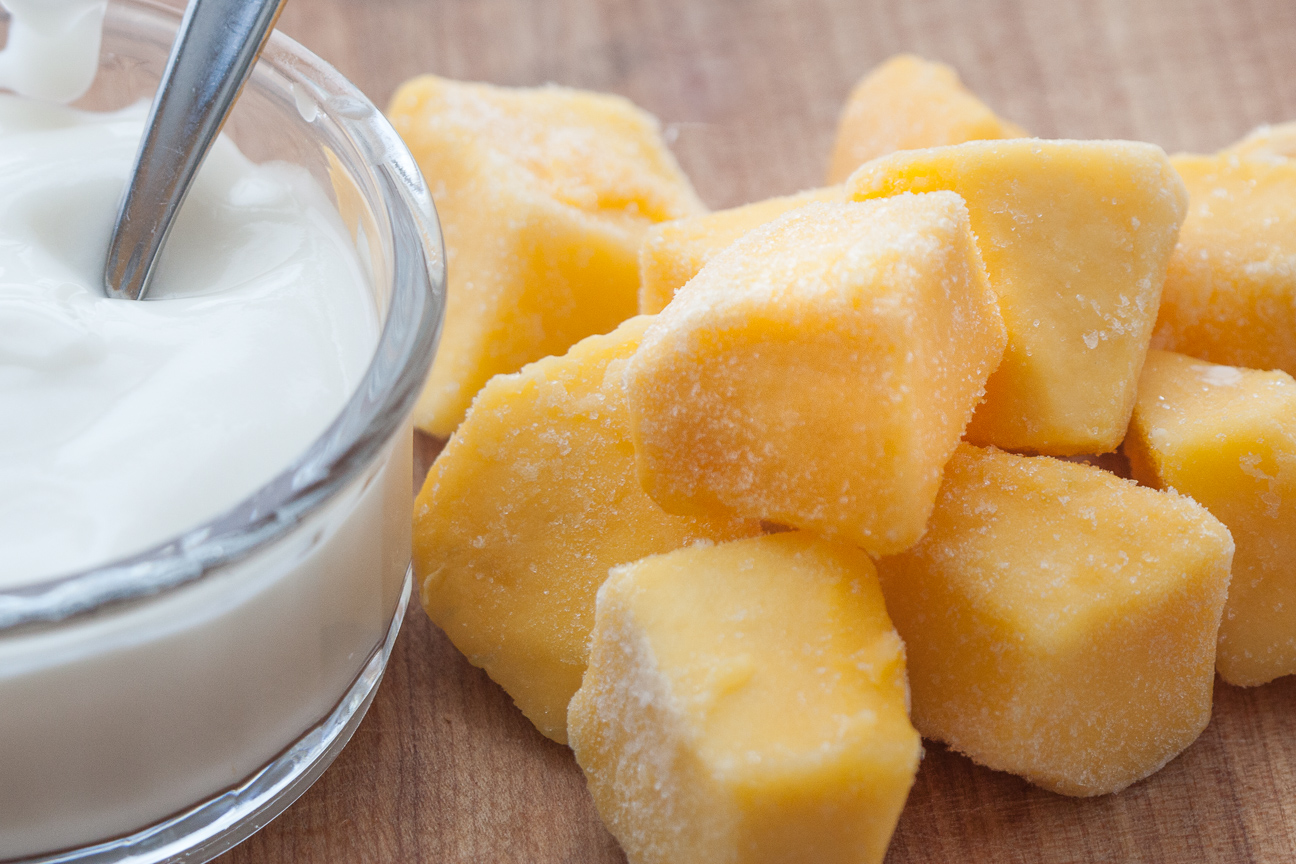 This Frozen Vanilla Mango Yogurt with Lime is about the quickest sweet treat you will ever make. It's so quick it's almost instant. But I like to put it in the freezer for about an hour or so to firm up.
My sister reminded me recently of how we used to buy an ice cream cone in the middle of winter. We would eat it while we walked home from the local mall amidst swirling snowflakes. We would still be eating it when we got home which would give our Mom the shivers.
Frozen yogurt isn't usually the first thing people think of for a sweet treat in the middle of the winter. Especially when it's – 30 ° out. But, I don't really mind the cold so much. I stay nice and warm bundled up in all my favourite winter gear.
What I miss the most during the long winter months is colour. I miss the green grass and leaves on trees, colourful flowers and even the colourful clothes that everyone wears. So, that's what appeals to me with this Frozen Vanilla Mango Yogurt with Lime. I love the tropical mango, the fresh burst of lime and the coolness of the frozen yogurt. The colours of this frozen yogurt are eye-popping, yet soothing.
You can make this frozen yogurt in a snap. All you need is a tub of your favourite vanilla yogurt and a bag of frozen mangoes. Puree these ingredients in your food processor or blender until all the mangoes chunks are blended into the yogurt.
You can eat this frozen yogurt right away, as a kind of soft serve ice cream. But I like it more firm, so I pop it in the freezer for about 1-2 hours. I serve up a couple of spoonfuls in a fancy bowl or parfait glass and saveur every spoonful!
Bon appetit!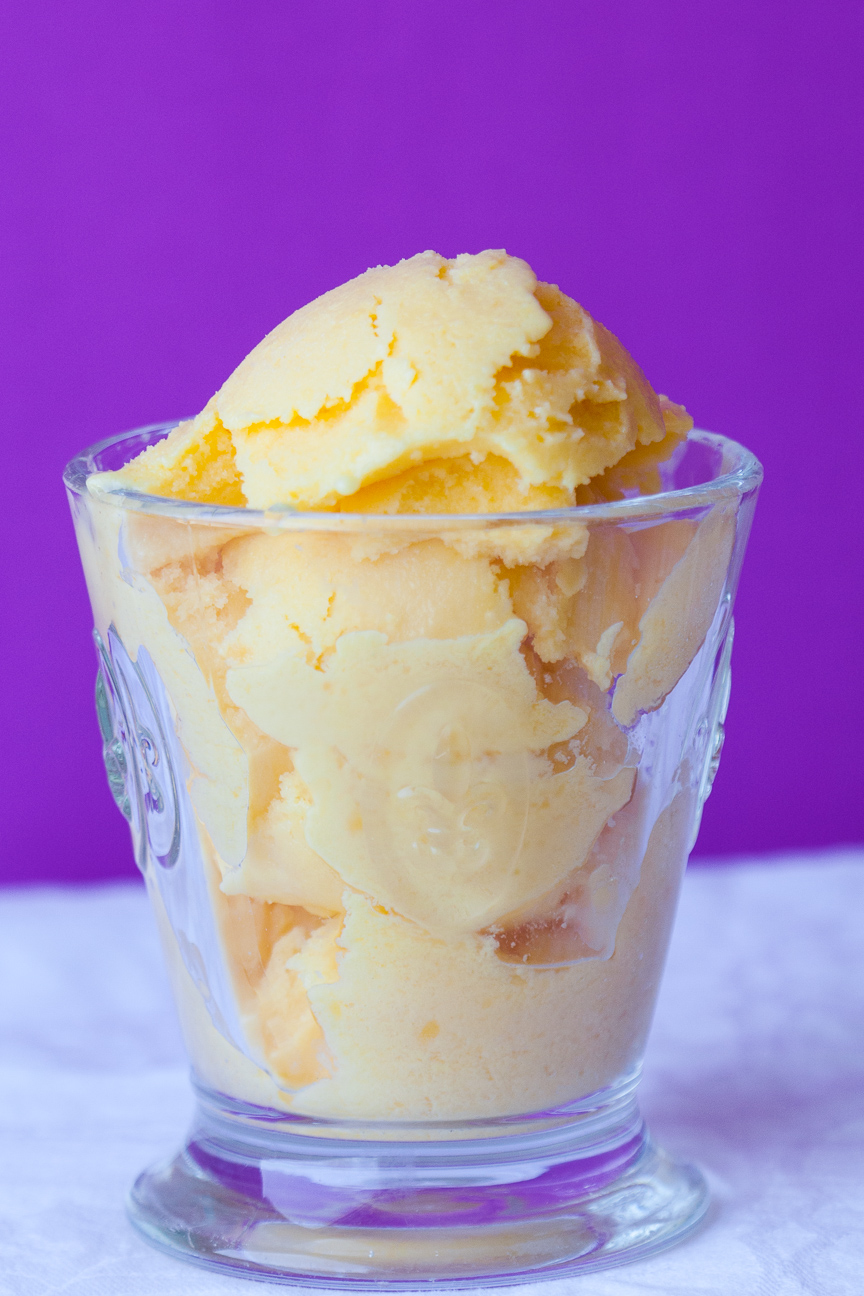 Bon Appetite!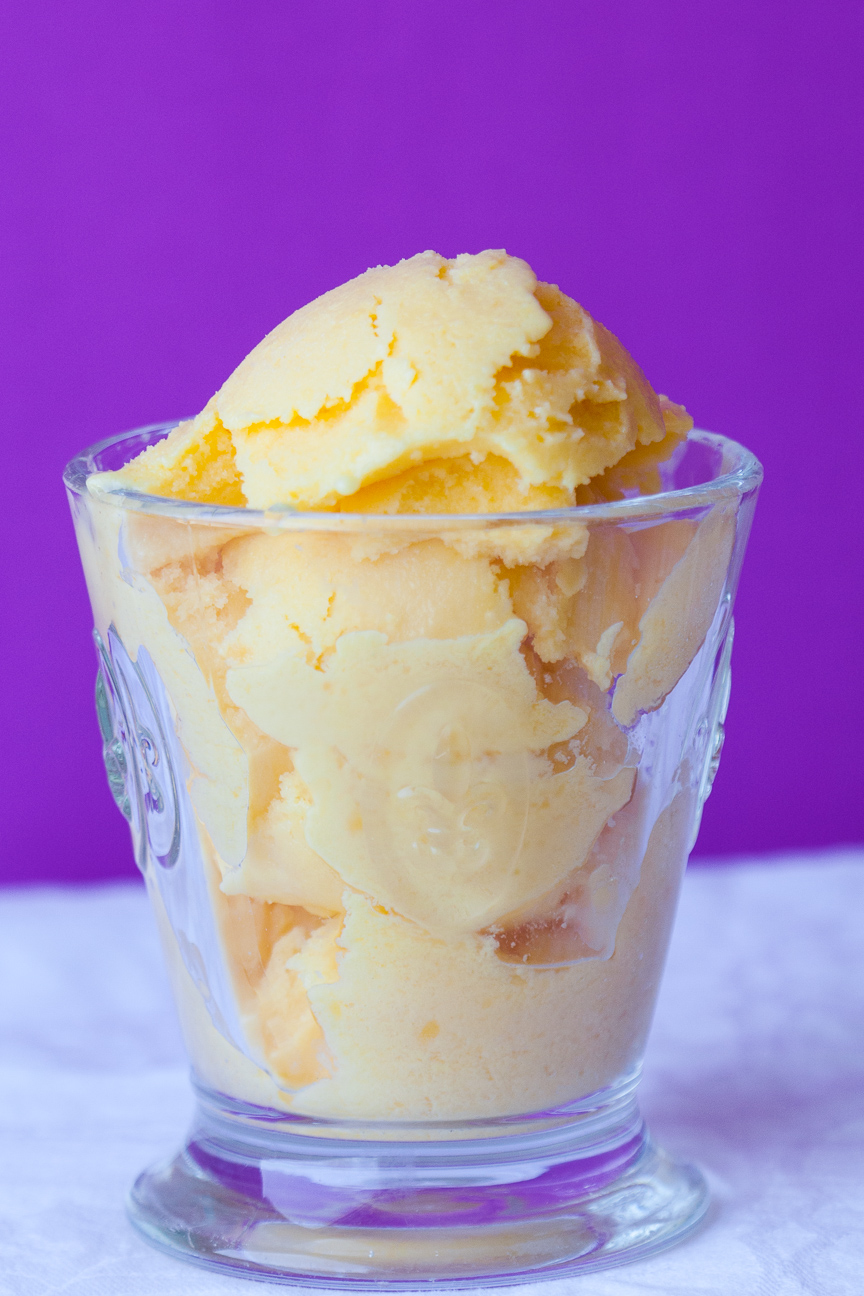 Print Recipe
Frozen Vanilla Mango Yogurt with Lime
Ingredients
One 600 g bag of frozen mangoes

One 650 mL tub of Vanilla Yogurt

juice from 1/2 lime
Instructions
1
Pour yogurt into food processor or blender.
3
Blend until all frozen mango is blended thoroughly with the yogurt.
4
Add lime juice, and pulse for 30-60 seconds.
5
Transfer to a shallow rectangular plastic container.
7
Place in freezer until firm (about 1-2 hours, depending on your freezer).
8
You can transfer the finished product to a more suitable container.
9
It will keep sealed in the freezer for approximately one month.