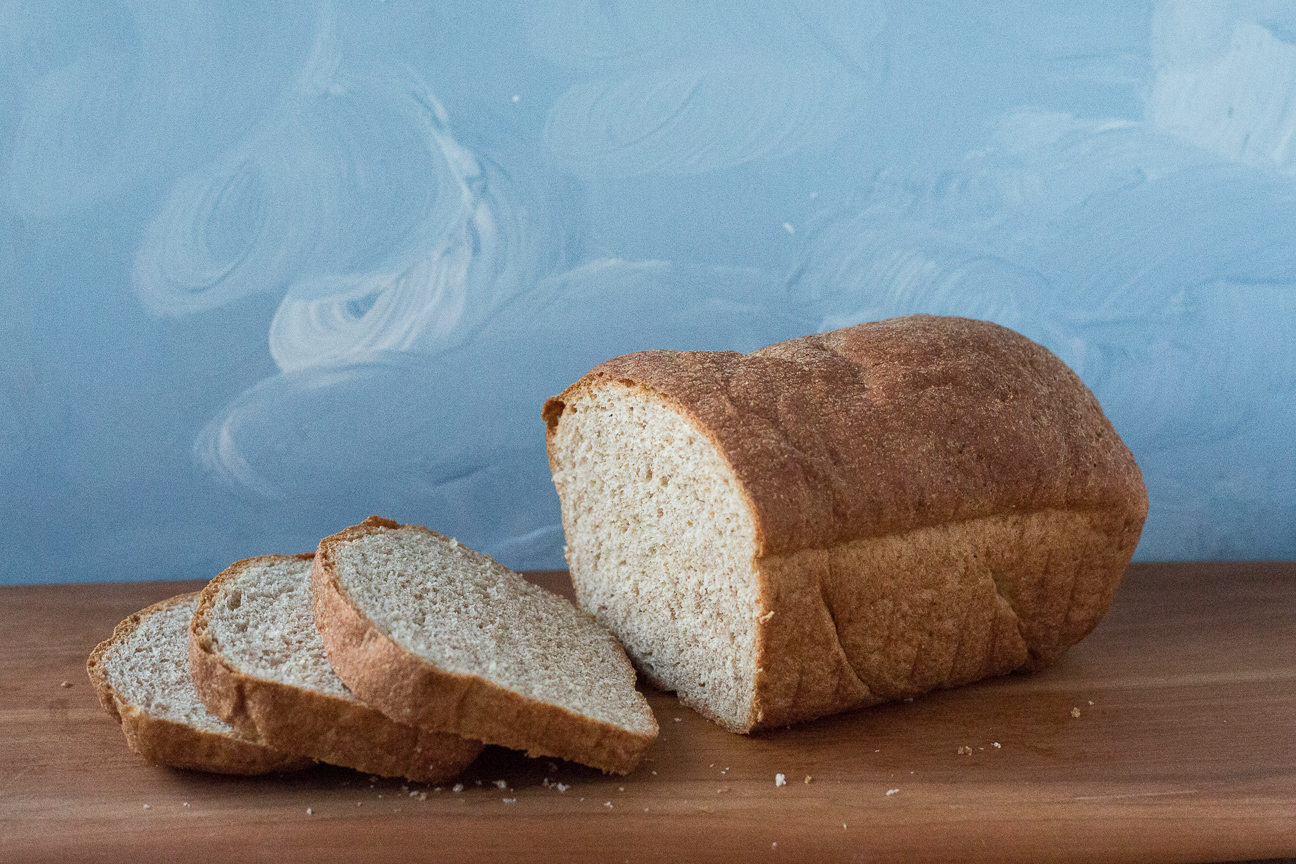 We all love this Honey Butter Whole Wheat Bread. Made with 100% whole wheat flour, sweetened with honey and plumped up with ample amounts of butter; this bread is ambrosial.
This Honey Butter Whole Wheat Bread is great for toast with jam for breakfast or a cheese and onion sandwich for lunch. Bread made with 100% whole wheat flour is denser than bread that has all-purpose flour in it. But as there is a good amount of yeast in this recipe,  you will find that it is not too heavy.
This is the bread that my Mum made regularly. This post is a dedication to her as she was born 100 years ago today: October 27, 1920.
Before I tell you all about this amazing Honey Butter Whole Wheat Bread, let me tell you a bit about my Mum. She was fascinating, kind, thoughtful and we loved her so much.
My Mum was born in Birmingham, England, October 27, 1920. She had two sisters, Peggy (1917) and Betty (1922). Her father was a draper and owned several shops, called Latham's, in various locations around Birmingham. While my Mum lived a long and happy life, there were a few sad events in her early years. When my Mum was only 2 years old, her mum died from influencza at the age of 29, when the girls were 5, 2 and six months old. For many many years my Mum hated the colour black and funerals affected her strongly.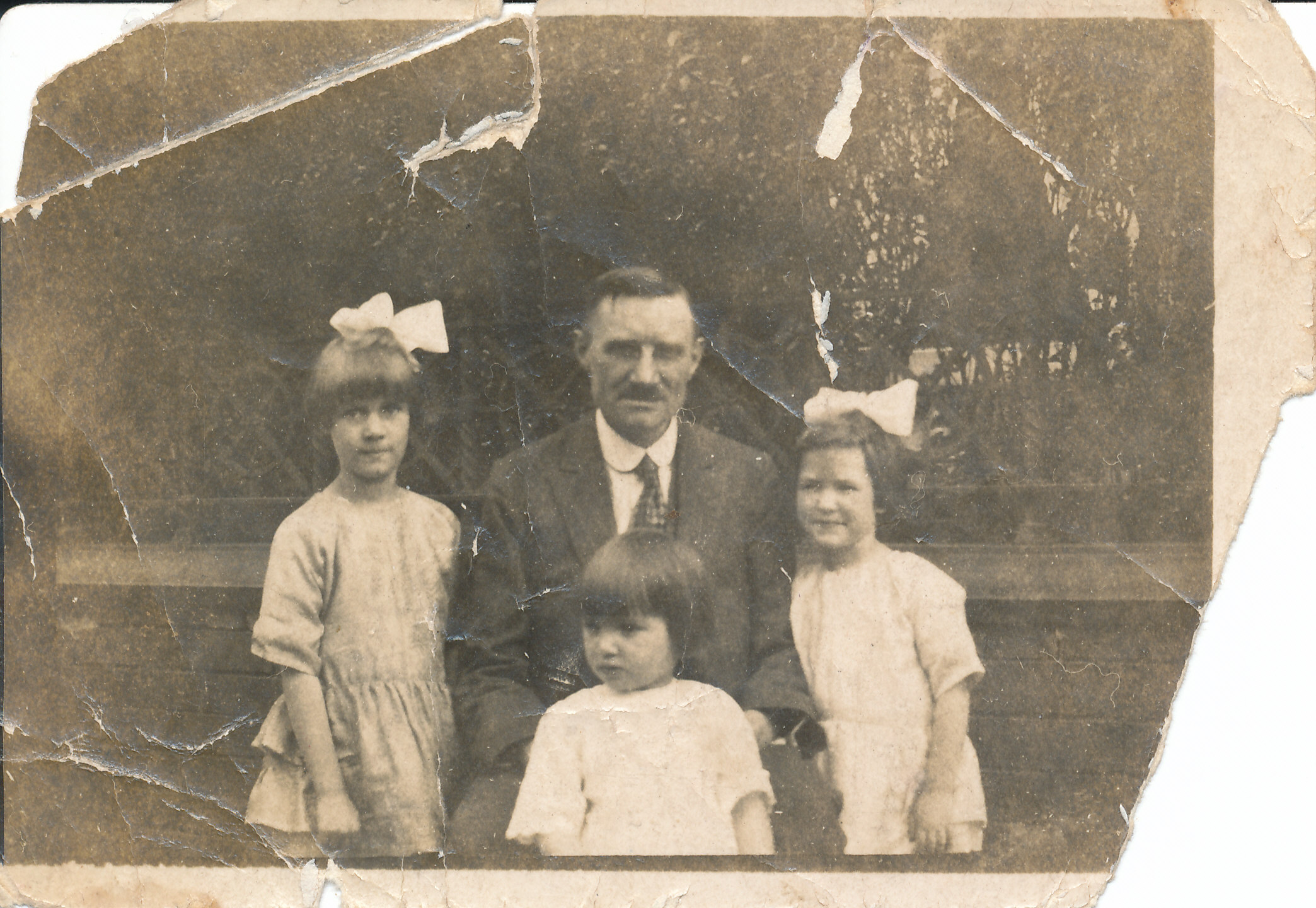 My Mum, Peg, Betty and their Dad, around 1924.
For the next six years, until their father remarried, the girls were looked after by housekeepers during the school years. During summer vacation, they were split up to go and stay at various aunts and uncles farms helping out with chores and playing with the abundance of cousins they had. One memorable chore that my mom enjoyed was polishing the wooden floors. She and her cousin would put wax on the hardwood floors and away they would go with rags on their feet, up and down the hall until it was so shiny you could see your face in it. Sometimes, instead of doing chores, my Mum would hide out in one of the apple trees. She loved to snack on the biggest juiciest apple she could find reading her favourite book. She always said it was worth the scolding she got when they found her.
An integral part of my mom's life as she was growing up was helping others less fortunate. Perhaps this was something she learned on her relative's farm. When she was young she would often invite friends, whose families were very poor, over for the midday meal and then bundled up extra food for them to take home. Being kind and helpful were attributes that my mom would have for the rest of her life.
Besides being generous and warm-hearted and enjoying a good book, my mom also loved a good adventure. Her first adventures began with Sunday drives with her sisters in her Dad's car. Her dad was extremely tempermental, but he did like country drives and trips to the seaside. I'm sure it was these early day trips that got my Mum started on her love of adventure. The four of them would drive to the beautiful countryside of Stratford on Avon, Leicestershire, and Warwickshire. As the girls got older, they went farther away. One year they drove  to Brighton and later on, to Bournemouth. Their excursions always included walks on the boardwalk and fish'n'chips packaged up in newspaper while walking on the beach. For the rest of her life, my Mum loved country drives and being near the water.
When Mom was sixteen, her dad allowed her to go away on a holiday for a week with a girlfriend. It was their first taste of freedom. Wow! No parents to tell them what to do or what time to come home. It was great. They only had one week holiday a year but they worked hard to save and plan for that holiday, as well as to buy new summer clothes. These were also traits that Mom carried with her during her whole life; saving up and planning a holiday!
When war broke out in September 1939, Mum and her sister stayed in Birmingham to look after the shops, while the rest of the family moved to the country.  While there were many eventful days and nights, with extreme food rations, bombings etc., Mum and Peg also enjoyed peaceful times helping others as best as they could. She was always good at focusing on the positive elements.
Mom and Peg spent many quiet evenings knitting for the servicemen: helmets, socks or gloves for the forces. But, my Mum never felt that her knitting was very good. She felt bad for the service men that were given anything she had made. A lot of girls would put their names and addresses in with the scarf or socks hoping someone would write to them, but not my Mum; She didn't want someone giving her heck because one sock was smaller than the other.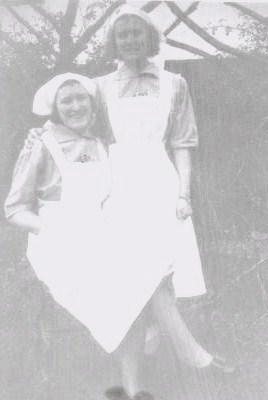 Mum and Peg in their volunteer Red Cross Uniforms in the 1940's.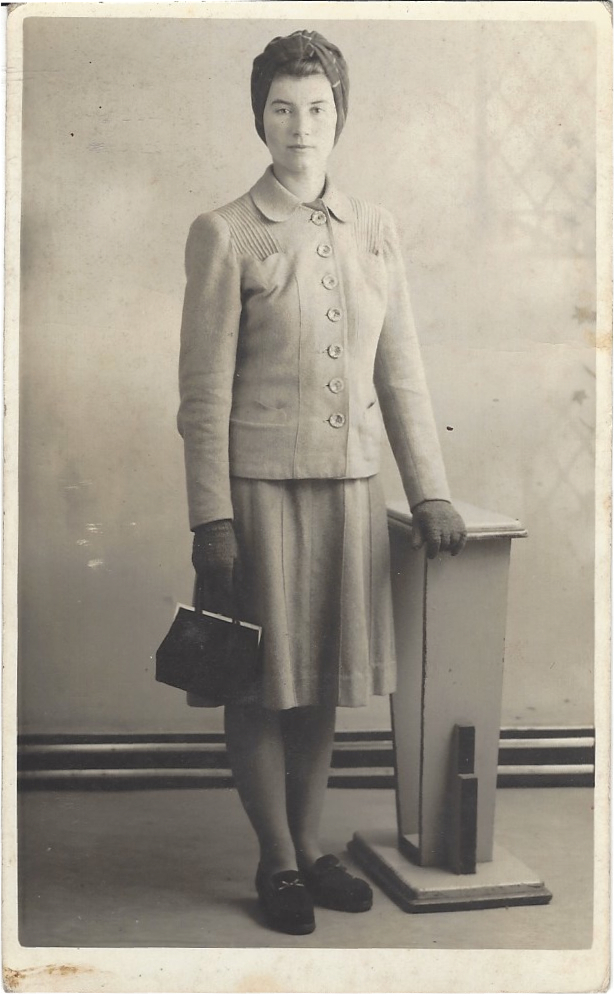 A wartime photo of their sister, Betty
A few years after the war ended, my Mum finally saved up enough money to leave Birmingham. She bought a one-way ticket to Canada on the Aquitania and had no plans to return. She arrived in Canada in January 1949. Mum was 28 years old and ready for adventure. It was exciting for her to leave war-torn Birmingham, England with it's bombed out buildings and persistent food rations. She was also happy to leave behind her tempermental father, a step-mom whom she never got on with, her full-time job at her Dad's shop and her brummy accent (although she never truly got rid of it). My Mum came to Canada looking for happiness, love, a peaceful life and more adventures. And she found all that and more in my Dad, whom she met a few years later.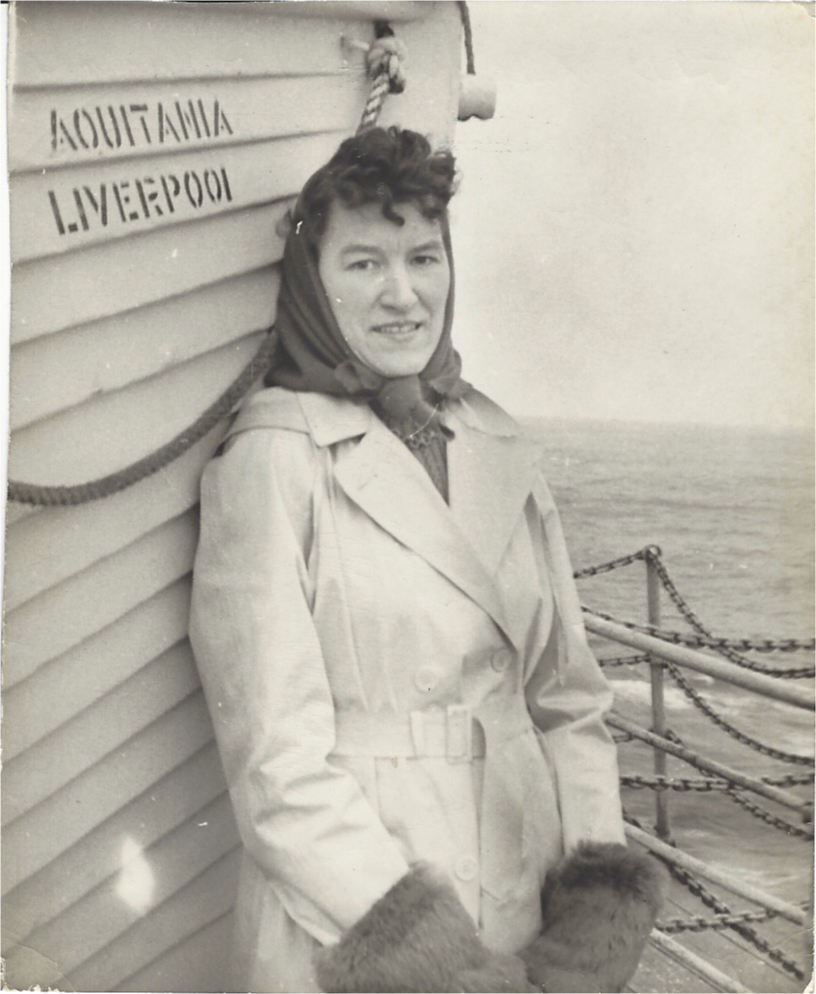 Mum on the Aquitania.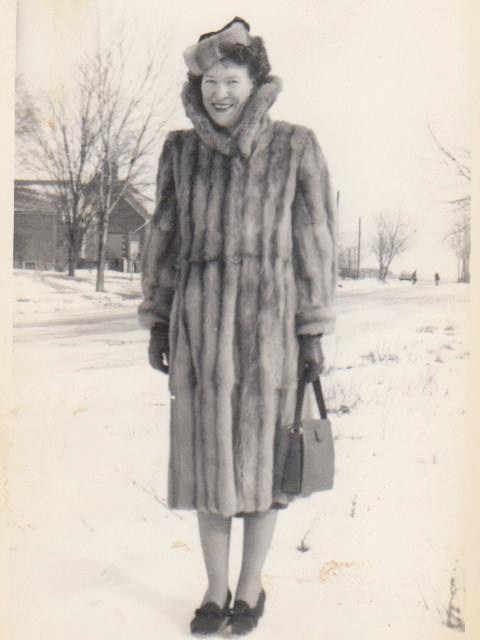 Mum in Canada looking glamorous in her new fur coat and hat, but no boots!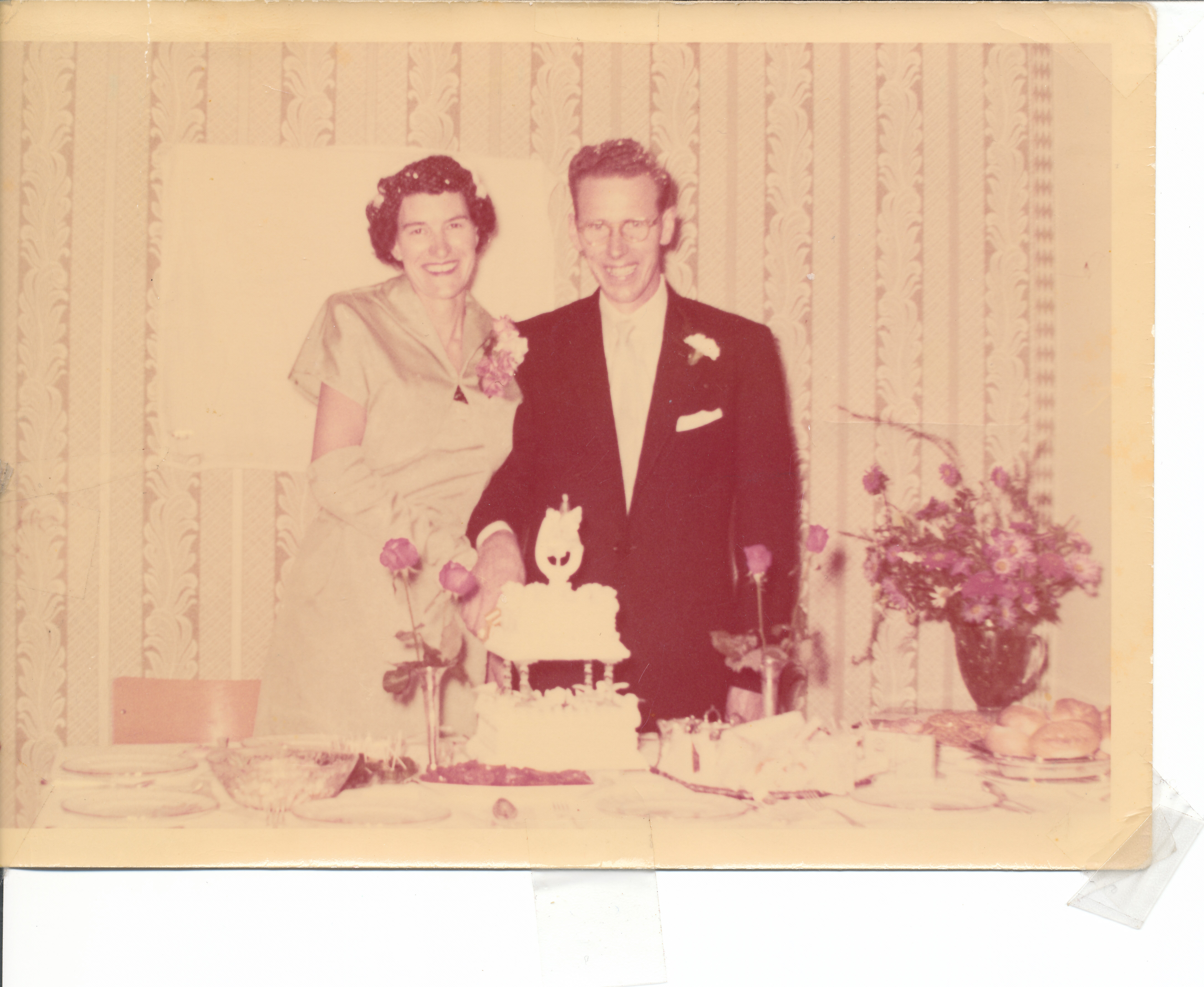 Mum and Dad's wedding photo, September 1955.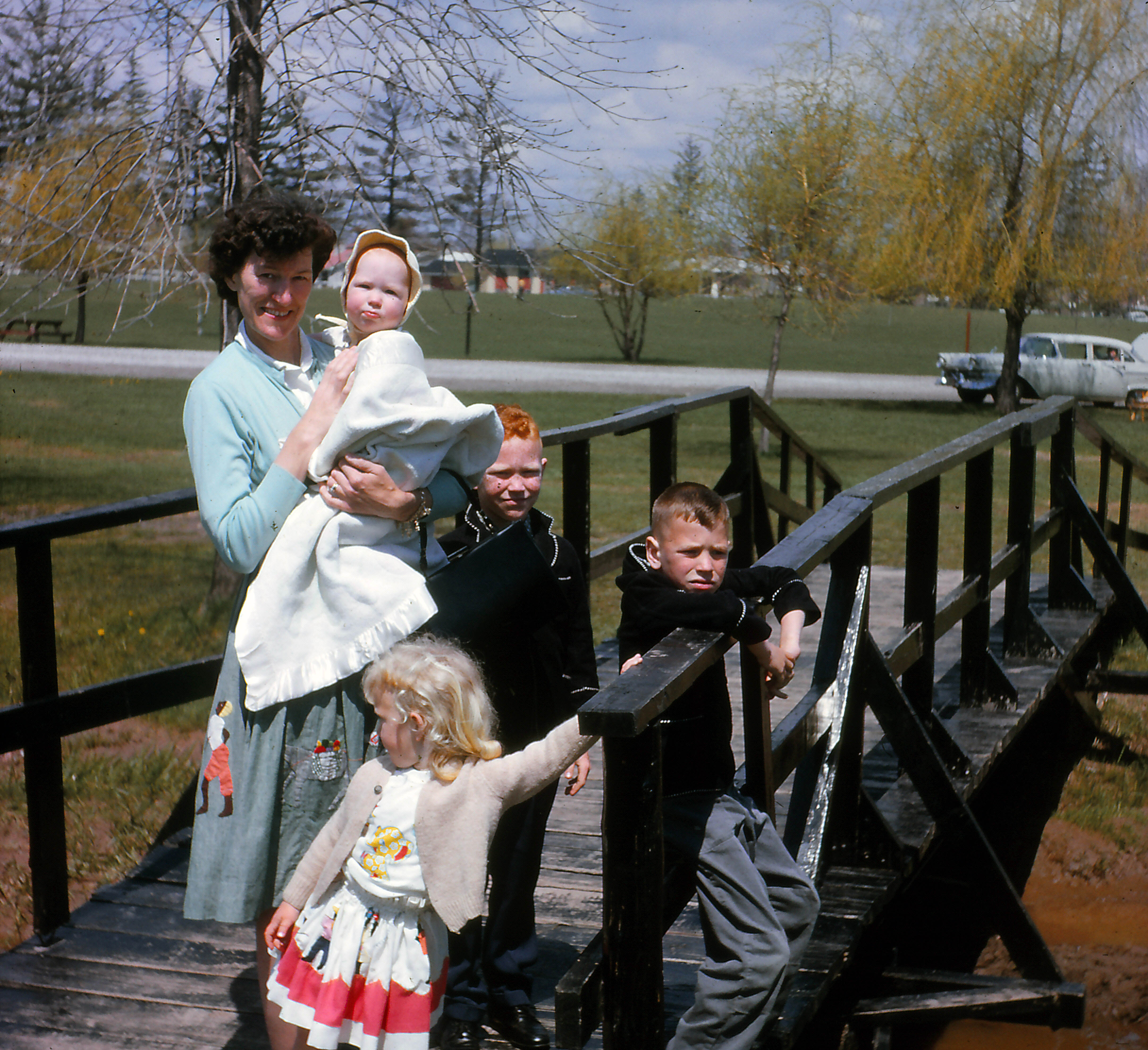 Mum and us four rascals
My parents got married in September 1955. They had four children: Bob, Dave, me, and Ruth. Our family had many memorable vacations to England, all across Canada as well as many camping holidays in various parks in Ontario. My parents were also lucky to vacation in Jamaica, San Francisco, Puerto Rico, England, Hawaii and Florida. They lived in the same house for 53 years until our Dad passed away in September 2008. My Mum lived nearby in a senior's residence until 2016,  when she passed away peacefully at the age of 96, in her chair with her knitting on her lap.
My parents were like two-peas in a pod: warm, friendly, happy, caring, easy-going, generous and kind. They enjoyed each other's company, loved each other and the home they lived in for 53 years and doted on their children and grandchildren. We loved them immensely and miss them everyday.
Of course, I wouldn't be nearly so interested in food and baking if it wasn't for my Mum. I don't know where my Mum learned to cook, as she grew up with housekeepers, but she was a big influence on me. Dinners were often simple affairs, as that's what my Dad liked. But she also loved to bake and make jam. And that's what caught my attention. She kept our cookie jar full, turned my Dad's homegrown raspberries into scrumptious jam, baked delicious birthday cakes, and the tastiest pies at Thanksgiving and Christmas.
Baking to me was like magic. The idea of combining the most basic ingredients of sugar, flour, salt, butter and baking powder to make cookies was astounding to me. And learning to bake bread was eye-opening. I have many happy memories of helping my Mum bake in the kitchen: learning to make her famous sugar cookies, stirring the batter and making a wish with her Christmas pudding and learning how to make bread for the first time.
This recipe is adapted from a cookbook by Jehane Benoit. It was my Mum's favourite cookbook – such that the copy that I have of hers is missing both covers as well as many pages. But all the bread and cookie recipes are there. And most days, that's all I need.
When my Mum was around 70, she started baking homemade bread exclusively. This is the bread that she made every week.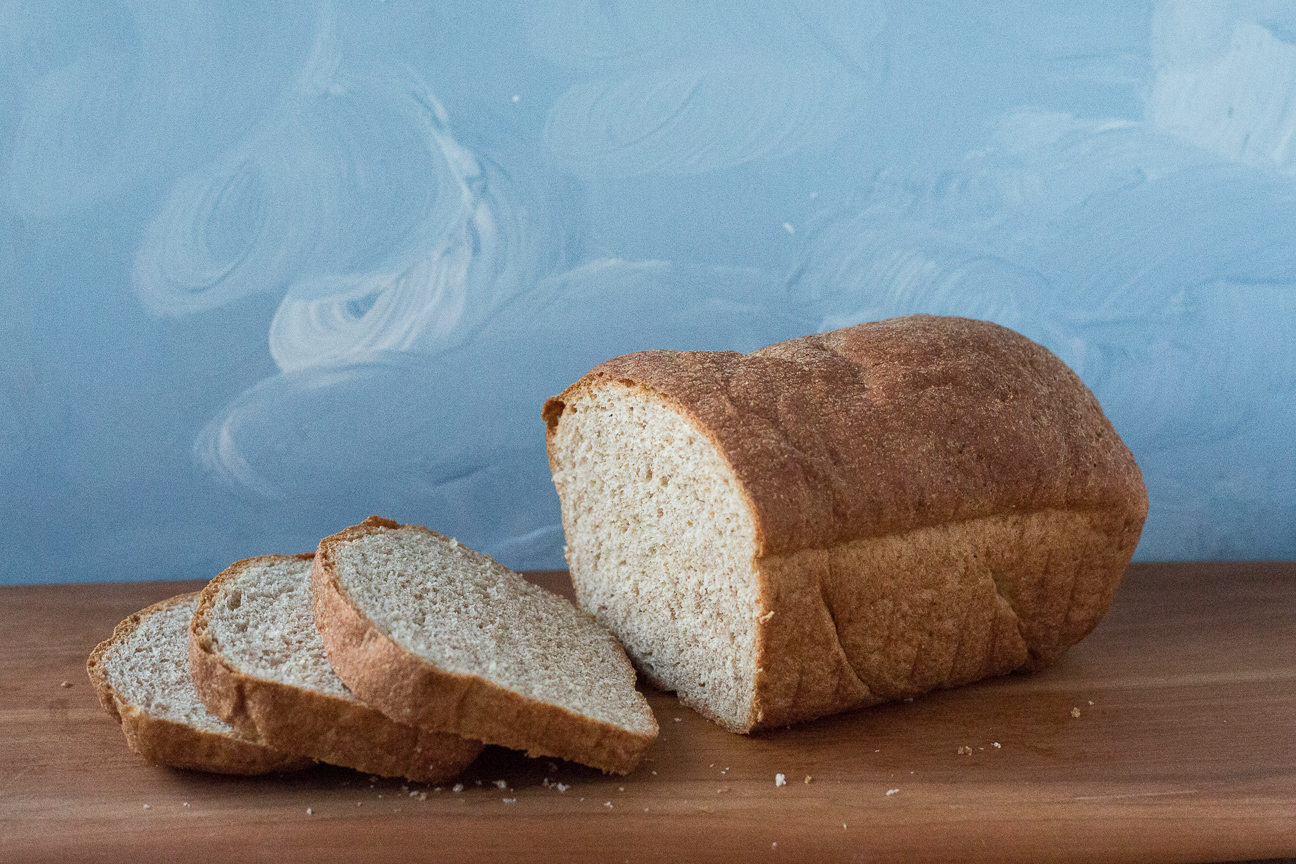 Honey Butter Whole Wheat Bread is an excellent bread either for a sandwich or toasted with jam for breakfast.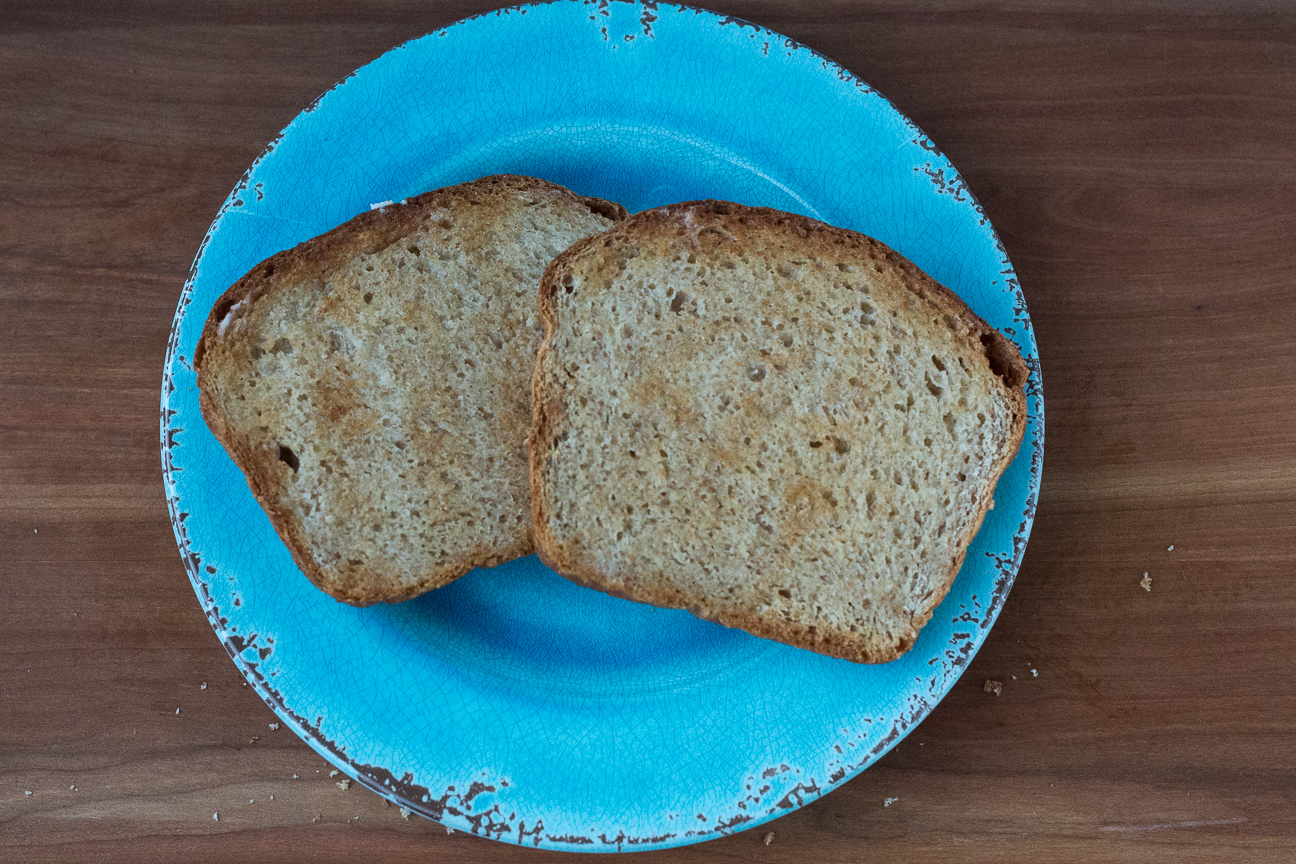 This bread makes excellent toast.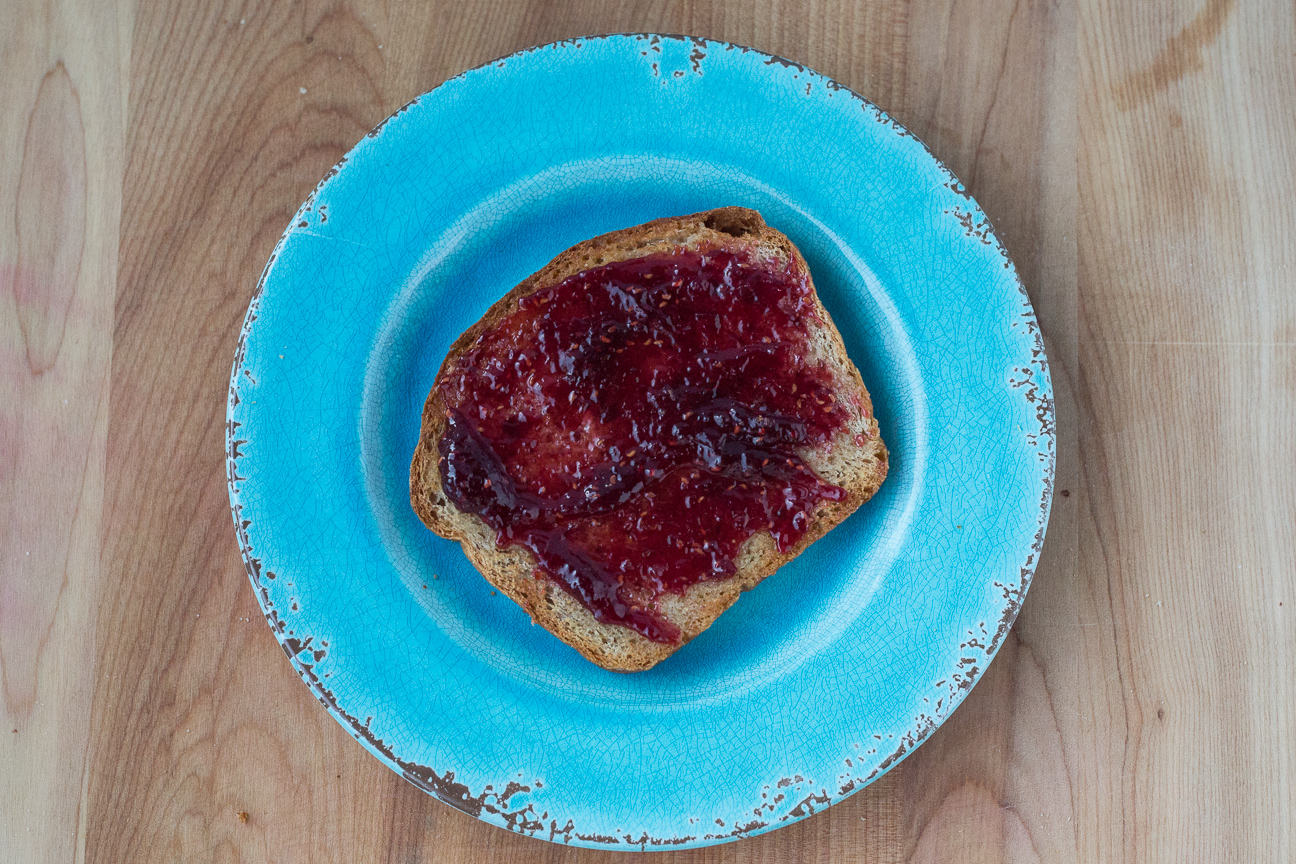 My Mum's Honey Butter Whole Wheat Bread is delicious toasted with jam for breakfast or for a simple lunchtime sandwich.
Ingredients
1/2 cup warm water

1 teaspoon sugar

1/4 teaspoon powdered ginger

4 teaspoons yeast

1 cup warm milk

1/3 cup honey

2 cups whole wheat flour

3/4 cup warm water

1 tsp salt

3 tablespoons melted butter

3 to 4 cups whole-wheat flour
Instructions
1
Mix together the first 4 ingredients and let them stand for about 10 minutes. The yeast will get frothy.
2
In a large bowl, mix together the warm milk, honey and 2 cups of whole wheat flour. Cover the bowl and let this mixture sit until it gets bubbly - about 20 minutes.
3
Add the water, salt, melted butter and 3 cups of the flour. Mix with a bread hook in a stand-mixer. Or Alternatively, stir with a wooden spoon. Do this until all the ingredients are incorporated.
4
Add the last cup of whole wheat flour. Knead the mixture with the dough hook for about 5 minutes. The dough is a stiff dough. Continue kneading until the dough comes away from the sides of the bowl.
5
Place the dough in a buttered bowl. Let it rise until it's double in bulk. This will take about 1 1/2 to 2 hours, depending on how warm your kitchen is.
6
Grease two loaf pans with softened butter.
8
Then divide the dough into two. Shape into loaves.
9
Brush the tops with melted butter.
10
Cover with saran wrap and let rise again until doubled in bulk.
11
Bake in a 350 degree oven for 45 minutes, until dark golden.
12
Let the bread cool in the pans on a rack for 5 minutes. Then release the bread and let them cool on a rack.
14
This bread can also be frozen for about 1 month.