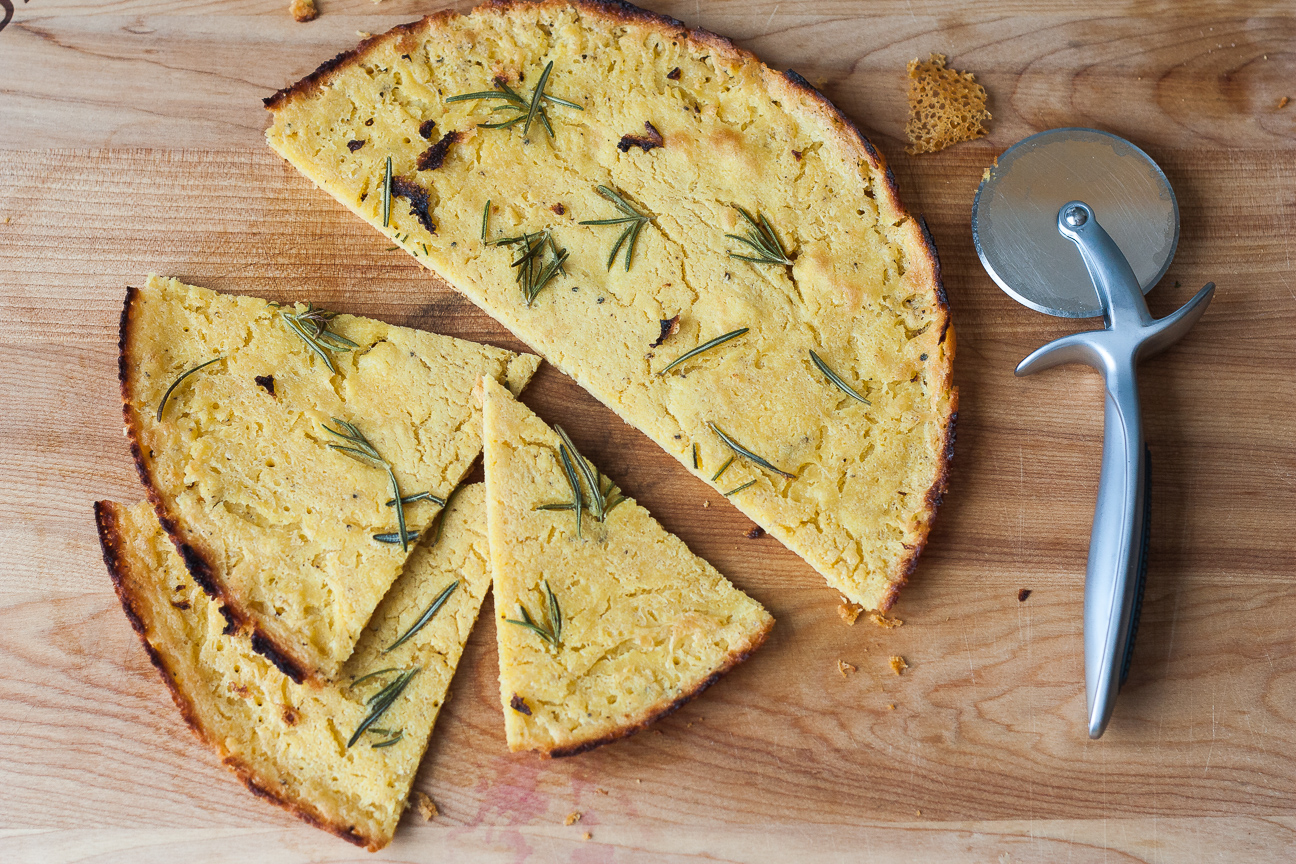 Happy St. Patrick's Day! And a very special Happy Birthday to my sister, Ruth. I have created this very special Torta di Ceci with Rosemary especially for your birthday!
Our Mum always baked a nice big birthday cake decorated with green icing for her birthday on St. Patrick's Day. I baked her 17, yes seventeen, mint green birthday cakes when she turned 17. We had 17 guests and we sang Happy Birthday 17 times. That was fun.
On my blog's one year anniversary, my sister wrote "make me something nice". And I've been racking my brain since then about what to make that she would enjoy because she follows the keto diet. It was challenging but not impossible!
In the last few months I have been scouring my cookbooks, favourite blogs and websites searching for something that's easy to make but unique and made without grains or sugar. When I found a recipe for the super yummy savoury Torta di Ceci it seemed to be the perfect discovery.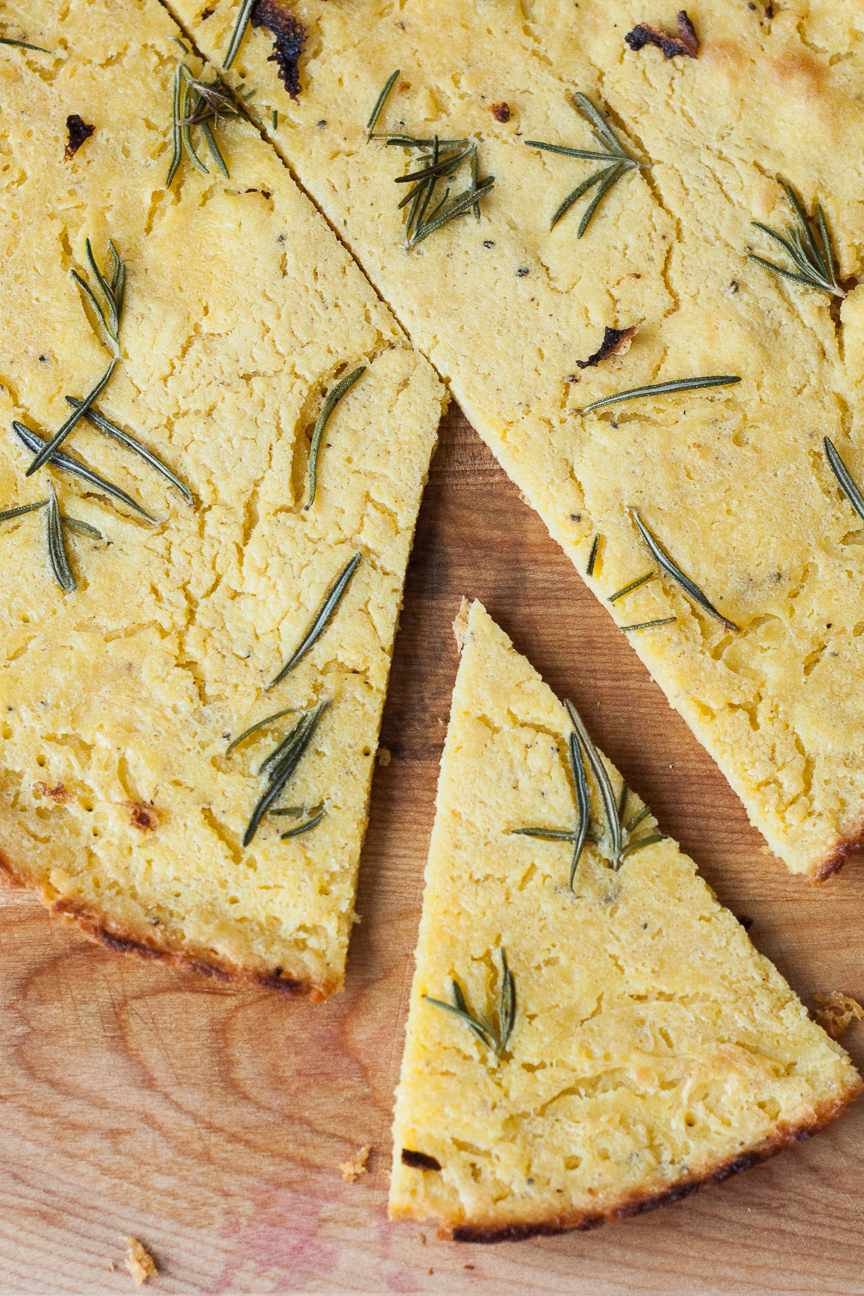 Torta di Ceci is made with chick pea flour, olive oil, water, salt and rosemary and that's it. And oh my! If you have never made this yourself or tried it in a restaurant you must make this recipe. It's so so good. Torta di Ceci is crispy on the outside and creamy almost like a custard on the inside. It is so amazing right out of the oven, you will want to eat the entire pan yourself. But, I suggest you share.
Torta di Ceci is dairy-free, gluten-free, vegan and keto-diet friendly. So you can't go wrong when you serve this up.
In Europe, Torta di Ceci is a popular street food snack. It is found in many areas and goes by a few different names such as Torta di Ceci, Farinata or Socca in France. Traditionally it is eaten plain, although sometimes people will put rosemary on top. That's really good. The second time I made it, I added coarse sea salt. Also really good. I think parmesan cheese would also be delicious grated on top…and I wouldn't rule out bacon either.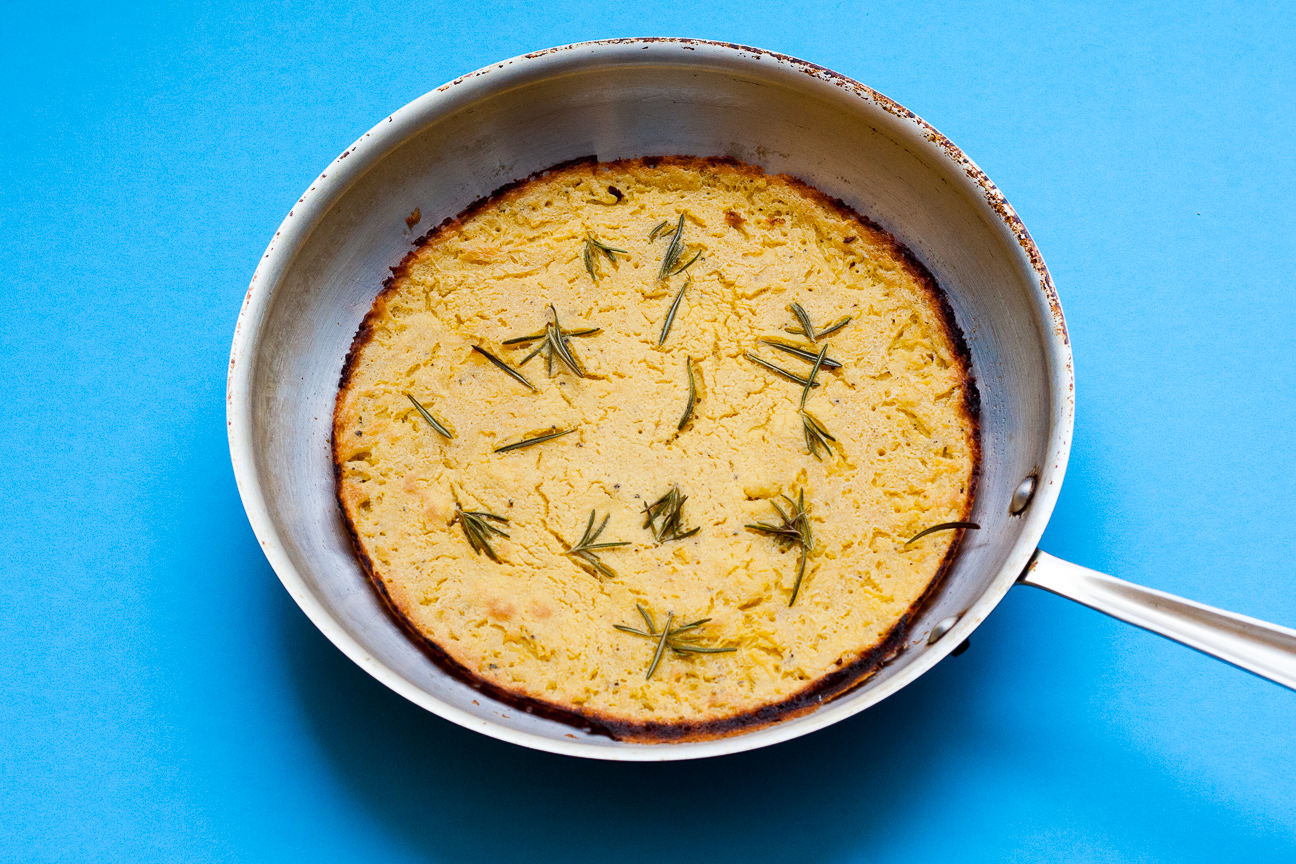 I looked at many recipes for this popular snack food. The main difference between everyone's recipe is the amount of water to use. Some recipes called for a ratio of 1:1 of chickpea flour and water. Some called for a ratio of 3:1 and some called for 4:1. My recipe uses a ratio of 2:1. I liked this flavour and texture best.
Recipes also soaked the chick pea flour in the water anywhere from 30 minutes to 12 hours. I found 2-4 hours just right. Although I have not let it soak for 12 hours. I can't imagine the taste improving any better than what I made.
After you soak the chickpea flour and water and add some olive oil, salt and pepper, you bake the torta in a piping hot oven for about 15 minutes. So fast.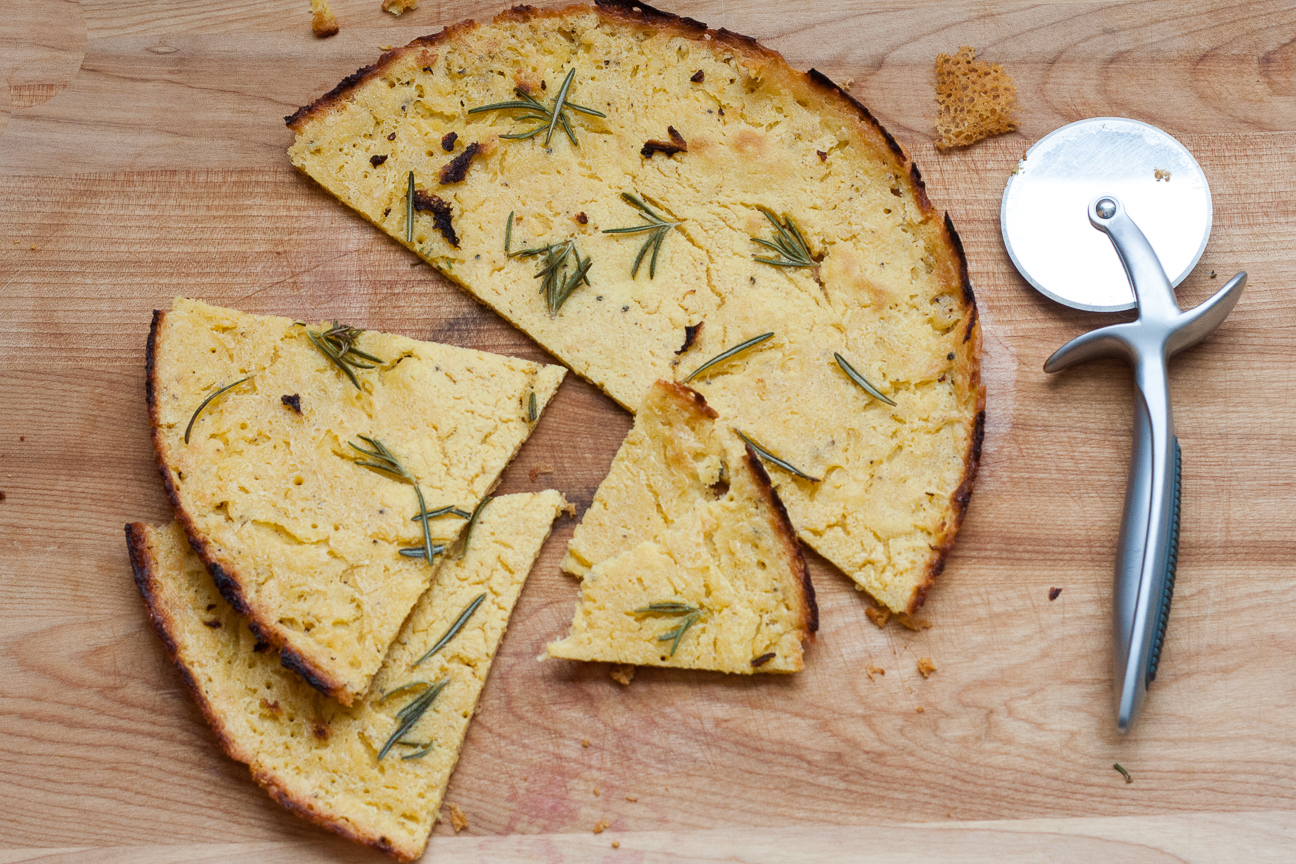 Happy Birthday, Sis! Hope you enjoy your torta!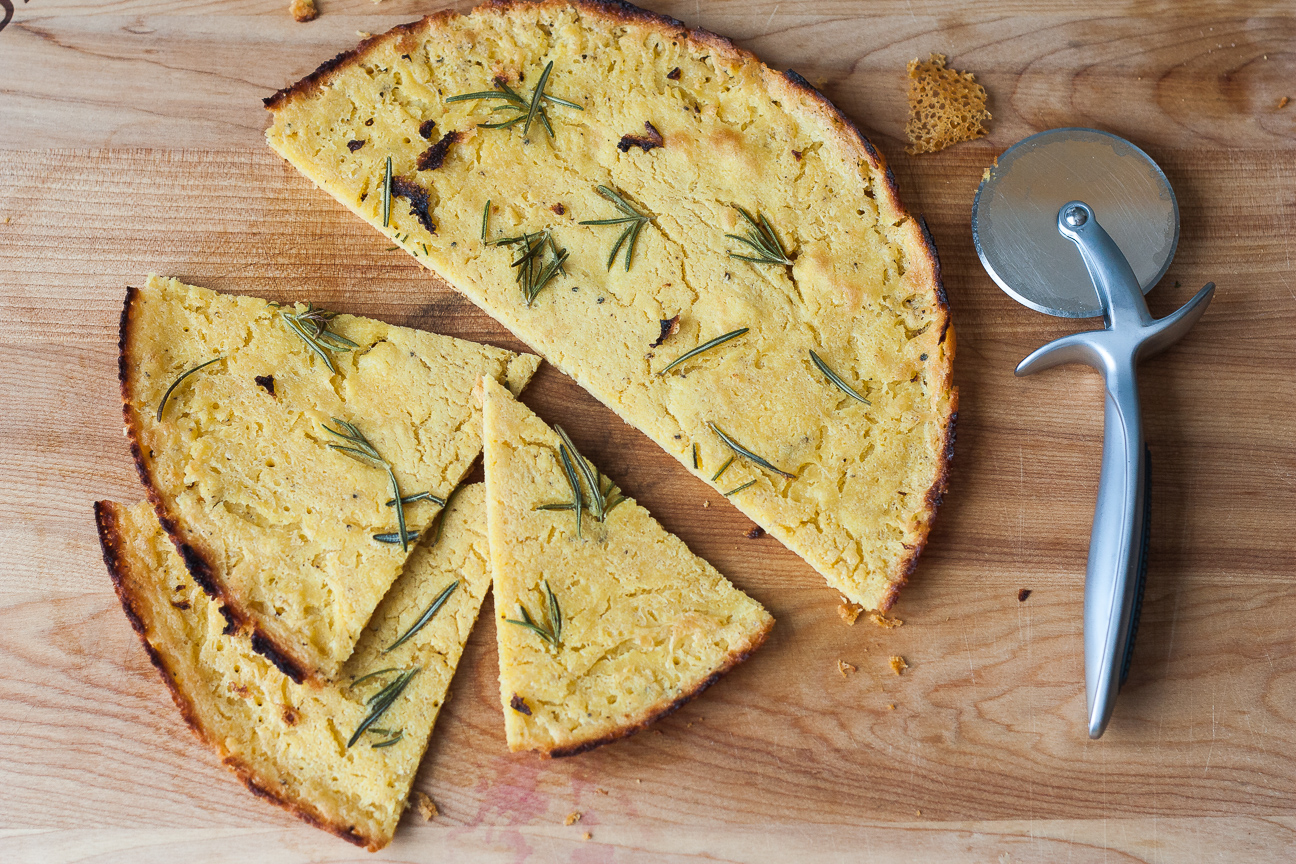 Print Recipe
Torta di Ceci with Rosemary
Ingredients
100 grams (1 cup) chickpea flour

2 cups water

1 1/2 Tbsp olive oil

1/2 tsp salt

a few good grinds of fresh pepper

1 spring of rosemary

coarse sea salt (optional)
Instructions
1
Mix together the chickpea flour and water.
2
Let soak for 2-4 hours (covered), stirring when you think of it. (I put mine in a tupperware container and shook it occasionally).
3
Preheat oven to 450 degrees F.
4
Add 1 1/2 Tbsp olive oil, 1/2 tsp salt, a few grinds of fresh pepper.
6
Add about 1 1/2 Tbsp olive oil to a 12 inch oven-proof skillet. Heat the oil until it is very hot, not smoking.
7
Pour the batter into the skillet. Careful you don't get spattered.
8
If the batter looks lumpy when it goes in the pan, very quickly whisk it smooth. If it still looks a bit lumpy, don't worry about it, it will be fine.
9
Cook on top of the stove for a few minutes, until it's slightly drier, but not completely dry.
10
Before you put it in the oven, very quickly scatter the rosemary and sea salt on top of the torta.
11
Put the skillet in the preheated oven on the bottom shelf.
12
Put an oven mitt by the stove, so you don't forget to put it on to remove the Torta when after it's done.
13
Bake for about 12-15 minutes, until golden around the edges and golden on top.
14
Very, very carefully, with an oven mitt on your hand, take out of the oven.
15
Let it cool on a rack or an upside down baking tray.
16
Then carefully, remove it from the pan.
17
Slice up with a pizza wheel.
Notes
You will need a skillet that can go in the oven at 450 degrees F.