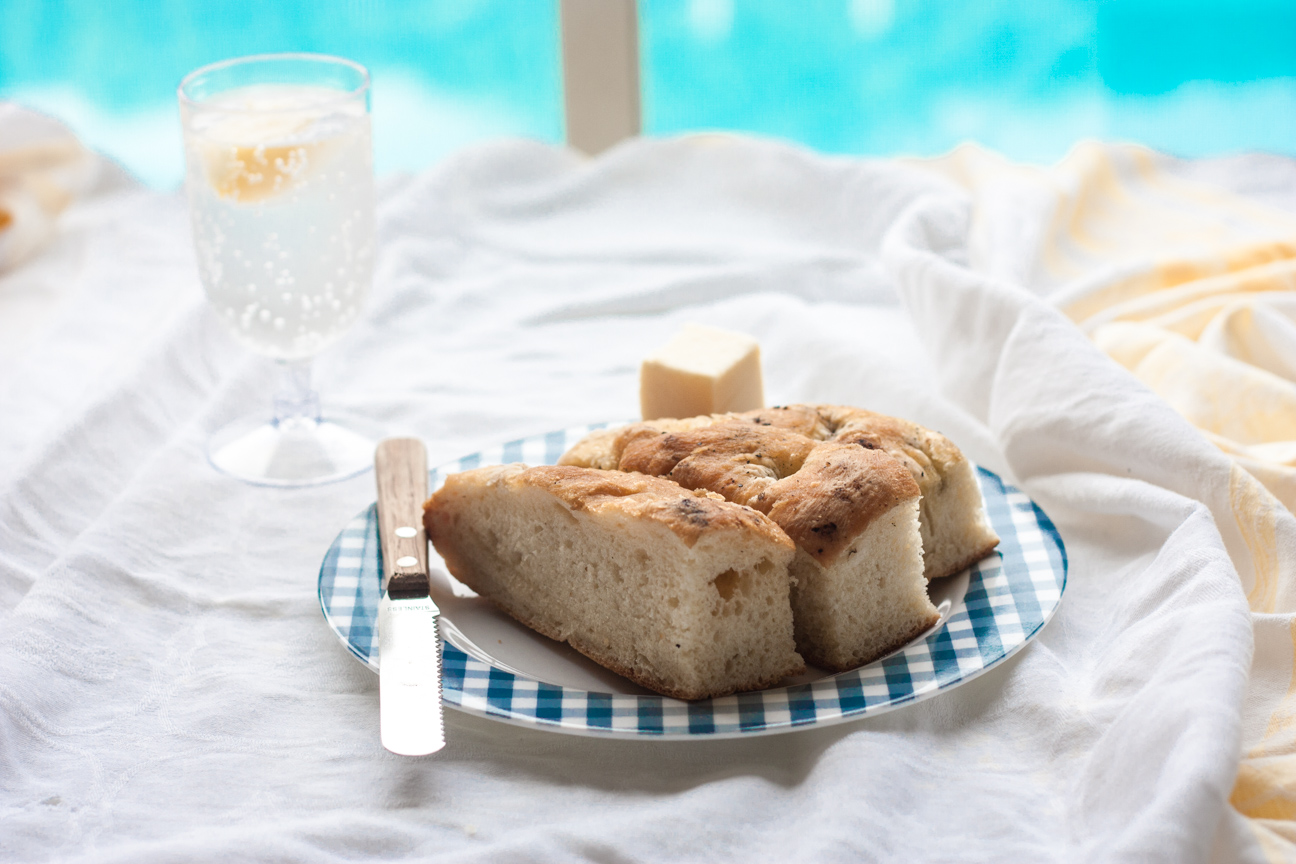 The first time that I had focaccia bread was at a little sandwich shop in downtown Toronto. It was so delicious:  chewy, warm, fragrant with olive oil drizzled on top and crunchy with salt and rosemary.
Years later Ifinally learned to bake it myself, after I had bought Antonio Carlucci's Italian Feast cookbook.The back cover of his cookbook shows four variations of focaccia bread, each one as delectable ss the next.
I don't know why I waited so long to bake sme, as Focaccia bread is very simple to make. It only has one rise so there is minimal kneading, and it is baked flat  on a cookie tray – so no shaping! And in the summertime, we bake ours on a pizza stone on the barbeque, so you don't even need to turn on the oven.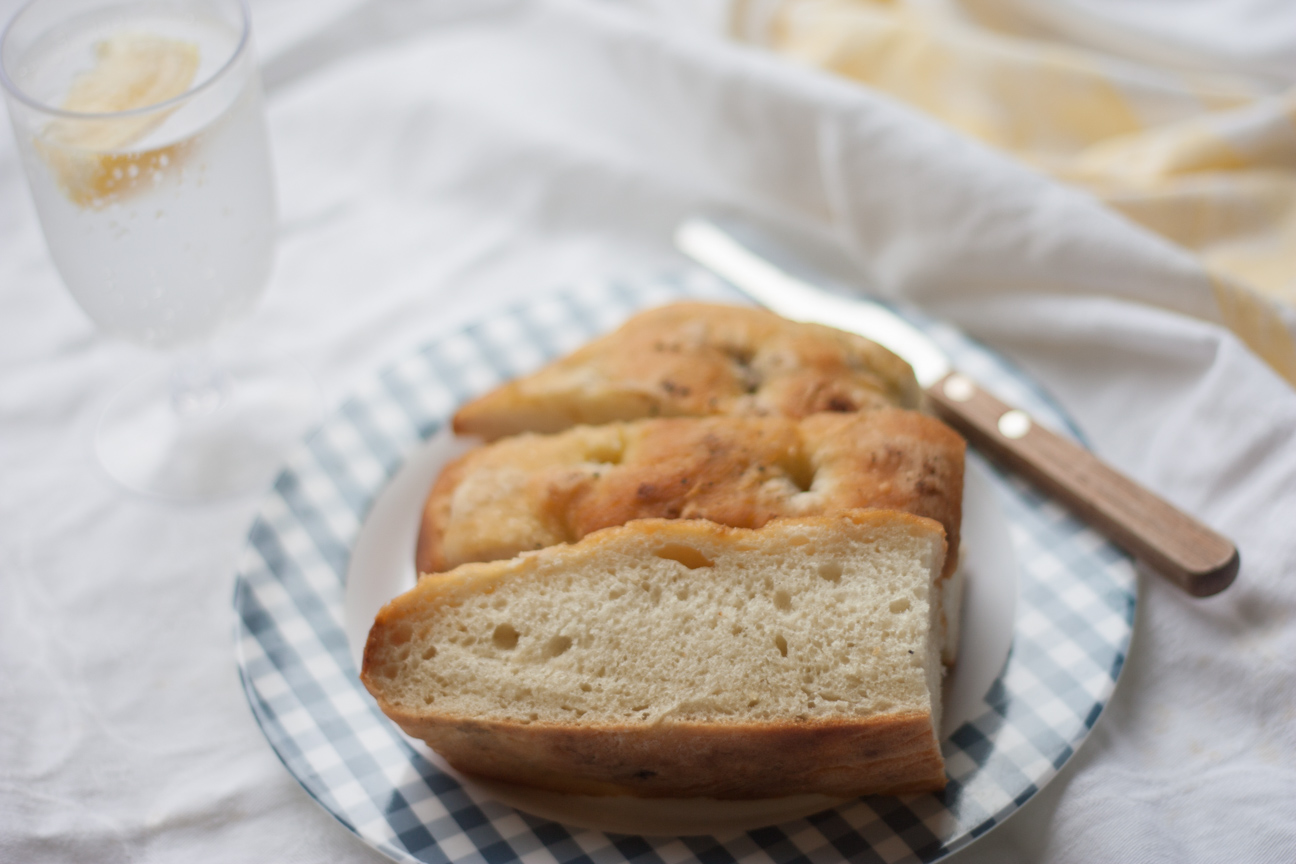 Focaccia bread is delicious eaten plain at dinnertime, or you can use it for sandwiches.  You can also make killer breakfast sandwiches with a simple omelette nestled inbetween two soft warm slices of focaccia.
This bread is delicious at room temperature, but I love it when it's soft and warm. To warm the focaccia, simply wrap some slices in tin foil and put in the oven on low for about ten minutes, or inside the barbeque for 3-5 minutes.
Focaccia is an excellent starter bread for beginners. This bread bakes up very fast and when baked on the barbecue has a lovely smokiness to it. Baking bread on the barbecue means you can bake anytime of the year.  And the crust is simply amazing; crunchy, hot, smoky. Yum!
Focaccia makes great picnic food. It pairs well with sliced meats, cheese, tomatoes, roasted red peppers and other pickled vegetables. And makes fantastic picnic food.
Sometimes on a hot summer night, we'll just pack up all our picnic foods and lay them out in the backyard. A picnic in your backyard: nothing could be simpler.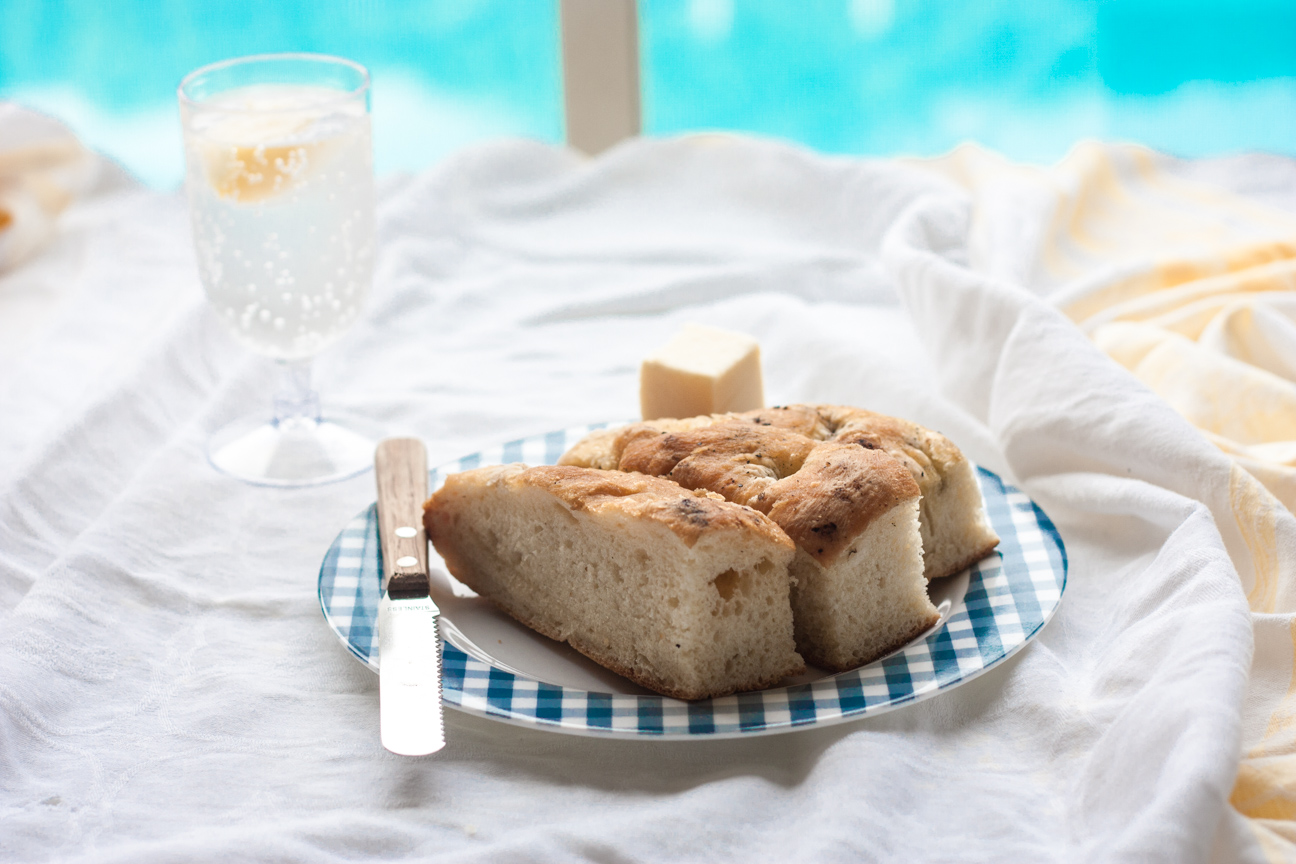 Print Recipe
Focaccia Bread with Sea Salt and Black Pepper
Ingredients
For the Dough

500 g (1 1/4 lb) strong white plain flour

15 grams fresh yeast or 7 grams dry

300 ml lukewarm water

2 tablespoons extra virgin olive oil

10 g sea salt

For the Topping

5 tablespoons extra virgin olive oil

coarse sea salt

freshly ground black pepper (or chopped onions rosemary or other herbs)
Instructions
1
Preheat oven to 475 deg F (with pizza stone) or preheat BBQ with pizza stone
2
Dissolve the yeast in 1/2 cup warm water. Once yeast has bubbled up, add to flour along with the rest of the water, oil and salt. Mix everything together and knead for about 10 minutes until the dough is smooth and springy. You can do this in your kitchen mixer with the dough hook.
3
Put the dough in a bowl that has been slightly oiled with olive oil. Place a damp cloth over top and leave it for one hour until double in size.
4
Knead the dough again after an hour to knock out any bubbles. Flatten the dough until it is an oval shape and about 1" thick. To create indentations, press your knuckles into the dough several times, keeping the indentations about 1 inch apart. Spread about half the olive oil over the dough. Sprinkle on the toppings. Leave to rise again for about 30 minutes, then pop in the hot oven or BBQ for about 15 minutes until the base sounds hollow when tapped, or when the bottom and top are a nice golden colour.
Adapted from Antonio Carlucci's cookbook, Italian Feasts.