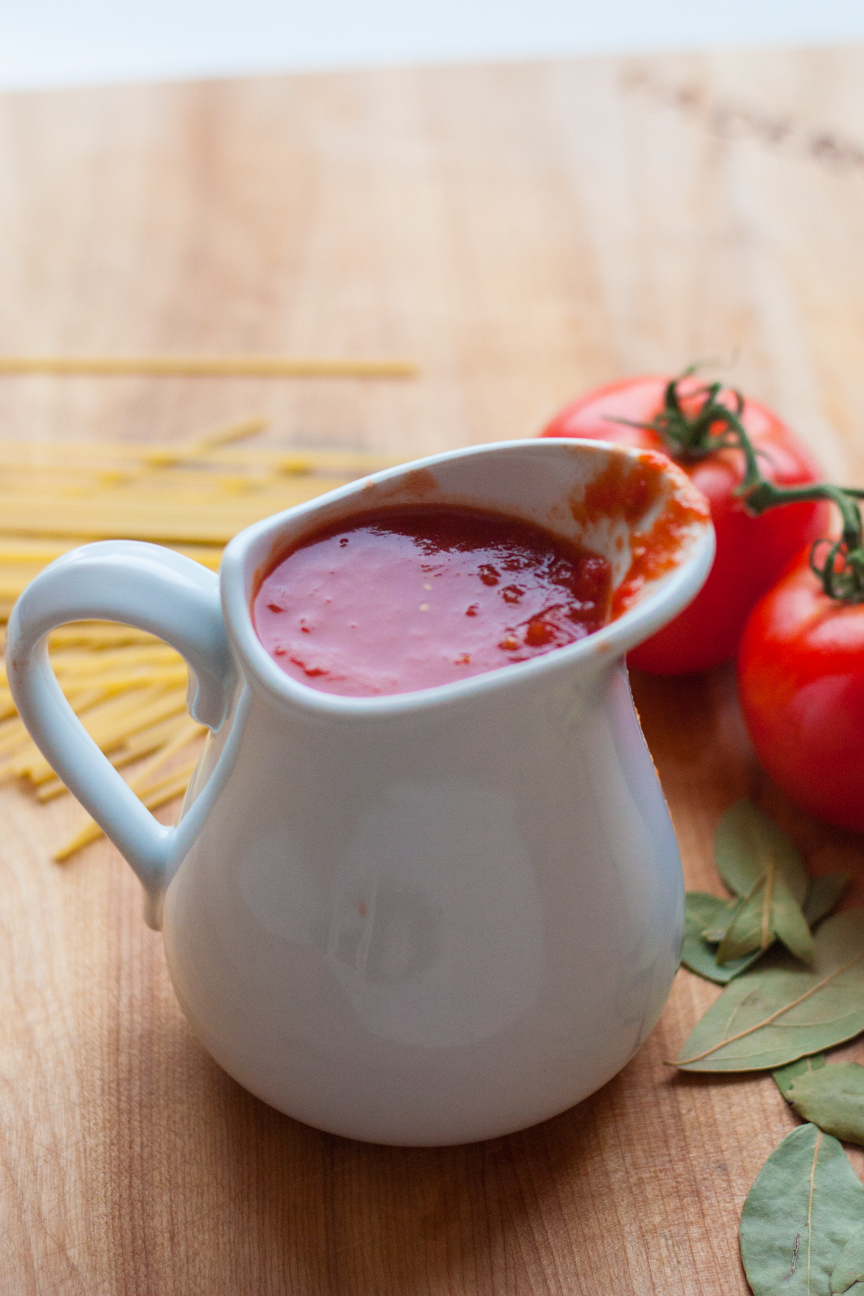 Tomato Sauce is one of the simplest pantry items anyone can make. It also freezes beautifully. It's so handy to have a few tubs in the freezer so whenever I have time to make some sauce, I make double or triple the amount and freeze it for a quick dinner.
You can make SO many quick dinners when there is a ready made tub of tomato sauce in your freezer: pasta + sauce + parmesan cheese; pasta + sauce + sausage; pasta + sauce + any green vegetable from the crisper drawer such as spinach, zucchini, or even just onion or garlic; or tortellini + sauce + parmesan. Homemade sauce is so simple, and so much tastier than store bought that I try not to purchase bottled sauce too often. It is also more economical and healthier as there is much less salt.
This Robust Red Tomato Sauce is my go-to sauce for all pasta or pizza dishes. I love it because it has a very deep rich tomato flavour. I know other people like to add onions, garlic and sometimes carrots for sweetness, but I like the rich tomato flavour scented with only bay leaves.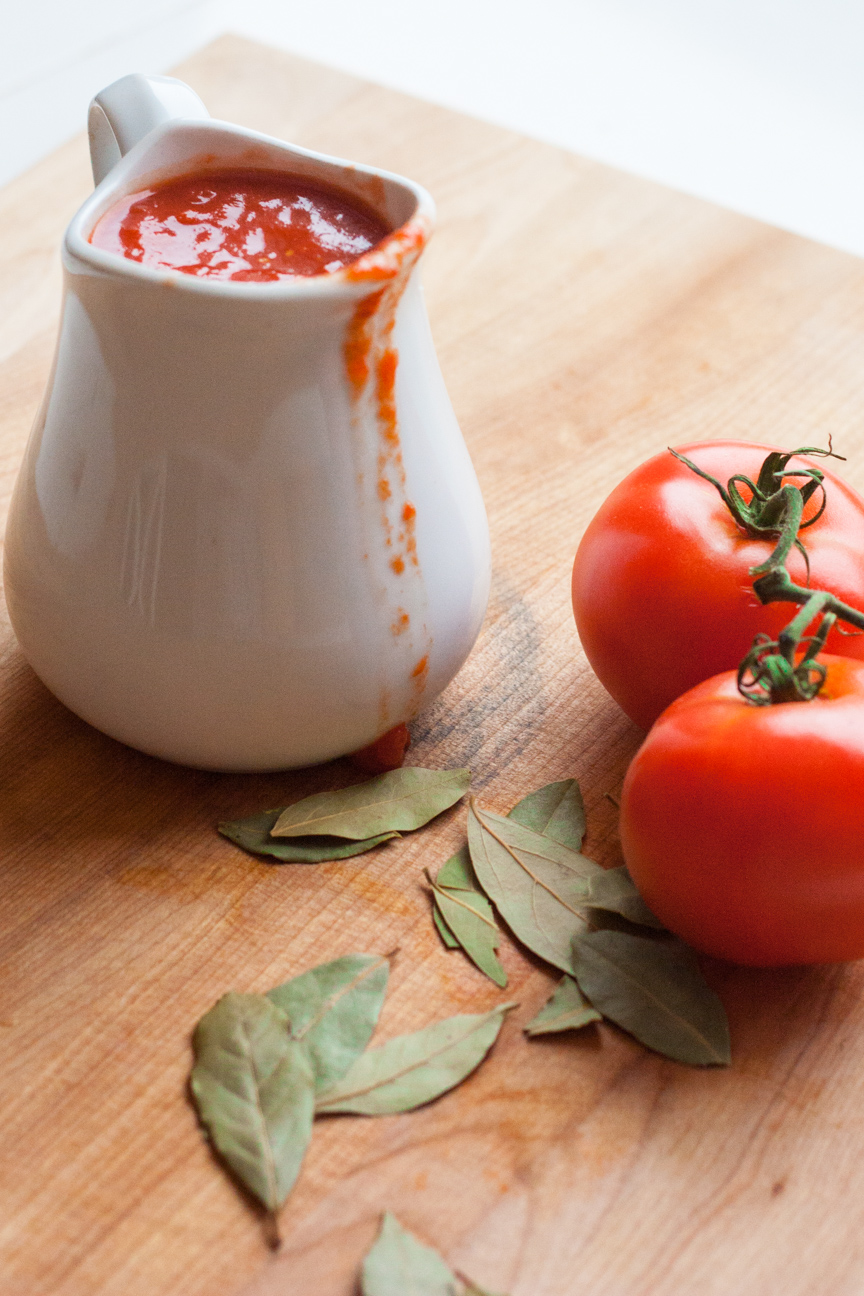 If you are lucky enough to have a vegetable patch in your yard, or perhaps you rent an allotment garden, you could try growing your own tomatoes. Tomatoes used to make sauce are a different variety than eating tomatoes. You'll want to look for paste tomatoes. Paste tomatoes have fewer seeds and have a firmer texture. They also all ripen at the same time, so processing the tomatoes into sauce is easy. Paste tomatoes may seem a bit bland when eaten raw, but when cooked down, they turn into a delicious sauce. Some varieties to look for are: San Marzano, Amish or Roma.
Personally, I buy whatever tins of tomatoes are on sale at the local grocery store. I also tend to buy tins with No Salt Added. However, if I am making a special pasta dish for guests or perhaps taking a lasagna to someone's house, I would search out a more expensive brand such as Muir Glen, Eden Organic or San Marzano tinned tomatoes. These tomatoes do tend to have a richer and pastier texture. And the taste is divine.
Winter is the perfect time for making tomato sauce and all the accompanying pasta dishes. So, next time you're at the grocery store, pick up a few tins of tomato sauce and simmer them on the stove while you browse through your favorite italian cookbook and bookmark a few italian dishes to make with your gorgeous homemade tomato sauce.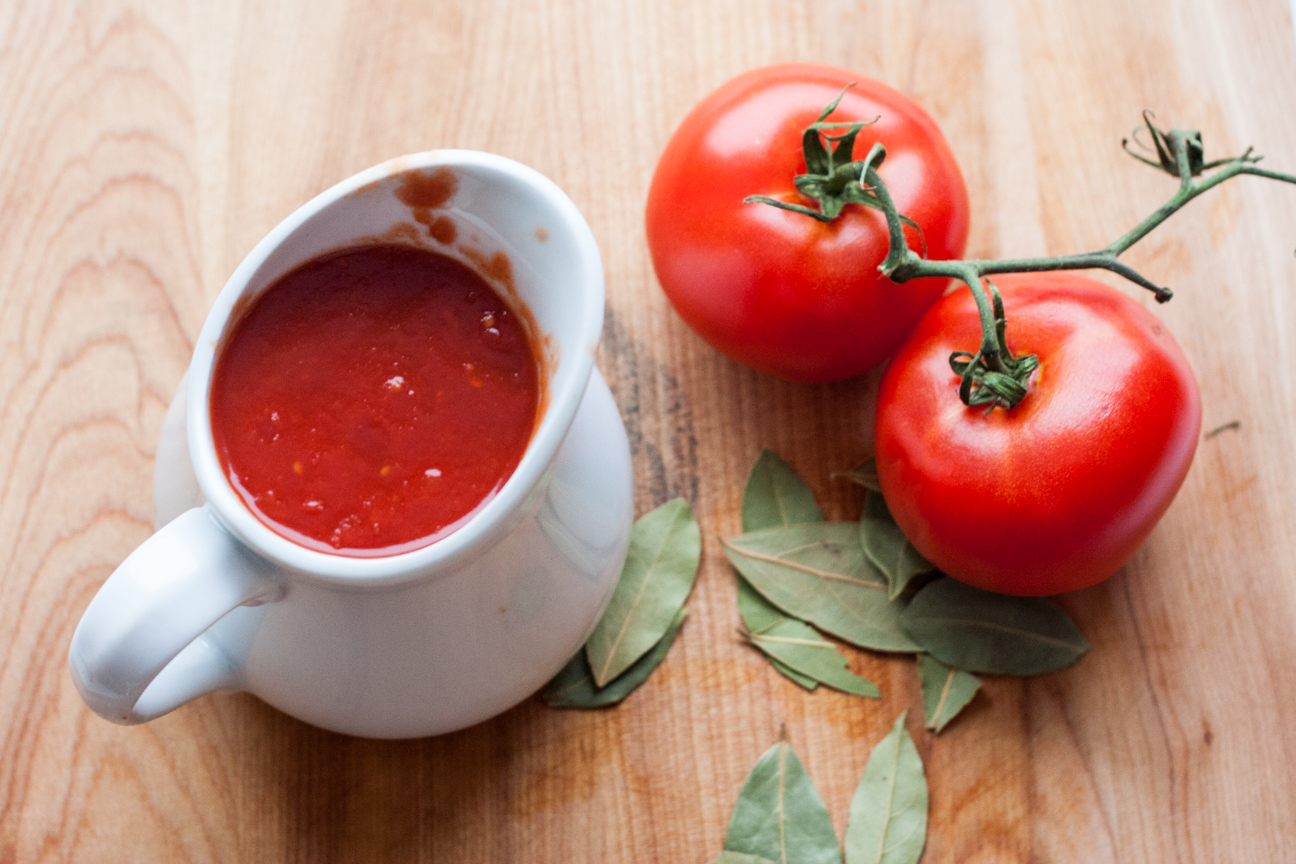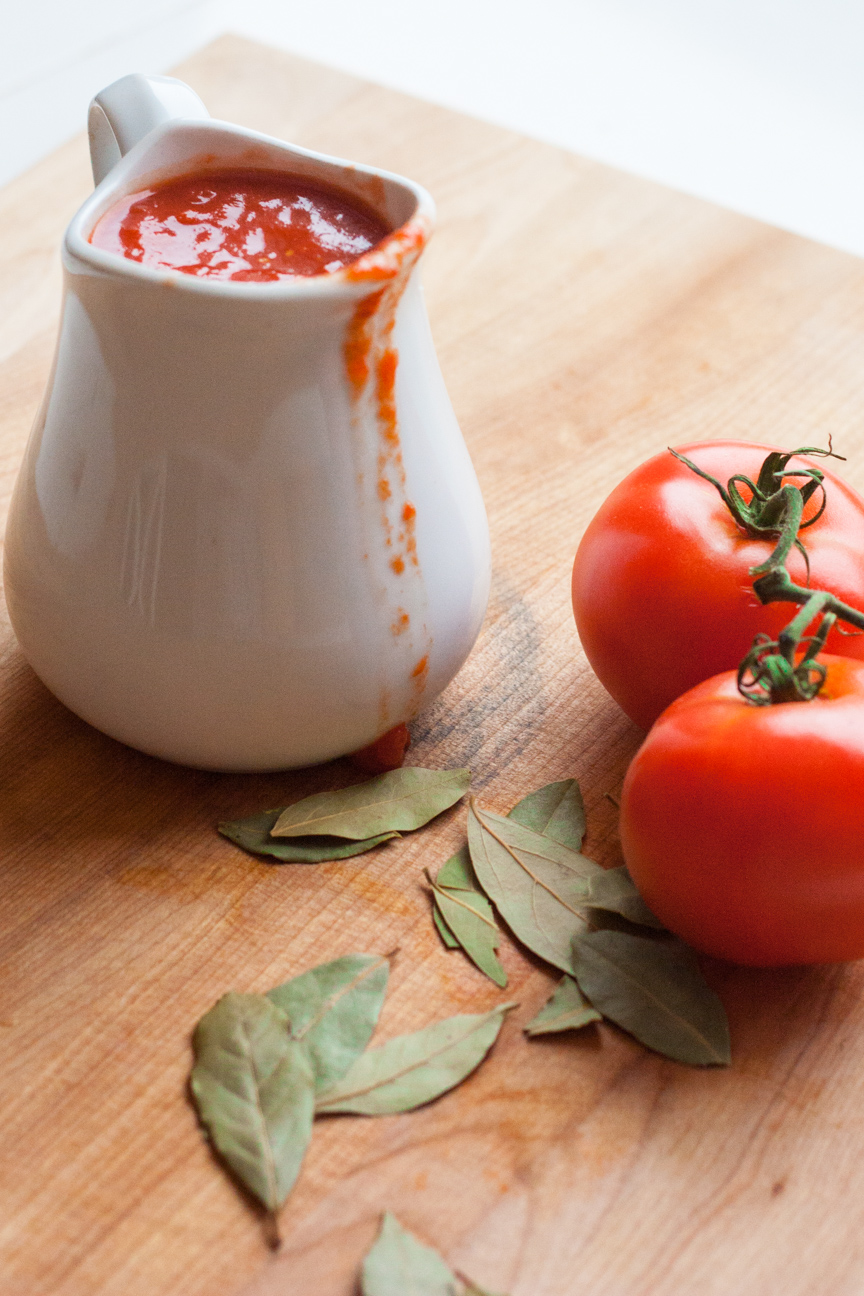 Print Recipe
Ingredients
1 can (796 ml) whole tomatoes (I use no salt added, but you can use either)

2 bay leaves

1 small can tomato paste
Instructions
1
Empty the can of tomatoes into a large pot. Squish all the tomatoes with your hands until well broken up.
3
Simmer on low for about 30 - 40 minutes, until reduced by about 1/3, with the lid half covering the pot.
4
Add tomato paste to taste. I usually add about 2-3 tablespoons.
5
Add salt and pepper to taste.
Notes
This recipe multiplies well. Increase the cooking time to about an hour for large batches. It should reduce by about 1/3.