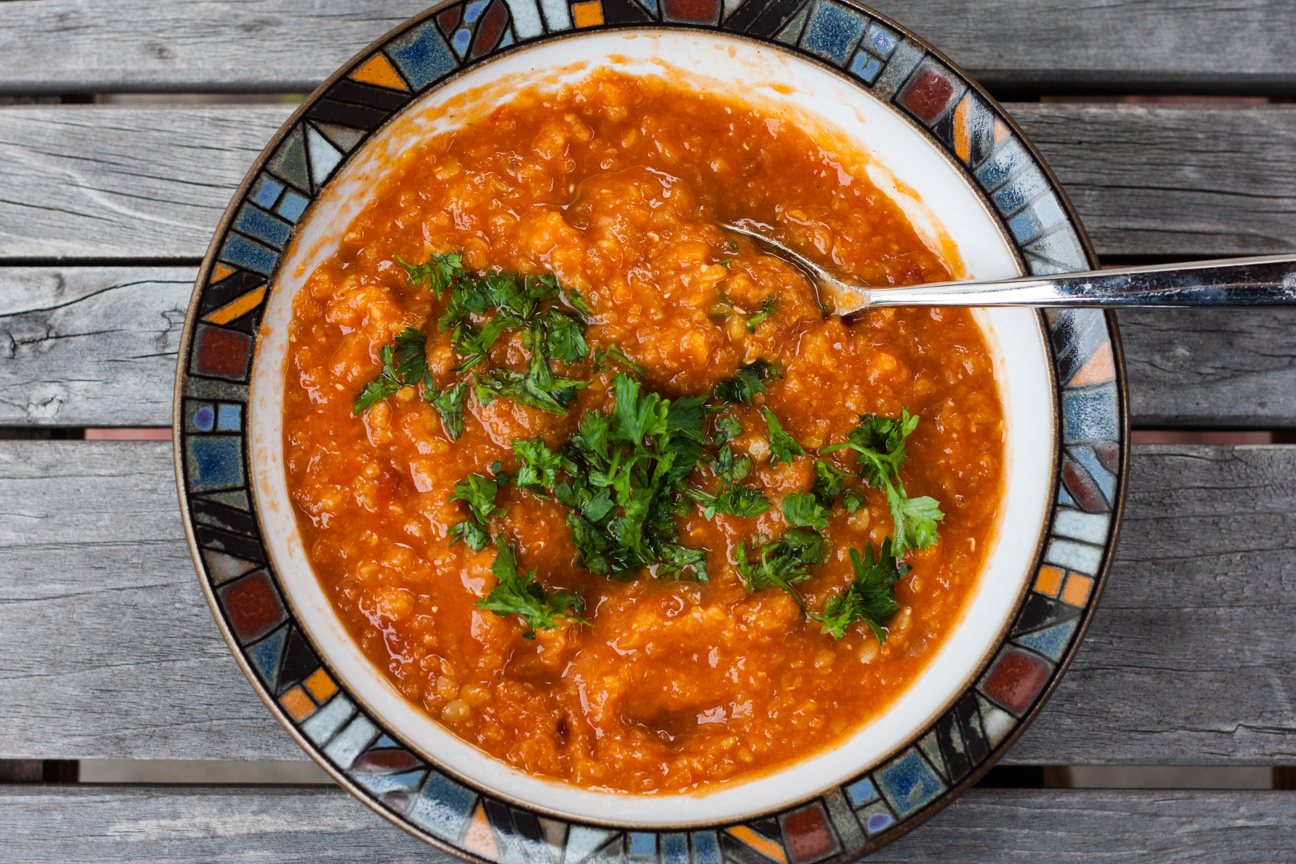 The days are getting shorter, the nights cooler. Sweaters are coming out of their storage bins, light ones first. The heavy wool ones will come later. The rain jackets hang in the front closet. Rain boots are placed in the hallway near the door. Autumn is coming.
Cooler weather also means new menus. So, I'm filling my pantry and freezer with new ingredients for these approaching autumn days: pasta for comforting macaroni and cheese and hearty lasagna, beans for chili and soups, and dried fruit, nuts and a multitude of flours for baking – cookies, squares and pies. And I'm filling my downstairs freezer with big containers of soup stock.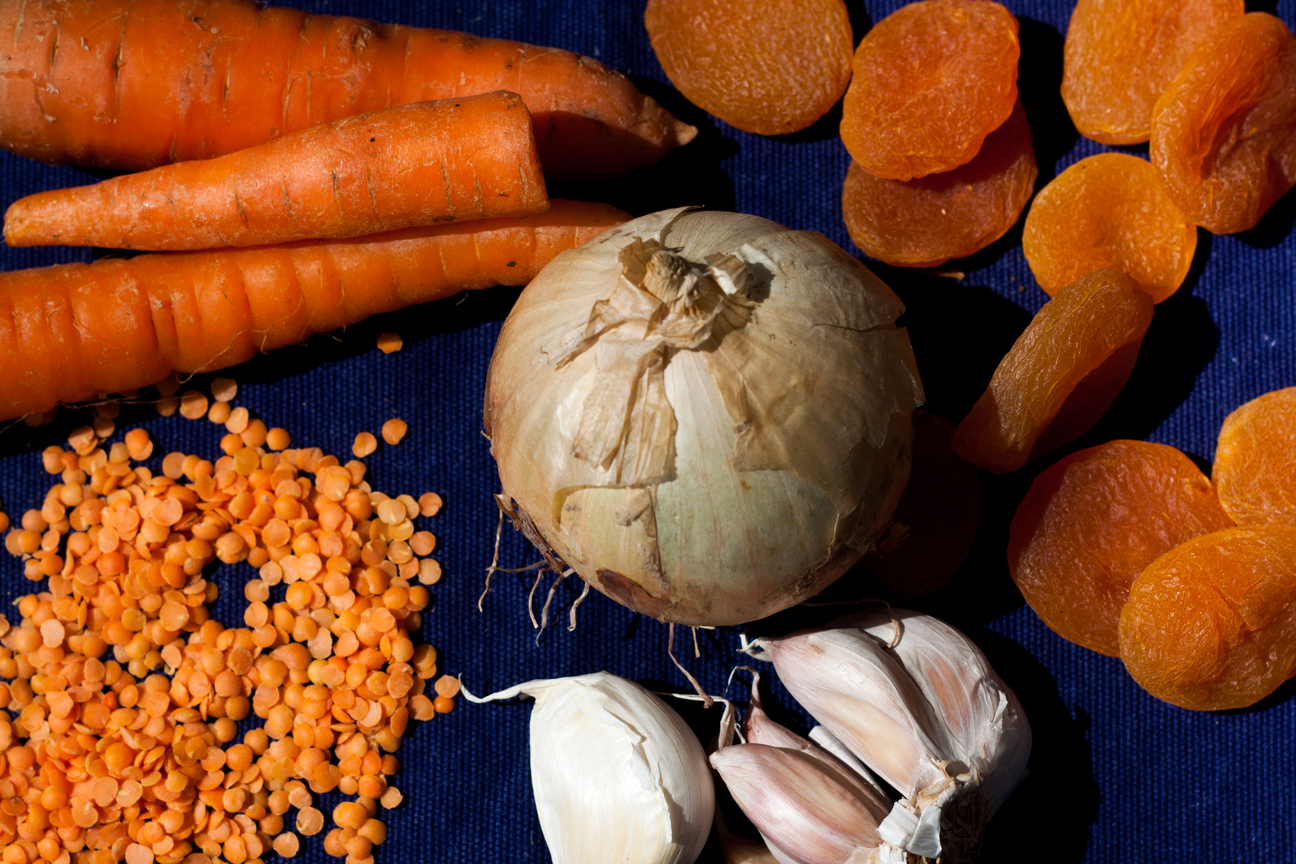 This Armenian Red Lentil and Apricot Soup is a perfect seguay into our autumn menus. The earthy onions, carrots and lentils remind us of the approaching coolness, while the flavour of the sweet apricots tug at the memory of the summer weather that hasn't completely ended.
Apricots have always been very special in Armenia, as their scientific name, Prunus Armeniaca, or Armenian prunes, shows. They have grown in Armenia for many centuries. A recent dig at an ancient village found apricot cores that were over 3,000 years old!
So, it goes without saying, that Armenians use apricots in many of their dishes.. During apricot season, women make jams, marmalades, even homemade apricot vodka. After the season has ended, apricots are places on balconies and rooftops to dry in the sun to be used whole or made into apricot leather. Armenians want their precious apricots to last until the next season.
This soup is very tasty and also very nutritious. This soup provides an excellent source of iron, protein, folate, B vitamins, Vitamins A and C as well as potassium. Not bad for one bowl of soup.
You can use store bought of homemade vegetable stock. If you want to make your own vegetable stock, you can find my recipe here.
If anyone had any doubts about vegan food – whether it's tasty, nutritious or filling – one bowl of this soup would settle that argument. I hope you enjoy my Armenian Red Lentil and Apricot Soup.
Enjoy!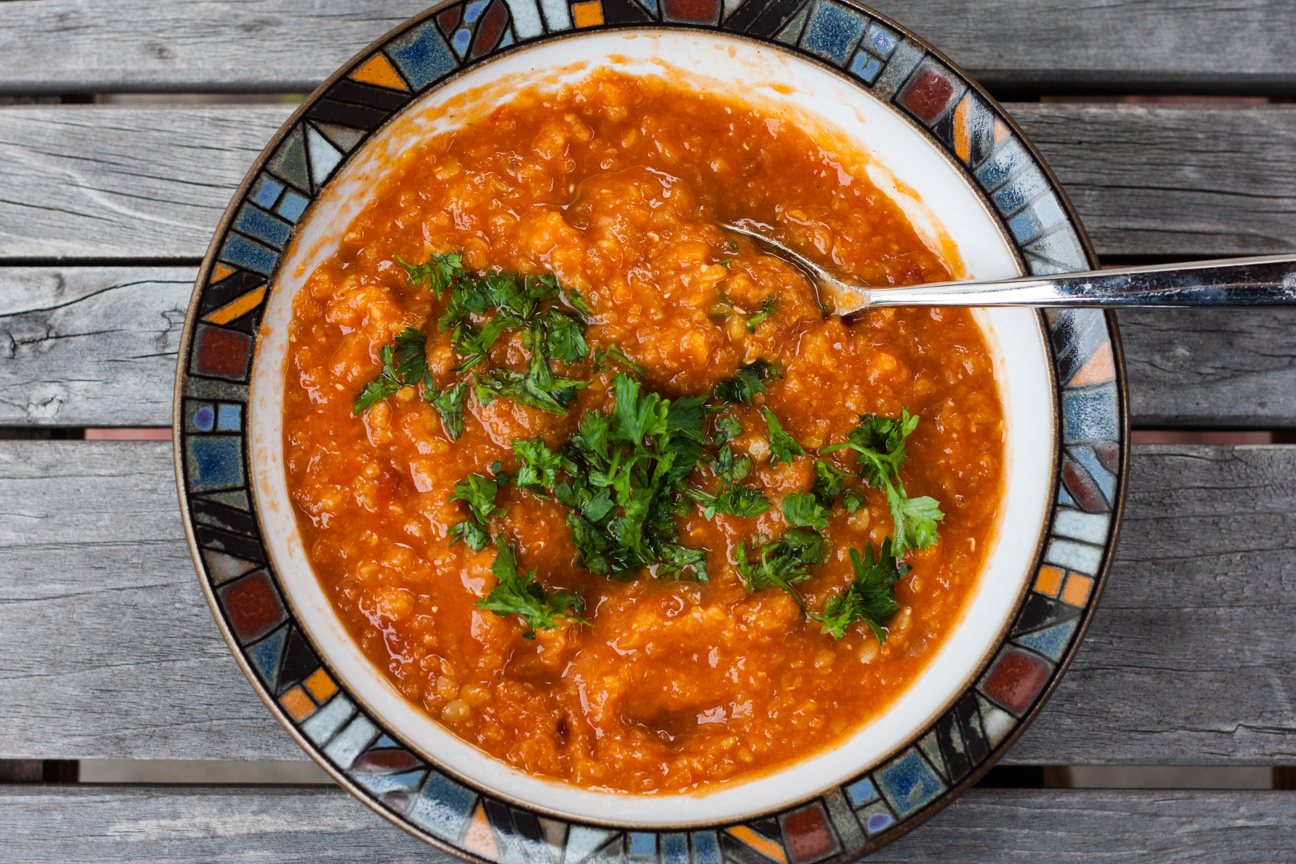 Print Recipe
Armenian Red Lentil and Apricot Soup
Ingredients
1 onion, chopped

3 carrots (200 grams), peeled and chopped

1 garlic cloves, peeled, crushed and chopped

1/2 cup dried apricots, chopped

1 tsp cumin powder

1 cup tomato puree

2/3 cup red lentils, washed

1 litre vegetable broth

1/4 tsp dried thyme

salt and pepper, to taste

3 tbsp lemon juice

a handful of parsley, chopped
Instructions
1
Saute the onions and carrots. When almost soft, add the garlic, and cook until fragrant, about 30 seconds.
2
Add apricots and cumin powder and cook until aromatic.
4
Then add the lentils, vegetable broth and thyme.
5
Bring the soup up to a boil, and then simmer for about 20 minutes.
6
Take the soup off the heat. Add the lemon juice, salt and pepper.
7
Either blitz half of the soup in the blender, or use a hand held mixer, and blitz a bit, but make sure it's not entirely pureed.
8
Serve in bowls with parsley sprinkled on top.