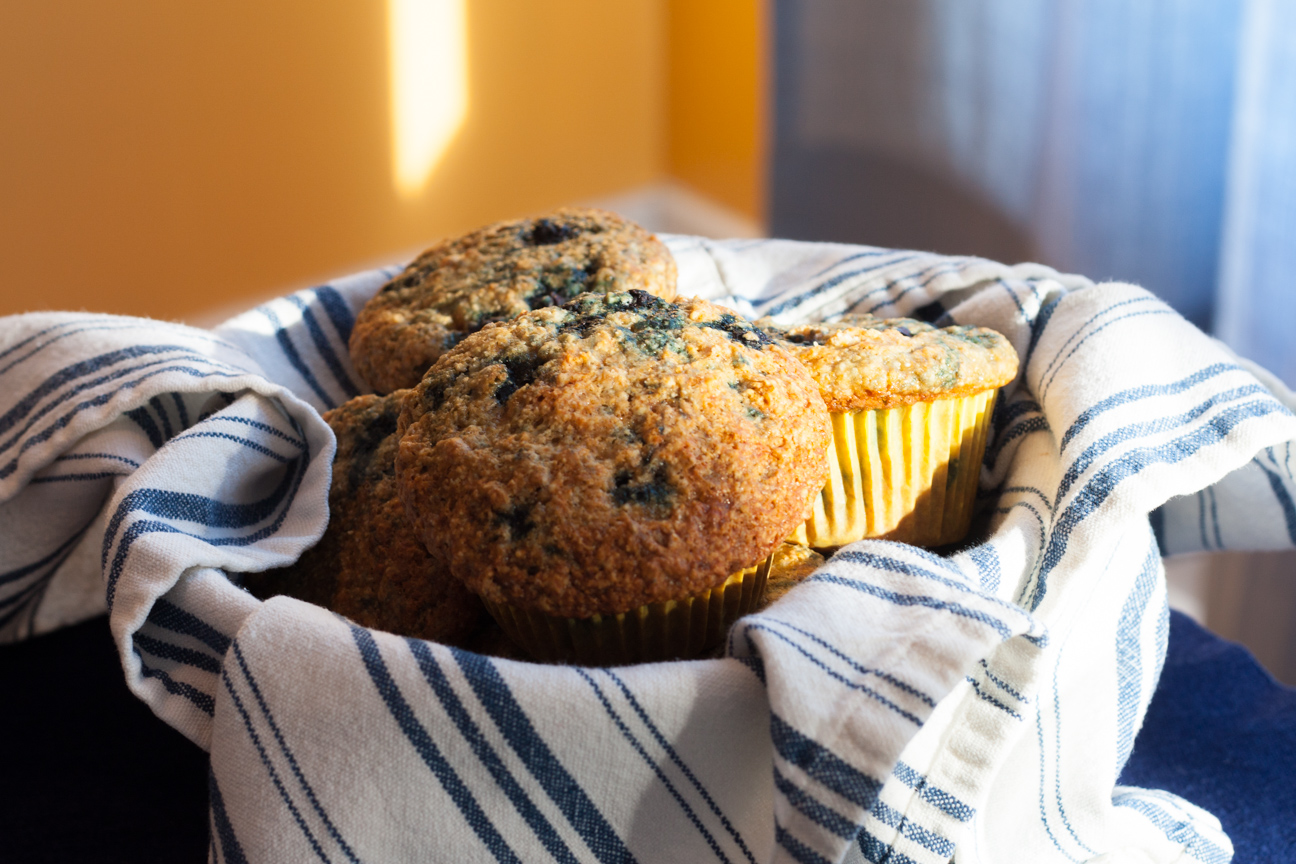 If you love muffins, then you will love these Healthy Blueberry Honey Muffins. Filled with plump, juicy blueberries and accented with toasty oats and sweetened with honey, they are chock full flavour.
You can find muffins everywhere these days: coffee shops, bakeries and grocery stores – they all carry them. But don't get fooled by the fancy packaging, the fresh blueberries or lemon zest on top: homemade are always better. Not only do they taste better, they are also healthier! Most baked goods from coffee shops and grocery stores are laden with fat, sugar and salt.  For example, a Starbucks Blueberry muffin has 350 calories and 12 grams of fat and their Chocolate Chunk Muffin has 440 calories with 21 grams of fat. For me, that's 25% of the calories I need in a day, and 30% of the total amount of fat I'm supposed to have in an entire day…in one muffin. Yikes!
It doesn't take very long to bake a batch of muffins. And they freeze very well. Frozen muffins are terrific for packed lunches. You can pull them out of the freezer in the morning and by coffee time or lunch time, they will be thawed. I enjoy all sorts of muffins but my favourite recipes are the low-fat fruit variety that are also high in fibre. Otherwise, why not just call them cupcakes?
The Trouble with Muffins
I've baked many dozens of muffins and sometimes they don't turn out perfectly: either they're lopsided, or they're flat, or they spread themselves all over my muffin tin. Muffins should be light and fluffy with a nice domed top.
Here is a quick troubleshooting list to make sure your muffins are perfect every time.
If your muffins are too pale, double check that your oven temperature is accurate.
muffins that are tough and heavy, you have probably added too much flour. Remember to measure accurately by spooning your flour into the measuring cup and levelling it off with a knife.
texture is uneven or has smooth/peaked tops, you have mixed the batter too long.
If the muffins are too dry, either you have added too much flour, your oven was too hot or they were baked for too long.
If the muffin batter has spilled onto the muffin tin you have filled the muffins cups too much. Remember to only fill your muffin cups 3/4 full, so they don't overflow.
If the peaks are lopsided, you have either over-mixed or the temperature of your oven was too hot.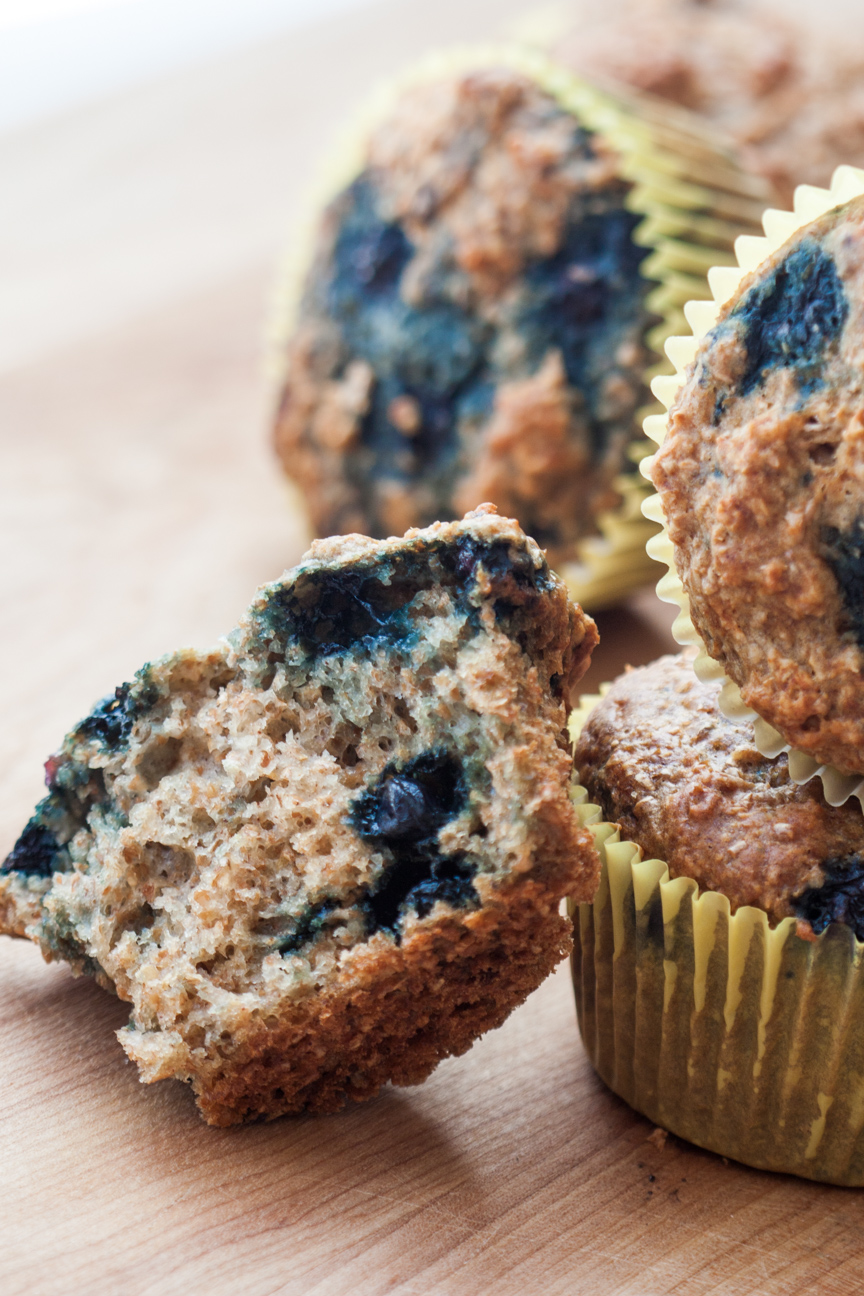 These Healthy Blueberry and Honey Muffins are so good. They are not too sweet, not too dry, have loads of fibre from the blueberries, bran and wholewheat flour, and bake up really nice. I always keep frozen blueberries in my freezer and combined with the toasty flavour of oats, they are excellent any time of day.
Want Healthier Muffins?
If you are interested in baking some healthy low-fat muffins, here are some tips that you can adapt to any muffin recipe to make it healthier:
make sure the amount of fat in the recipe is not higher than 1/3 cup (butter, oil etc.)
to make them even lower in fat, replace 1/2 the amount of fat with apple sauce
substitute whole wheat flour for some of the white flour to increase the fibre content (up to 50%)
substitute wheat bran for some of the flour (works with up to 30% of flour)
add dried fruit to your muffin recipe
look for recipes that have no more than 1/2 cup of sugar or sweetener.
Bon Appétit!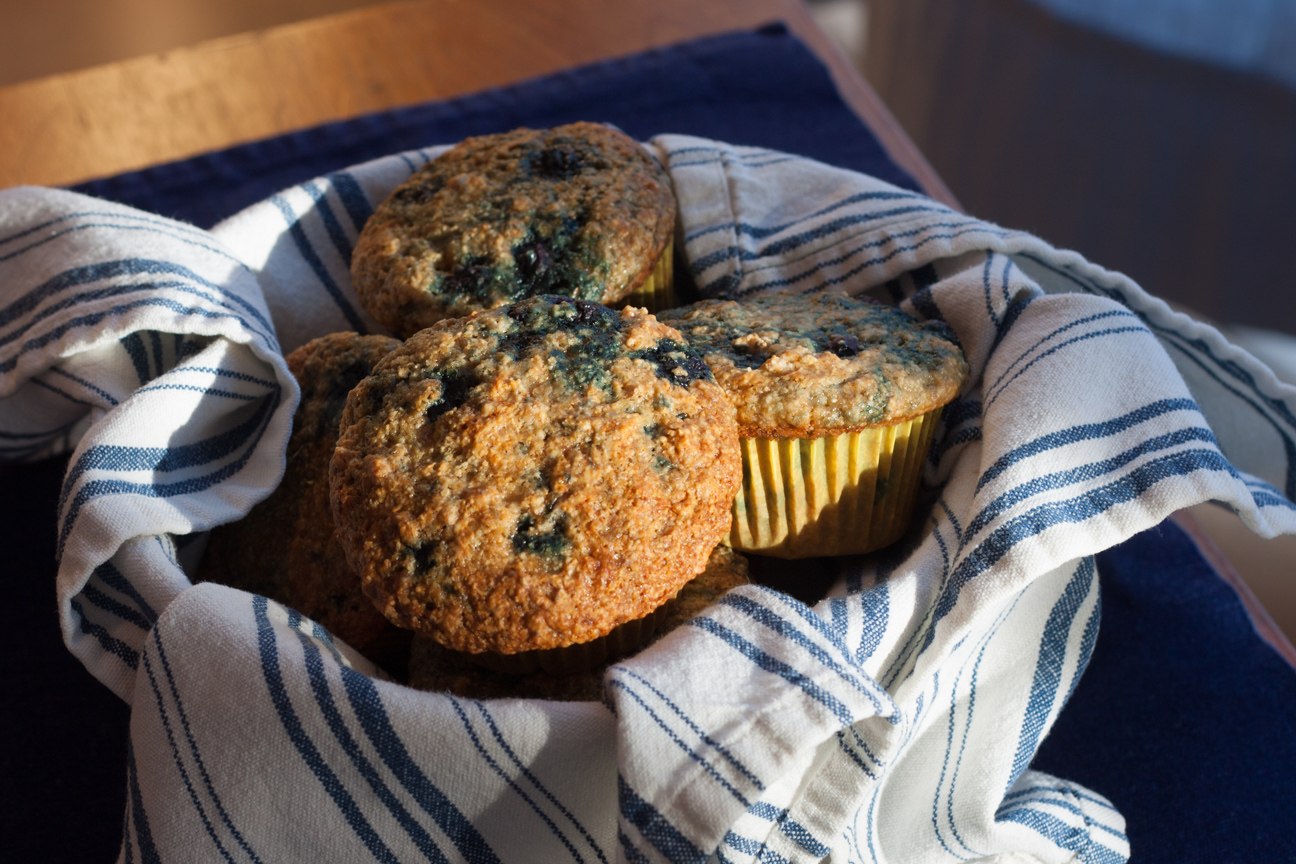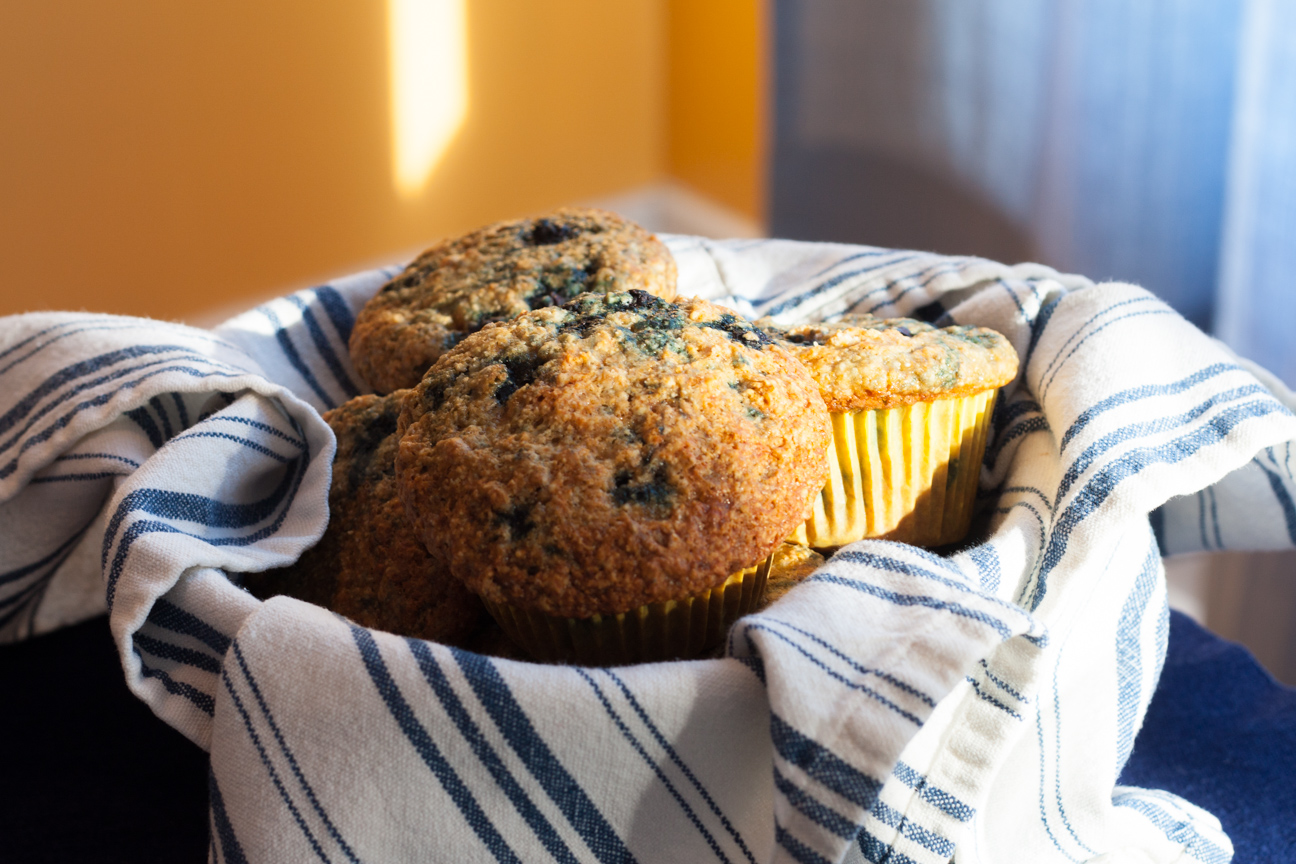 Print Recipe
Healthy Blueberry and Honey Muffins
Ingredients
2 cups all-purpose flour

3/4 cup whole wheat flour

1 1/2 cups oat bran

4 tsp baking powder

2 tsp baking soda

1 tsp ground nutmeg

1/2 tsp cinnamon

1 egg

1/3 cup brown sugar

1/4 cup vegetable oil

2 cups buttermilk

1 1/2 cups blueberries
Instructions
2
Line 12 muffin tins with muffin cups.
3
In a medium sized bowl, combine all the dry ingredients. Mix until well blended.
4
In a larger bowl, mix together the egg, oil and buttermilk. Mix until well blended.
5
Add the wet ingredients to the dry ingredients until everything is well moistened.
6
Very quickly stir in the berries, so your whole batter doesn't turn purple.
7
Spoon the batter into your muffin cups, filling about 3/4 full.
8
Bake for 25 minutes or until a cake tester comes out clean with no crumbs.
recipe adapted from Bonnie Stern's Heart Smart: The Best of Heart Smart Cooking