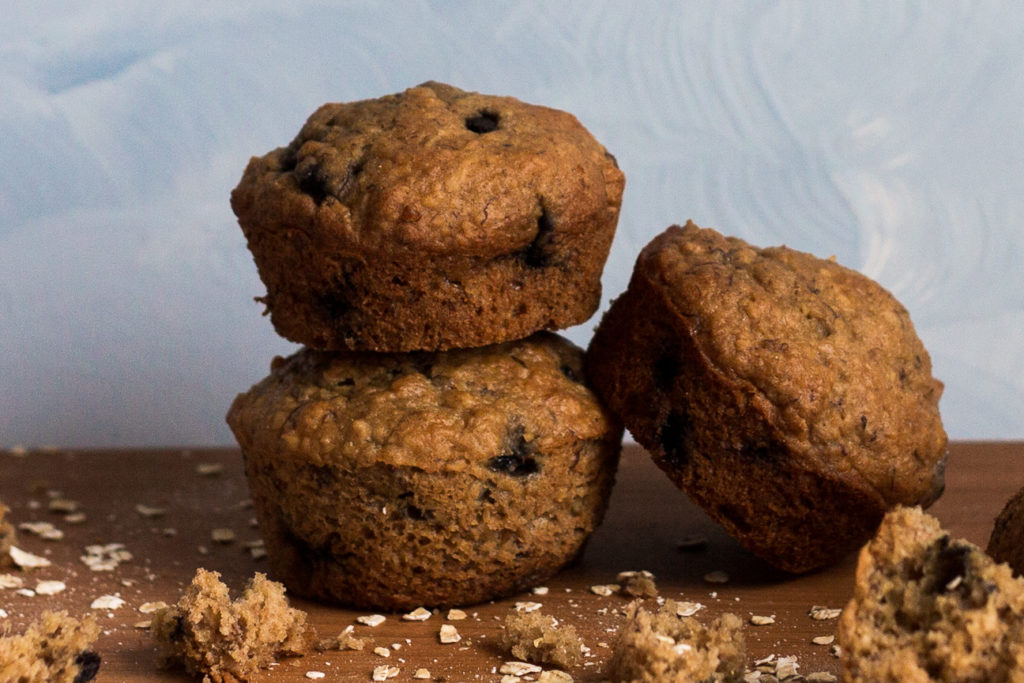 If you're like me, muffins are a well-loved treat. My favourite thing about muffins is the wide variety of flavours one can incorporate into a batch. I have had many favourite flavours over the years: Orange Cranberry, Raisin Bran, Raspberry, but my all-time favourite has always been Banana Blueberry Muffins. I love the aroma of the bananas wafting in the air as they are baking. And I love the burst of sweetness that the blueberries bring.
When I was living in Toronto in the 1980's muffins were all the rage. Muffin recipes were in every cookbook and food magazine (yes, even then I loved reading food magazines and cookbooks). A very popular cookbook was called Muffin Mania – which tells a lot. They were part of the health movement to get people healthier. Muffins were a great vessel for the latest power food: oat flour, bran, dried fruit, avocado oil: you name it, they would be found in muffins. Whatever the latest health craze (no cholesterol, low fat, low sugar, high fiber, etc.) you could bet that particular health idea would find its way into a muffin recipe.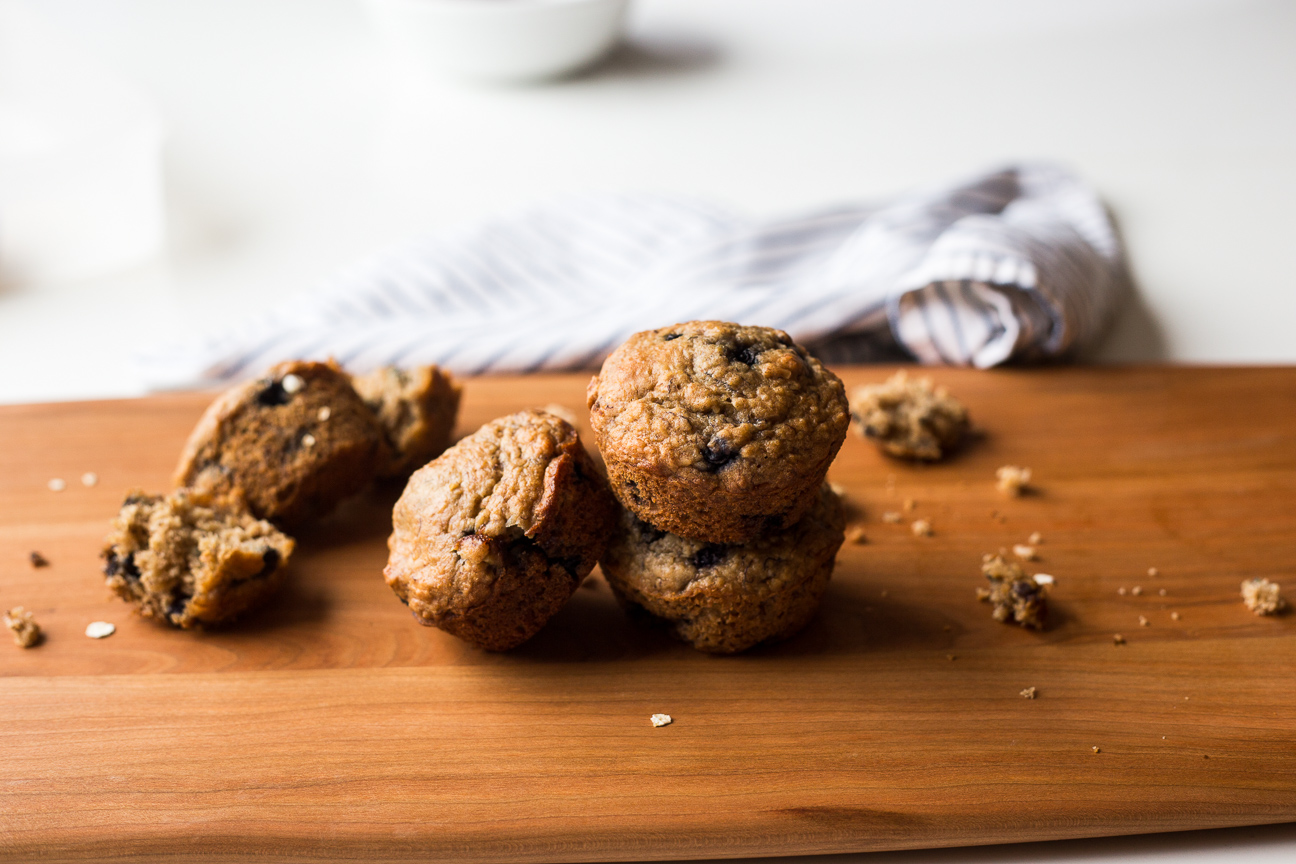 While muffins never did make people healthier, they weren't a flash food idea, either. Mmmmuffins, a very popular shop selling only muffins, opened up in Union Station in Toronto in the 1980's and last count, they were still there…busy as ever. While the ingredients may keep revolving, muffins are here to stay. And I'm completely happy with that.
Most muffins in coffee shops, bakeries, and grocery stores are very high in calories with an obscene amount of sugar and fat. So don't let all that deliciousness fool you into thinking you're buying something nutritious. Starbuck's Blueberry Muffins have a whopping 360 calories with 15 grams of fat and 33 grams of sugar. Their Chocolate Chunk Muffins have 440 calories with 21 grams of fat and 39 grams of sugar. That's a lot. But, muffins can actually be a wholesome healthy snack, if they're home made. So, if you want to snack on muffins and stay healthy: make your own.  
You can have a lot of fun really, making your own muffins. They really are the perfect item to fill with dried fruit, nuts or seeds and you don't need a lot of fats or sweeteners to make them taste nice. You can also really bump up the fibre by incorporating wholewheat flour, or extra bran, like my recipe here. They also freeze well and travel well. I often bake muffins for snacks, lunch, road trips, vacations etc., And I'm super happy when I do. They're also so much cheaper than store-bought.
This muffin recipe is not very sweet. Most of the sweetness comes from the blueberries and bananas. If you like a sweeter muffin, you can add 2 tablespoons of brown sugar. or drizzle on a bit of honey.
And if Blueberry Banana Muffins aren't your thing, here are a few more to try:
On-the-Go Carrot, Apricot, Walnut Muffins
Healthy Blueberry Honey Muffins Recipe
And keep checking back, as I will have more muffin recipes in the future.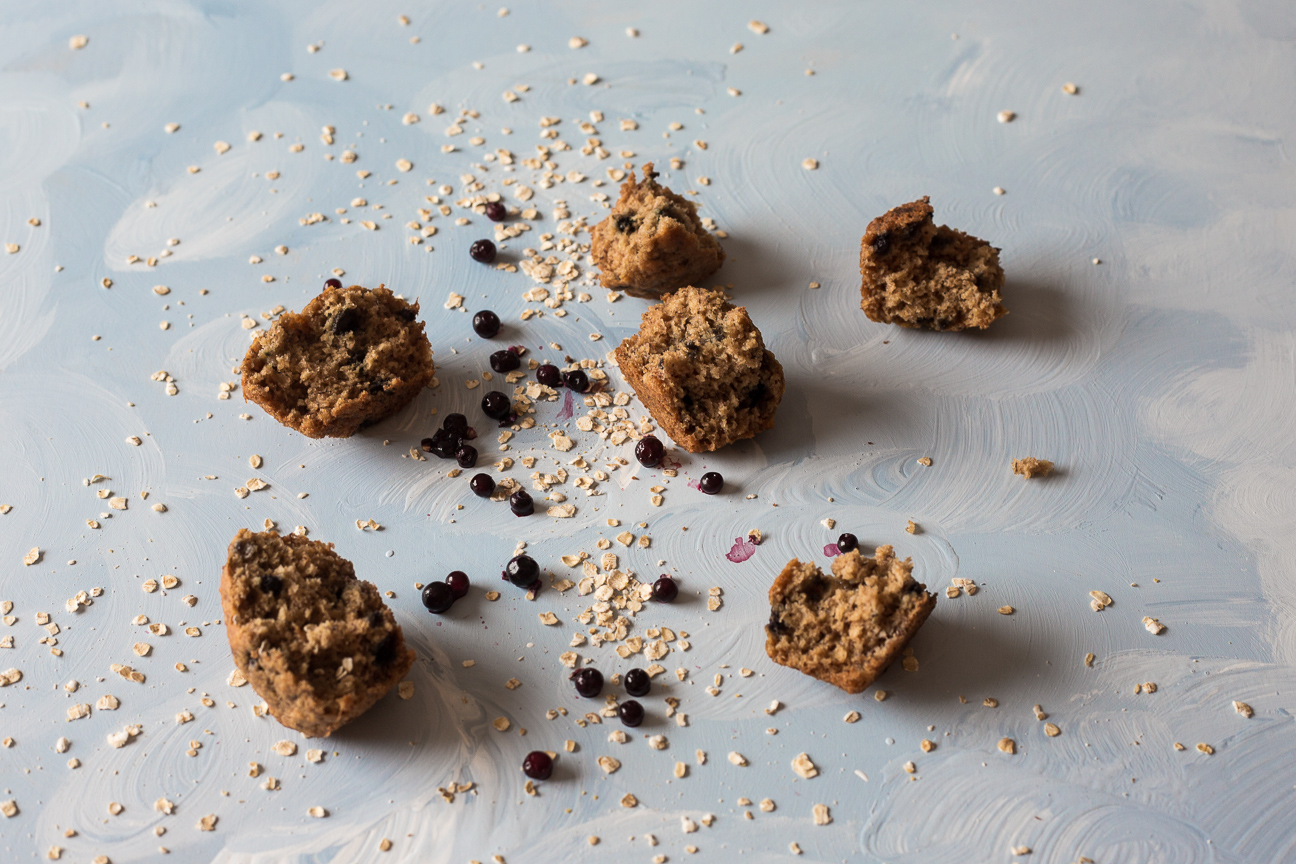 Also, if you don't have yogurt, you can also use buttermilk. Or make your own buttermilk by adding one tablespoon of lemon juice to a measuring cup and topping it up with milk until you have 1 cup. That works very well!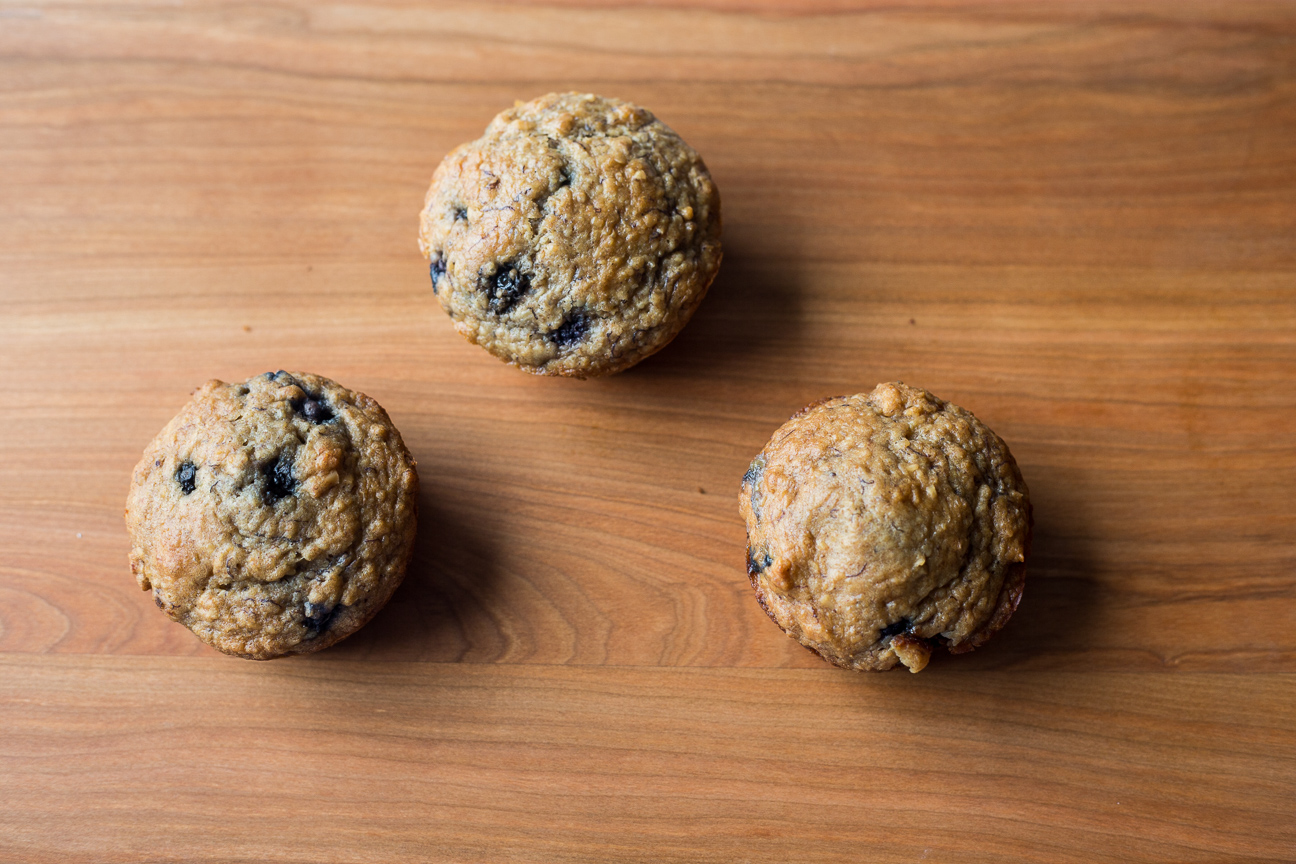 These Blueberry Banana Muffins are so perfect. They're not too sweet, and the banana and blueberries give them ample moisture so they're not too dry. And you can whip them up in no time. The other great thing about muffins, is that they freeze up lovely. If you freeze them individually, you can just grab one out of the freezer and it's ready to go. So easy. Bananas and blueberries…what more do you need!
Enjoy!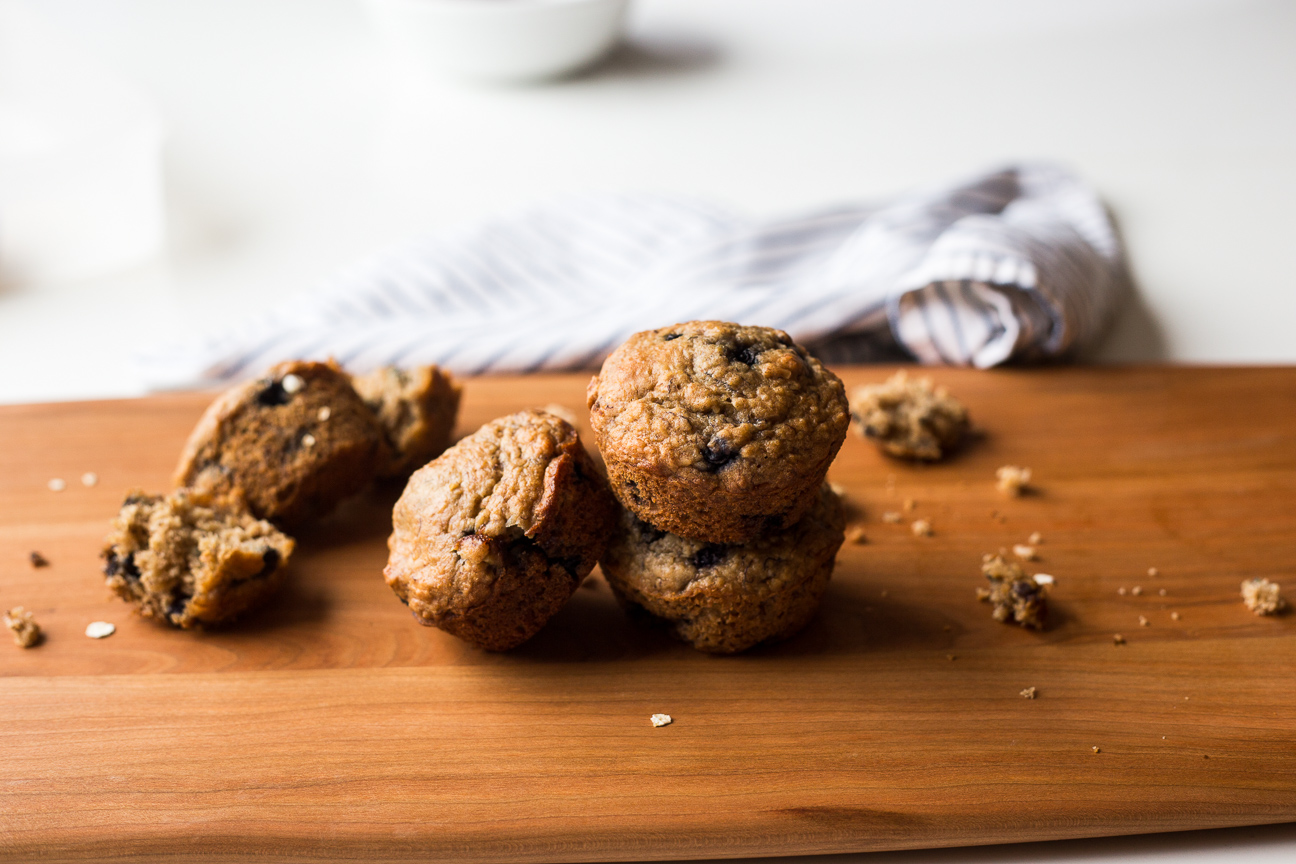 Print Recipe
Pantry Banana Blueberry Oat Muffins
Ingredients
1 egg

1 cup plain yogurt or buttermilk

1 cup mashed bananas (about 2 very ripe bananas)

1/2 cup honey

1/4 cup oil

1 tsp vanilla

1 cup all-purpose flour

1/2 cup whole wheat flour

1/2 cup oats

1 cup oat bran

3 tsp baking powder

1 tsp baking soda

1 tsp cinnamon

1/2 tsp nutmeg

1 cup blueberries
Instructions
1
Preheat oven to 350 degrees F.
2
Fill muffin trays with paper liners.
3
Mash ripe bananas in a medium bowl.
4
Add buttermilk, egg, honey and oil. Mix together in mixing bowl with a whisk.
5
In another medium bowl, mix together dry ingredients.
6
Add wet ingredients into dry ingredients. Stir briefly until all ingredients are fully incorporated. Don't over mix.
7
Fill paper liners just a little less than full. These muffins don't rise too much.
8
Fold blueberries in gently.
9
Bake at 350 degrees F for about 20-25 minutes until lightly golden.
10
Cool in the muffin tray on a rack for five minutes.
11
Remove from tray and cool on a rack.