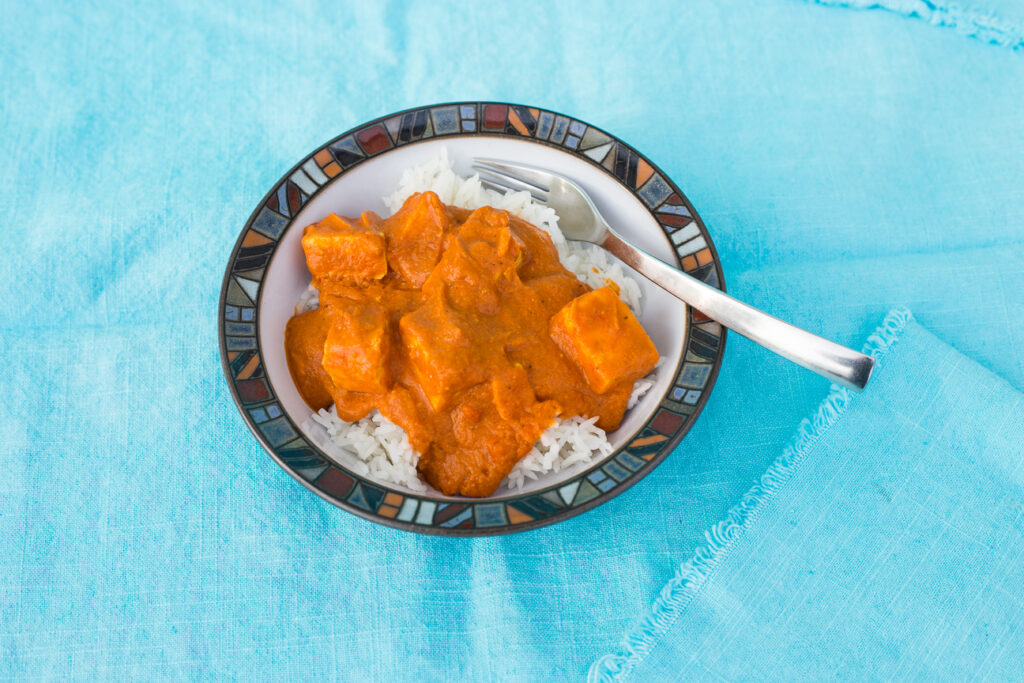 Twice a year, my Ottawa girlfriends and I go out for a curry dinner at our local Indian Restaurant. The first time we went out for dinner, we talked and laughed for so long, the chefs were sitting by the door waiting for us to finish up. I don't think any of us had talked and laughed so much! While we are truly missing those get togethers right now, this Easy Paneer Makhti Curry Dinner is a reminder of many happy evenings sipping wine, sharing various Indian dishes and a lot of laughter.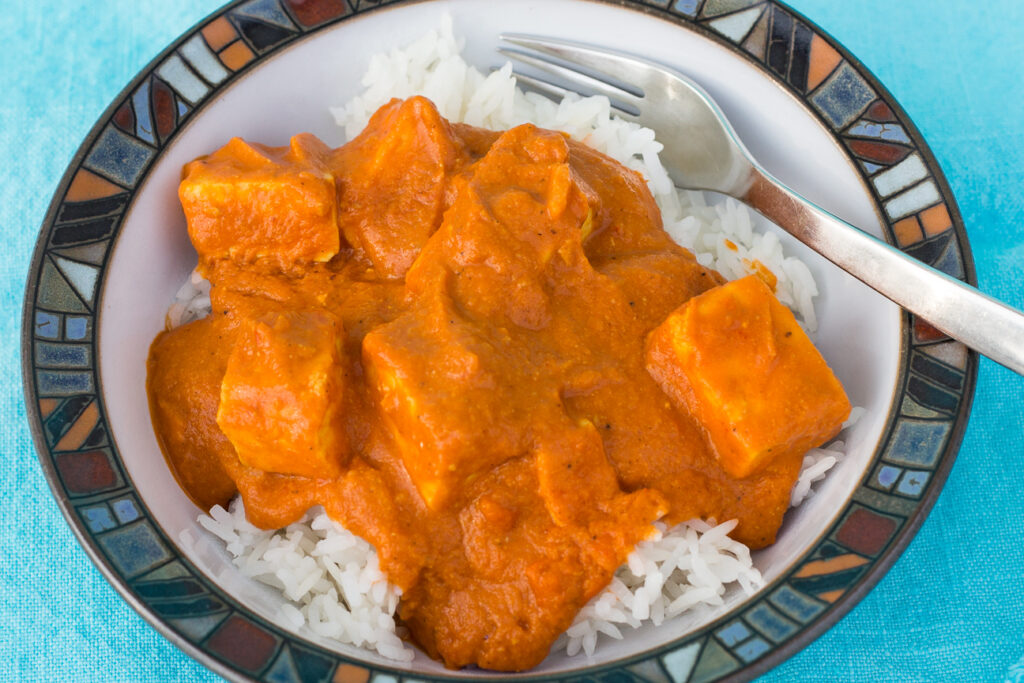 Over the years we have tried almost everything on the menu and now have a good list of favourites. And Paneer Makhti is top in our list. My Easy Paneer Makhti Curry Dinner is a simple creamy tomato sauce, perked up with warm spices of curry powder, chili powder and cumin, with a handful of roasted cashews and a drop of whipping cream and served over jasmine rice. It is one of the simplest curry dishes you could ever make from scratch and is oh, so delicious!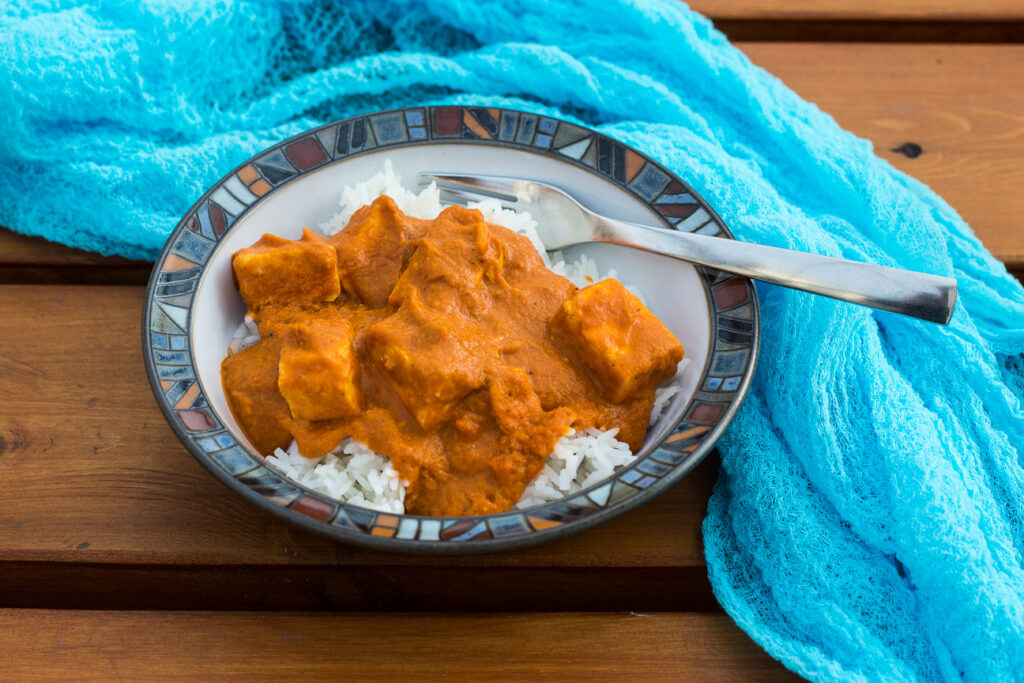 The name of the dish comes from the type of Indian cheese called paneer. Paneer cheese is a fresh cheese that is common in India. It doesn't melt, so the cubes of paneer cheese will stay intact in the sauce. It has a mild flavour and a lovely texture that is rich and creamy. I buy my paneer at the local grocery store although it is easy to make yourself, if you want to try. Here's my recipe for paneer cheese.
This dinner is so easy to make. It's so warm and cozy – just what we all need these days.
What are your favourite curry dinners?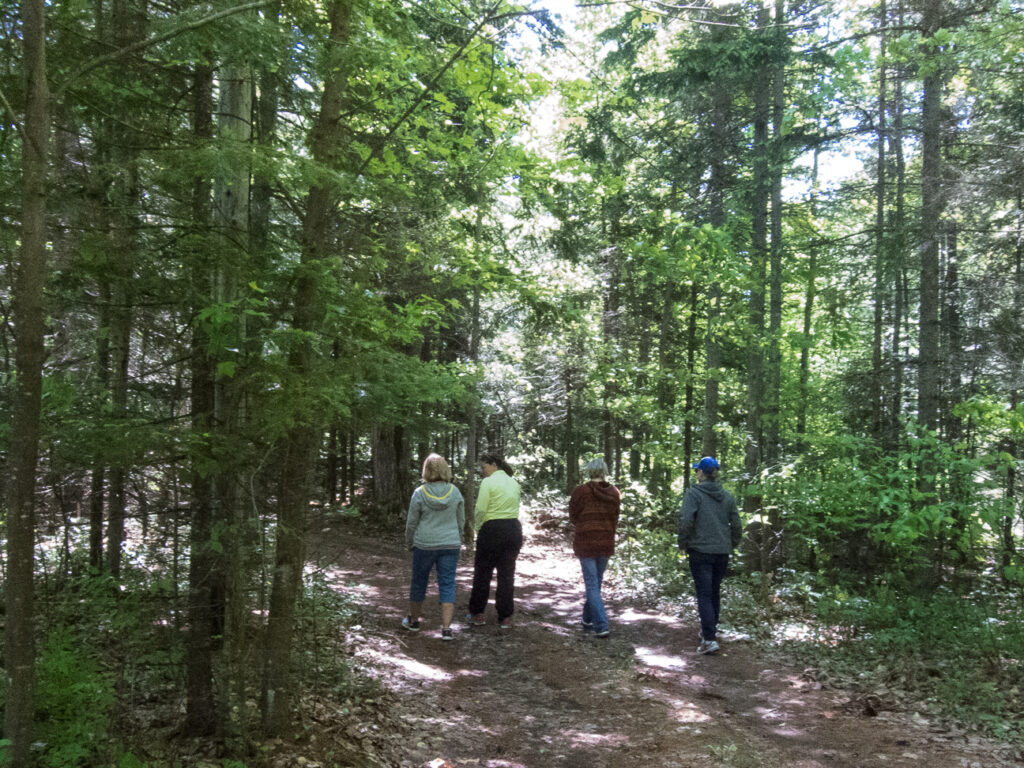 Philippa, Alison, Michele, Karin and Renée – this dish is for all of you. Can't wait for our next curry dinner!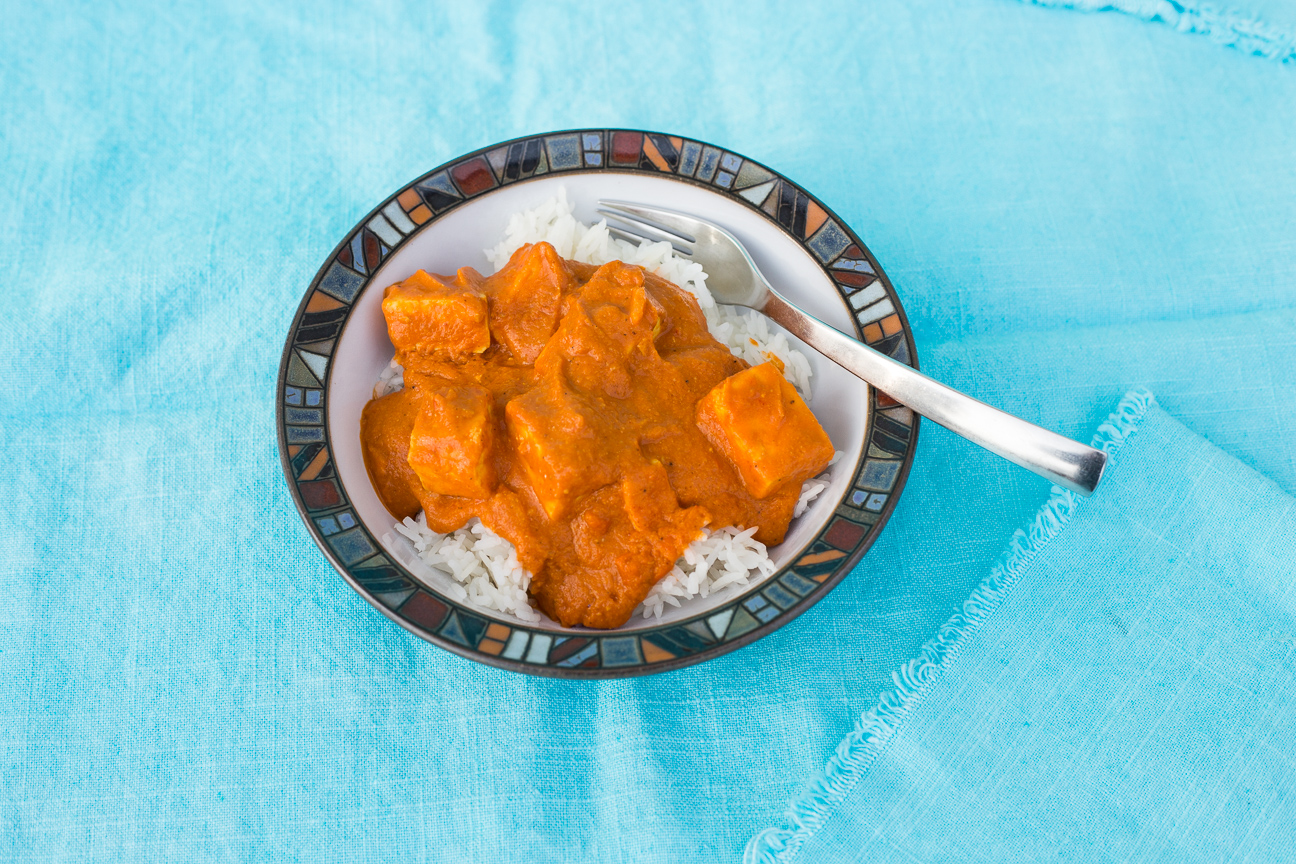 Print Recipe
Easy Paneer Makhti Curry Dinner
Ingredients
15 raw or toasted, unsalted cashews

1 onion, finally chopped

1/2 inch of fresh ginger, chopped

3 garlic cloves, crushed and chopped

2 fresh, ripe tomatoes, chopped

1 796 mL can of whole tomatoes

2 Tbsp whipping cream

1 tsp curry powder

1 tsp chili powder

1/2 tsp cumin

1 tsp salt

freshly ground pepper to taste

1-2 packages of paneer cheese, cut into bite-sized cubes. One package would be fine, but if you really like a lot of the cheese, use two packages. (available in the dairy section of the grocery store. I usually find it in the fridge with cream cheese, sour cream etc.)
Instructions
1
If the cashews are raw, toast them in a dry frying pan for a few minutes. If you have roasted, unsalted cashews, they will get added later. Remove cashews after they are toasted and put aside.
2
Saute onion, ginger and garlic until the onions are soft and the mixture is aromatic.
3
Add cashews and tomatoes.
4
Simmer for about 10 minutes until the tomatoes are soft.
5
Puree this mixture in a blender until very smooth, about 3 minutes on a high setting. You can wait for the mixture to cool down a bit before you put it in the blender, or I place a triple folded tea towel on top and hold the lid. Otherwise, the steam from the hot mixture may blow the lid off, and you could get scalded and/or make a huge mess.
6
Return this mixture to your pan. Add all the spices and let it simmer for a few minutes.
7
Stir in the whipping cream.
8
Add the cubed paneer cheese and continue to heat on a very low simmer, until the cheese is warm. About 10 minutes.
9
Serve with naan or pita bread and jasmine rice. So good.