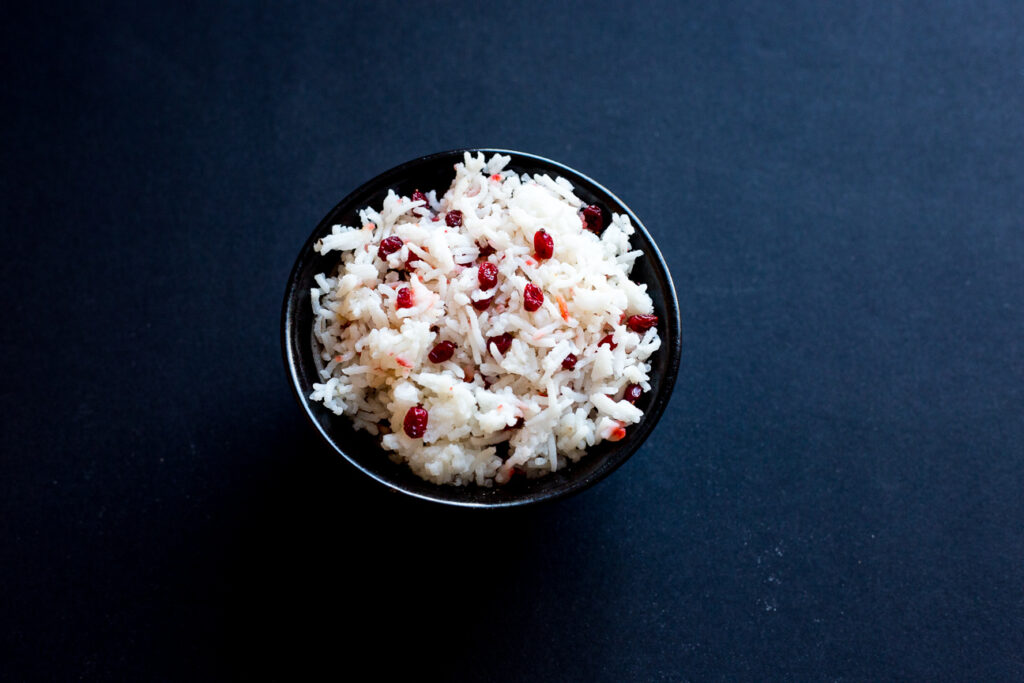 Feeling bored with plain rice? You will want to try this.
Persian Barberry Rice is exotic, buttery and piquant with dried barberries dotted throughout the dish. It is a much needed change to a bowl of plain steamed rice that our family often eats. It is traditionally prepared for Nowruz (Persian New Year), but can be eaten any day of the year.
The first time that I had Barberry Rice was a few years ago in a Persian restaurant that I visited with four colleagues from work. We were all from four very different corners of the globe; Sri Lanka, Lebanon, Canada and Iran, which made the evening very fun.
Three of us, not familiar with persian food, didn't recognize any of the dishes on the menu. They were completely foreign to us. We all sat there for a very long time, drooling over the descriptions of dishes such as fesenjan (a chicken stew with pomegrantates and ground walnuts), gorbeh sabzi (beef stew with dried lemons and kidney beans) and baklava (filo pastry layered with honey and ground nuts), which we did all recognize.
Sarah, who grew up in Iran, was our epicurean translator. She read the menu over carefully and then told us what we should order. "You should order the chicken kebab", she said. "You're going to love it". There were a few options on the bottom of the menu such as, zereshk polo (basmati rice with barberries) , shirin polo (rice with carrots, nuts and raisins) and baghali polo (a mixture of basmati rice with dill and fava beans). I asked her which one would be best to try. 'Try zereshk polo. It is so delicious. You will love it." And love it I did.
What are barberries?
Barberries are small tart berries, similar perhaps to a cranberry, but much smaller and more tart. They grow in Europe, North America as well as the middle east. They are very popular in Iranian dishes.
How do I use barberries?
Barberries are very versatile. You can use them in salads, granola and rice dishes. Wash and soak the barberries first, to plump them up a bit before cooking.
Can I substitute something else for the barberries?
You could substitute dried currants soaked in lemon juice, but barberries are super easy to find, so I would try to find them first. They are plentiful in Middle Eastern Grocery Stores. If all else fails, Amazon also sells them.
When is Barberry Rice traditionally served?
Barberry rice is served on the first day of spring for the Persian New Year (Nowruz). It is a very traditional dish. But you can also make this any night of the year. It's a very popular dish.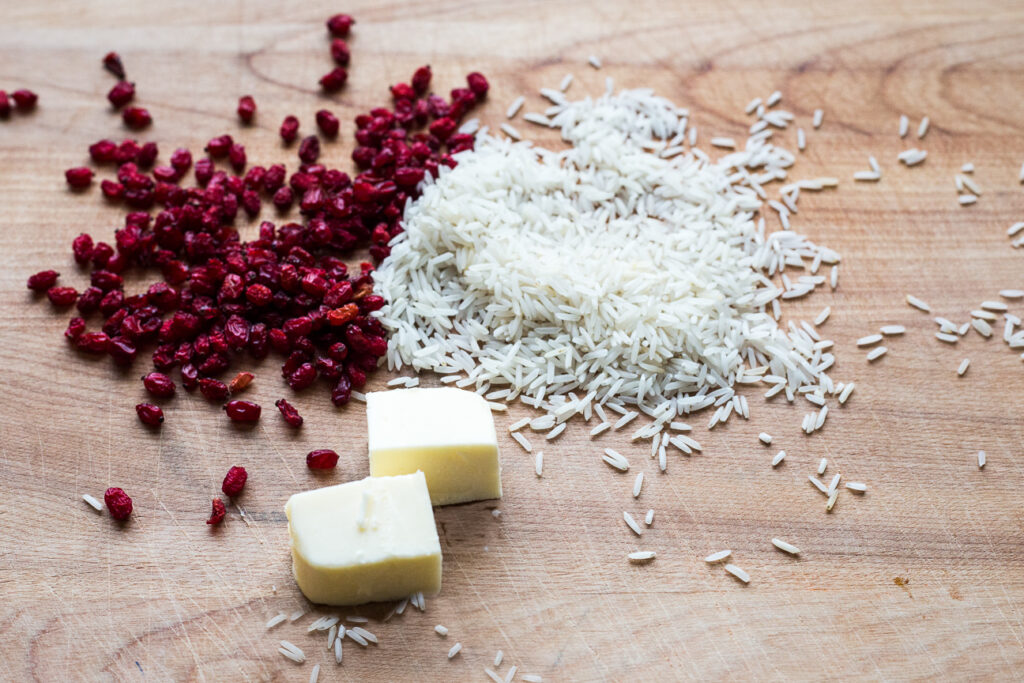 Persian Barberry Rice is very easy to make. While the basmati rice is cooking, you can sauté the rinsed barberries in butter. This plumps up the dried berries. Once the rice is done, add a dollop of butter on top of the cooked rice and stir through. Spoon the rice into a serving bowl, sprinkle with the buttery barberries and voila!…rice is ready!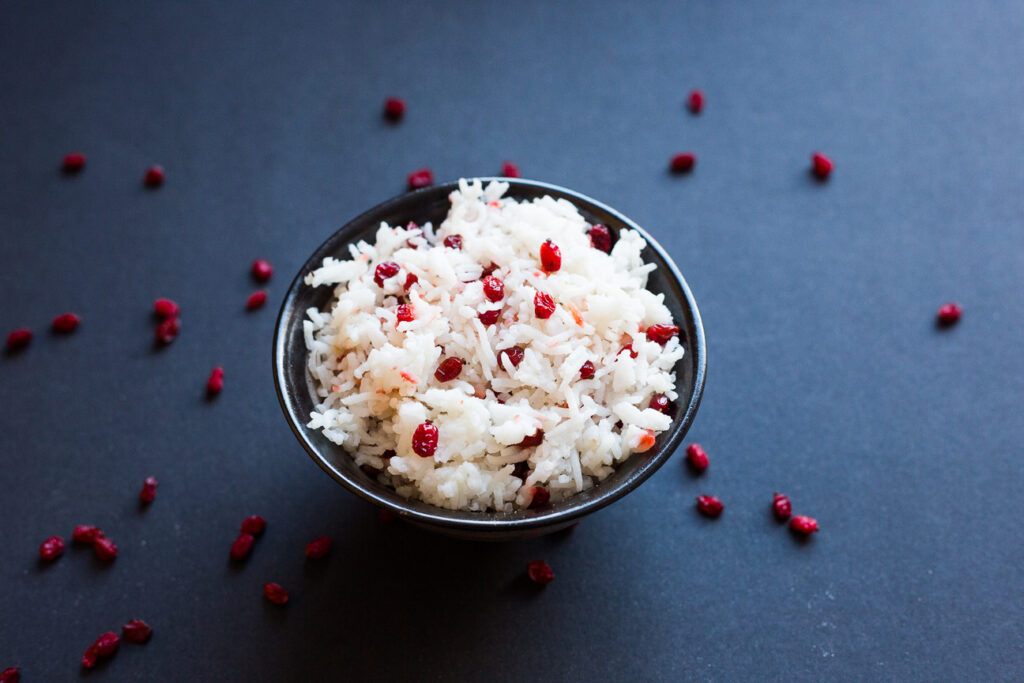 Ingredients
1 1/5 cups of basmati rice, rinsed until the water runs clear

1/2 cup dried barberries, rinsed

3 Tbsp butter
Instructions
1
Rinse the basmati rice until the water runs clear.
2
Soak the rice in cold water for 30 minutes.
3
Bring 3 cups of water to the boil.
4
Add the basmati rice and turn the heat down.
5
Let the rice simmer for about 12 minutes, until tender, and no water is left in the pot.
6
Place 1.5 Tbsp of butter on top of the cooked rice.
7
While the rice is cooking, saute the rinsed barberries in butter, for 2-3 minutes.
8
Stir the butter into the cooked rice.
9
Spoon the rice into a serving bowl.
10
Sprinkle the buttery barberries on top of the rice.
11
Gently stir the berries into the rice.
12
Serve with salt and freshly ground pepper.