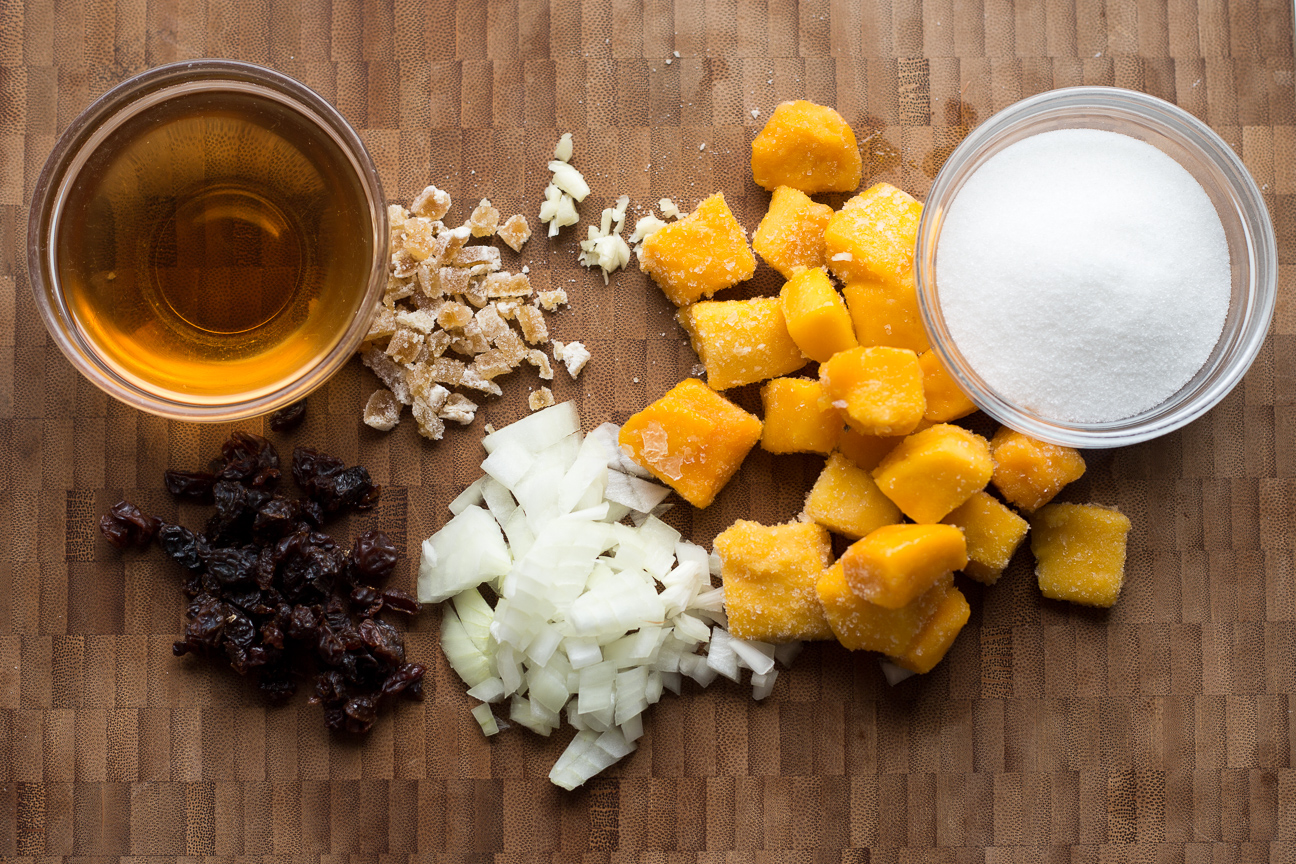 My fridge is usually filled with an assortment of bottled sauces, condiments and curry-type pastes. Some items I use every week, and others are more of a one-off, which means they sit there for quite awhile until I decide to make that one dish again. I like to have a jar of chutney in my fridge at all times. I really miss it when I run out. This recipe for The Best Mango and Ginger Chutney makes a very versatile chutney.
What is Chutney
Chutney is a spicy condiment made from fresh and or dried fruit, vinegar, sugar and spices. It has a sweet sour flavour from the combination of sugar and vinegar, and can be made as spicy as you like. I like to use white wine vinegar and white sugar because I like my chutney to be light. But I have also made with chutney with demerarra sugar and apple cider vinegar and it turns out lovely.
Chutney is traditionally flavoured with warm earthy spices such as cinnamon, cloves, ginger or allspice. I like my chutney on the milder side, but you can add chilies if you want it hot.   
In the past, I would spend a whole day making a dozen or more jars which I would seal and keep for months in my cupboard.  But with this recipe I can make a large jar of chutney in under an hour and then pop it into my fridge for our next family dinner.
How do you use Chutney?
I love to serve chutney with grilled cheese sandwiches, deli sandwiches or roast chicken, pork roast or with a fancy roast  turkey dinner. It is also good with savoury meat pies. I also love it in my Tangy Mango Coronation Chicken Sandwiches.
Of course, you can buy chutney at the grocery store now, but I love making Mango and Ginger Chutney. It is so easy to make, and no exotic ingredients! It also smells divine while it simmers on the stove. If you would like to make your own chutney, read on for the recipe.
When did you first make Chutney?
The first time I made chutney I was in my 20's. I found a cookbook at The Cookbook Store on Yonge Street in downtown Toronto called Gifts of Food by Susan Costner. I still have this cookbook, I love it so much. It is filled with recipes for chutney, flavoured oils and vinegars, flavoured butters and savoury and sweet sauces. That year, I thought it would be great fun to make some of these preserves for Christmas gifts. Once I started making chutney, I couldn't stop. For days on end, my Mum's kitchen was filled with the steamy aromas of brown sugar, apple cider vinegar and a mixture of spices. I was in heaven!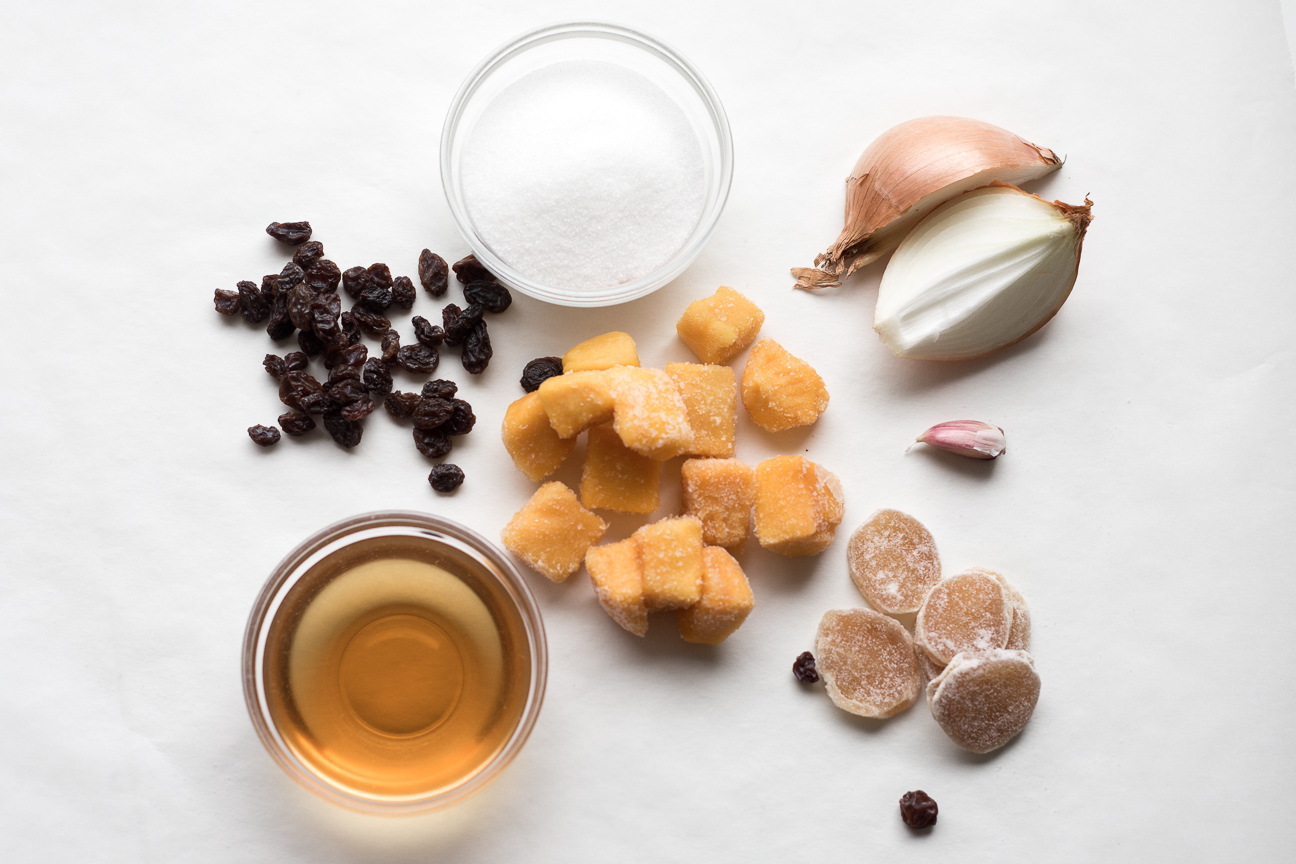 My Mango and Ginger Chutney is made with seven mostly pantry ingredients.  The only special ingredient that I have to buy is crystallized ginger, but even a regular grocery store sells that now.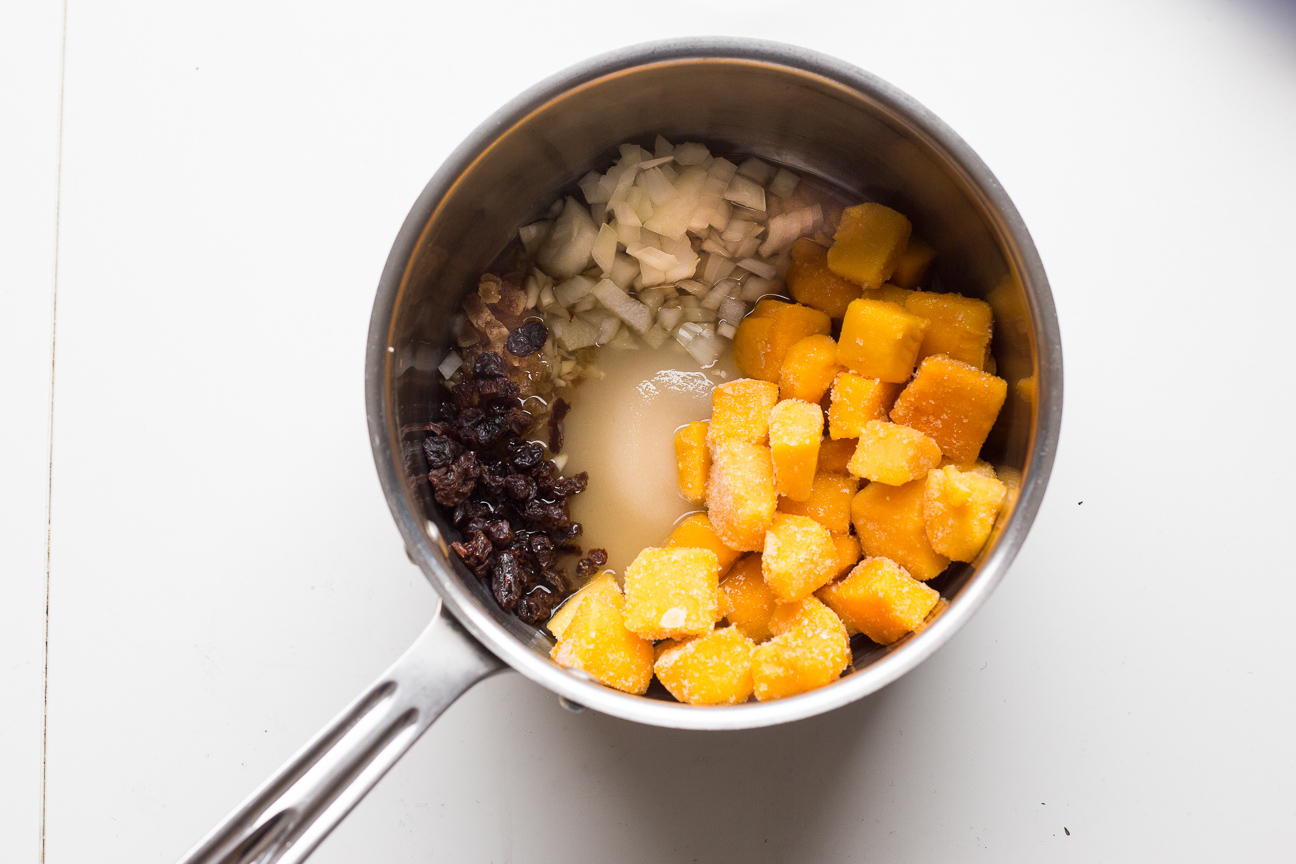 Does Chutney take all day to make?
Chutney is actually super super easy to make. And like anything homemade it's cheaper and more flavorful than store bought by a long shot. The other thing that I like about homemade chutney is that you can adjust the sweetness and spices. Store bought chutney can be cloyingly sweet. 
Ok, you see that photo up above? That's all the ingredients for one large jar of chutney. In one pot. And, as you can see, I'm using frozen mangoes – couldn't be much easier than that.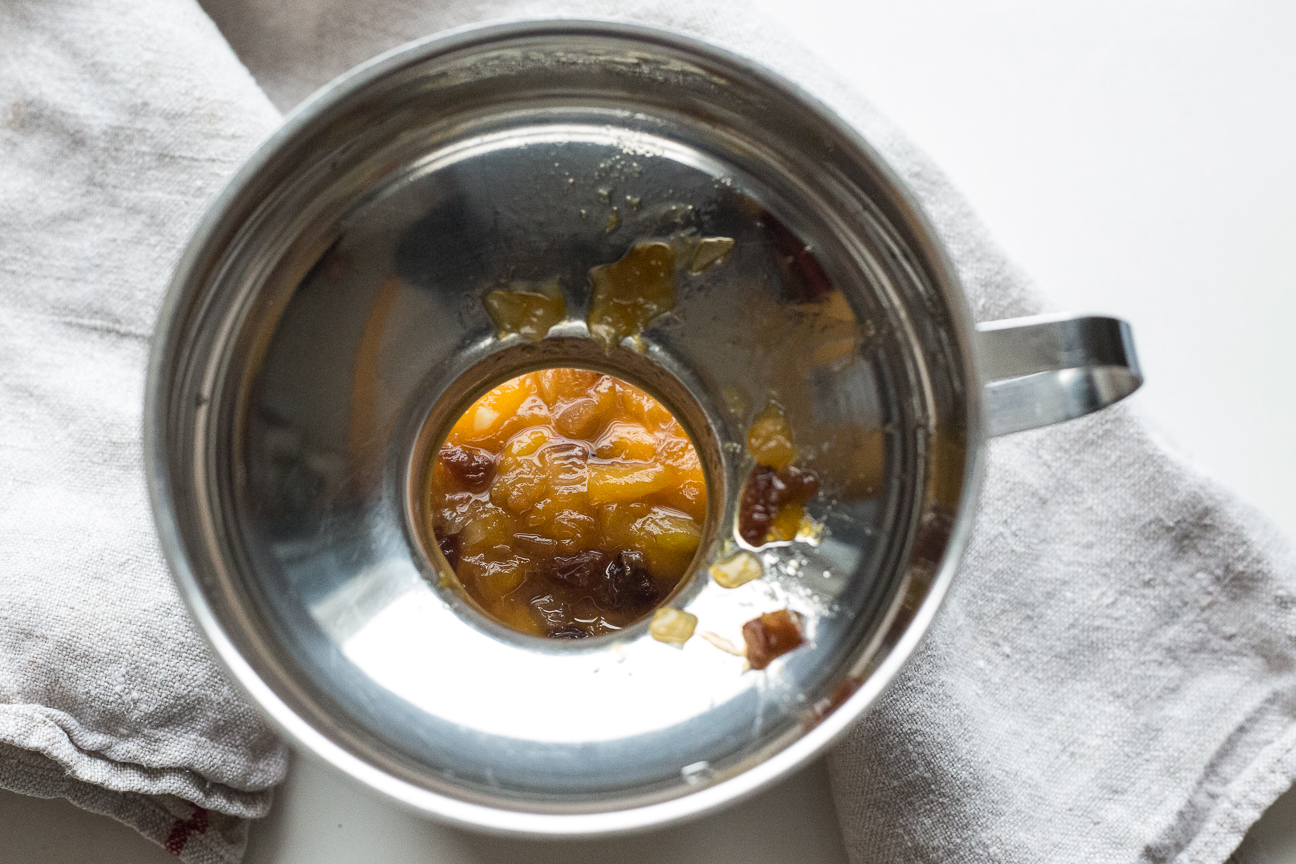 After cooking for about 20 minutes, let the chutney cool in the pot for 5-10 minutes. Then it's ready to pour into a well-cleaned 500 mL preserving jar. Let the chutney come to room temperature on your counter, so you don't warm up the inside of your fridge. Once the jar is close to room temperature, you can place the jar in the fridge.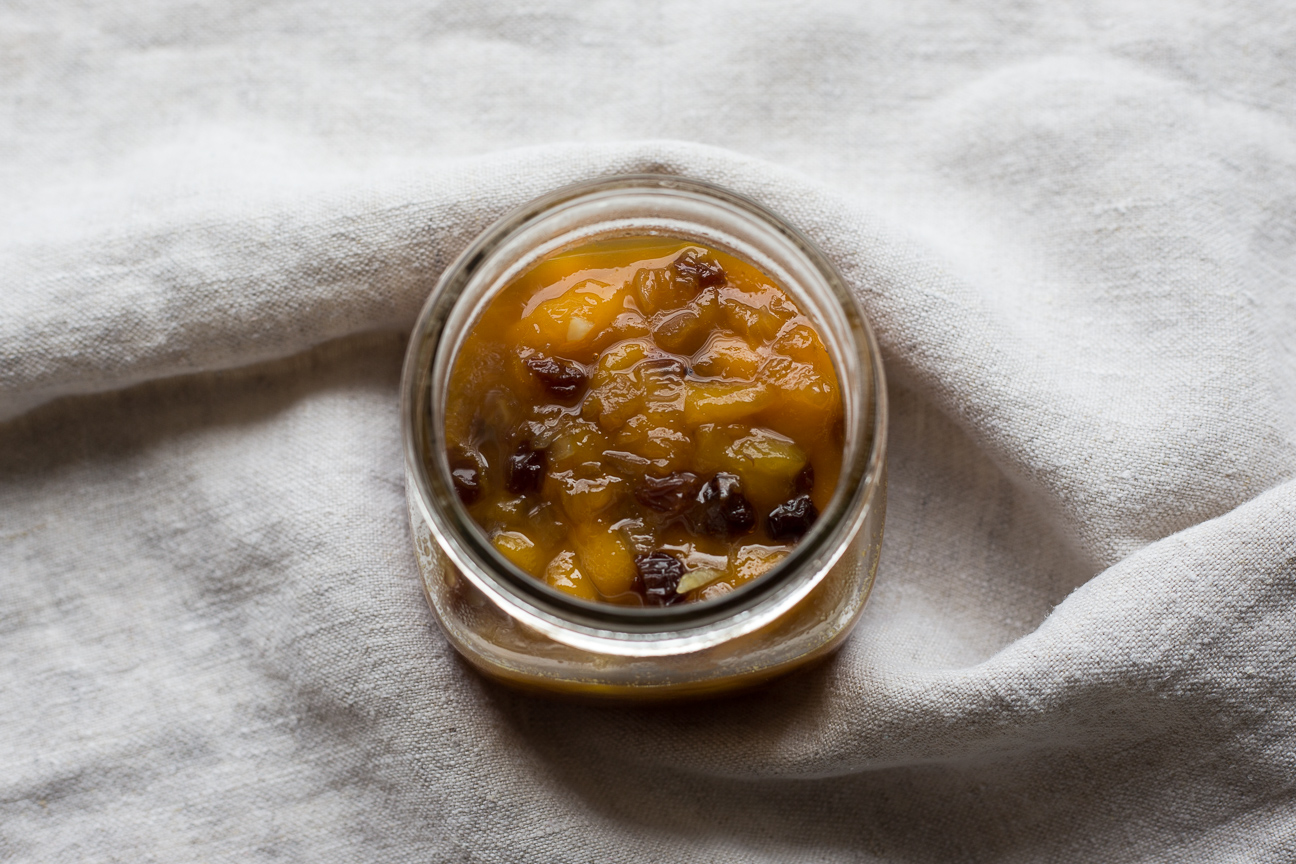 Hope you like it.
Enjoy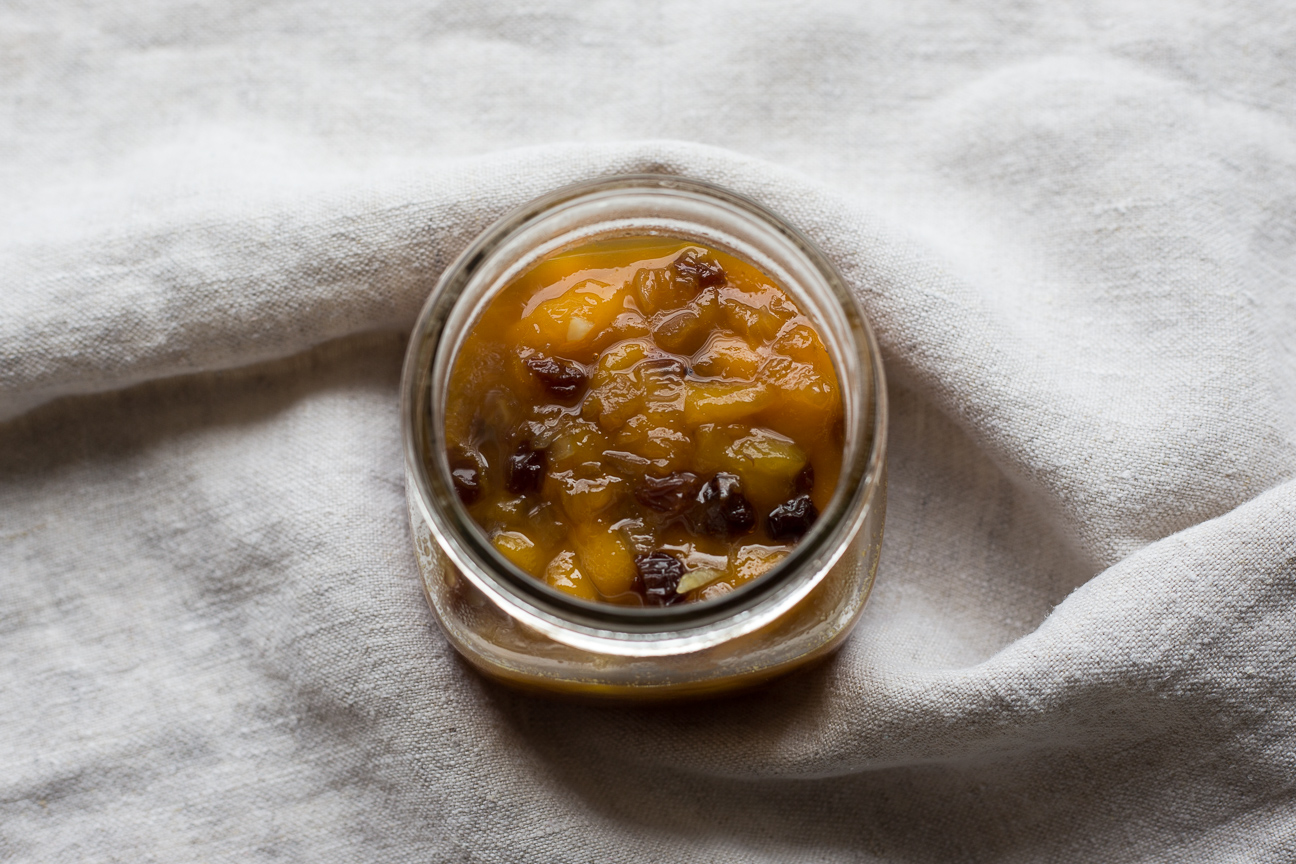 Print Recipe
The Best Quick and Easy Tangy Mango and Ginger Chutney
Ingredients
makes 2 cups or 500 mL

1/3 cup sugar

1/3 cup apple cider vinegar

2 cups mango (fresh or frozen, cut into 1/2 inch pieces)

1/3 cup onion, diced

2 tbsp raisins (chopped)

1 tbsp finely chopped crystallized ginger

1/4 tsp garlic, finely chopped
Instructions
1
Chop the raisins, onions, crystallized ginger and garlic into small pieces.
2
Pour the sugar and vinegar into a medium size pot. Add the mango and the rest of the ingredients.
3
Simmer on medium heat with the lid on for about 20 minutes.
4
You can take the lid off for the last few minutes.
5
Its ok if it cooks down a bit, but you don't want it to dry out.
6
Let the chutney cool in the pot for a bit.
7
Pour the chutney into a container (warm glass mason jar, or another container).
8
Store the chutney in the refrigerator for up to two weeks.