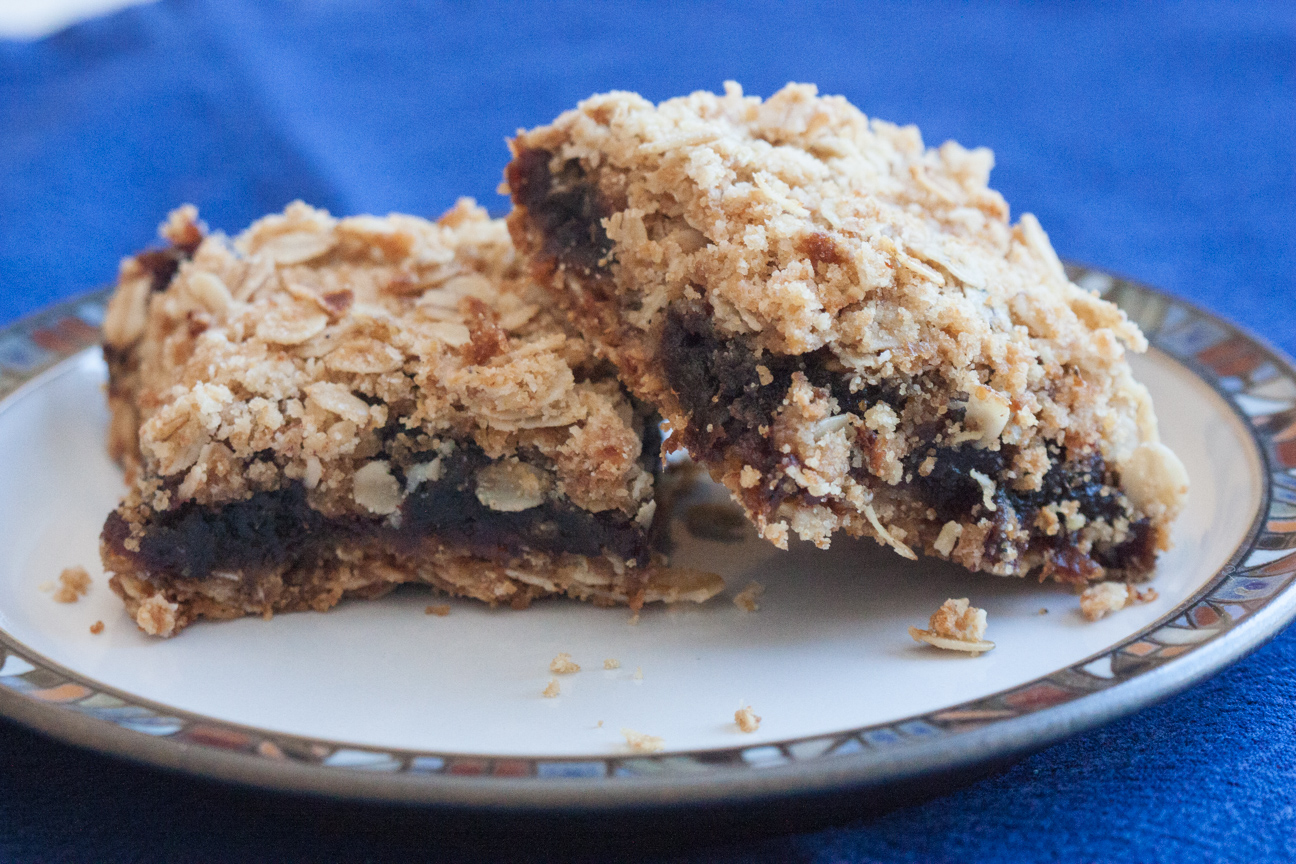 I'm super excited today for two reasons! First of all, I'm super excited to post the recipe for my Mum's date and oat squares. They truly were, honestly, without a moment of hesitation, the best date squares I have ever had. I just love them and I know you will too.
I'm also excited because this is my 10th post. I know, to most people that doesn't seem like much to be excited about. But I put off starting a food blog for a very long time. And then it took me ages just to click the publish button. But I did and now I can't believe I'm at post number 10 already. So woohoo!!! I'm excited. And my Mum would have loved to see her family recipes on the internet. Very cool, she would have said.
There were two things that my mom really loved to do: bake and read. If she could do them simultaneously she was even happier. I think my mom liked making date squares more than anything else because she found a way to incorporate these two favourite past times.
One of our favourite desserts when I was little were my mom's date and oat squares. They were the best ever date squares: soft, toffee flavoured dates with a caramelized oat bottom and crumbly oat and sugar topping. With six of us in the family they never lasted long in our house.
Of course, when I was younger, I never realized these were the best date squares. That came later: after I moved out of the family home, away to another town, setting up my own home and kitchen. I tried other people's date squares at potluck dinners, at various bakeries, even at farmer's markets, but I never found any as good as my mom's.
While I was making these dates squares, I could distinctly remember how my mom made them. After each step in the recipe she would curl up on the sofa to read while the dates cooked away on the stove, as they cooled down in the pan and then as they baked in the oven. I think my mom had secret magical baking powers because she never used a timer but also never burnt the date squares. Or maybe each step took just as long as reading a chapter in her book.
These date squares are quite sweet and not overly buttery. The lengthy baking time caramelizes the brown sugar in the bottom layer which makes it chewy while the top layer remains crumbly. We always loved my mom's date squares.
Enjoy!
Ingredients
1 pound dates

1 cup brown sugar

3/4 cup cold butter

1 cup flour

1 cup brown sugar

2 cups oats
Instructions
1
Chop the dates roughly. Put the dates into a pot and add about 1 cup of water. Cook on a lowish heat until the dates are soft and spreadable. This should take about 10-15 minutes.
2
Place the flour in a food processor, add small cubes of cold butter and pulse about 10-15 times until butter mixture has fine lumps throughout. Place in a bowl and then add brown sugar and oats.
3
Spread half of the dry mixture in the bottom of an 8 inch baking pan. Gently spread date mixture on top. Sprinkle oat mixture on top.
4
Bake in a 350° F oven for 30 minutes, or until golden on top.
5
Let the squares cool down in the pan for about 30 minutes or more before serving.