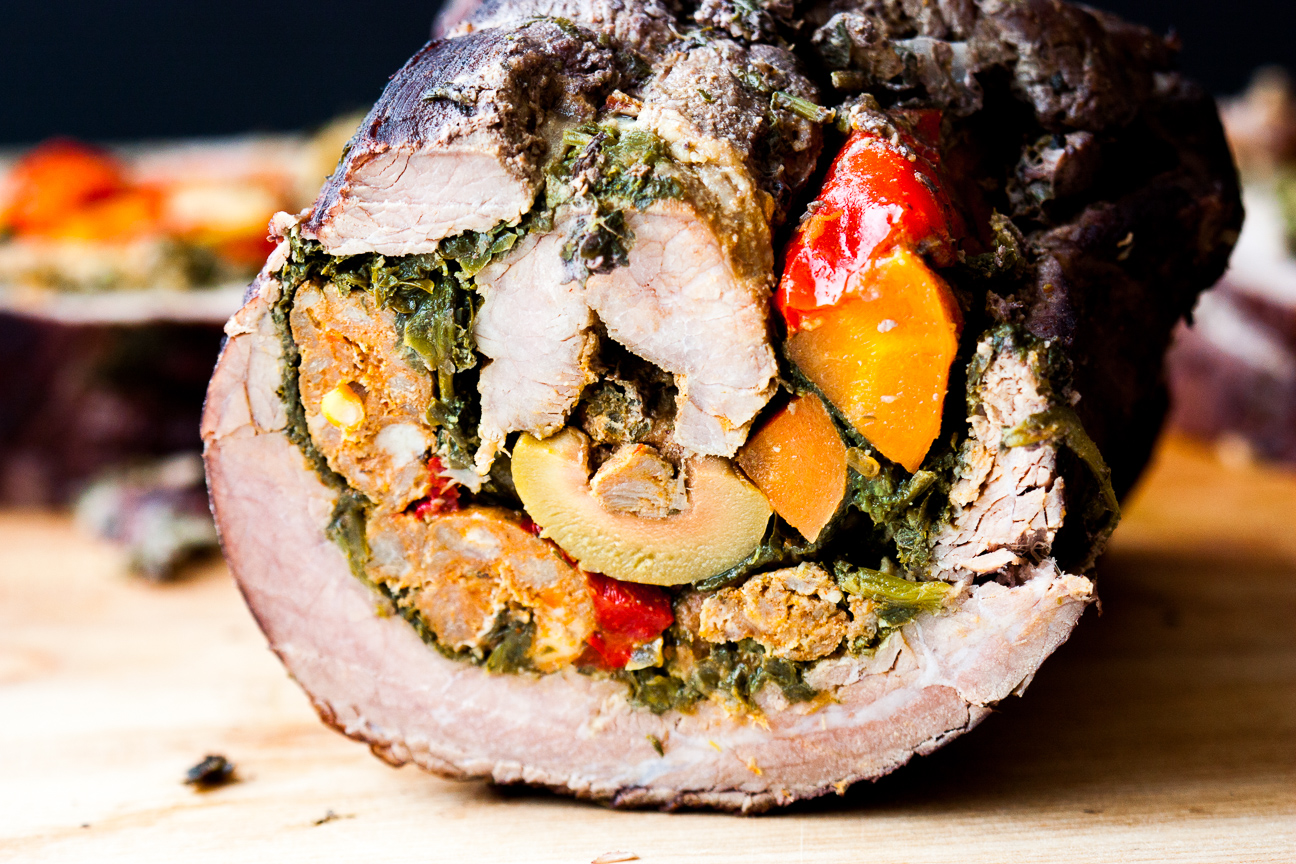 It's still winter here in Ottawa, but about 9,000 km straight south of us, Martes de Carnival is going on in Argentina. To mark this special event, Melissa Johnson from the delicious and inspiring breadandwords food blog and I have teamed together to create two variations of Argentinian Matambre: a unique, colourful and very traditional dish of Argentina.
Matambre is made from flank steak that is stuffed with a variety of herbs and vegetables and then rolled up! Matambre is really an amazing and delicious dish. There are so many flavours popping out at the same time – it's just so so so good! You can serve it at dinner parties, backyard barbecues or as an appetizer. It's so delicious!
Matambre literally means kill (matar) hunger (hambre). And this dish certainly does that quickly!
As Matambre is so versatile, Melissa and I decided to do two variations of this amazing Argentinian dish. Melissa's recipe for Matambre is reminiscent of the one her Argentinian mother used to make. Her Matambre is stuffed with parsley, cheese, garlic and other colourful vegetables. Melissa seared her steak and then baked it in the oven.
For my recipe, I wanted to add some spice, so I added a layer of chorizo sausage. The spinach combined with the carrots and red peppers is divine. And who knew that olives would taste so mighty fine with steak. Well, they do. Amazing, actually! After the steak is rolled up and seared in a hot skillet, it was simmered in a red wine-based broth for 90 minutes until tender. Yum!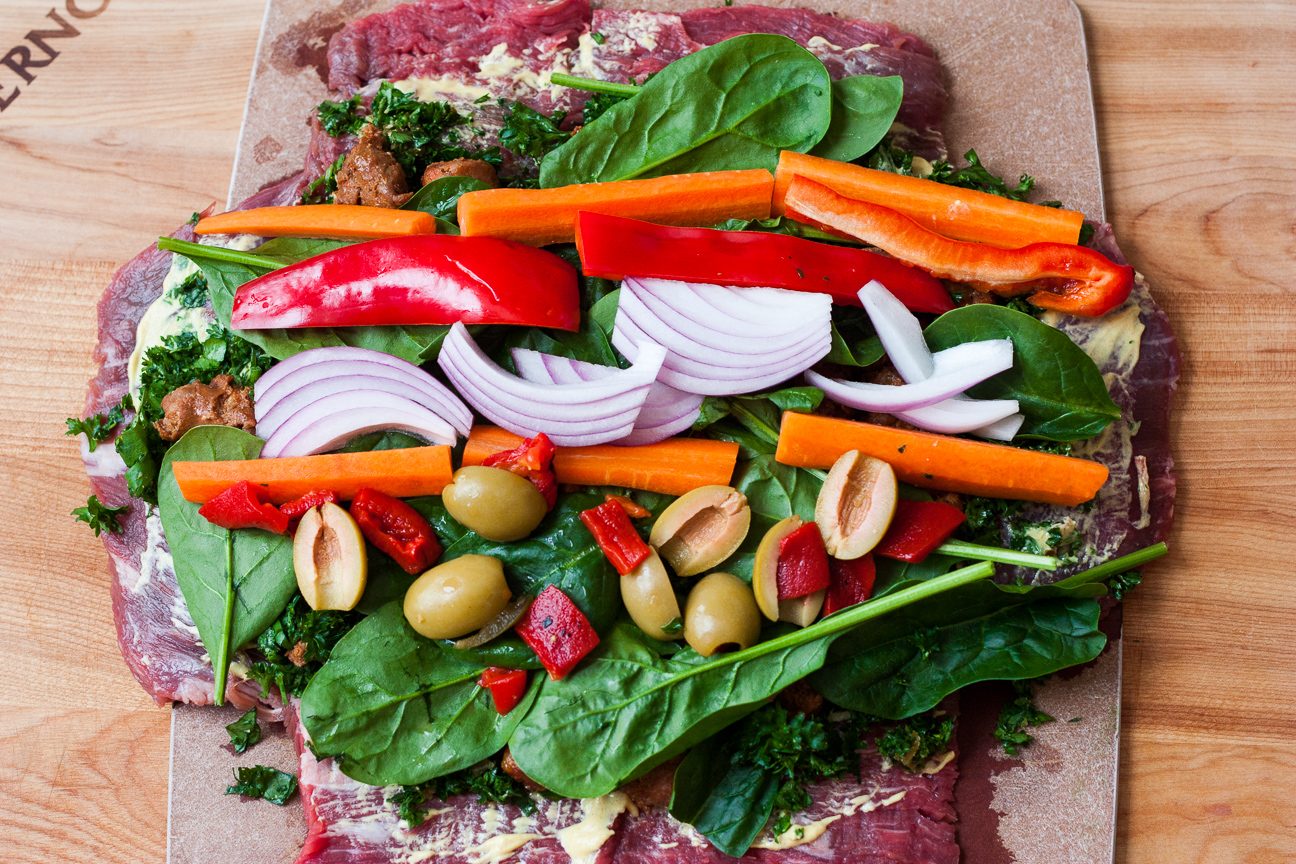 To make matambre, you have to butterfly your flank steak. To do this, you will need a very sharp knife, so be careful with your fingers! In the center of the piece of steak (running with the grain) cut about half way through the meat. Then make two short slits perpendicular to the main cut. Slice the steak open along the long cut. Just go easy, if you poke through, it's not a big deal. You want this steak to open up like a book.
Now it's time to start layering the filling ingredients. As you lay down the filling, leave a few inches at the far long end.
For my Matambre, I spread the steak with dijon mustard, leaving a one inch border. Next, spread a layer of herbs, jalapeno peppers and garlic. Then sprinkle sauteed chorizo sausage all over followed by a layer of spinach leaves. Next, make rows of the sliced red peppers, orange carrots, green olives mixed with roasted red peppers, and red onion. It will be very colourful.
Roll the steak up towards the empty long end. It may look a bit messy, and if a few filling ingredients pop out, don't worry, you can put them back in after it is all tied up. Keep the seam side down as you start to tie it up. I used four strings across the steak, and because I wanted to simmer it on top of the stove, I also used one long one for the full length. (Here's a great video to watch,  just scroll down to the bottom, if you want some tips on tying up your meat!)
Sear the steak on all sides in oil in a hot skillet. I simmered my Matambre, but you could also bake yours. If you're interested in baking your Matambre, check out Melissa's instructions to see how she baked hers.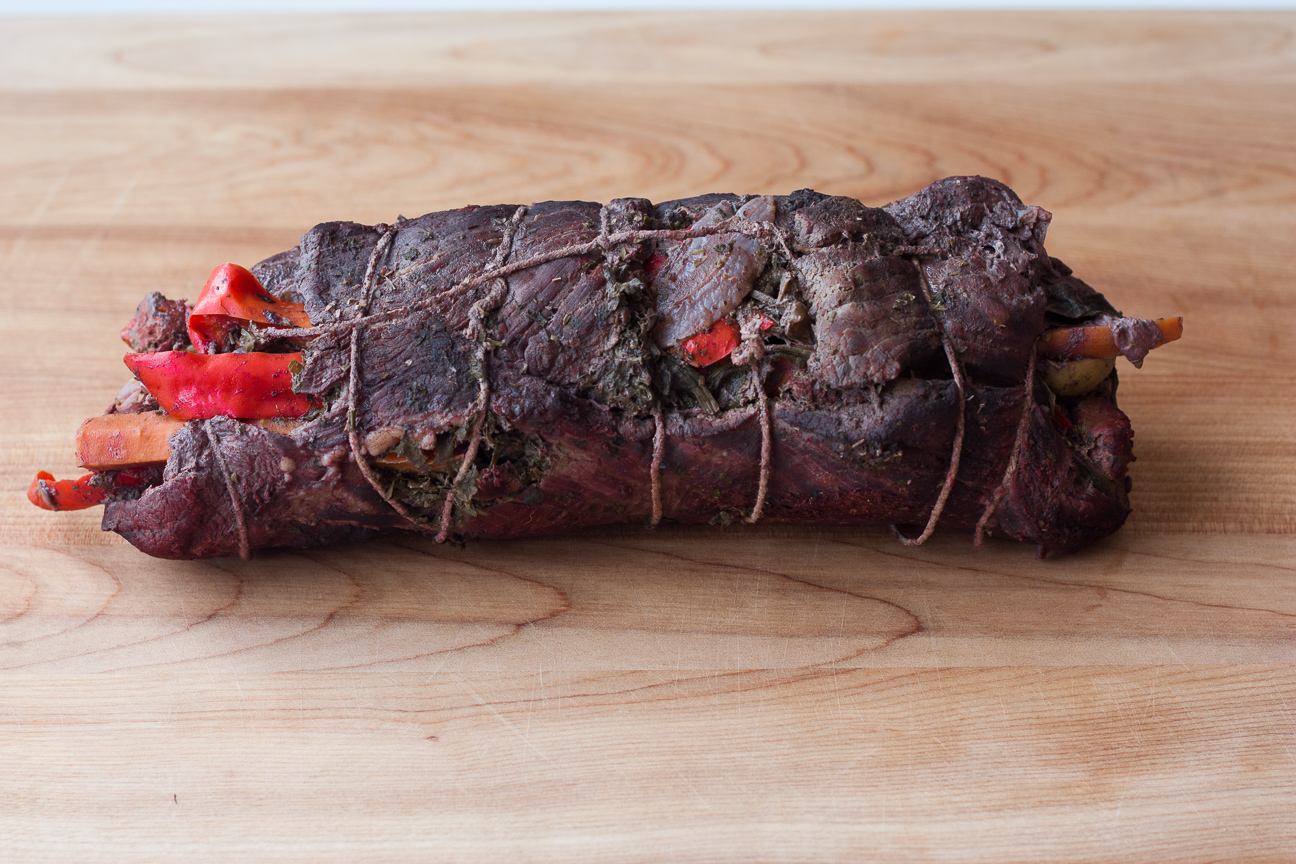 After about 90 minutes, when the meat feels tender, it will look sort of like this. It really stays together quite well.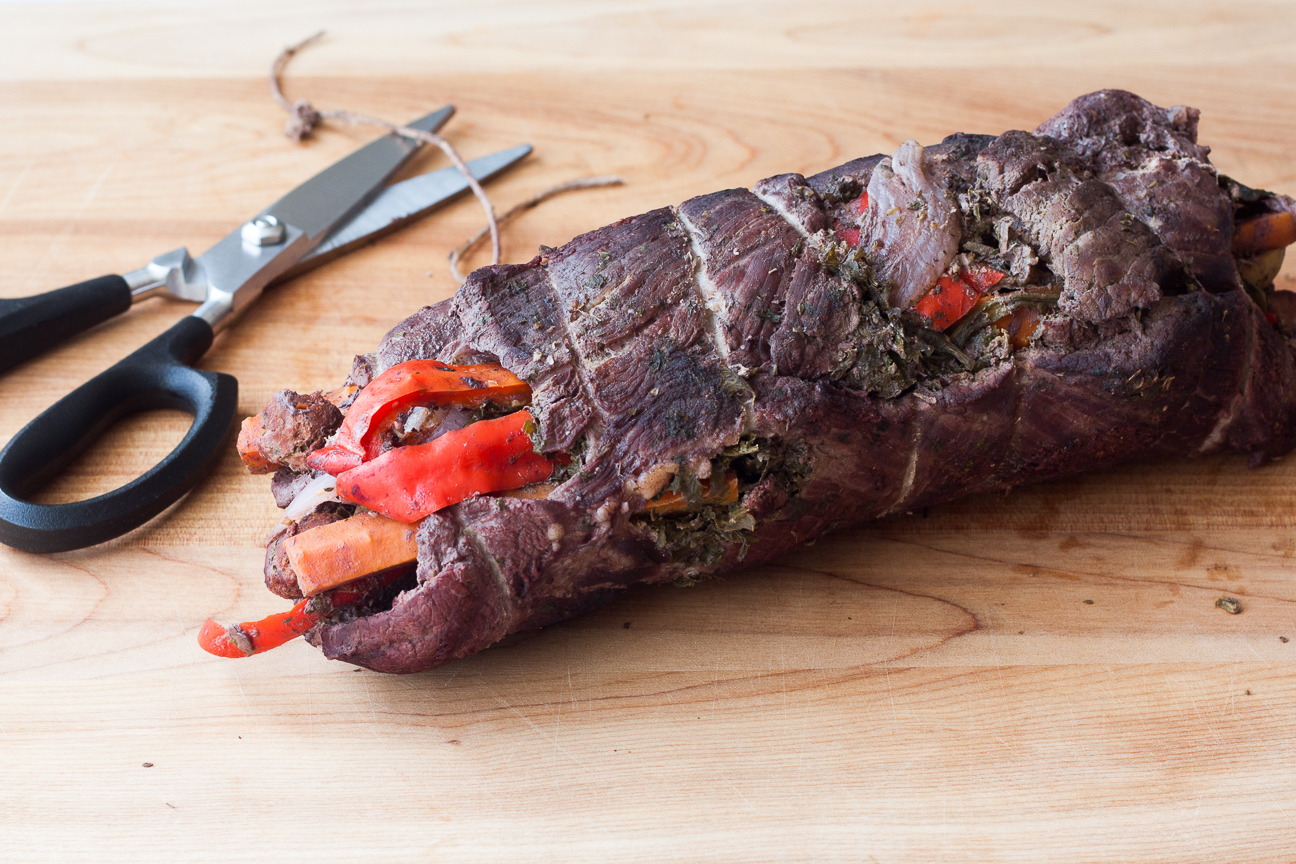 Time to slice this matambre up!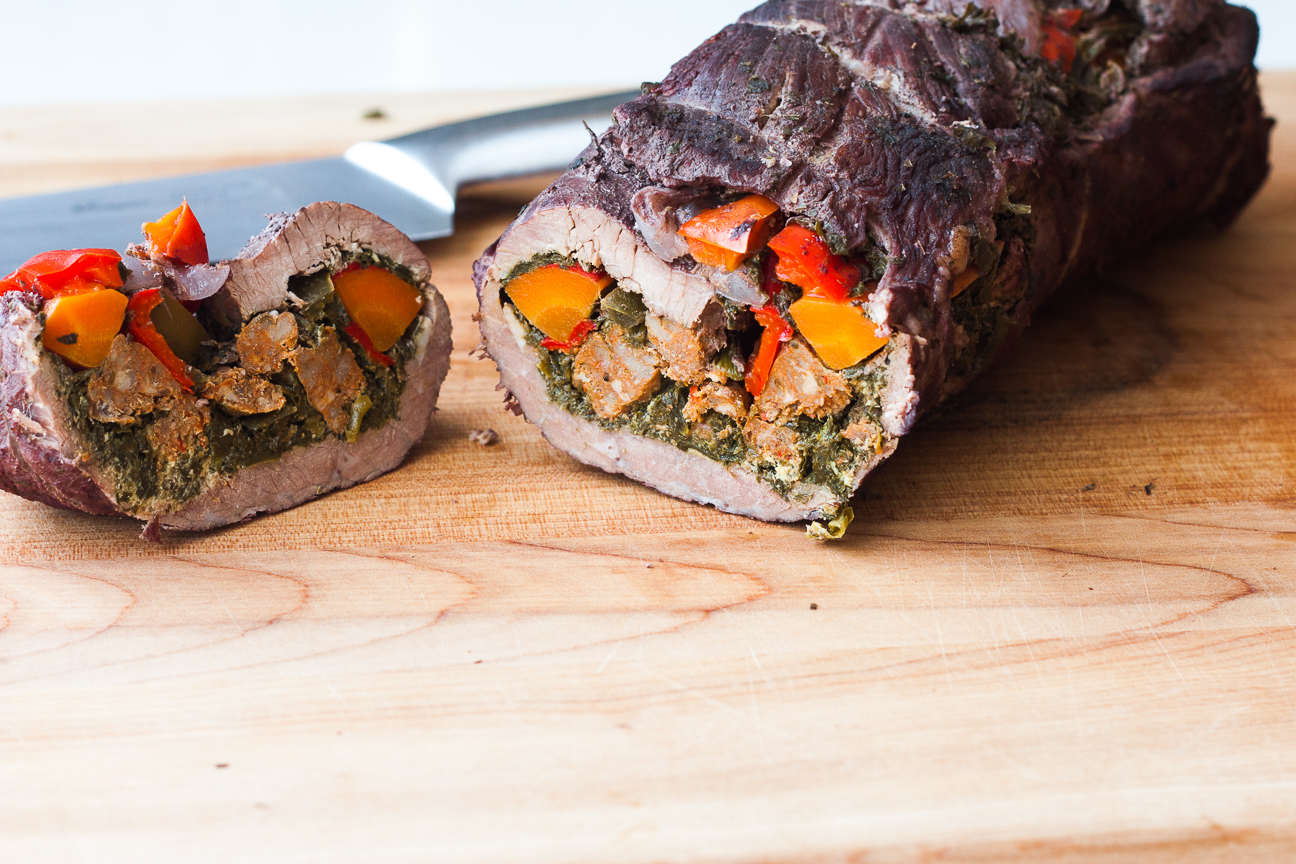 Again, get a really sharp knife, and slice your matambre. It actually slices really easily. And have a look inside. So gorgeous! Look at all those colours!!!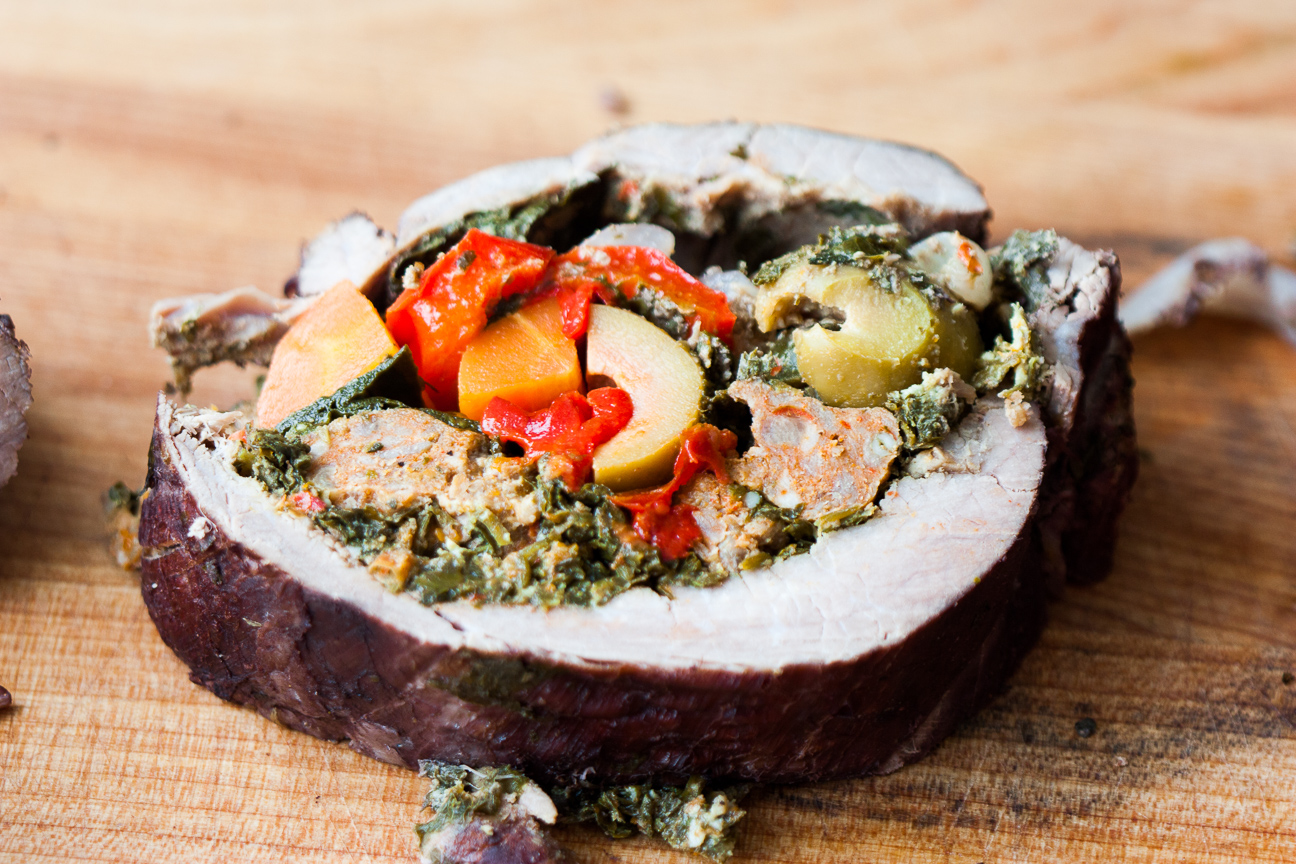 All of the ingredients create a lovely pattern inside. Remember to present it on your prettiest platter. It will be a showstopper! It's popular to serve it with chimichurri sauce. You will find the recipe below.
Try both of our recipes or mix and match: bake mine or simmer Melissa's on top of the stove. Or choose your favourite ingredients from both recipes.
Let us know what you made and how it turned out!
Thanks so much
Melissa and Suzanne
Buen provecho!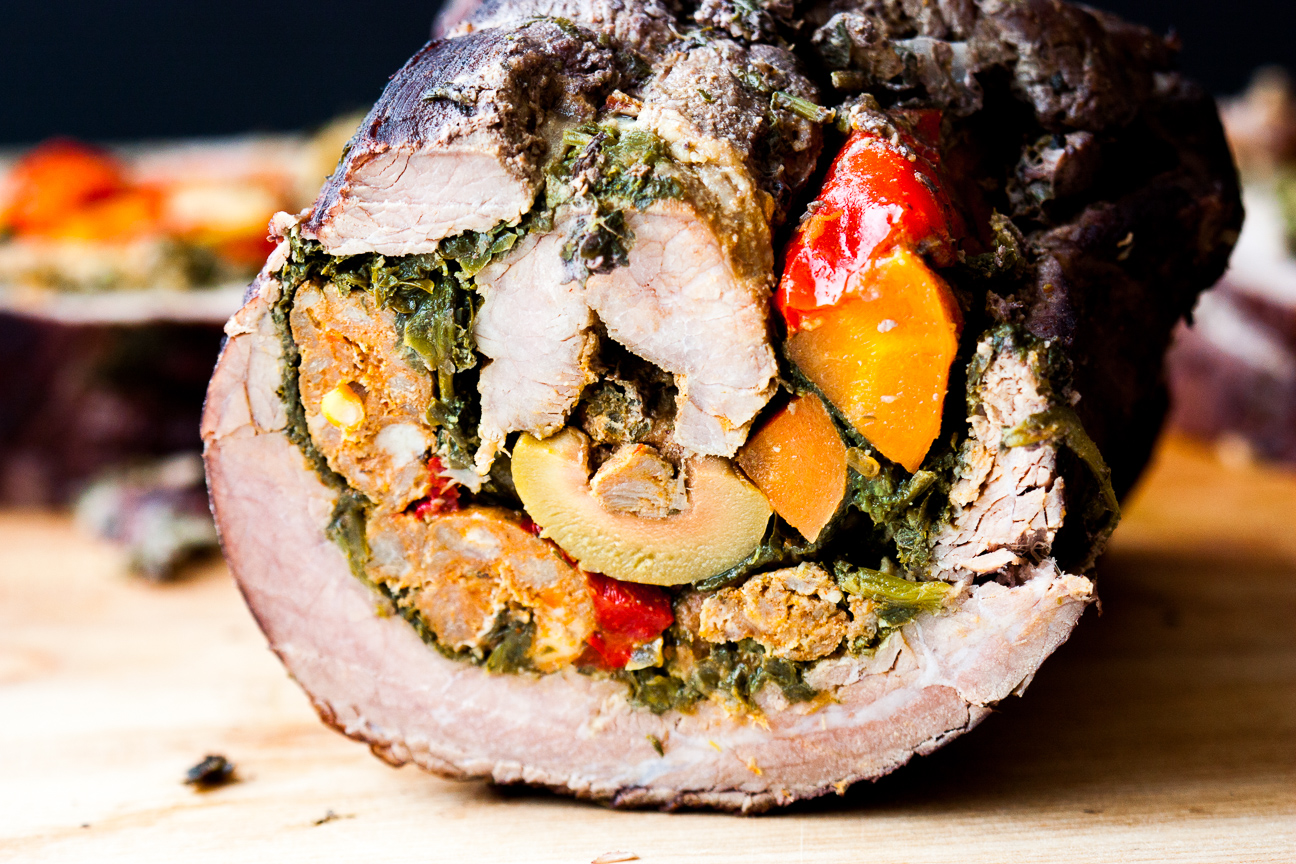 Print Recipe
Argentinian Matambre with Chorizo and Spinach
Ingredients
2 - 2 1/2 lb flank steak

1-2 Tbsp dijon mustard (depending on the size of your steak)

1 handful each parsley, watercress, and cilantro (chopped)

2 Tbsp pickled jalapeno, chopped

1 tsp cumin

1 tsp garlic

1 large handful of baby spinach leaves

1 carrot, cut in quarters

1 red pepper, sliced

about 10 large green spanish olives, sliced in half

1/2 roasted red pepper

2 chorizo sausages, cooked and chopped up

1/2 red onion, sliced

Broth

2 cups red wine

1 1/2 tsp oregano

1/2 tsp thyme

1/2 tsp garlic, crushed

2 bay leaves

Chimichurri Sauce

2 tomatoes (scrape the seeds out, and chop fine)

1 red onion (chopped fine)

3 garlic cloves (chopped fine)

one handful of parsley (chopped fine)

1/2 cup olive oil

1/4 cup red wine vinegar

1 tsp ground cumin

1 tsp chili powder

1 tsp paprika

1 tsp oregano
Instructions
1
Butterfly the flank steak. See instructions above, or find a video on youtube (it's really easy, actually)
2
Spread dijon mustard all over the steak, leaving a 1" border.
3
Chop the parsley, cilantro and watercress together with the pickled jalapeno, cumin and garlic. Make sure they all get mixed together.
4
Spread the chopped herbs on top of the dijon mustard. Leave 2-3 inches at the far, long edge of the steak empty. This makes it easier to roll up.
5
Spread the chorizo sausage on top.
6
Layer the washed baby spinach leaves on top of the sausage.
7
In rows, running along the grain of the meat; place the olives, carrots, red pepper. You can do thick rows, repeating rows etc. But try not to overstuff, or it will be difficult to roll.
8
Roll the steak, and leave it on the cutting board while you get ready to tie it up.
9
Cut about 4-5 pieces of butcher's twine and tie the twine around the steak. I used one extra long one to tie from end to end because I simmered it on top of the stove and I didn't want anything to fall out.
10
Heat up a bit of oil in a large skillet. Sear the steak on all sides, until all sides are nicely browned.
11
Place the steak in a large pot.
12
Add 2 cups of red wine (I used Malbec because it's Argentinian).
13
Add water until the steak is submerged.
14
Add the oregano, thyme, garlic and bay leaves.
15
Simmer for about 90 minutes, until meat is tender.
16
Place on a cutting board and let it sit for about 10 minutes.
17
Slice up and serve with steamed carrots and sweet potato fries. Yum!
18
Chimichurri Sauce: Chop, chop, chop all of the herbs and vegetables until very fine, especially the parsley.
19
Add the rest of the ingredients and stir to combine.
20
Let the marinade sit in the fridge for at least one hour.
21
Refrigerate after dinner. Will be good in the fridge for a couple of days.
chimichurri recipe lightly adapted from Jamie Magazine