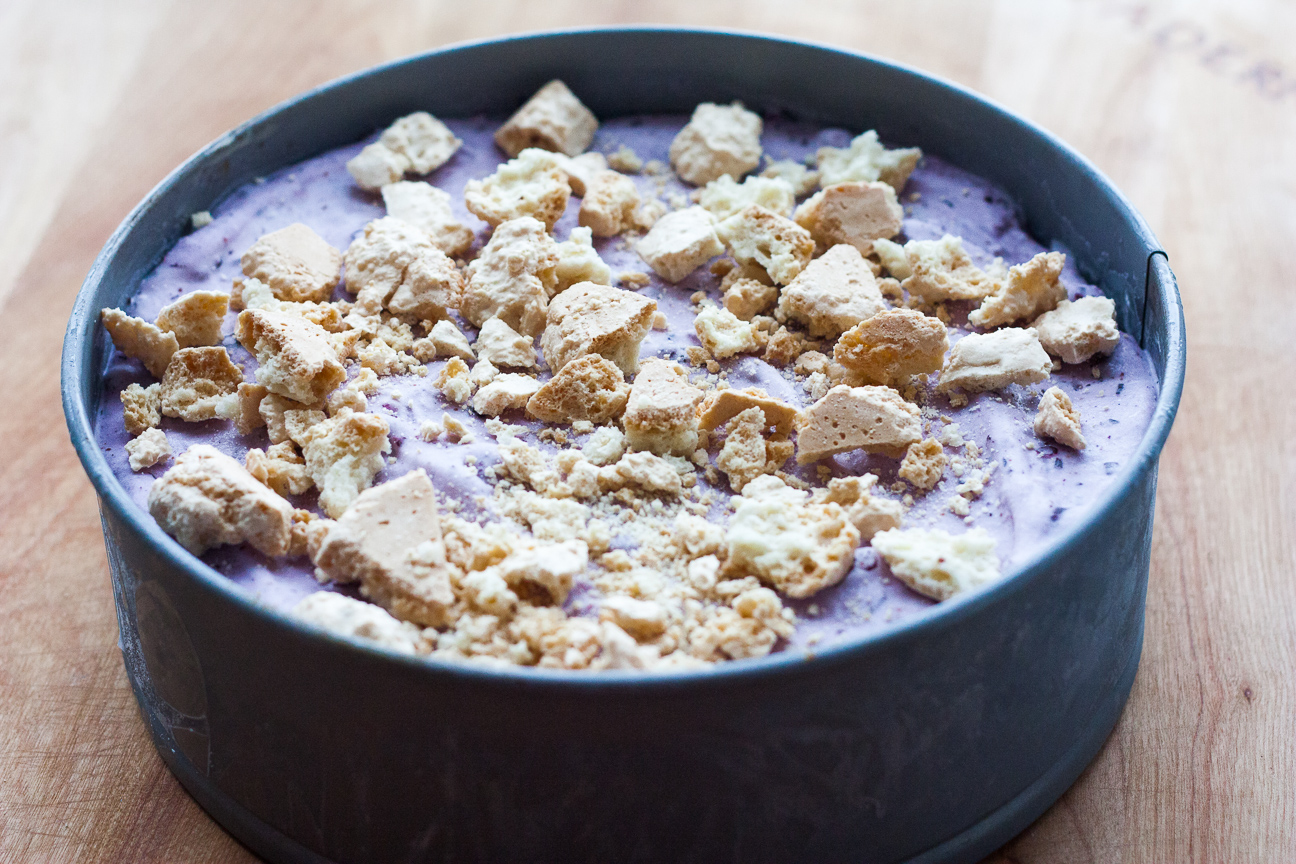 This Blueberry Mango Ice Cream Cake with Amaretti Biscuits is colourful, luscious, and perfect for any occasion. But, it's exceptionally stunning to serve as an Easter dessert. When it comes to cakes, I tend to lean towards baked cakes. But, ice cream cakes are different: the combination of flavours and textures are alluring; the beautiful colours are uplifting, and the flavour combinations are endless. If you are looking for something to wow your family, make them an ice cream cake. They will love it!
The first time I made an ice cream cake, I couldn't believe how delicious, easy and professional looking it was. They are a real showstopper! It's very exciting when you finally remove the sides of the springform pan and all the layers of ice cream, crust and cookies are unveiled before you eyes. Ice cream cakes are terrific if you are short on time, or need to do your cake preparations in the evening after the wee ones are in bed.
They also stay hidden very well in your freezer. This may not seem like an important issue, but if you're anything like my family, surprise is key! My Mum made us birthday cakes every year, just like most Mums. But we never got even a sneak peak of the cake until dessert time. I always knew she had baked a cake, because the house smelled so good, but I could never find the cake. My Mum knew from the look on my face that I was perplexed, but would keep me guessing until the last minute when she brought the cake out all covered in lit candles. So, if you like to keep your cakes hidden until dessert time…this one's for you!
Of course, this year, ice cream cakes have an added bonus – no flour!
I made this ice cream cake a few years ago for my son's birthday, and again this year for his 21st birthday. Blueberries are his favourite fruit and mango pairs with them so well – colour-wise as well as in flavour.
Usually, when I make an ice-cream cake, I go to an ice cream shop and buy fun flavours and layer them up. In the future, when shops re-open, you could go that route…and then you have hundreds of flavours to play around with. But with ice cream shops closed, I decided to create my own flavoured ice cream by mixing vanilla ice cream and frozen blueberries and mangoes. Easy peasy!
There are many other flavour combinations you could use, with grocery store ingredients, if blueberry mango doesn't appeal to you. Just follow the directions below with the fruit of your choice or mix and match ready-made store-bought ice cream flavours. You can't go wrong with an Ice Cream Cake.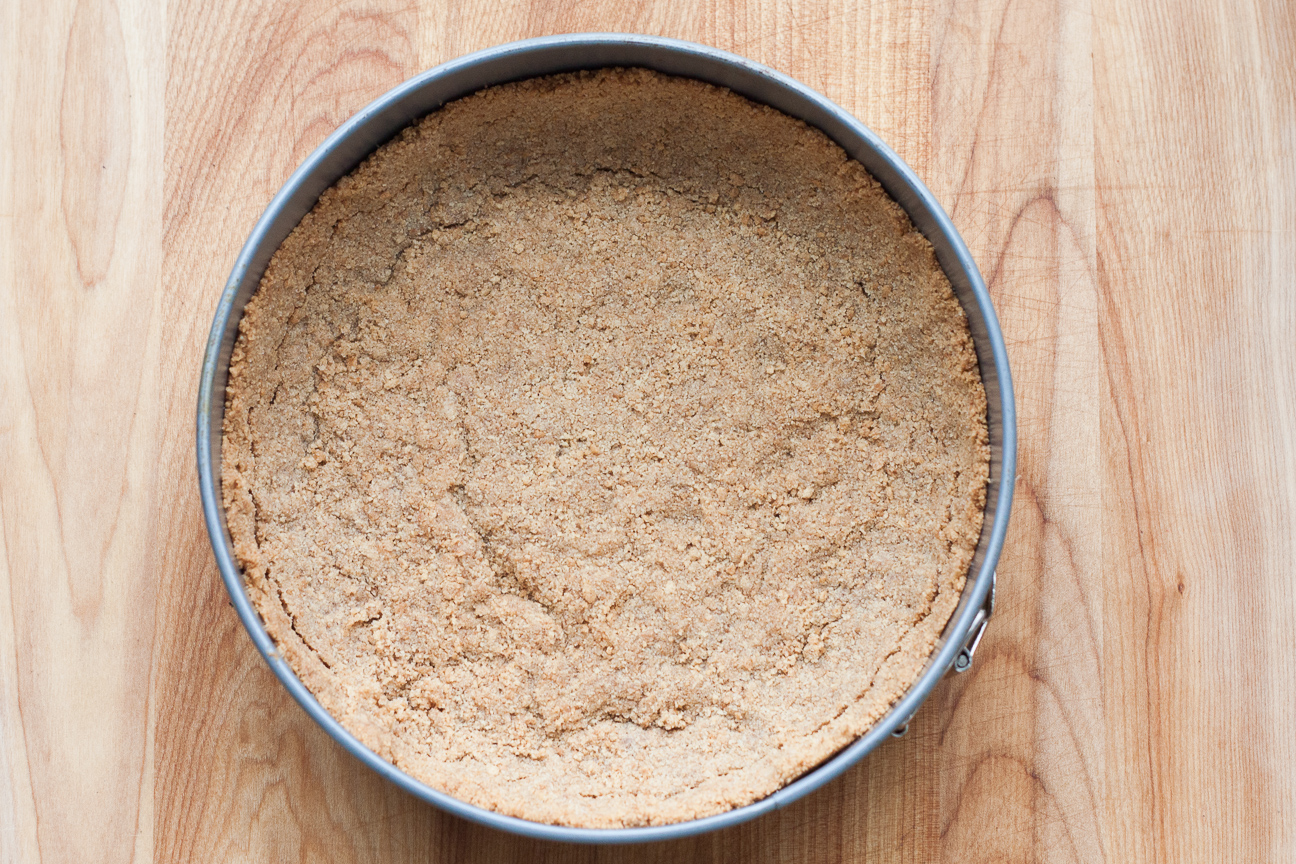 This cake starts off with a delicious buttery crunchy crust of graham cracker crumbs mixed with melted butter and sugar. The crust is baked in the oven for about 15 minutes until slightly golden and aromatic. Try not to eat it straight out of the pan. I dare you!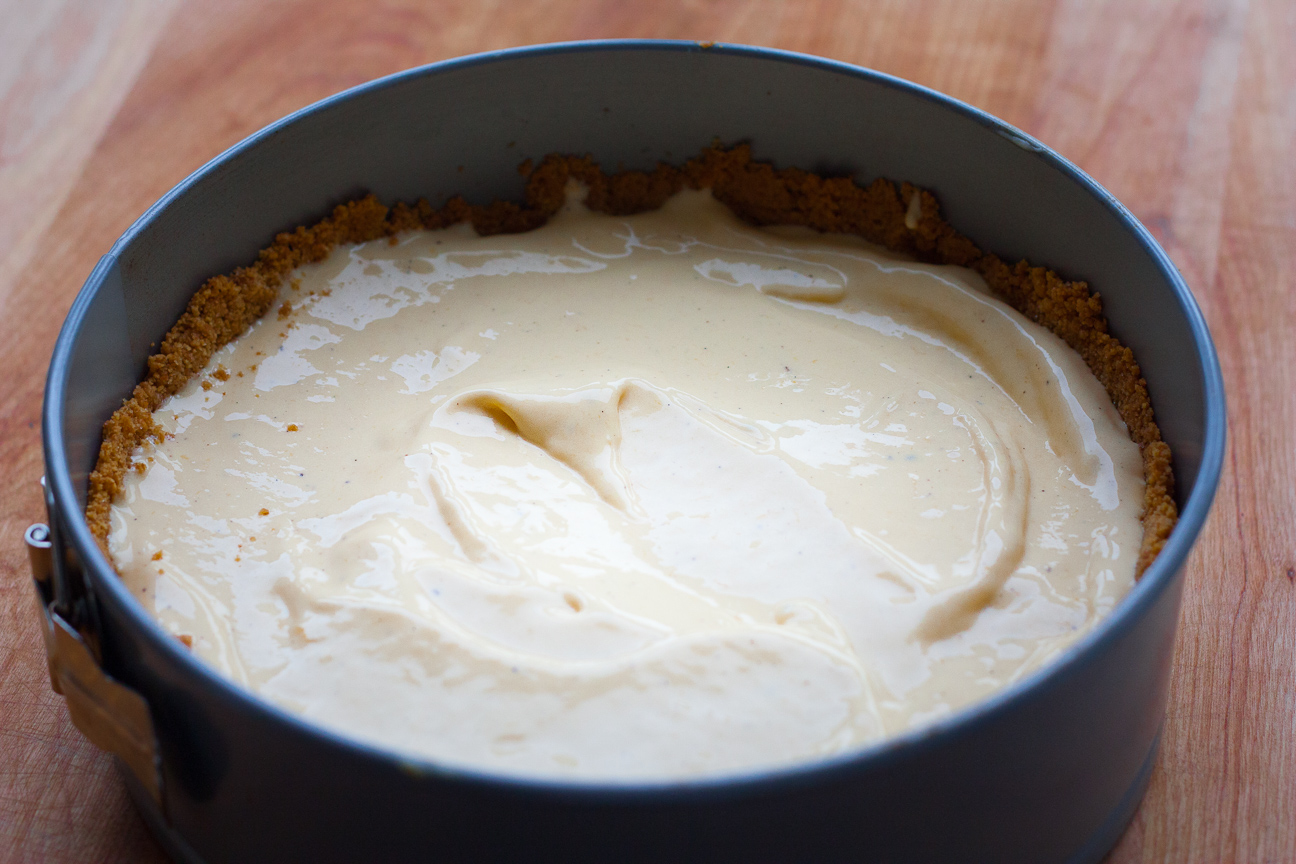 I chose Mango Ice Cream to be the bottom layer, as I thought the amaretti cookies would be a nice contrast against the blueberry ice cream. You could do it the other way around if you wanted. It would taste just as nice. Can't find mango ice cream? Read on.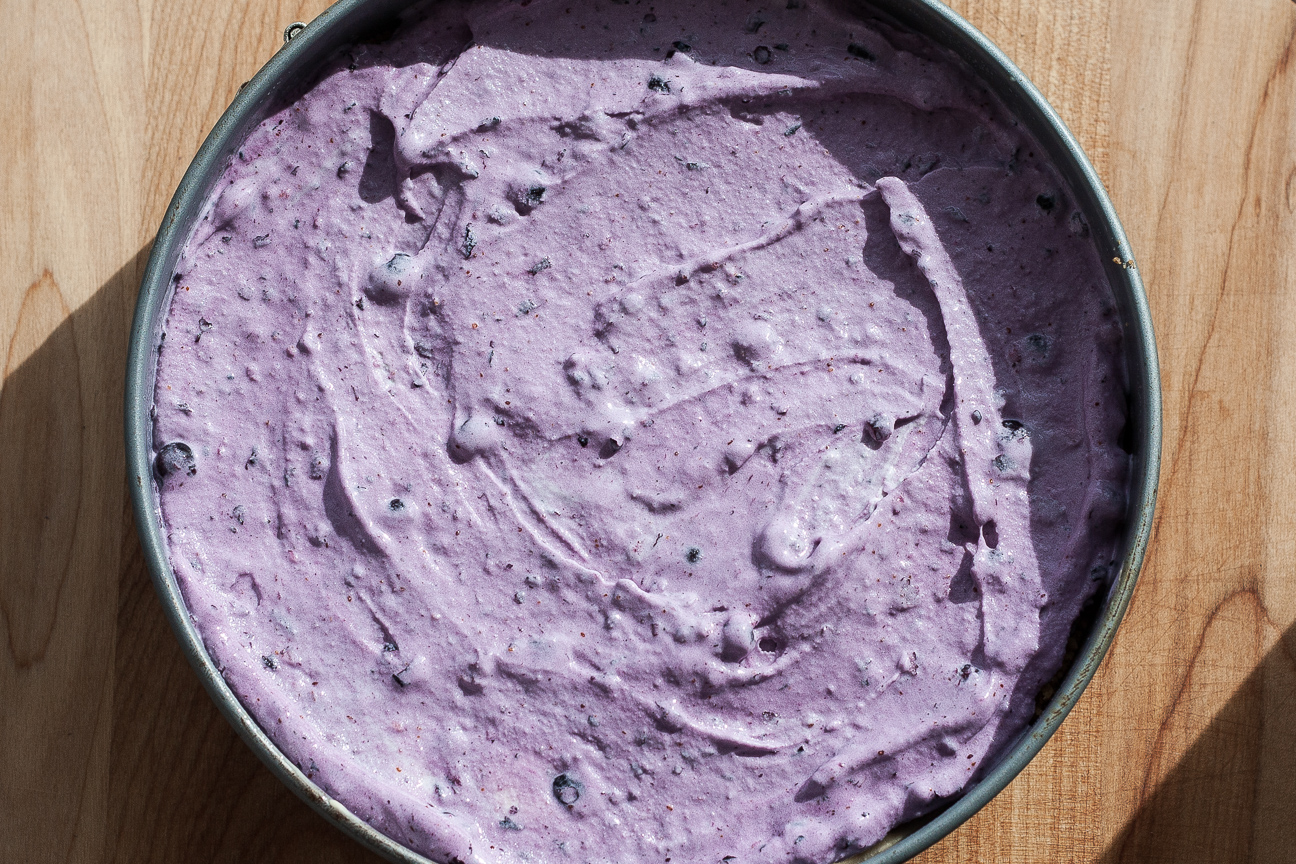 Blueberry Ice Cream is the top layer. So sweet and blueberry-delicious. Can't find blueberry ice cream? Read on and find out what to do.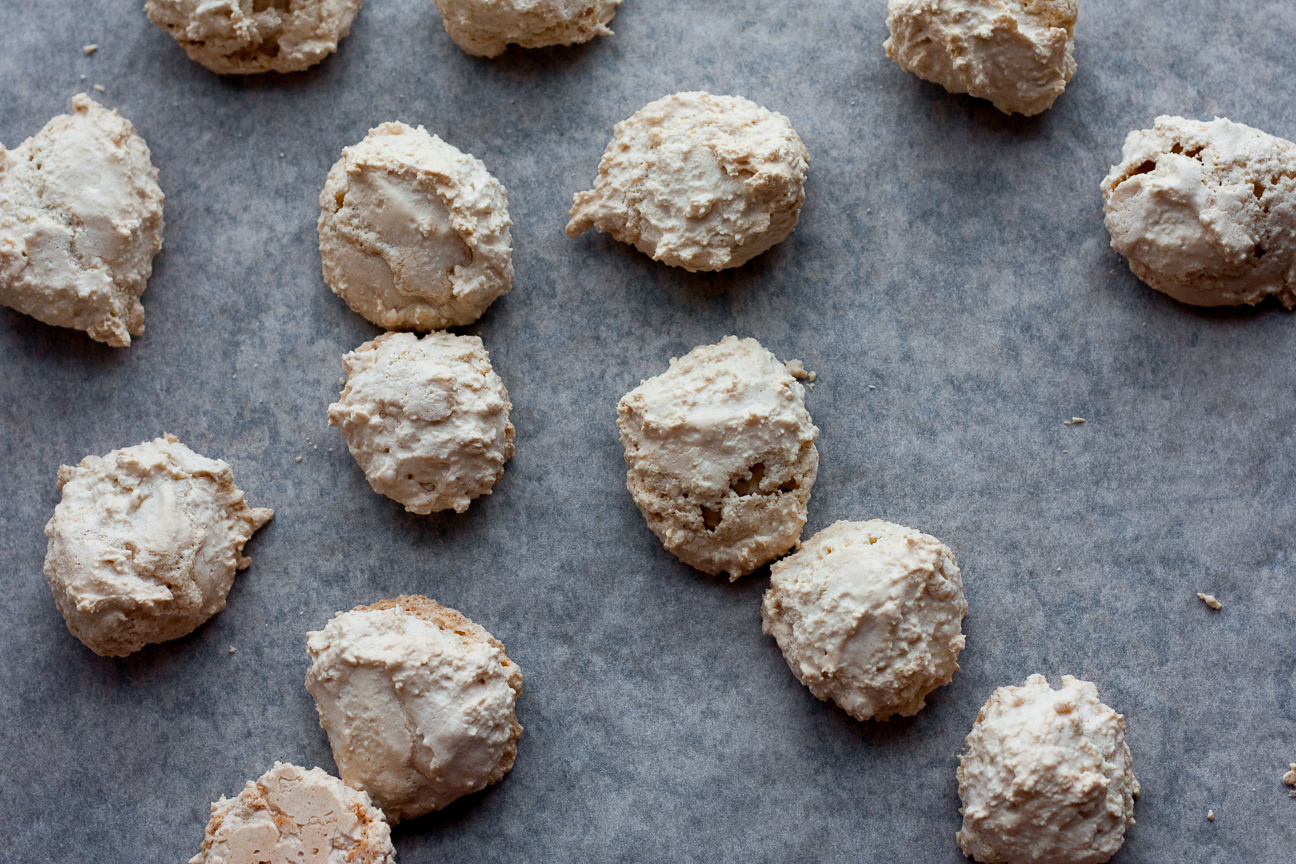 I had a quick look for amaretti biscuits in my local grocery store. But none were to be found. In more normal times, I might drive around the city looking for some. Instead, I decided to make my own. Homemade biscuits are actually tastier…more nuttier…less sweet. I think during this crazy lockdown period, we're all learning to become a little more self-sufficient. And that's a good thing.
If you can't find amaretti biscuits, and don't want to make your own, you could also cover the top with whipped cream (with a bit of sugar added) and sprinkle with coloured sugar or cake sprinkles. Frozen whipped cream is delicious!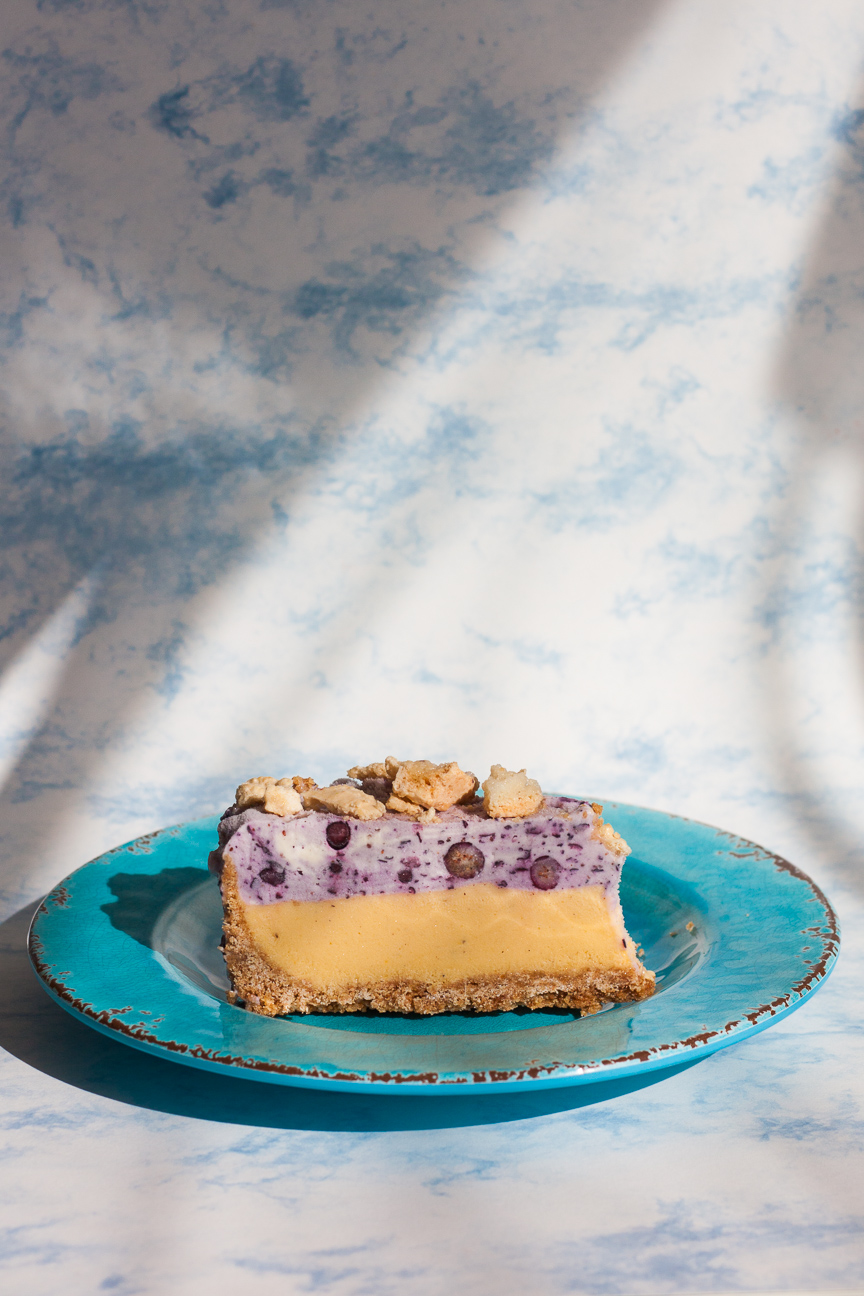 This cake is so amazingly delicious. It's the type of dessert that will make all of your the guests at the dining table absolutely silent as they savour the sweet blueberry, tangy mango and crunchy nutty amaretti cookies. So good!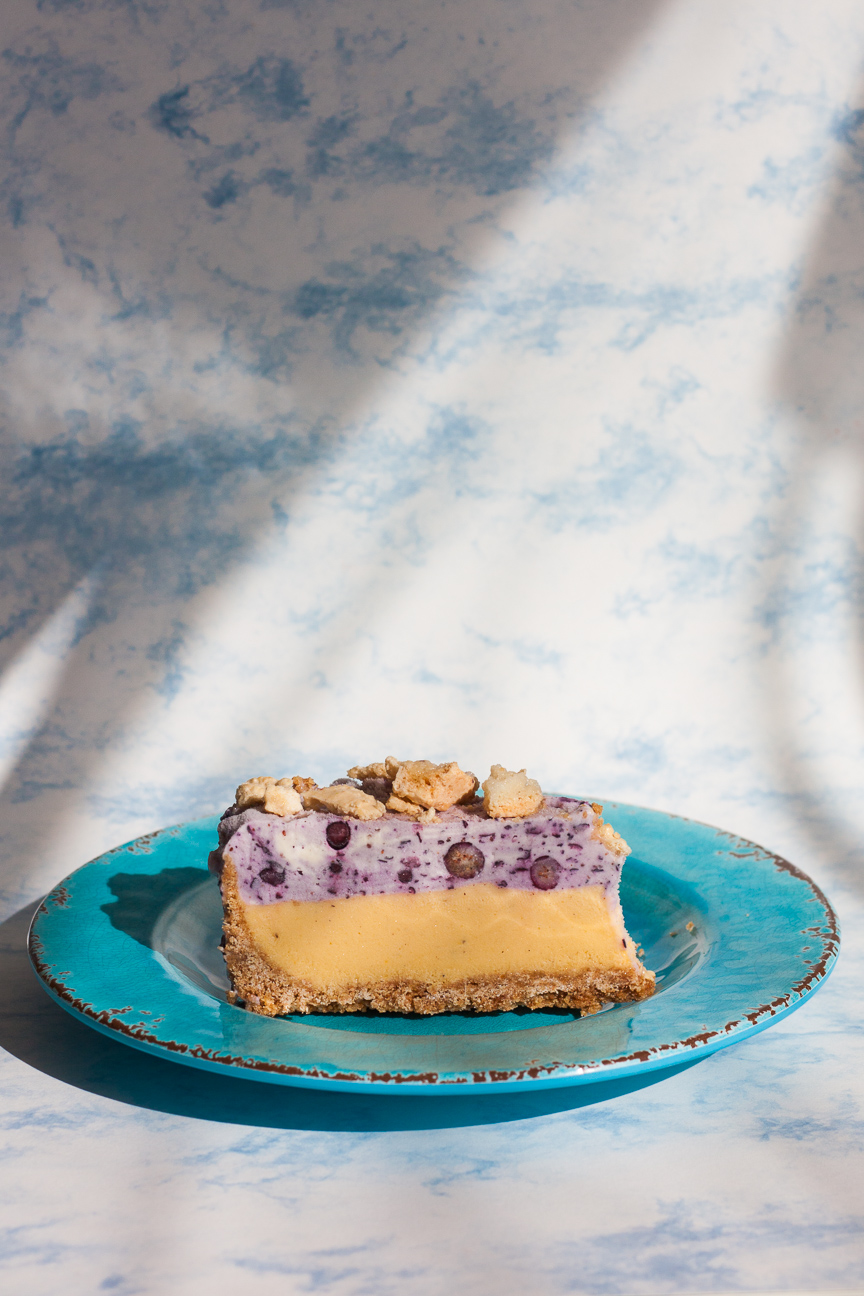 Print Recipe
Blueberry Mango Ice Cream Cake with Amaretti Biscuits
Ingredients
CRUST

2 cups graham cracker crumbs (or about 12-15 graham wafers)

3 tablespoons sugar

1/2 cup butter (melted)

ICE CREAM FILLING

2 litres of vanilla ice cream

1 cup mangoes (thawed from frozen or fresh; this can be thawed in the microwave, just don't get the fruit too warm)

1 cup blueberries (thawed from frozen or fresh; this can be thawed in the microwave, just don't get the fruit too warm)

1/3 cup whole blueberries (optional)
Instructions
1
CRUST: Preheat oven to 325 degrees.
2
Blitz graham crackers either in a blender or food processor until reduced to crumbs.
3
Pour crumbs into a bowl and stir in sugar.
4
Stir in melted butter until all incorporated.
5
Pat the crumb mixture into a 8" springform pan. Make sure the crumb mixture goes up the side of the pans. Try to spread the mixture evenly and not very thick, especially on the bottom and where the sides meet the bottom. If it's too thick, it will be very difficult to cut when serving.
6
Bake the crust in the oven for about 12-15 minutes, until golden in colour.
7
Place baked crust on rack and let cool until cold (about 30 minutes).
8
ICE CREAM FILLING: Remove vanilla ice cream from freezer and let it soften on the counter for 5-15 minutes, depending on how frozen it is when you remove it. You want to be able to scoop it out very easily.
9
If you are using frozen fruit, thaw the fruit in the microwave. If you don't have a microwave, you will have to start to thaw the fruit much earlier (such as in a container or zip lock bag in warm water in the sink).
10
Blitz the mango for the first layer on its own either in a food processor or a blender. If you don't have either of those, you can mash the fruit with a fork or potato masher. The texture is up to you. I blitzed mine until it was pureed, but the fruit can also be roughly smashed - that would be fine.
11
Stir the mango into the ice cream in a bowl or blitz in a food processor or blender, until the fruit is fully incorporated. For a marble effect, partially mix, so that there are swirls of fruit throughout the ice cream.
12
Pour the ice cream onto the cold graham cracker crust.
13
Cover with saran wrap and place level in the freezer.
14
After about 1-2 hours, when the first layer is semi frozen, you can repeat steps 8-11 with the blueberries. I stirred in some whole frozen blueberries with the pureed mixture. But that is completely optional.
15
Sprinkle the second layer of ice cream with the amaretti cookies.
16
Freeze the cake for several hours until very firm.
17
Prior to serving, remove the ice cream cake about 10 minutes before serving.
18
Slice carefully with a sharp knife and serve.
19
After serving, cover the remainder of the cake snugly with saran wrap and place in the freezer until the next time.
20
If covered properly, and kept frozen between servings this cake will keep in the freezer for a few weeks.