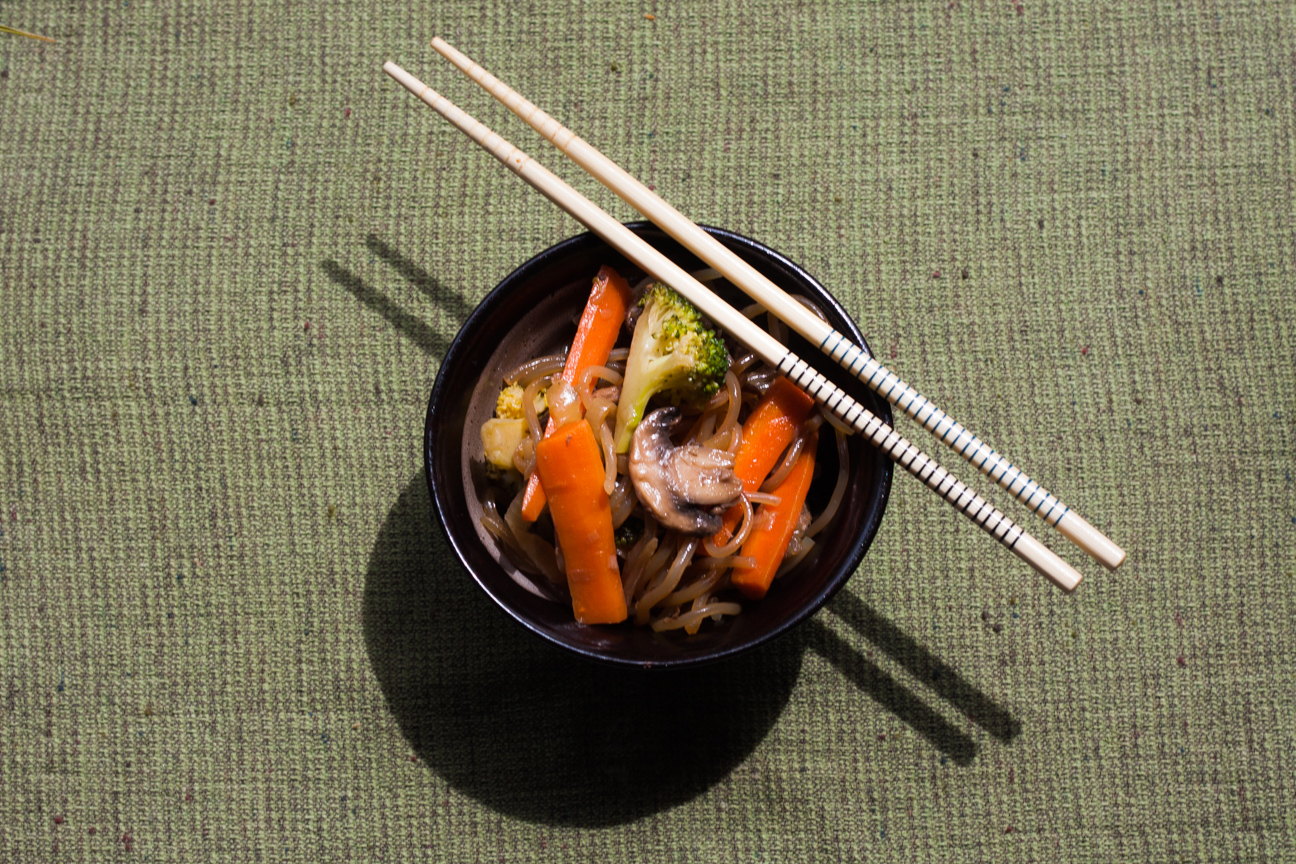 This dish, Sweet Potato Noodles with Beef and Vegetables, is a real family favourite. It has everything an asian stir-fry should have: sweet and salty sauce, crisp stir-fried vegetables and these amazing sweet potato noodles. So good.
I got this recipe from my friend, Kana, who I met years ago when we both lived in Halifax, Nova Scotia. Our family had moved to Halifax for my husband to do his medical internship. Kana and her family had come to Canada for two years to learn English as well as Canadian culture. In a very short time, Kana and I realized we both loved cooking.
We were both eager to learn cooking from each other's country. We started getting together every Friday for 'East-West Cooking' Classes in each other's kitchens. While our children played together, Kana and I would cook Japanese family favourites in her kitchen: sushi, sukiyaki, rice balls and other fantastic Japanese dishes. On other Fridays, she would come to our house and we would make meatloaf, roast chicken or nachos. Our kids and husbands loved this arrangement. I think our most fun day was when we made gingerbread houses just before Christmas.
Sweet Potato Noodles are fantastic to be know about, because, just like rice noodles, they're perfect for vegan, vegetarian and gluten-free diets. The only ingredient for these noodles is sweet potato starch. Personally, I find sweet potato noodles easier to cook than rice noodles. For me, rice noodles always seem just seconds between being not done to overdone. If you have any suggestions on cooking rice noodles, please send them my way!
Sweet Potato Noodles are VERY long. When Kana taught me this dish she just snipped the cooked noodles into shorter pieces with her scissors. I still do it this way as it's super easy.  You could break the noodles up when you put them in the pot, but I just pull up a bunch of almost cooked noodles with my tongs and snip away until they all look a good length.
This dish is fantastic for a picnic or potluck dinner as it tastes amazing at room temperature. You can eat it hot, but it tastes fine even after it has cooled down.
If you would like to make a vegan/vegetarian version, just replace the beef either with sauteed tofu, or double up on the vegetables. You won't miss the beef at all.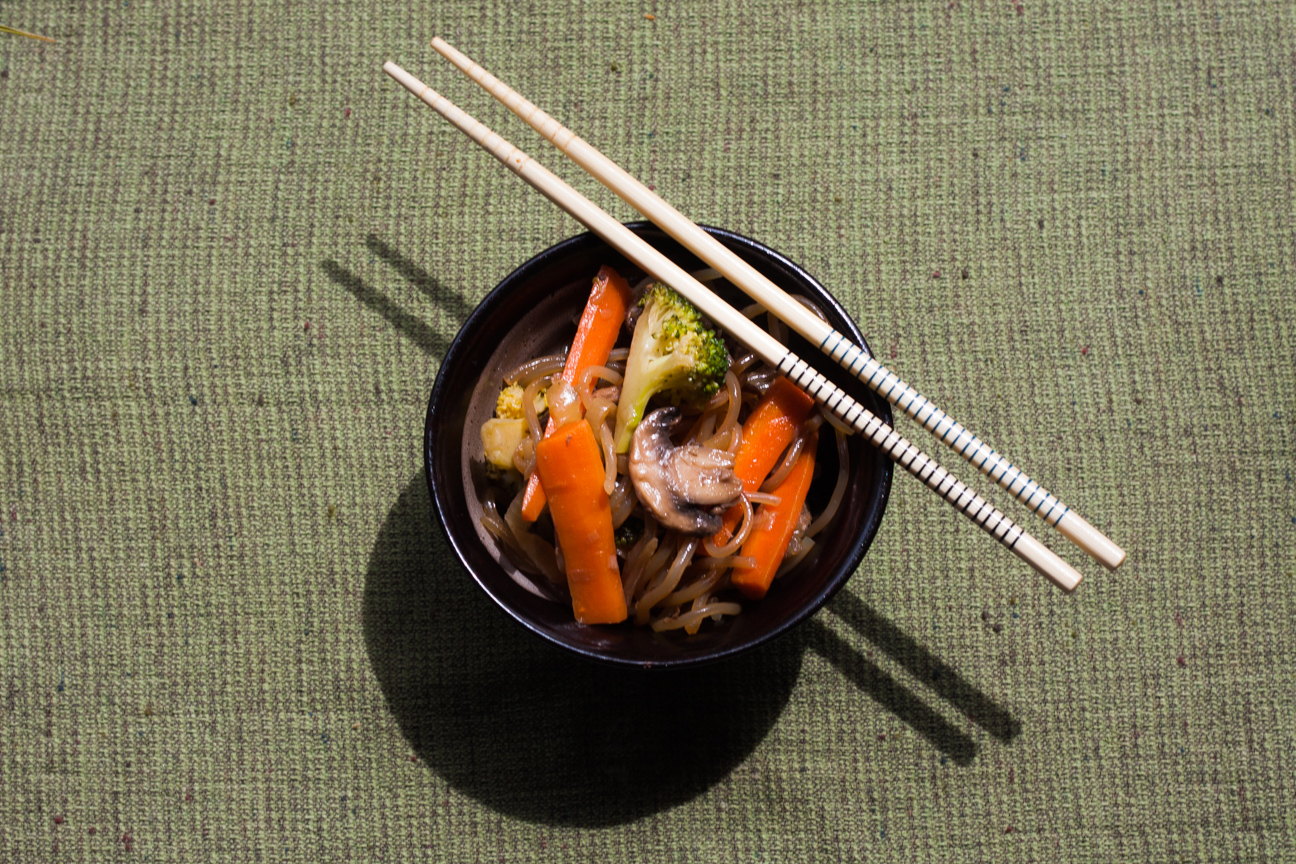 Print Recipe
Korean Sweet Potato Noodles with Beef and Vegetables
Ingredients
one package of Korean Sweet Potato Noodles

1 pound stir-fry beef

1 medium onion, sliced

250 grams mushrooms, sliced

4 carrots, thinly cut

2 cups broccoli florets

Sauce: 3 tbsp sugar, 4 tablespoons soy sauce, 2-3 tablespoons stock.
Instructions
1
Put a large pot of water onto boil.
2
When water comes to a boil, add noodles.
3
Cook noodles for about 10 minutes until they taste soft but not soggy.
4
When noodles are done, snip them with scissors, until they are all about 10 inches long.
6
While you are cooking the noodles, get a large wok out to cook the beef and vegetables.
7
Saute beef in a wok, until no longer pink, and then place in a bowl while you cook the vegetables.
8
Add onions and saute until soft. Add mushrooms and continue to saute until softened slightly.
9
Add carrots. Put lid on the wok until the carrots have softened.
10
Add broccoli florets. Put the lid back on for a couple of minutes until the broccoli is almost done.
11
Add beef back to the wok.
13
In a small bowl, add sugar, soy sauce and stock.
15
Toss everything together with tongs. Serve hot or room temperature. Keep leftovers in fridge for up to 3 days.
Notes
You can also use other vegetables such as spinach, green beans, snow peas or red peppers.