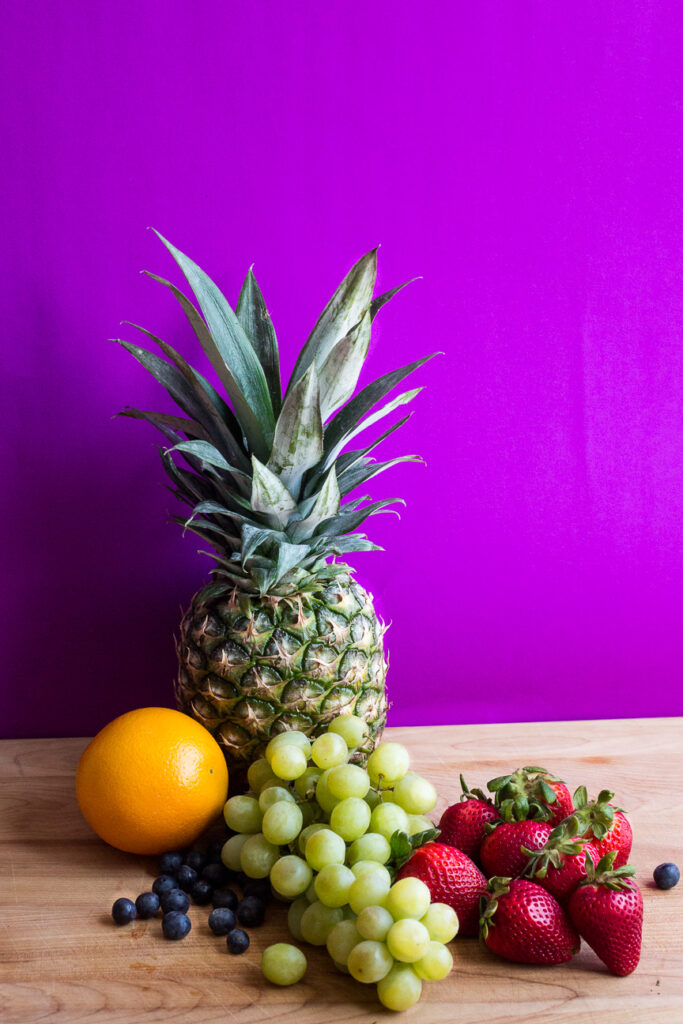 This Quick and Easy Fruit Salad with Lime Syrup is just the thing to have in your fridge this time of year! I just love it! It's the perfect snack for me to have all ready-made in my fridge. Especially after all the recent Easter Feasting. It's not completely necessary to have a recipe for a fruit salad, but I always find it helps to motivate me towards making one.
Back in the day, when we used to go on vacation, the hotels we stayed at inevitably always had a huge bowl of fruit at the breakfast buffet. And every vacation, I would decide that when I got home, I would make a big bowl of fruit salad every week. Of course, this is harder to achieve when you have a large family, but occasionally I do have a nice big fruit salad in there, at least for a few days. And we all enjoy it!
What I especially love about this salad, is the lime syrup that I pour over top. It really powers up the flavours, and makes it more than just your average fruit salad. The lime juice also helps preserve some of the fruits.
What other fruits are good in salad?
bananas are very nice, but add them individually, as they will go mushy mixed in with the other fruits and stored in the fridge
mango is very nice and will keep quite well
berries are fantastic in a fruit salad. I tend to just choose one berry, as they can be expensive when not in season. Also, berries such as raspberries and blackberries can be quite delicate and fall apart easily. You could sprinkle those on top of your bowl, if you don't like them falling apart.
pink grapefruit are also very good. If you were going to use pink grapefruit, I would swap out the oranges for pink grapefruit. They are a little more tart than oranges, but would go nicely with the other fruits.
Kiwis are also very delicious. The green colour is a lovely contrast with all the other fruits. If you want an extremely colourful fruit salad, add some kiwis.
How do I know when fruits are ripe?
Pineapple: Pineapples are ripe when they are a lovely golden/yellow colour. They should also not feel rock hard. Solid green, rock hard pineapples are not ripe. Pineapples don't continue to ripen much after they are picked, so try to choose a good one at the store.
Strawberries: Strawberries also don't ripen after they are picked. You want to choose nice bright red strawberries. Look for strawberries that have healthy green leaves on top and no white at the top of the berry. If you're buying them in a clear plastic box at the grocery store, check all sides of the container to make sure there aren't any that have blackened or are mouldy.
Kiwi: To test a ripe kiwi, press slightly on the skin. It should give slightly when you press on it. A ripe kiwi should have brown fuzz overtop of brown skin. If the skin is green, it is not ripe. However, kiwis ripen up very well on the kitchen counter. So, if the kiwis that you buy are not ripe, you can set them in a bowl on the counter for a few days until they ripen up.
Bananas: Bananas are ripe when they are yellow. If you can only find green bananas at the grocery store, that's ok. They will continue to ripen on your kitchen counter. Don't keep bananas in the fridge as they will turn black. If your bananas become spotted with black specks, they are still good to eat, and even more perfect to cook with. You can bake with them right away, or you can freeze over-ripe bananas in the freezer until you are ready to bake.
Mango: There are many different varieties of mango that are available at the grocery store. A mango that is ready for eating, is semi-soft. If it's rock hard, it's not ready. But mangoes will continue to ripen after they are picked. If you buy rock hard mangoes, put them on your kitchen counter for a few days until they ripen up.
3 Reasons why I prefer having a bowl of Fruit Salad over individual fruits
no peeling; the washing and peeling is already done
no chopping; fruit salad is ready to eat on the spot or pack up right away for healthy lunches
it's a healthy food choice for the whole family; also introduces new fruits to little ones
How long does fruit salad last in the fridge?
Fruit salad will last a good few days in the fridge, up to four or five. The strawberries in the fruit salad will get a bit soft, so you could also add those individually, if that bothers you. Personally, I don't mind. But the grapes, pineapple and oranges keep very well in this fruit salad, which is one reason why I like that combination.
Tips for Making a Fruit Salad
always make sure your fruit is perfectly ripe. That way your fruit salad will keep longer and taste the freshest and most sweet.
cut fruit into uniform size, you want to be able to get a mix of fruit in every mouthful
use a variety of colourful fruits, for eye-popping colour
for a beautiful presentation; you can layer the fruits individually in a glass bowl or trifle dish. Stir it around just before serving.
Fruit salad is delicious on its own, but it's also very good with yogurt (plain or fruit flavoured), vanilla ice cream, sherbet or a dollop of whipped cream.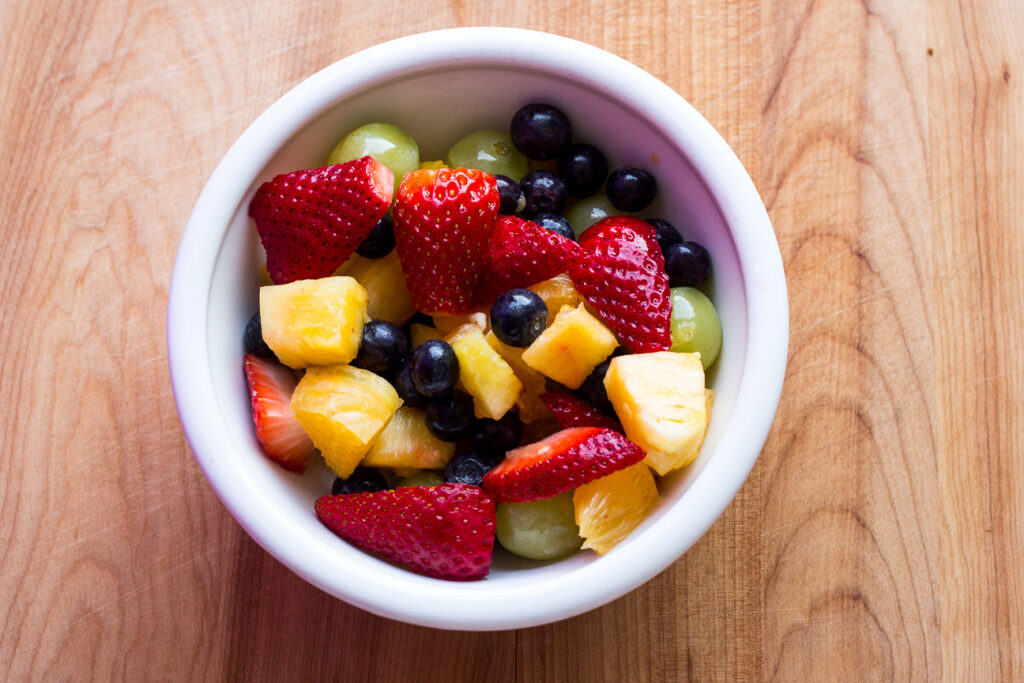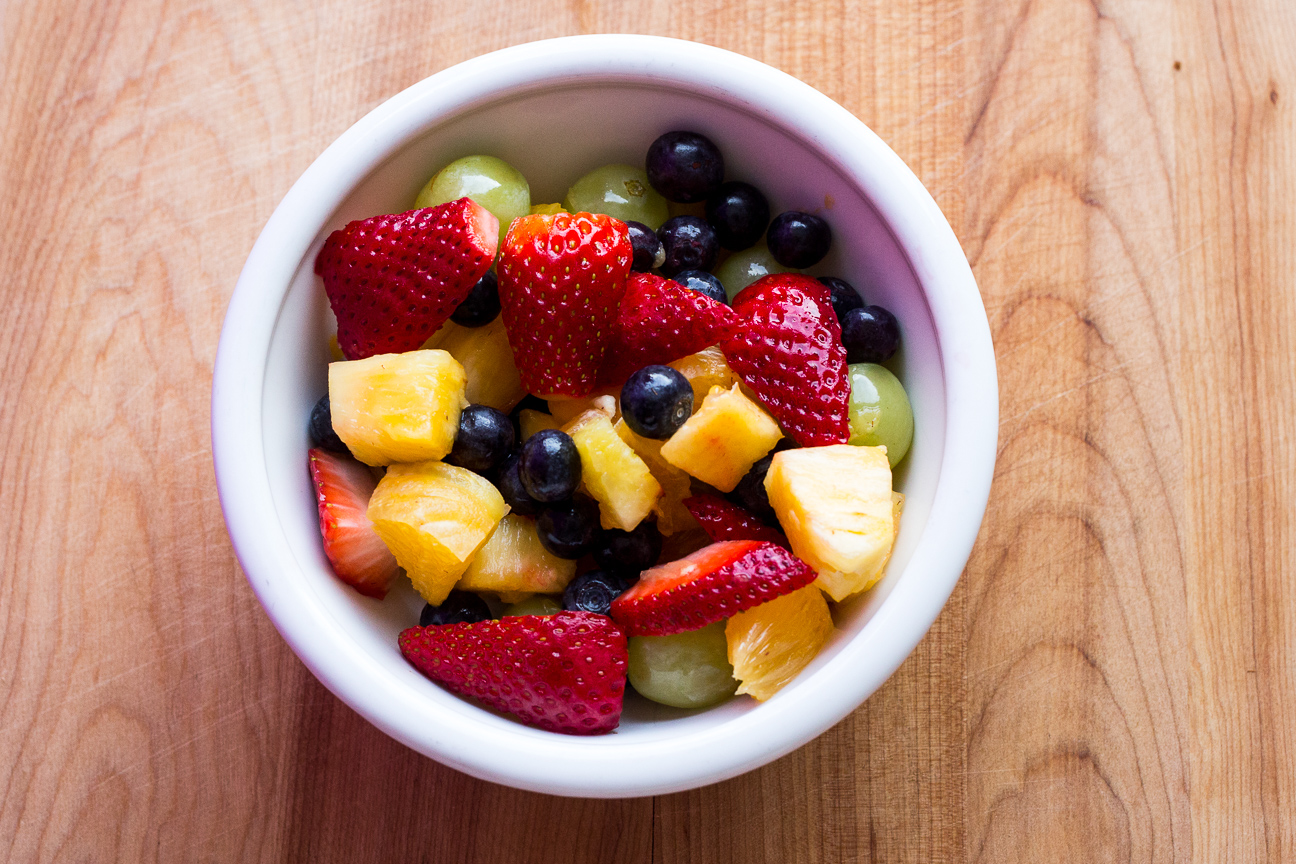 My Quick and Easy Fruit Salad makes quite a lot, if you use the same fruits that I did. What I love about this fruit salad, is the combination of pineapple, grapes, strawberry, oranges and blueberries. The flavours go amazingly well and these fruits are available year round. This combination of fruit also keep quite well with the lime syrup. However, after a couple of days, the strawberries may get a big soft. But I never mind, they're still delicious.
I hope you enjoy my Quick and Easy Fruit Salad with Lime Syrup. Let me know if you make one yourself, and what fruits you choose.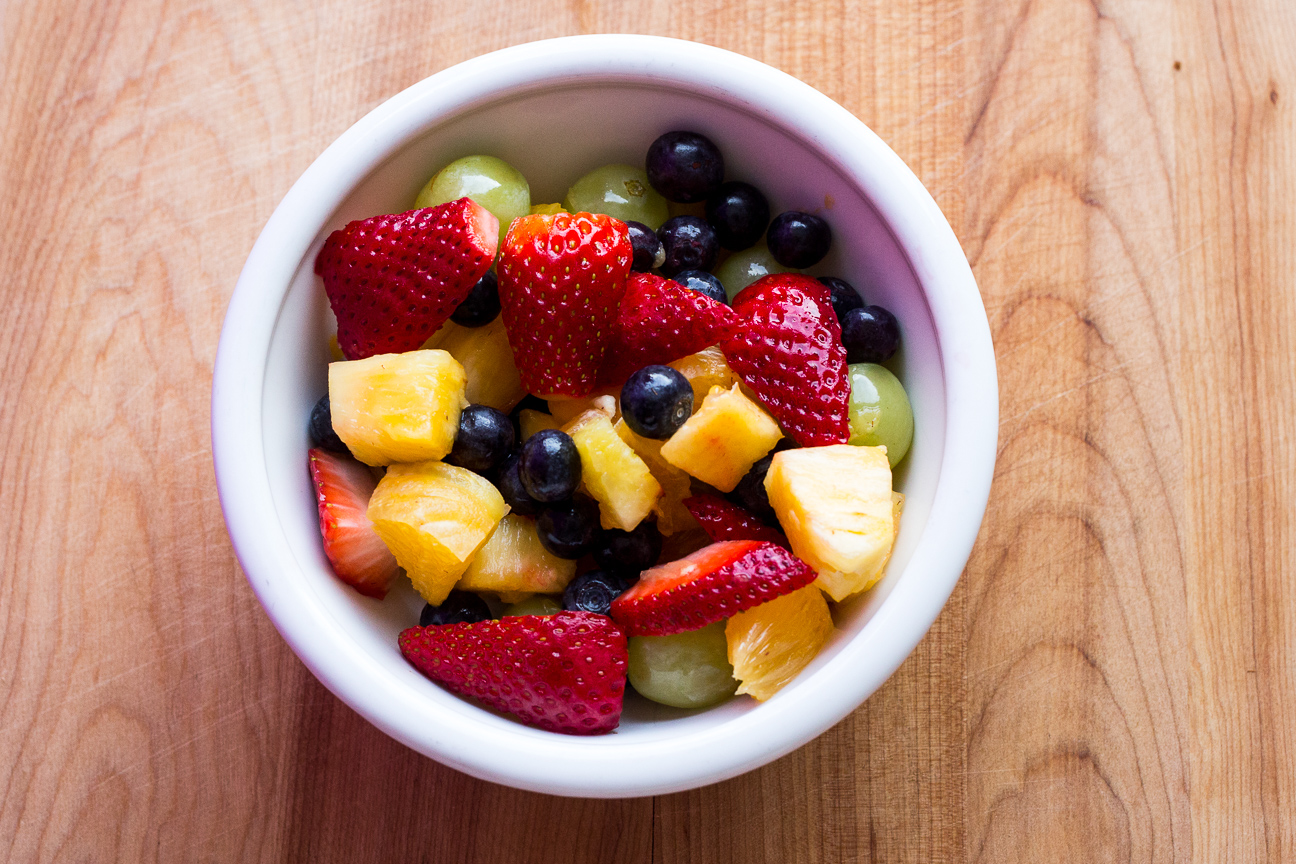 Print Recipe
Quick and Easy Fruit Salad with Lime Syrup
Ingredients
1 Pineapple, peeled, cored, and cut into bite-sized pieces

1 large bunch of grapes (about 3 cups)

1 box of strawberries (about 12)

1 pint blueberries (about 1 1/2 cups)

2 oranges, peeled and cut into bite-sized pieces

Lime Syrup

7 tablespoons lime juice

7 tablespoons water

3 tablespoons sugar
Instructions
2
You can cut the grapes in half if you like.
3
I cut the strawberries into quarters because they were quite large. You can also cut them just in half if they're not too big.
4
The important thing is to have all the fruit pieces in uniform bite-size pieces.
5
Place in a bowl or container to keep in the fridge.
6
This makes about 12 cups of fruit salad.
8
Add water, lime juice and sugar into pot.
9
Boil until reduced a bit and slightly thickened.
10
Place the syrup in a container and place in the fridge until cold.
11
Once cold, pour over the fruit salad.