One of my favourite times of the day is when I sit down and have a cup of tea and a snack, flipping through a new food magazine with the sun shining through the windows. Just heaven to me. For me, a snack could be anything from fruit salad to a bowl of yogurt or a muffin or a cookie, as long as it's healthy. I love a good cup of tea, but to me, it's not the same without something to nibble on. That's why I like these Chocolate Peanut Butter Energy Balls so much. Made with nut butter, dried berries, coconut flakes and just enough chocolate chips to make you want more – they are very very good.
Energy Balls became popular a couple of years ago. They are jam-packed with dried fruit, nuts, raw honey or maple syrup and nut butters. They are easy to make partly because you don't even have to turn the oven on. So, you can make them any day of the year and not worry about heating up your kitchen. They are excellent power foods. So easy to take on a long hike, a bike ride or even to the beach. And who doesn't need a snack with any of those activities.
In this recipe, you can use smooth peanut butter or chunky peanut butter. I still add chopped peanuts even when I use chunky peanut butter. Or you could use natural peanut butter as well. You could also use almond butter with chopped almonds if you wanted to change it up a bit.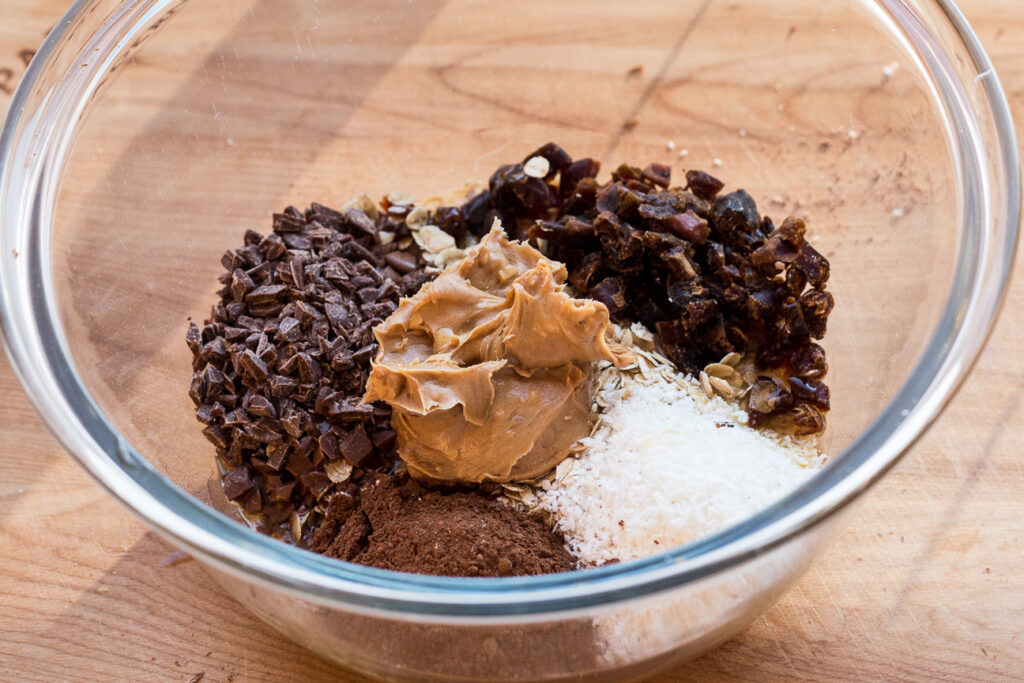 Put all the chopped and measured ingredients into a big bowl and give it a stir. Make a wish too if you like, too.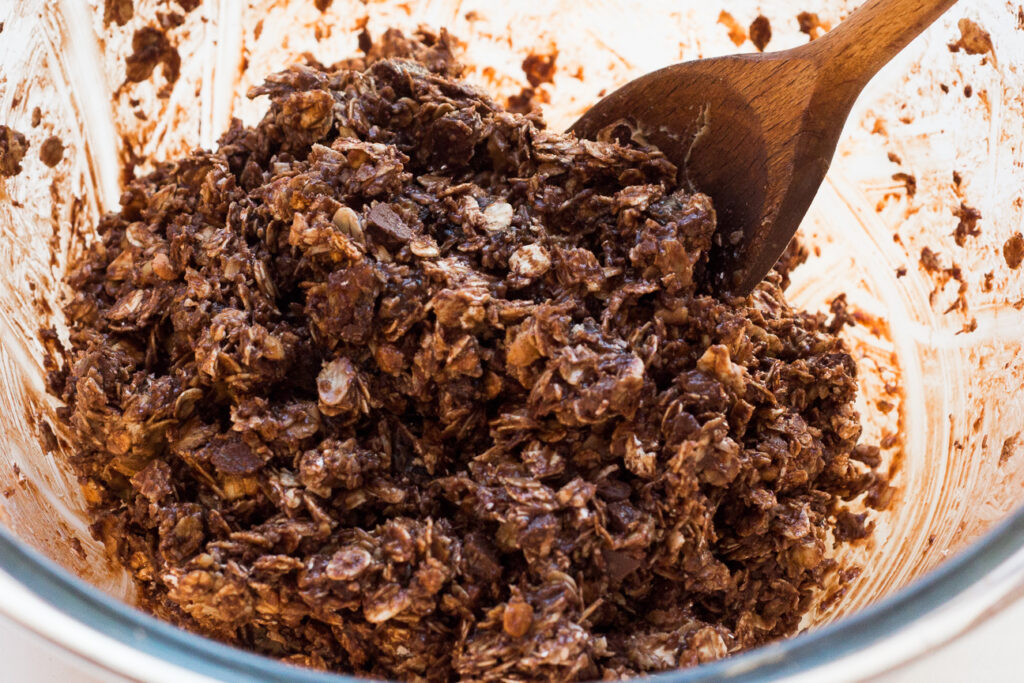 Stir everything together with a big wooden spoon until everything is fully mixed together.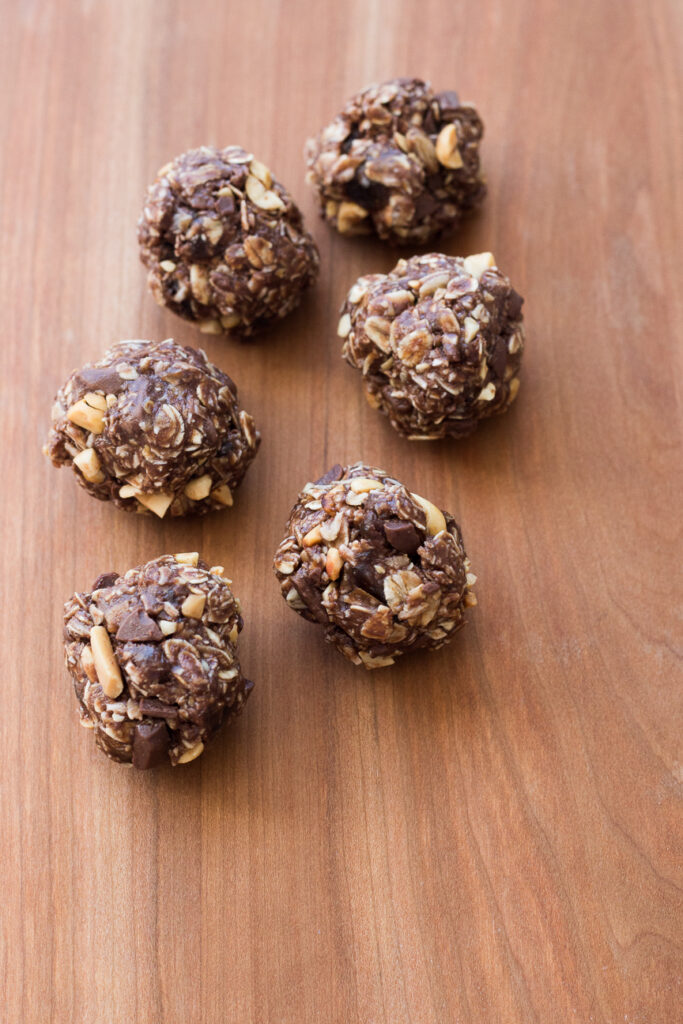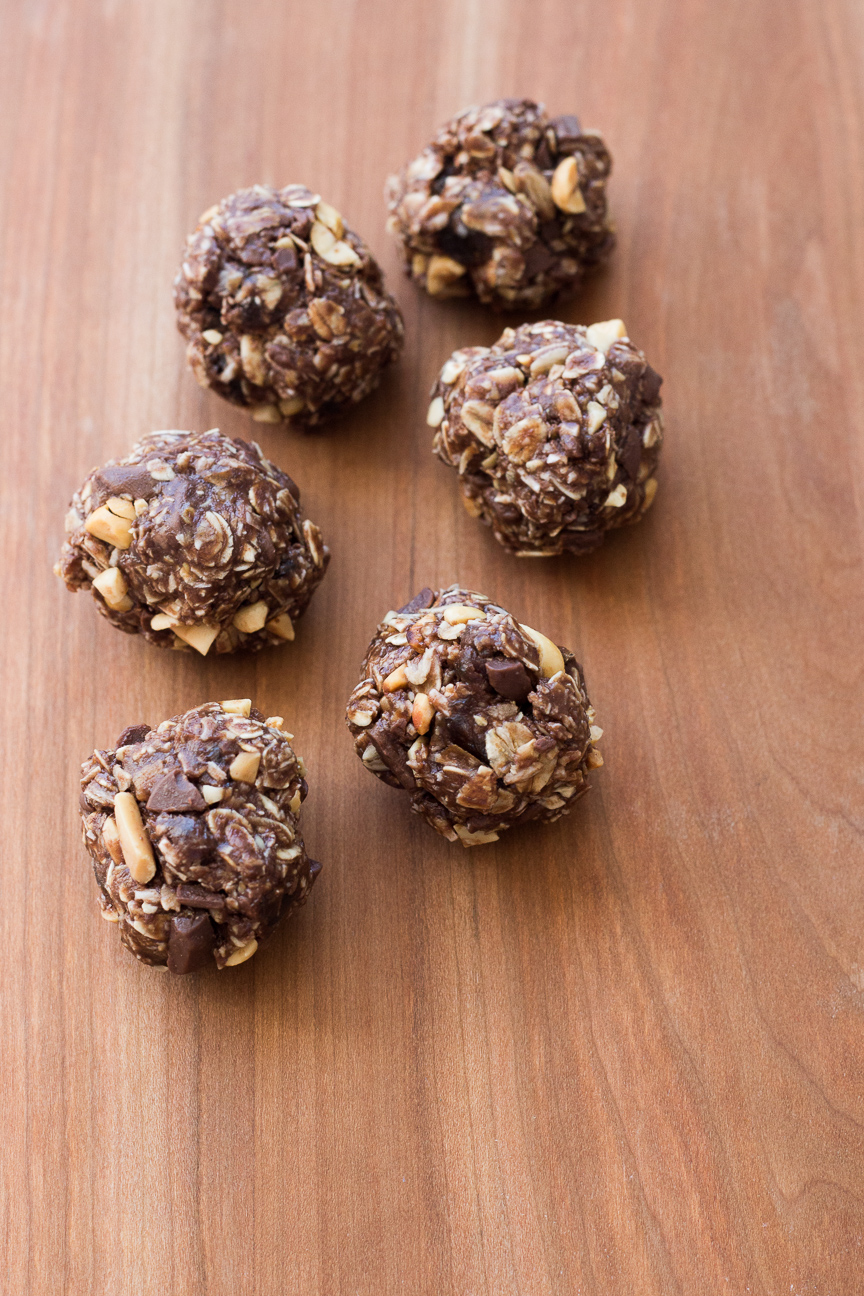 Then roll them into balls. Easy peasy. I store mine in the fridge, so the chocolate doesn't melt on me. They keep for ages, but will undoubtedly get eaten up before you know it.
I love energy balls for all sorts of reasons: they're portable, the combination of dried fruits and nuts is so divine, and because they're small. You can have one or you can have two and you don't feel like you've broken the bank of your daily calories.
I'm not going to pretend that they are are superfoods and will improve your health in anyway. Although I do believe that they are better than snacking on chips or a chocolate bar. They're also quick to make, taste delicious and they hit the spot when I need an energy boost.
Can't wait to put the kettle on, pull out my latest food magazine and have a snack.
Try making some today. I'm sure you'll enjoy them. Let me know how they turn out.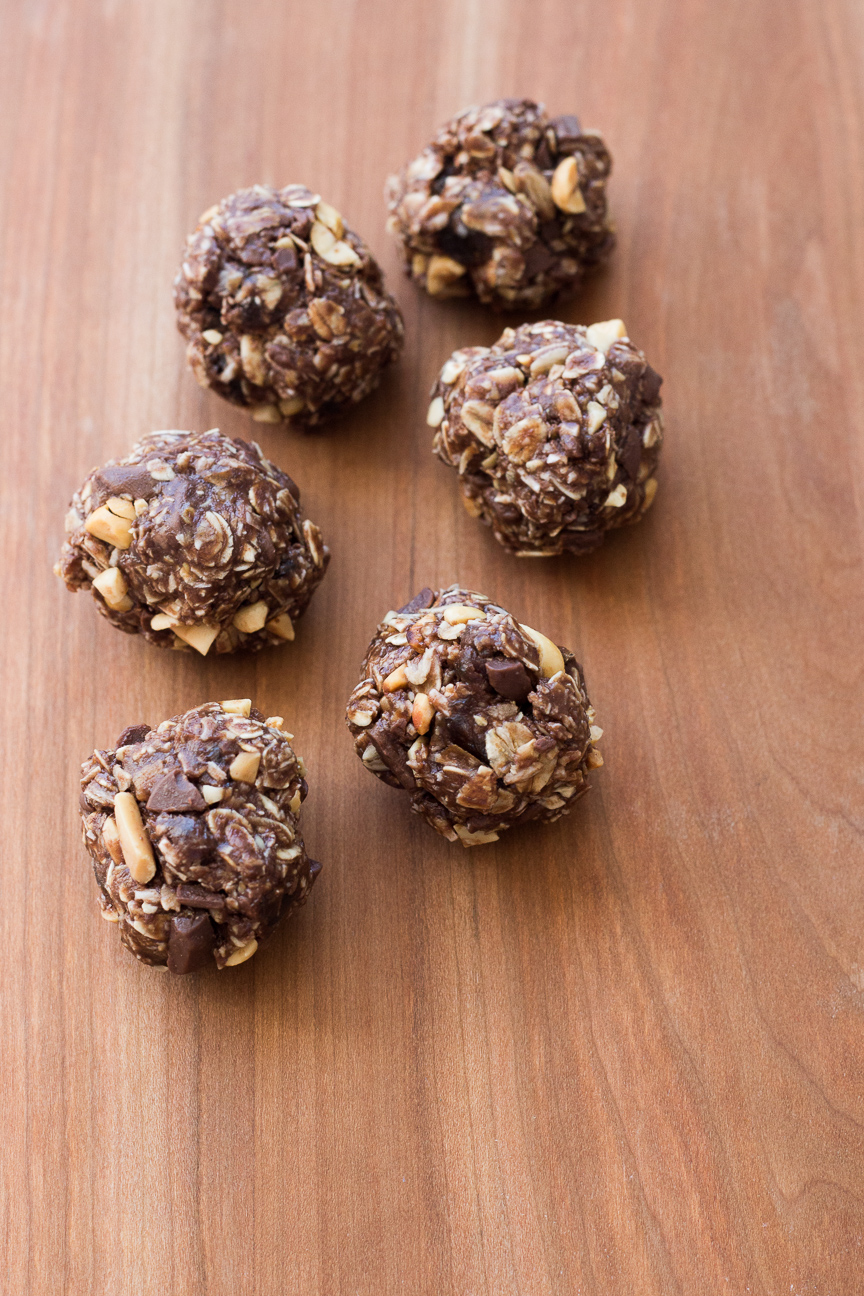 Print Recipe
Energy Balls with Chocolate and Peanut Butter
Ingredients
2 cups rolled oats

1 cup peanut butter

1/4 cup chopped peanuts

1/2 cup raw honey

1/2 cup chopped chocolate chips (milk chocolate or semi-sweet chocolate will do)

1/2 cup dates (or mixed dried berries or chopped raisins).

1/2 cup coconut flakes

2 tbsp cocoa powder

2 tbsp maple syrup
Instructions
1
Chop the peanuts and the dates or dried fruit. Energy balls form better when the individual ingredients are rather small.
2
Mix all ingredients together in a large bowl.
3
Stir very well, so that everything is well incorporated.
4
Divide dough into 30 gram pieces. You should be able to make about 16 balls.
5
Roll each 30 gram piece into a nice round ball.