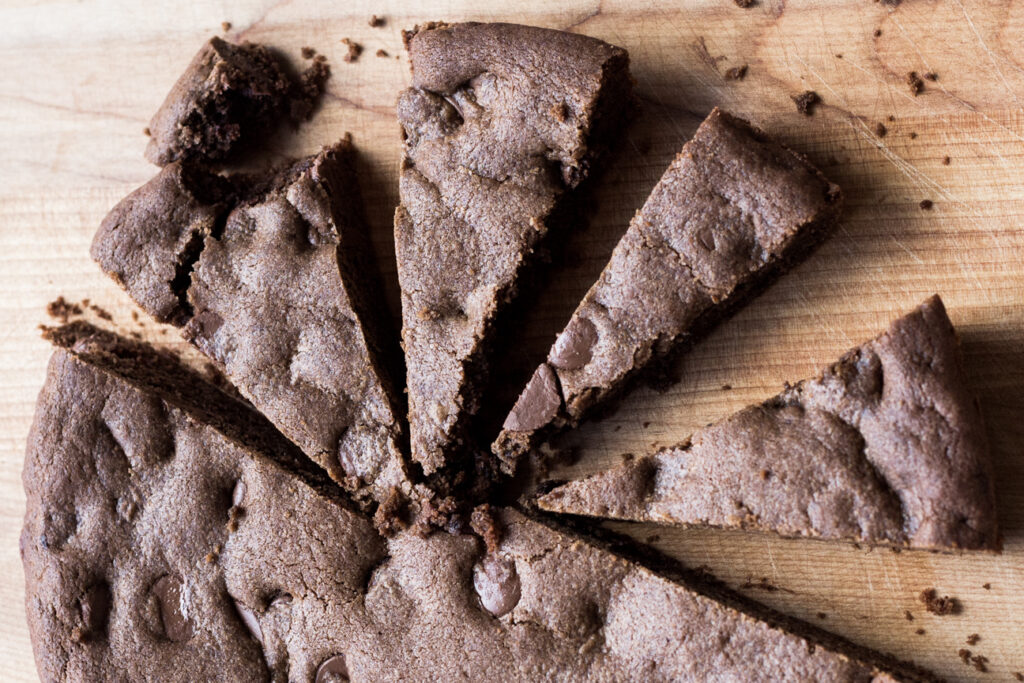 If you love chocolate and you love brownies, you're going to love this Double Chocolate Skillet Brownie Cookie. Chocolatey, chewy, dense So darn good!
I love love love this technique for making cookies. It's so crazy easy. And fun! The cookie dough is placed into an (oven-safe) skillet. And the cookie dough bakes in the skillet to make one big gigantic cookie. There are many people who like to mix up all the ingredients in the skillet to save on dishes. But, I can easily envision myself making a huge mess doing that, so I don't mind using an extra bowl or two for the mixing. I mean, you still have to wash measuring cups and spoons and stirring spoons, so in my view, what's another 2 bowls.
This Double Chocolate Skillet Brownie Cookie is one of the easiest cookie recipes that I know. And that's saying something.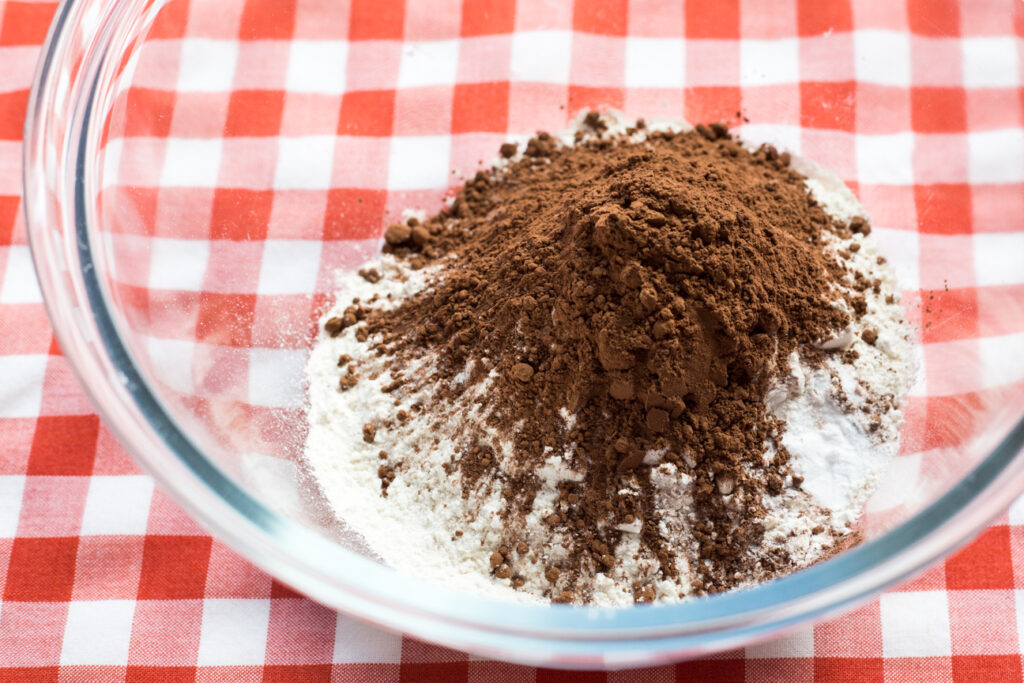 First you measure out all your dry ingredients into a large bowl.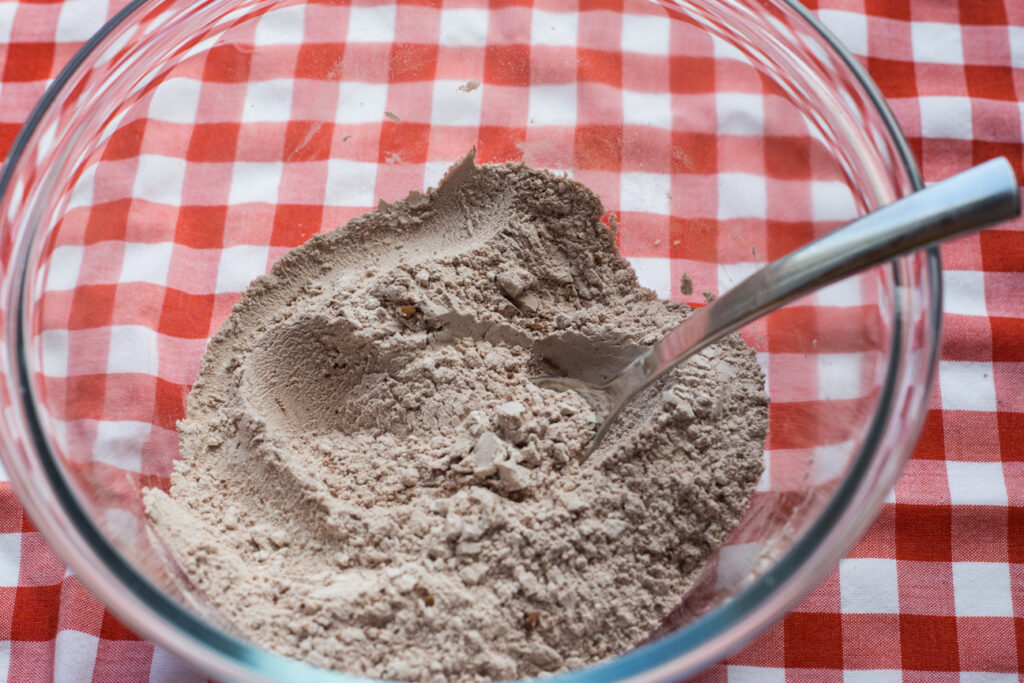 Stir everything around so that all of the flour, baking powder and cocoa powder are well mixed.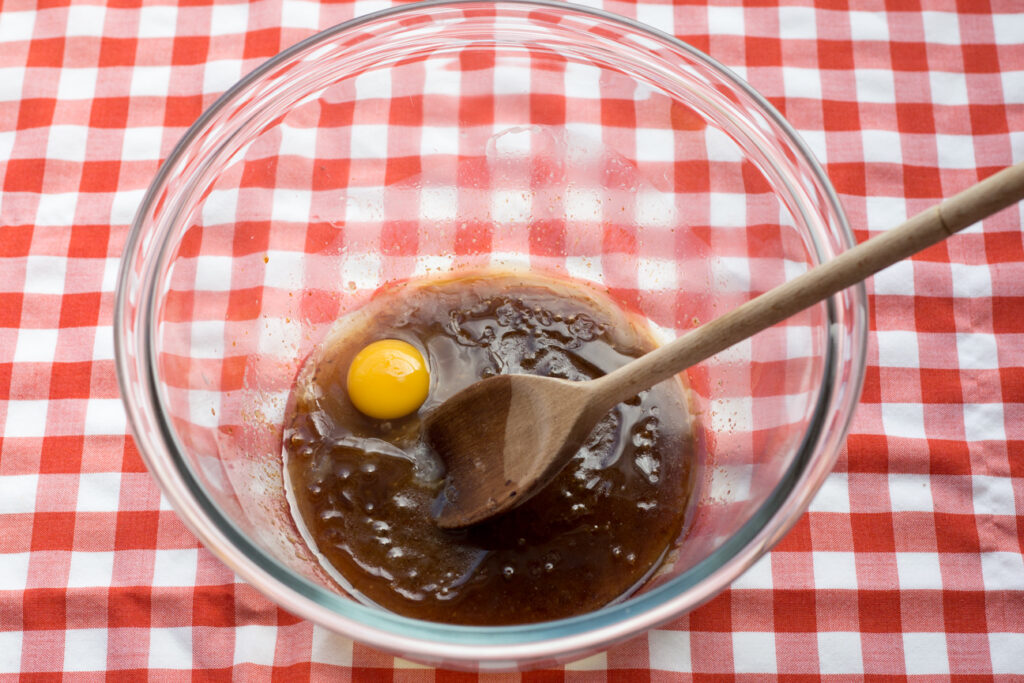 Mix the egg, oil, and brown sugar together.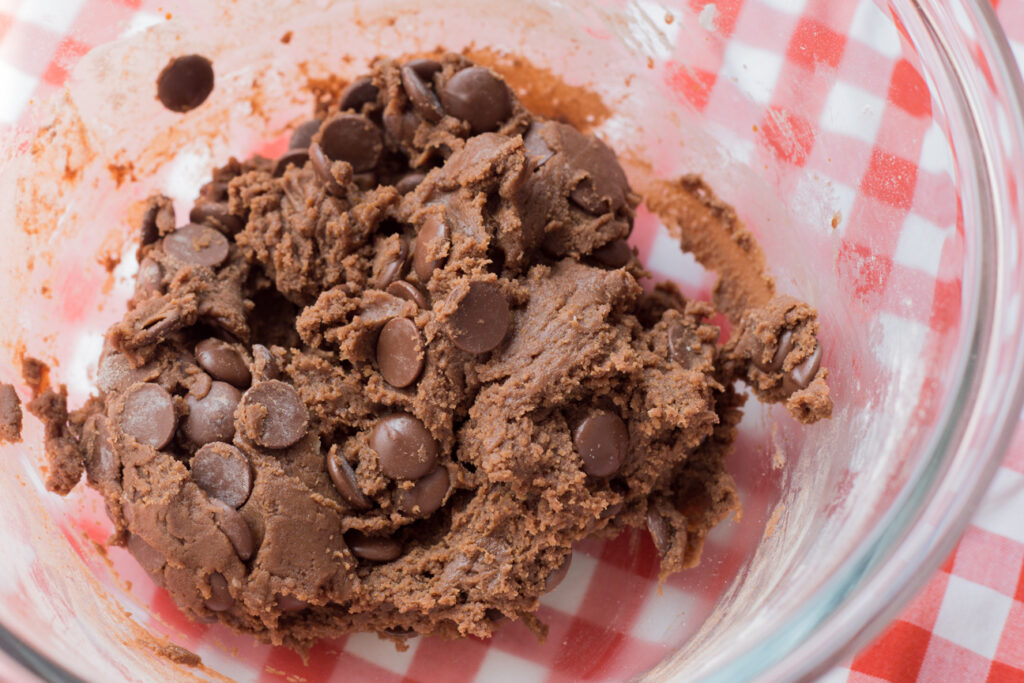 Add the wet to the dry ingredients and stir to fully incorporate. Add the chocolate chips at the end.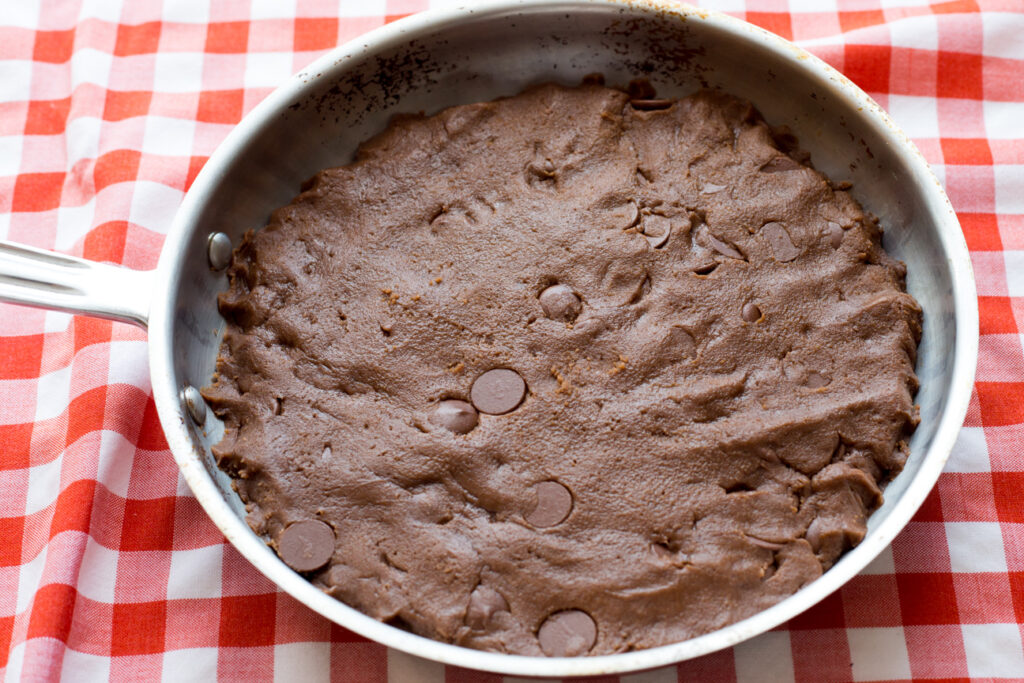 Pat all of the ingredients into the skillet. No need to oil it, as there is plenty of oil in the cookie dough.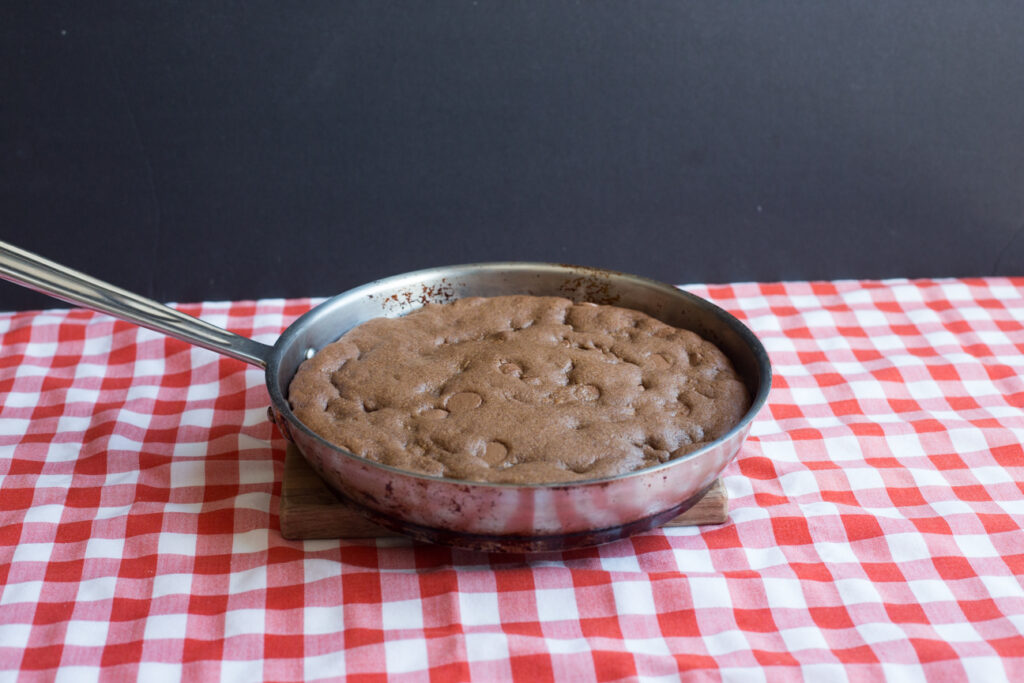 The cookie dough will rise up slightly and have a dull appearance on the surface when it's ready to come out of the oven. You don't want to over bake the dough. It should be a bit fudgy when it's warm.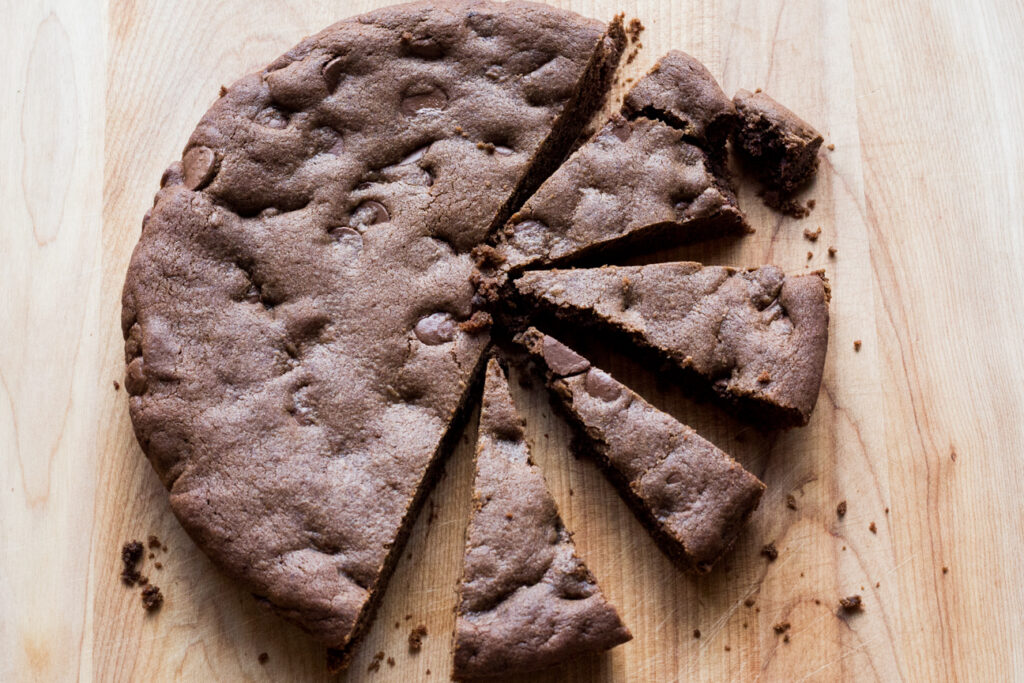 You can eat it warm right out of the skillet if you like. Although if there are young children at the table, it might be better to slice it up and serve it on plates. As the skillet will stay hot for quite a while.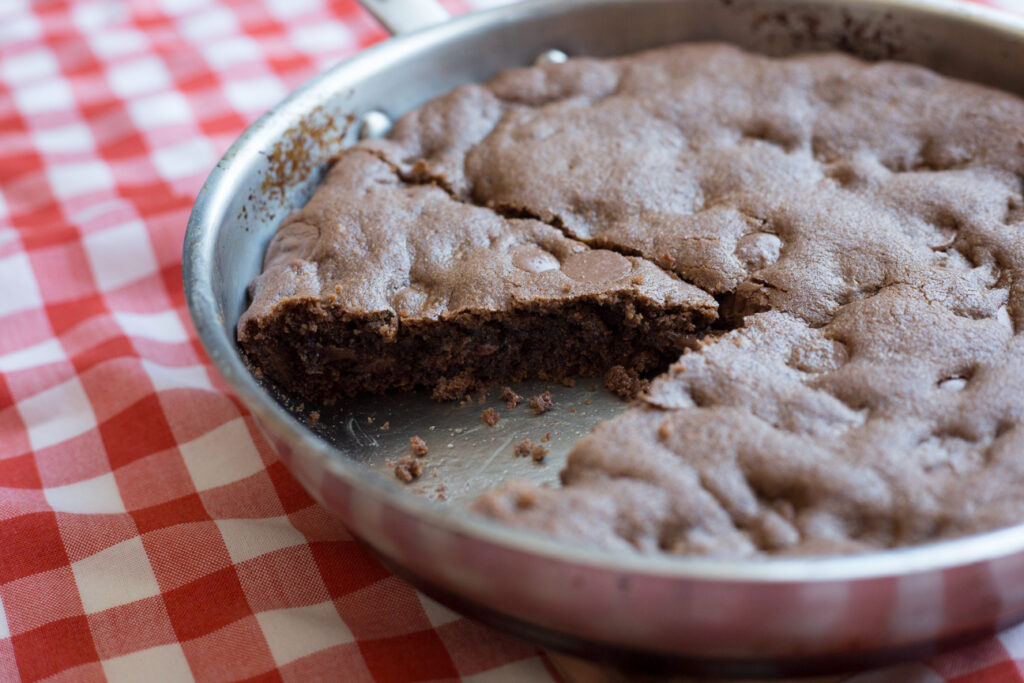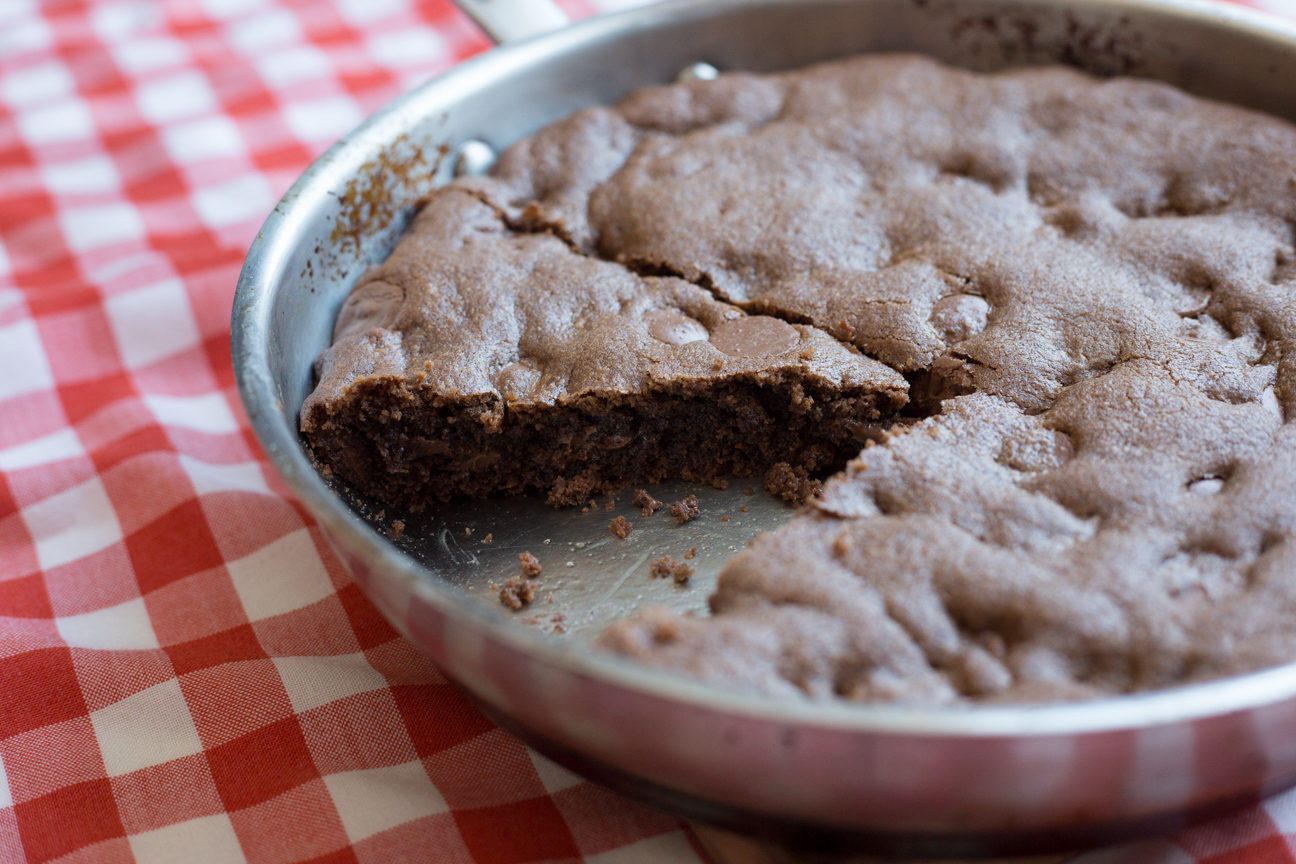 Irresistibley good.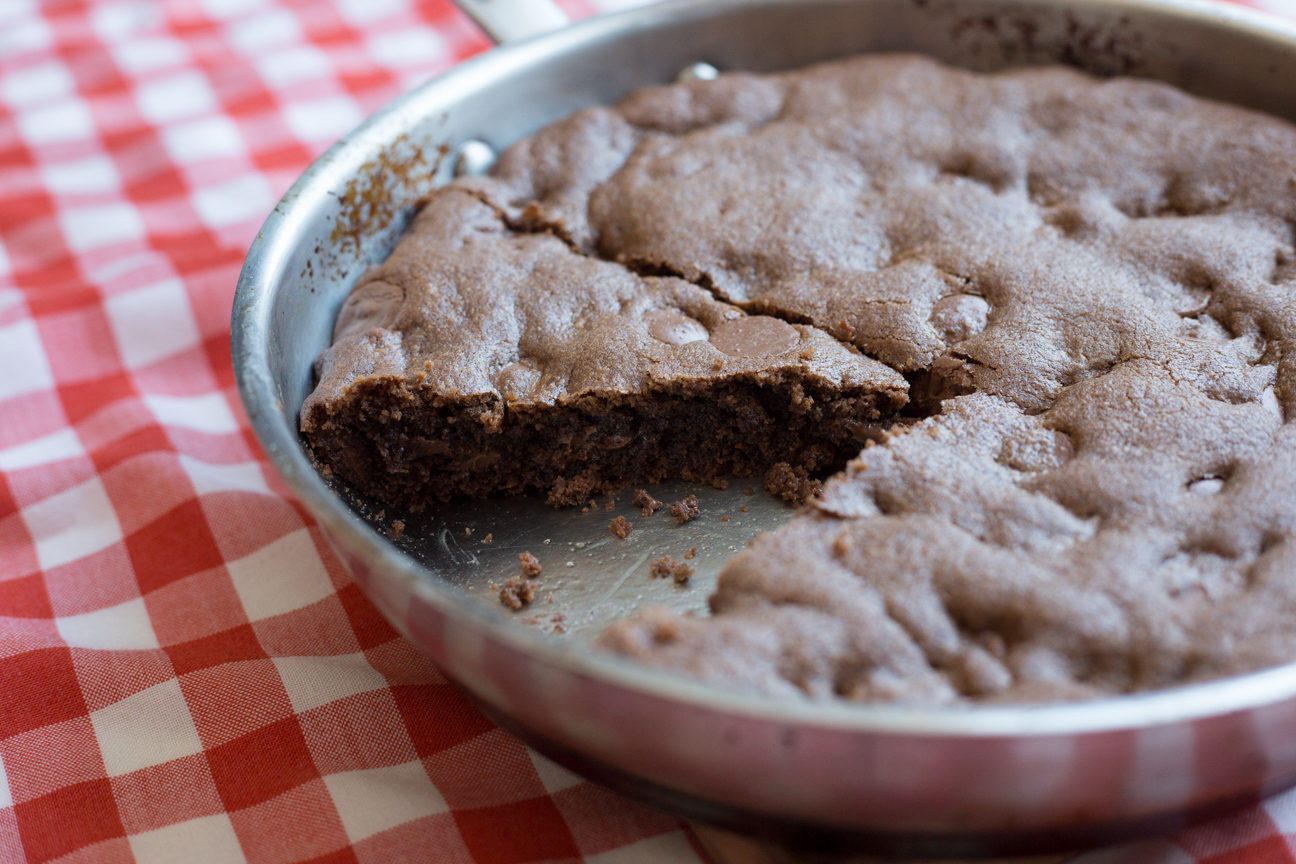 Print Recipe
Double Chocolate Skillet Brownie Cookie
Ingredients
160 grams butter, melted

160 grams brown sugar

1 egg

1 tsp vanilla

2 tsp instant espresso powder

225 g AP flour

2 Tbsp cocoa powder

1/2 tsp baking soda

1/2 tsp salt

170 grams chocolate chips (I used milk chocolate, but semi sweet would also be nice)
Instructions
1
Preheat the oven to 350 F.
2
Melt the butter either on top of the stove, or in the microwave.
3
Pour the melted butter into a medium size bowl.
4
Add the brown sugar and stir.
5
While this mixture cools for a few minutes, dissolve the instant espresso powder in the 1 tsp vanilla. Stir the espesso together with the vanilla. The espresso may not all dissolve, but that's ok.
6
Add the egg to the butter and sugar mixture once it has cooled a bit. You just don't want it piping hot, or it will cook the egg, when you crack it into the bowl.
7
In a slightly larger bowl, add the flour, cocoa powder, baking soda, and salt.
8
Mix together the dry ingredients.
9
Pour the dry ingredients into the wet ingredients. Stir until it all comes together.
10
Add the chocolate chips. Stir to incorporate.
11
Press the cookie batter into a 9-10 inch skillet.
12
Bake in the middle of the oven for about 25 minutes.
13
How to tell when it's done: It will smell aromatic, it will have puffed up a bit, and the top will dry out a bit and look slightly dull.
14
I'm always terrified of forgetting to use my oven mitts to take the skillet out of the oven. SO, if you also have this fear, keep the oven mitts very handy, close to the stove: do what you need to do to remember to put the oven mitts on.
15
When its done, take it out of the oven with your oven mitts and place on a rack.
16
This cookie is delicious when still warm. But you will want it to cool down for at least 10 minutes, otherwise, it will just fall apart when you try to take it out.
17
Of course, if you like, you could put it in the middle of the table, after dinner, and have every one grab a spoon and just gobble it up straight out of the pan. A couple scoops of vanilla ice cream wouldn't hurt either! (but remember the skillet will stay very hot for 20-30 minutes, so do be very careful).
18
If there are any leftovers, store them in a container on the kitchen counter for a couple days.
19
If its very warm where you live, or you think it's going to take more than a couple of days to finish it off, then you can keep it in the fridge. Let it come to room temperature before serving.