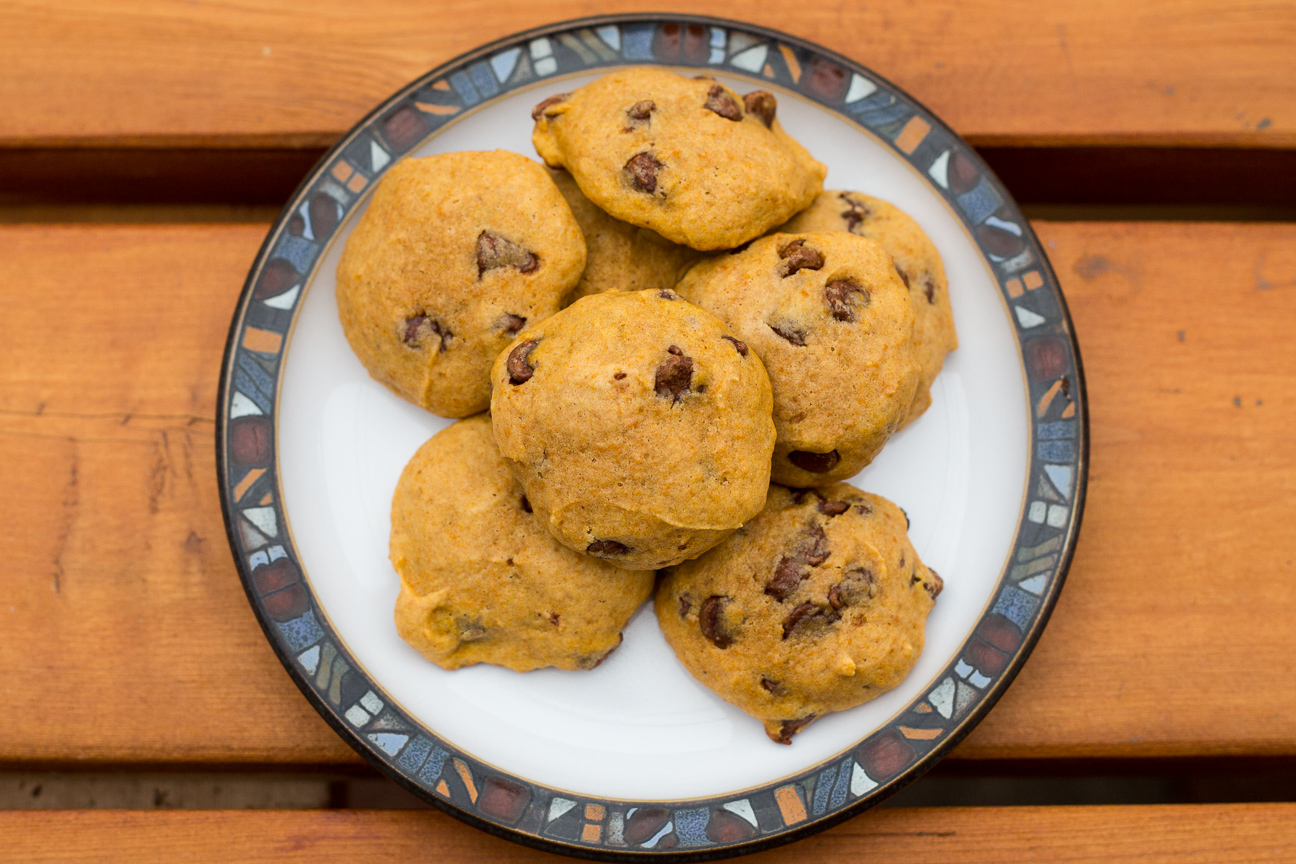 Pumpkin chocolate Chip Cookies are one of my favourite cookies of all time. These Pumpkin Chocolate Chip Cookies are just so yummy, we can't stop eating them! They're made with a good amount of baking powder which makes them puffy and soft, plenty of pumpkin puree, a kick of spice and lots of chocolate chips too.
With everyone staying home this Hallowe'en, these Pumpkin Chocolate Chip Cookies are the perfect treat to whip up. The recipe is super simple and uses mostly common pantry ingredients. I still had a can of pumpkin puree in my cupboard from our Canadian Thanksgiving weekend, but if you're all out, the grocery stores still have plenty and they are probably on sale too!
This recipe for Pumpkin Chocolate Chip Cookies is based on one from my very first cookbook: The Peanuts Cookbook. Our Grade 4 elementary school teacher signed us up to a book club and we all ordered 1-2 books to read. My friend, Bonnie got some Nancy Drew mystery books, but I ordered this cookbook. I still have a copy, although not my original copy. The cookbook has lime green and bright pink pages and kid-friendly recipes like Divine Divinity, Lucy's Lemon Squares, Security Cinnamon Toast and Red Baron Root Beer as well as loads of comic strips.
The first time that I made these cookies was with a friend from school. We were about 9 or 10 and my Mum let us bake some cookies in our kitchen all by ourselves. We thought it would be really cool if we baked them like mini-pumpkins. So we rolled them all into balls and placed a bunch on a cookie sheet. Well, I don't know what happened, we must have left something out of the recipe, because when we took them out of the oven they had spread out completely so they were one big huge gigantic cookie, and were possibly slightly burnt. We had a good laugh, and so did my Mum. We still ate the cookies and thought they were pretty great! And all these years later, I'm still having fun in the kitchen!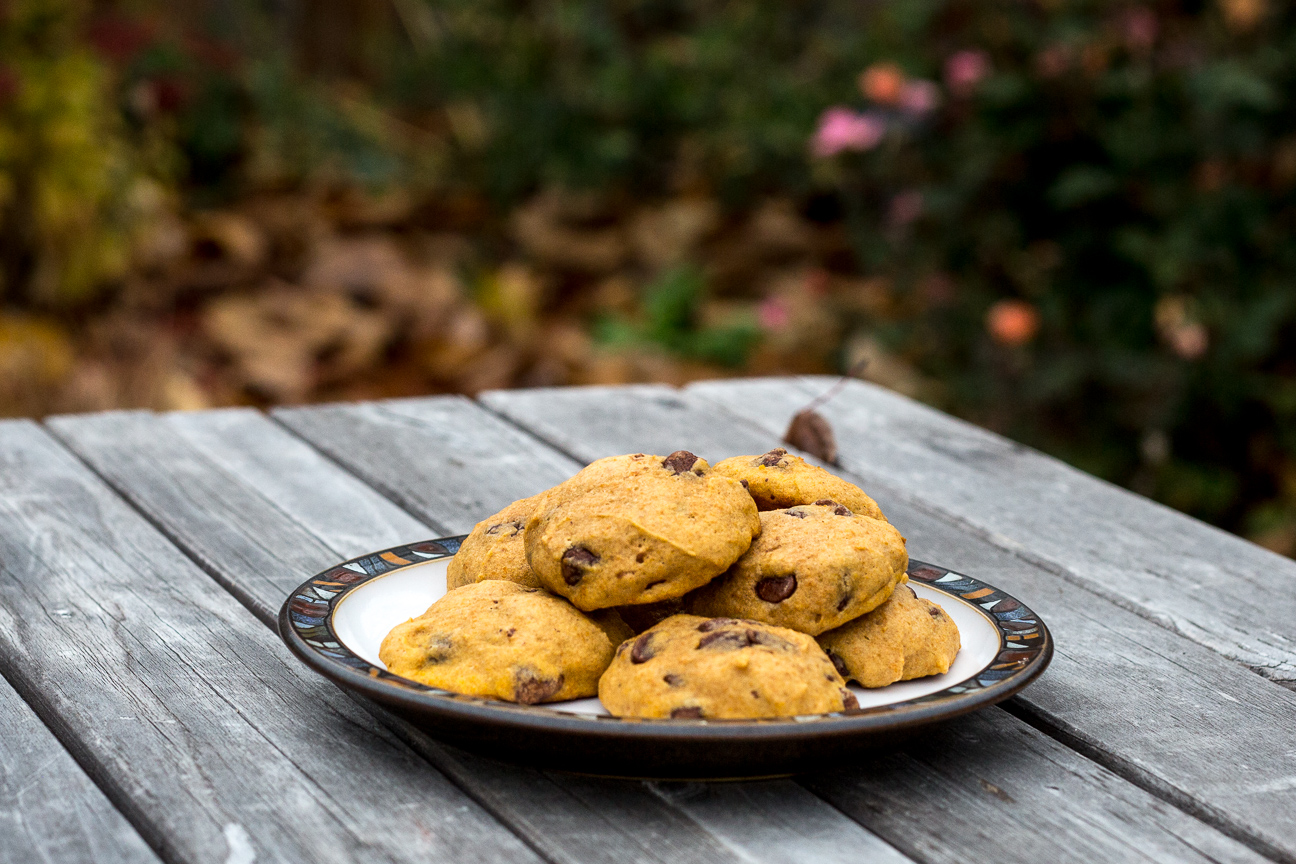 These cookies are moist, tender and loaded with pumpkin flavour and milk chocolate chips! So autumnly divine! If you bundle up, cookies with hot chocolate or chai tea are lovely outside!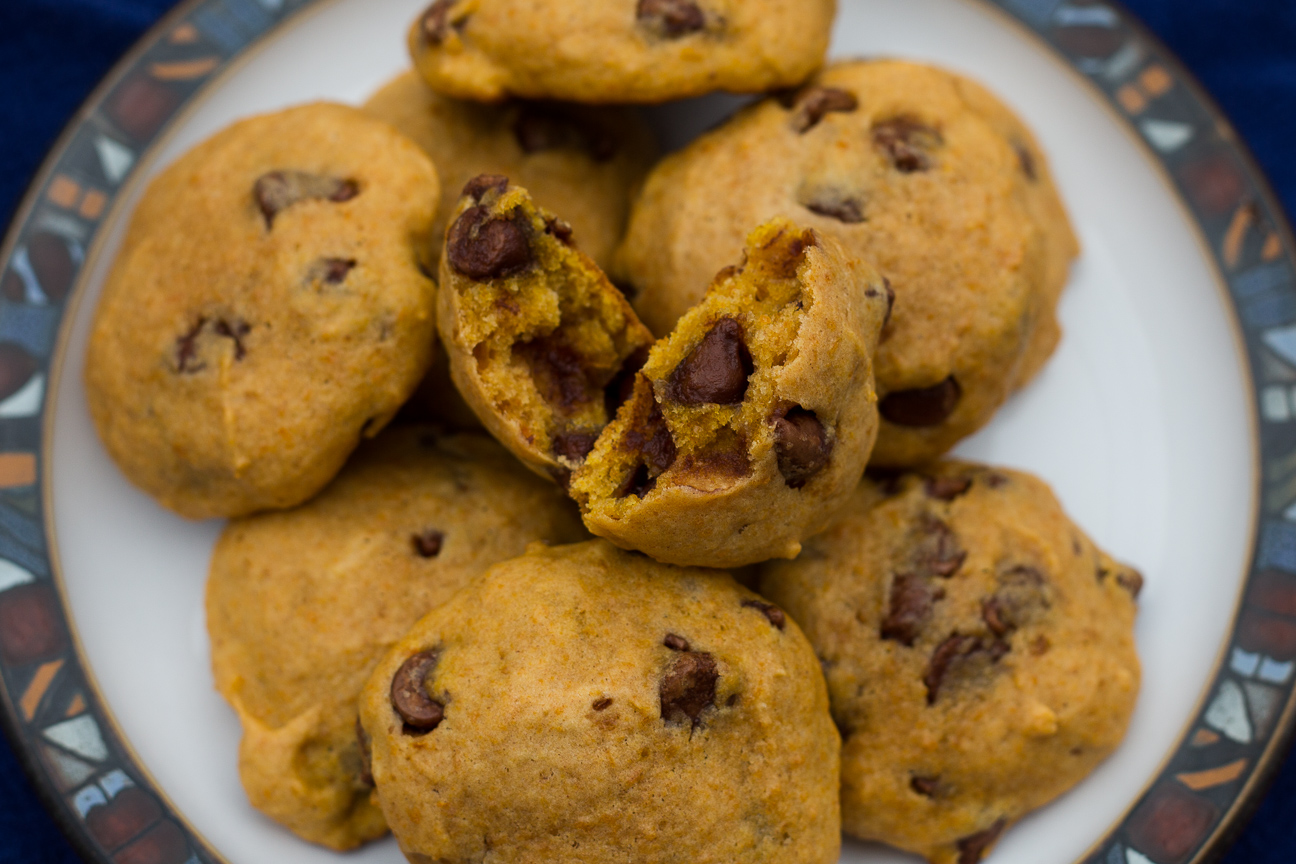 And they're super easy to make. All you need is flour, brown sugar, butter, eggs, baking powder, pumpkin puree, cinnamon and chocolate chips. All of these could be yours in about one hour! So tempting!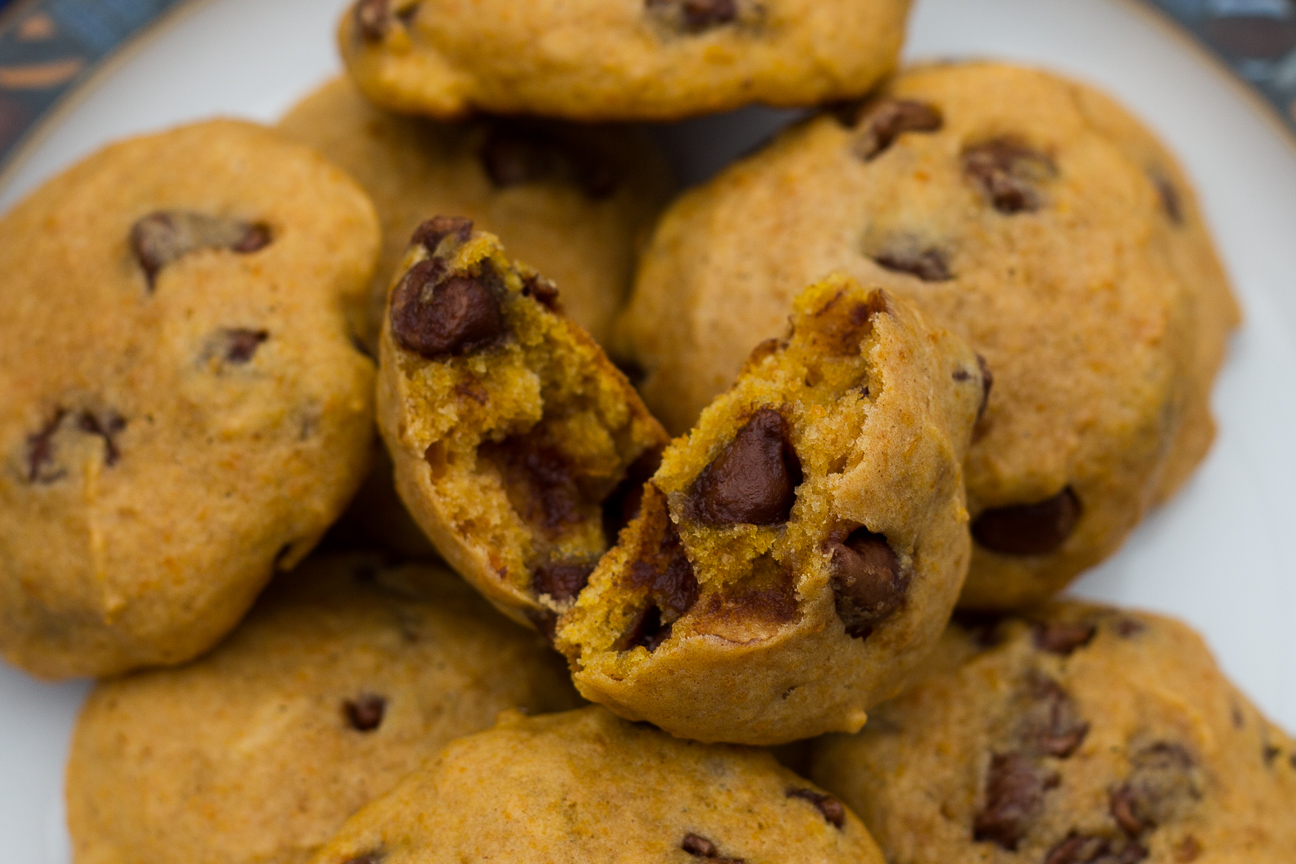 Happy Hallowe'en everyone!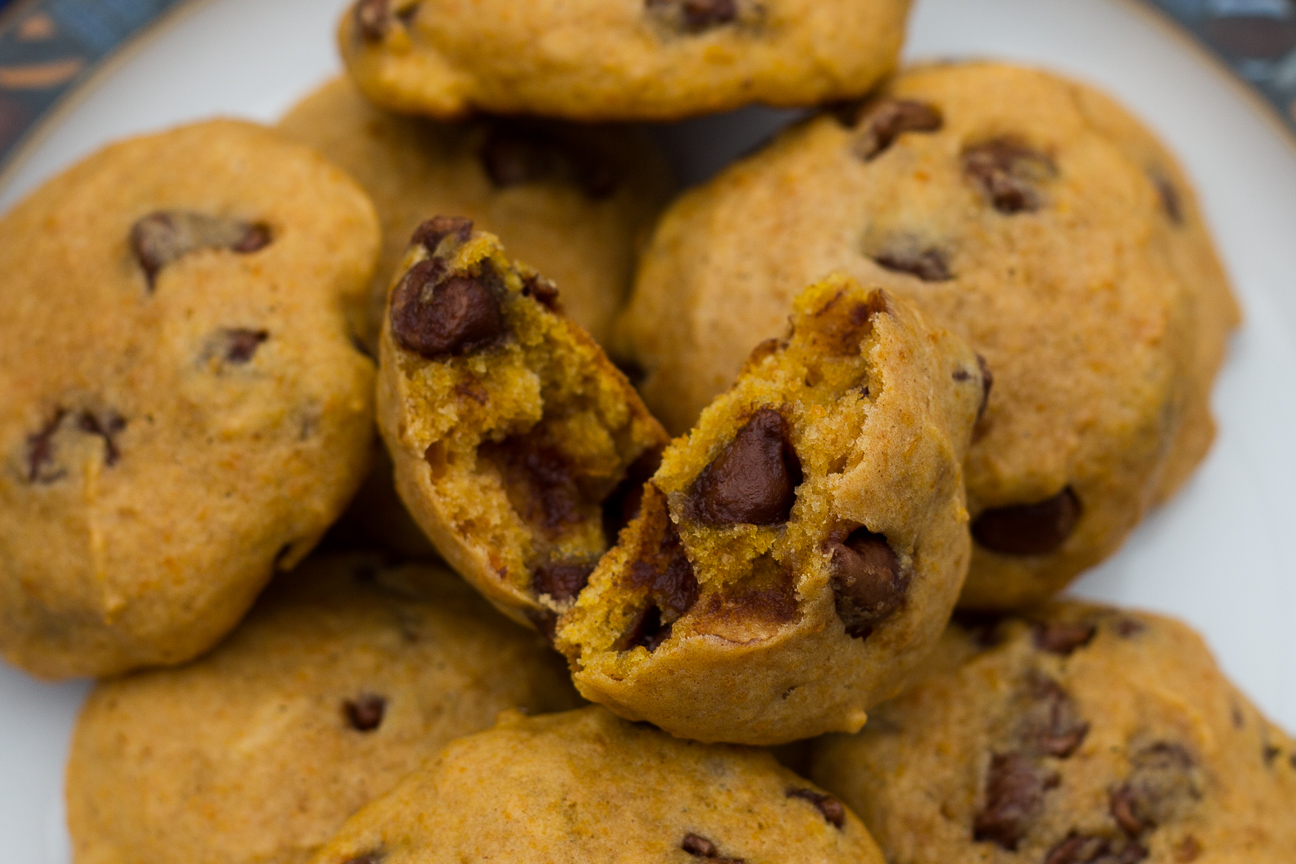 Print Recipe
Pumpkin Chocolate Chip Cookies
Ingredients
1/2 cup butter

1 1/2 cups brown sugar

2 eggs

340 grams pumpkin puree

3 1/4 cups all-purpose flour

1 Tbsp cinnamon

1 Tbsp baking powder

2 cups milk chocolate chips (semi-sweet would work too)
Instructions
1
Pre-heat oven to 375 degrees.
2
Cream the butter and brown sugar together.
3
Beat until light and fluffy.
5
Add the pumpkin puree. Don't worry if it curdles, it will sort itself out when you add the dry ingredients.
6
Mix together the dry ingredients.
7
Add dry ingredients to wet ingredients. Try not to over mix.
8
Stir in the chocolate chips.
9
Using a small ice-cream scoop, place cookie dough on a parchment paper-lined cookie sheet, approximately 2 inches apart.
10
Bake in oven for 8-10 minutes. They will puff up and be slightly golden on the bottom when they're done.
11
Let cookies cool on baking sheet for about 2-3 minutes.
12
Place cookies on a cooling rack to cool down.