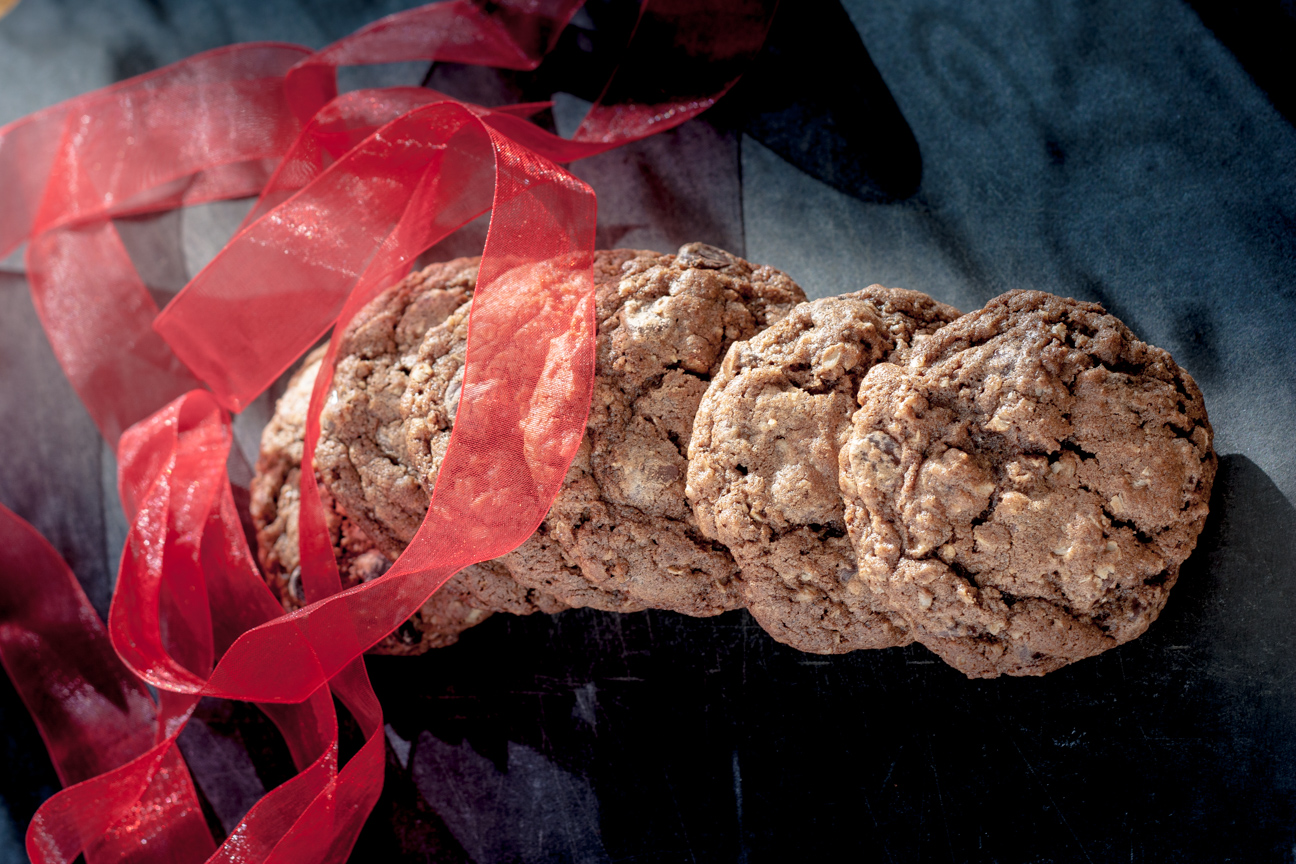 With Valentine's Day just around the corner, I thought I would post this fantastic recipe for Mocha Chocolate Chip Oat Cookies. They are super chocolate-y and the espresso powder gives them a great oomph of flavour. And what could be a better gift for someone than a bunch of cookies all bundled up in red ribbon. These Valentine Day Mocha Chocolate Chip Oat Cookies would be a nice surprise in your partner's lunch box, a sensational gift for your son or daughter's teacher, or put some out on the table after dinner at home. Sweet Sensation!
I really love cookies. I love them for many different reasons: the endless flavours and varieties, they're quick to make, they're not very big but hit the spot without breaking the calorie bank and they are ubiquitous. Every culture makes cookies.
When I was little, my mom only made three types of cookies: sugar cookies, peanut butter cookies with raisins and oatmeal cookies that came from a package (all you had to do was add water and an egg). She never used a timer and always set the oven at 350 ° F. And, unlike my Mum's Date and Oat Squares, my mom couldn't finish a chapter of her book in the time it took to bake some cookies. So, we had our fair share of burnt cookies.
There are far too many varieties of cookies out there these days, for me to only make three types of cookies. So, my family is lucky in that way. I love trying new recipes. I made these Mocha Chocolate Chip Oat Cookies recently and they were a hit with everyone. They didn't last long.
It doesn't take very long to put together a batch of cookies, but, in order to do it properly, you do need to follow a few basic techniques.
make sure all of your cookies are the same size (I weigh mine. And most of the cookies that I make weigh between 30-35 grams)
use a timer (a kitchen timer, your microwave, your stove or your iphone)
cookies are done when they are dry on top and just a hint of golden brown on the bottom (to check if they are ready to come out of the oven, flip one over onto your oven-mitted hand and see if it has turned golden)
after you take the cookies out of the oven, place the cookie tray on rack for 1-5 minutes. The cookies will continue to cook. After that time (the recipe usually states how long to cool on the tray) place them directly on a rack to cool. They will firm up quite a bit.
almost all cookie doughs freeze very well (before they are baked).
I quite often will make some cookie dough, shape it into a flat disc, and freeze until I'm ready to bake the cookies. Let the dough thaw overnight in the fridge and then the next day, form into cookies and bake as usual.
You can also shape the cookie dough into cookies and freeze on a flat tray until hard, and then place in a ziplock bag. Bake the cookies from frozen (add 1-2 minutes to baking time).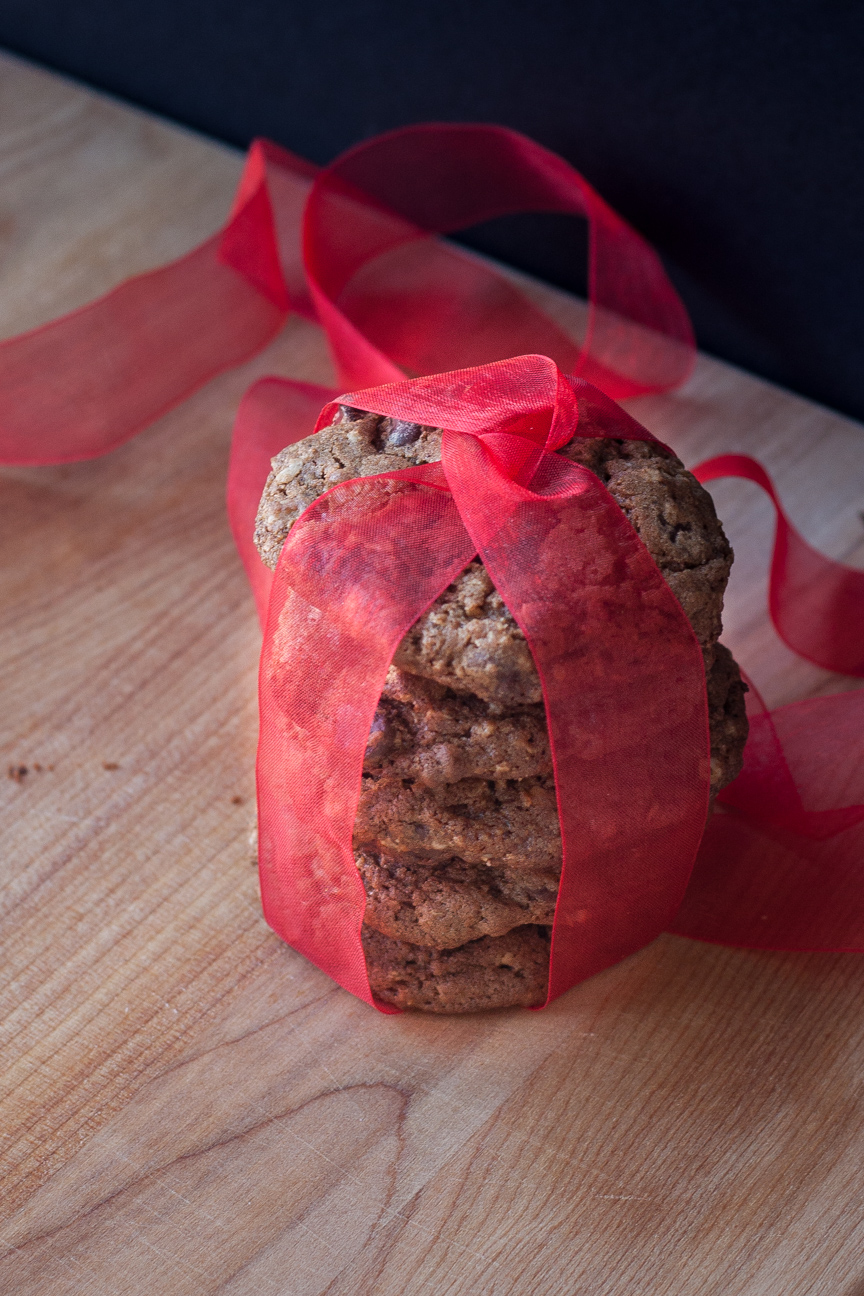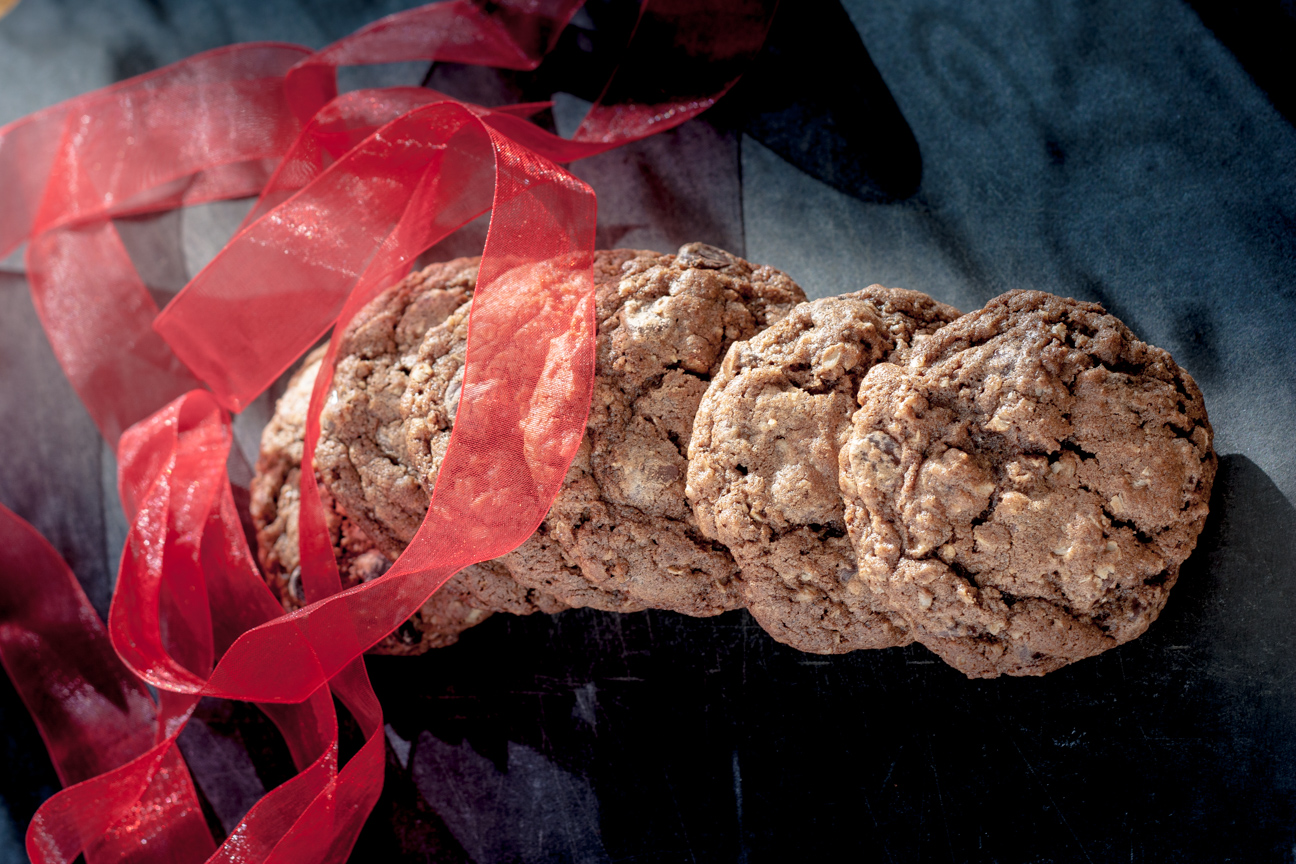 Print Recipe
Mocha Chocolate Chip Oat Cookies
Ingredients
1 cup butter

1 cup brown sugar

1/2 cup granulated sugar

2 eggs

1 3/4 cup flour

1/4 cup cocoa

1 1/4 cups quick oats

1/2 tbsp instant espresso powder

1 tbsp vanilla

1 tsp baking soda

1 tsp baking powder

2 cups chocolate chips (dark or semi-sweet)
Instructions
1
Beat softened butter with sugars until light and fluffy.
3
Dissolve espresso powder in the vanilla. Add to the egg/sugar mixture.
4
In a separate bowl, mix the dry ingredients: flour, cocoa, oats, baking powder and baking soda.
5
Add dry ingredients to wet ingredients. Mix gently until combined.
7
Weigh out approximately 35 grams of cookie dough. Roll it into a ball and place on a parchment lined baking sheet about 2 inches apart.
8
Baking in 375 ° oven for 9-10 minutes until dry on top and slightly golden underneath.
9
Remove from oven, place on wire rack for 1 minute. Remove cookies from tray and place directly on rack to cool.
10
Makes about 36-40 cookies.