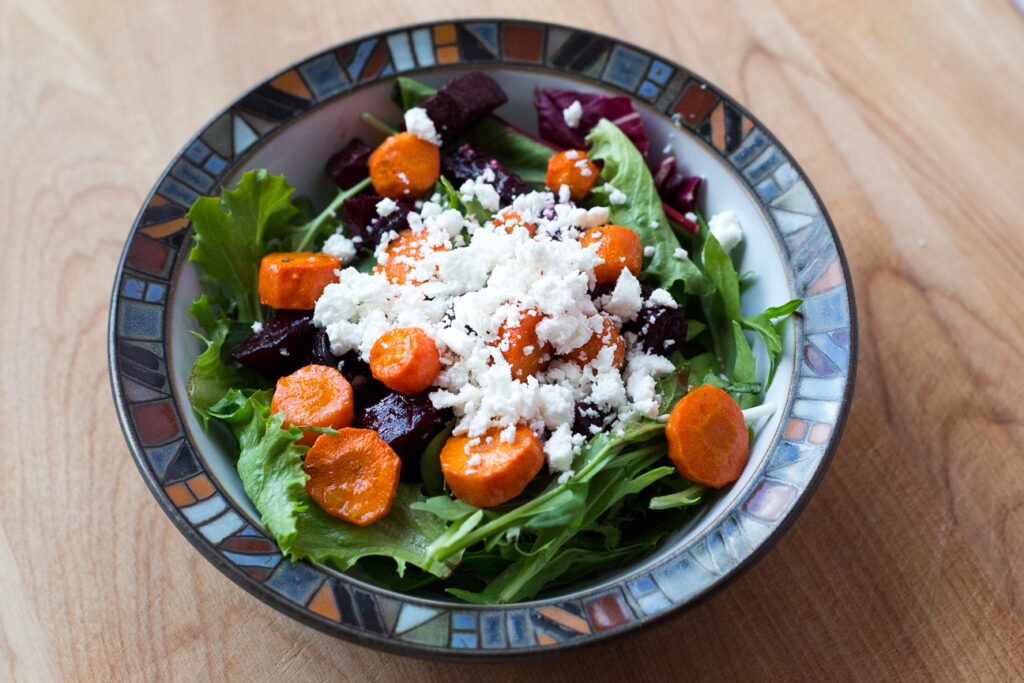 This Beet, Carrot and Feta Salad is fantastic to make anytime of the year – summer, winter, spring or fall, and is full of contrasting flavours and textures. Because the beets and carrots are roasted in the oven, this salad is great as a transitional salad between seasons. It has nice soft sweet roasted vegetables in the middle which contrast nicely with the bitter greens on the bottom and the salty creamy feta on top. This salad ticks off all the boxes of tasty, delicious, and beautiful to look at. Oh, and I haven't told you about the dressing yet: tart heavenly lime juice and zest sweetened with honey and smoothed out with olive oil. Doesn't that sound amazing?
My friend, Philippa gave me this recipe a few summers ago. The first night that I made this salad, my family went completely quiet, as we savoured it, enjoying all the different flavours. It has become a regular menu item ever since.
In the summer, salads are the mainstay of our dinner menus. I love salads because they are super nutritious and quick to put together for an evening meal. With a bed of fresh greens, chopped fresh veg, a source of protein from tofu, chicken, eggs or beef…the world is your oyster for choices. And homemade dressings are a snap to shake together: oil + vinegar, creamy herby dressings etc. So easy.
While it is super easy to create your own salad, some combinations are better than others. This Beet, Carrot and Feta Salad is most definitely one of those combinations. You definitely want to have this one on your menu roster.
Creating summer salads is fun in the summer months, when you don't want to be doing much cooking. Here are some tips for creating a summer salad the whole family will love.
Tips for creating your own summer salads
use a mix of colours such as various leafy greens, radicchio, cherry tomatoes, yellow, red or purple peppers
try to incorporate a variety of textures such as soft avocado, leafy greens, crunchy fruits or vegetables,
make a contrasting dressing; consider dressings such as oil and vinegar vinaigrettes, creamy herby dressings or a spicy dressing with siracha, or pickled jalapeno peppers
To make a salad a full meal, consider adding some protein: sauteéd tofu, chicken, beef, edamame, legumes, canned fish
This Beet Carrot and Feta Salad works best if you can find really good feta cheese.
Tips on buying good feta
Make sure the feta is made from sheep's milk, or at least a combination of sheep's and goat's milk. Feta made from cow's milk will be too dry.
buy feta in a block and crumble it just before serving, so it's not dry
store the remaining feta in the original container with the brine, including any extra crumbled feta.
if you would like to read more about feta cheese, click here
and if you love cooking with feta, here is another recipe for you to try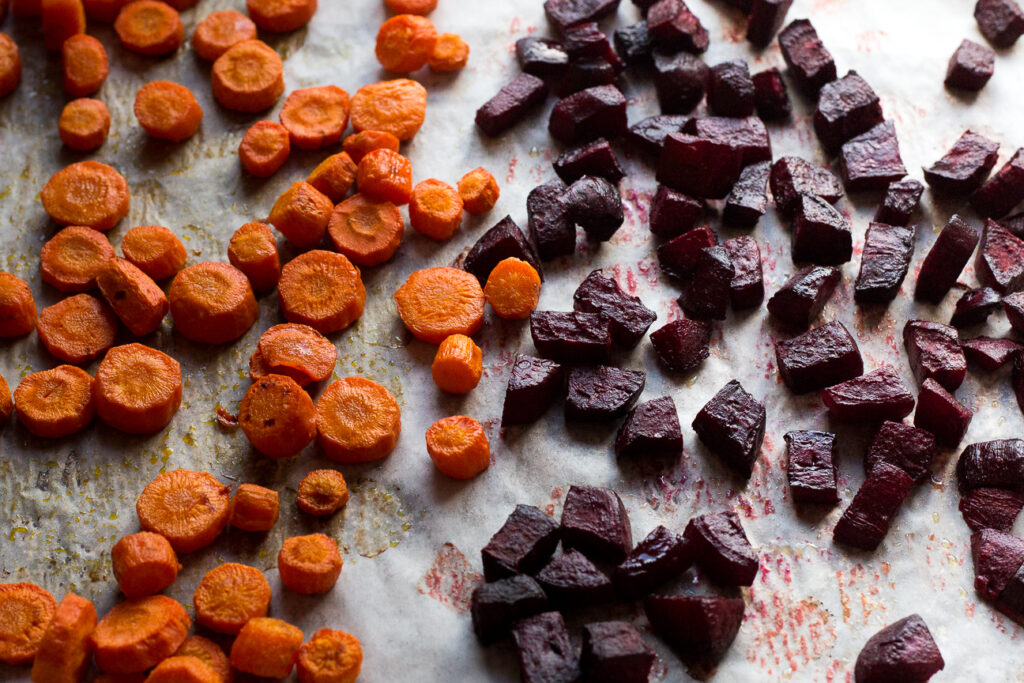 First, roast the beets and carrots. Roasted vegetables develop a nice caramelization which augments their complimentary flavours.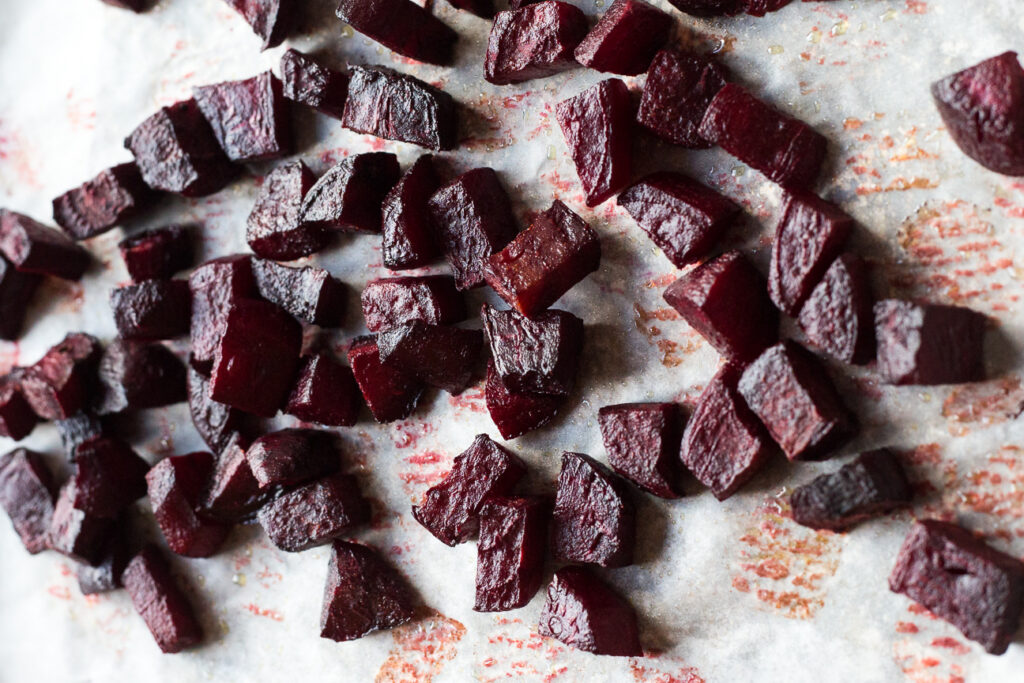 The beets looks exceptionally lovely after roasting: all deep purple with a lovely soft almost creamy texture.
Tips on Roasting Vegetables
cut the vegetables into medium bite-sized pieces
slightly coat them in olive oil before roasting
have all the vegetables in uniform sizes
give them a good stir around after about 20 minutes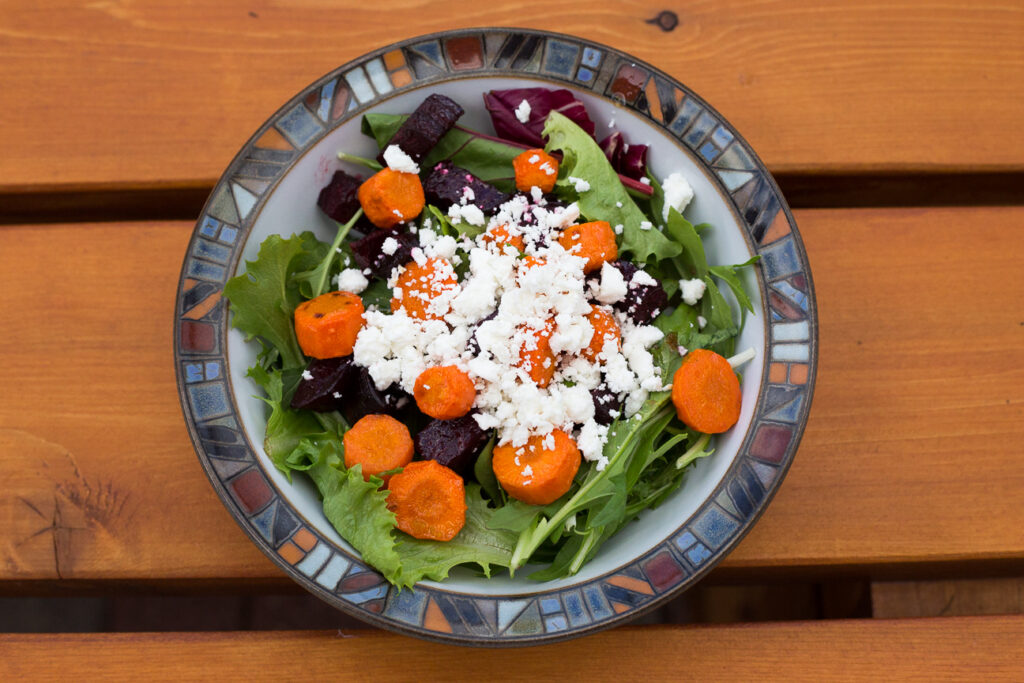 Bon Appetit!
Suzanne