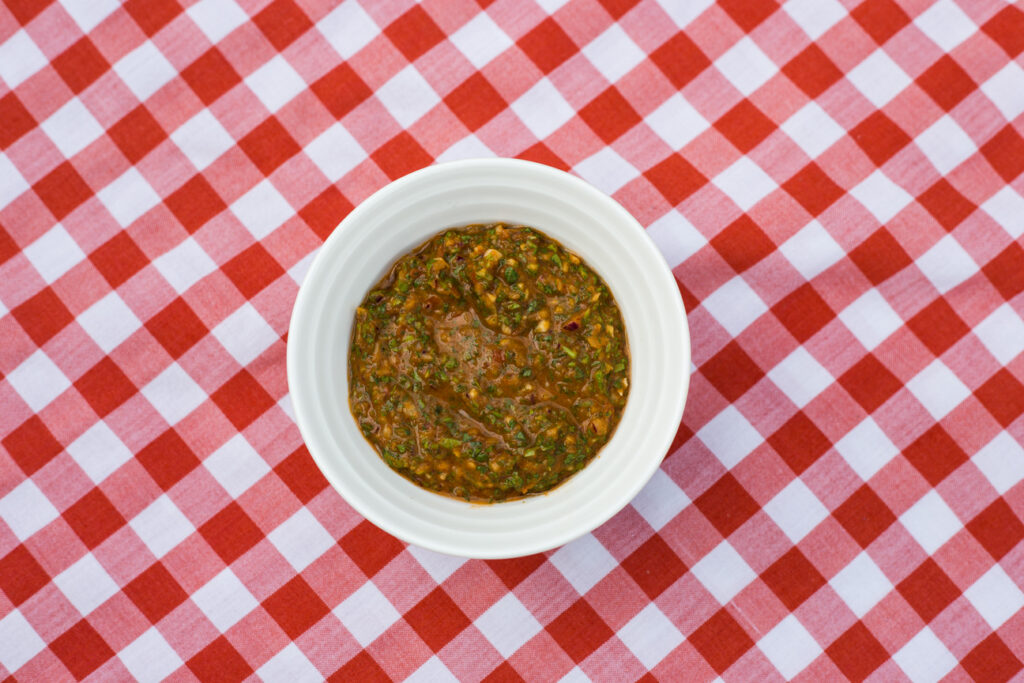 If you're unsure what to serve up for Father's Day this year, try making a batch of Chimichurri Sauce. You won't regret it! Chimichurri is an uncooked Argentinian Sauce that is made from parsley, tomatoes, garlic, olive oil, vinegar and spices. It has an incredible vibrant fresh flavour.
The first time I made chimichurri was about 9 years ago when my husband's niece and partner came to visit from Vancouver. I bought some really nice strip loin steaks and Luke grilled them on the BBQ. None of us had ever heard of chimichurri sauce before. But since then, it's the only thing we serve with BBQ steak or chicken. But, it's also fantastic on a pasta salad.
Nothing is better at our house, on Father's Day, than some grilled steaks with a fresh batch of this Jamie Oliver-Inspired Chimichurri Sauce. Father's Day dinners are always fun: with Luke barbecuing in the backyard while I'm bustling about in the kitchen making chimichurri, a special salad and a tasty dessert.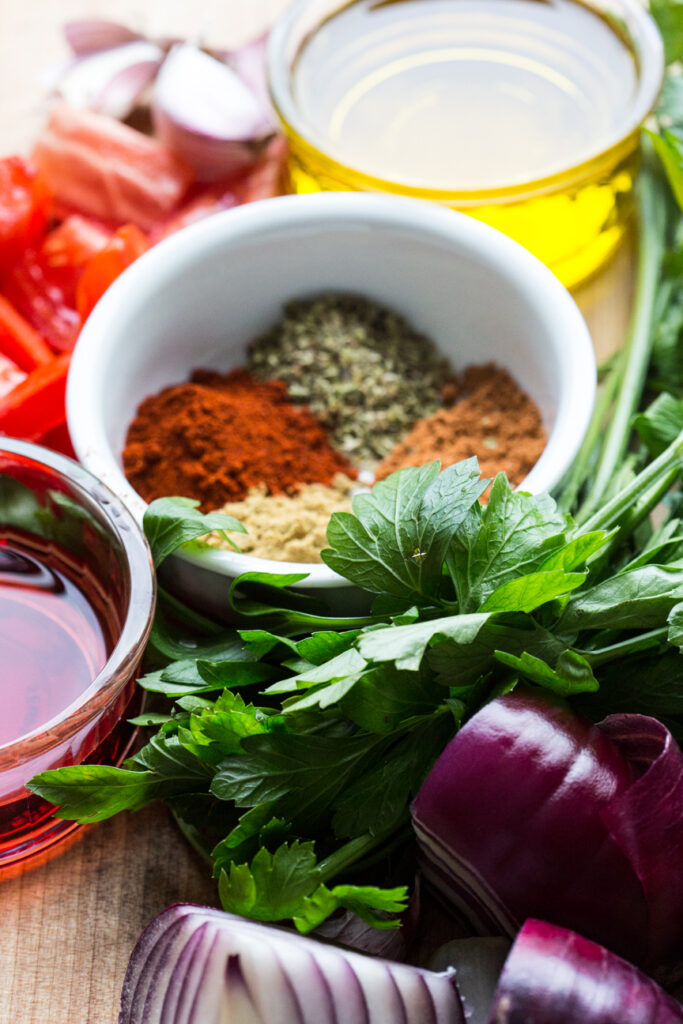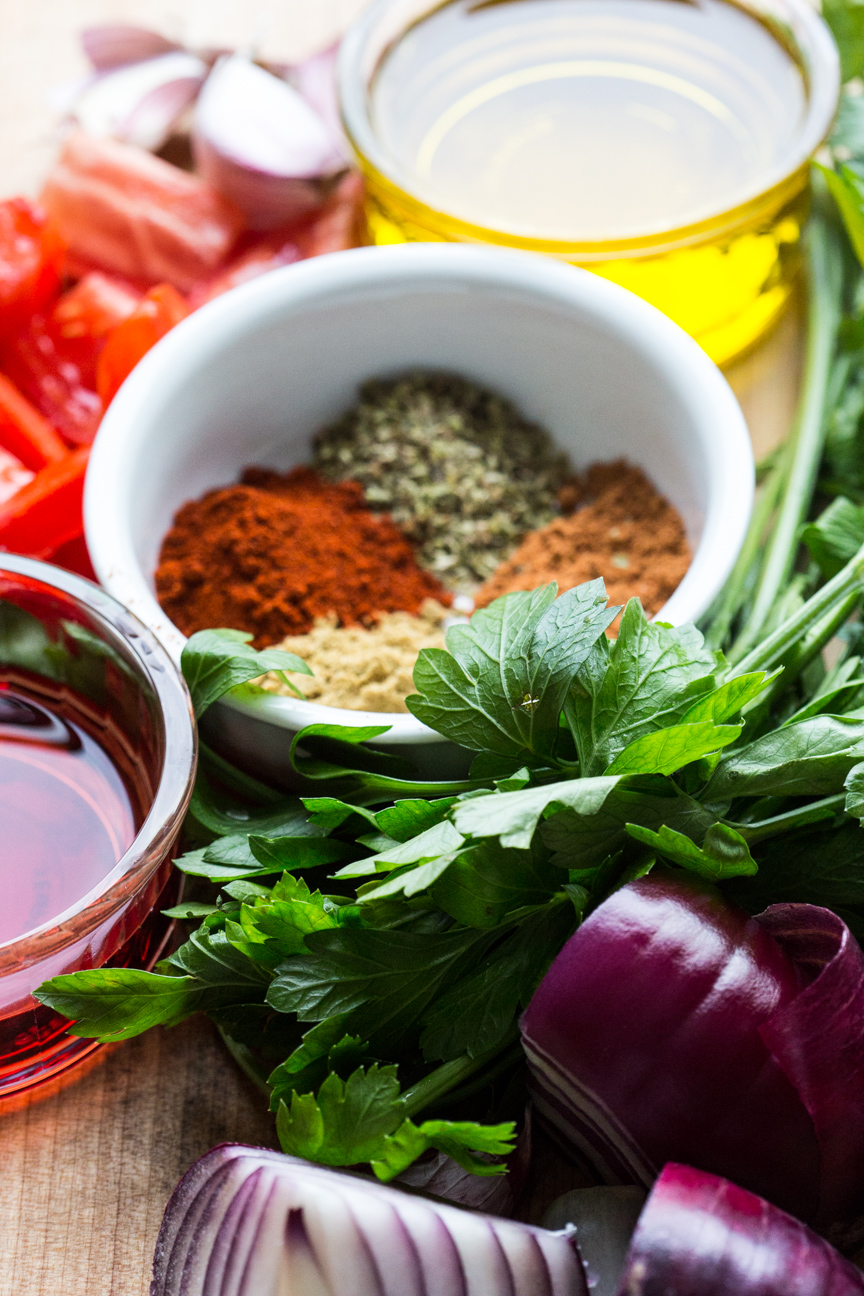 I usually use roma tomatoes, as they are more dense. And I scrape out all the seeds. You don't want the chimichurri sauce to be too watery from the pulp of the tomato. And make sure you use flat parsley. It has much more flavour than curly parsley. And feel free to adjust the seasoning to your lik8n*. If you want more garlic, some heat or more onion – go for it.
As for spices, try to use the best spices you can find as this dish will taste loads better. I have been ordering spices from The Spice Trader in Toronto, recently. Their spices are really good (this is not a sponsored post), so fresh and full of flavour and they come in lovely little tins. My husband and I love their spices.
In the past, I have always chopped all the ingredients by hand, but if you have a food processor, you can use that. If chopping by hand, try to chop everything as much as you can, so the tomato, parsley, garlic and onion get chopped very small.
This chimichurri tastes best if you make it about 1-2 hours before serving it. Keep it in the fridge to let all the flavours mingle and get to know each other.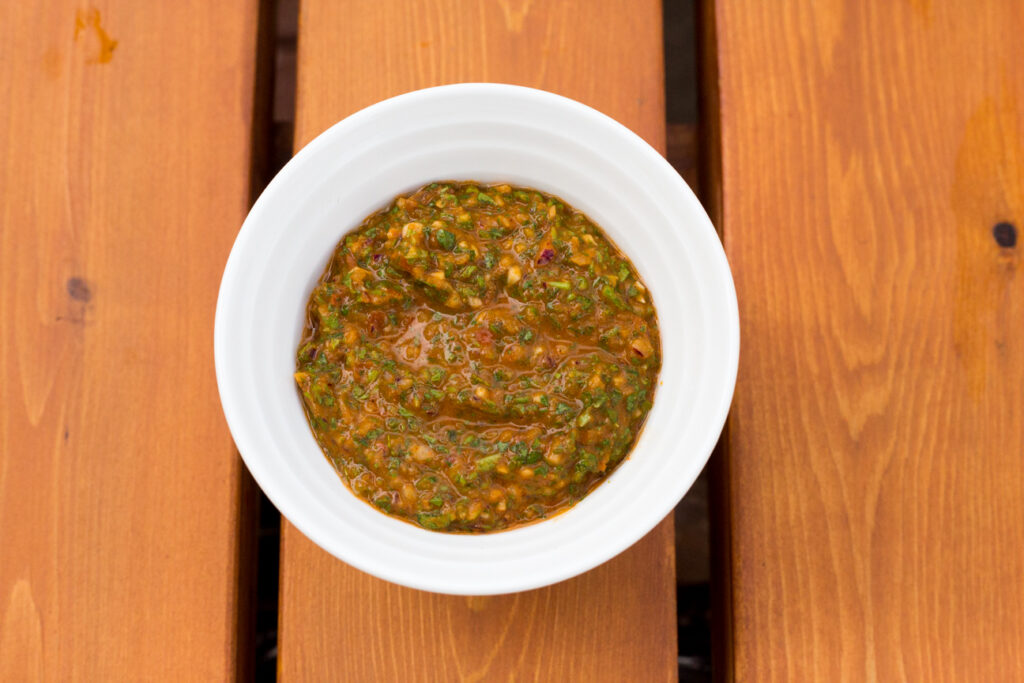 Enjoy!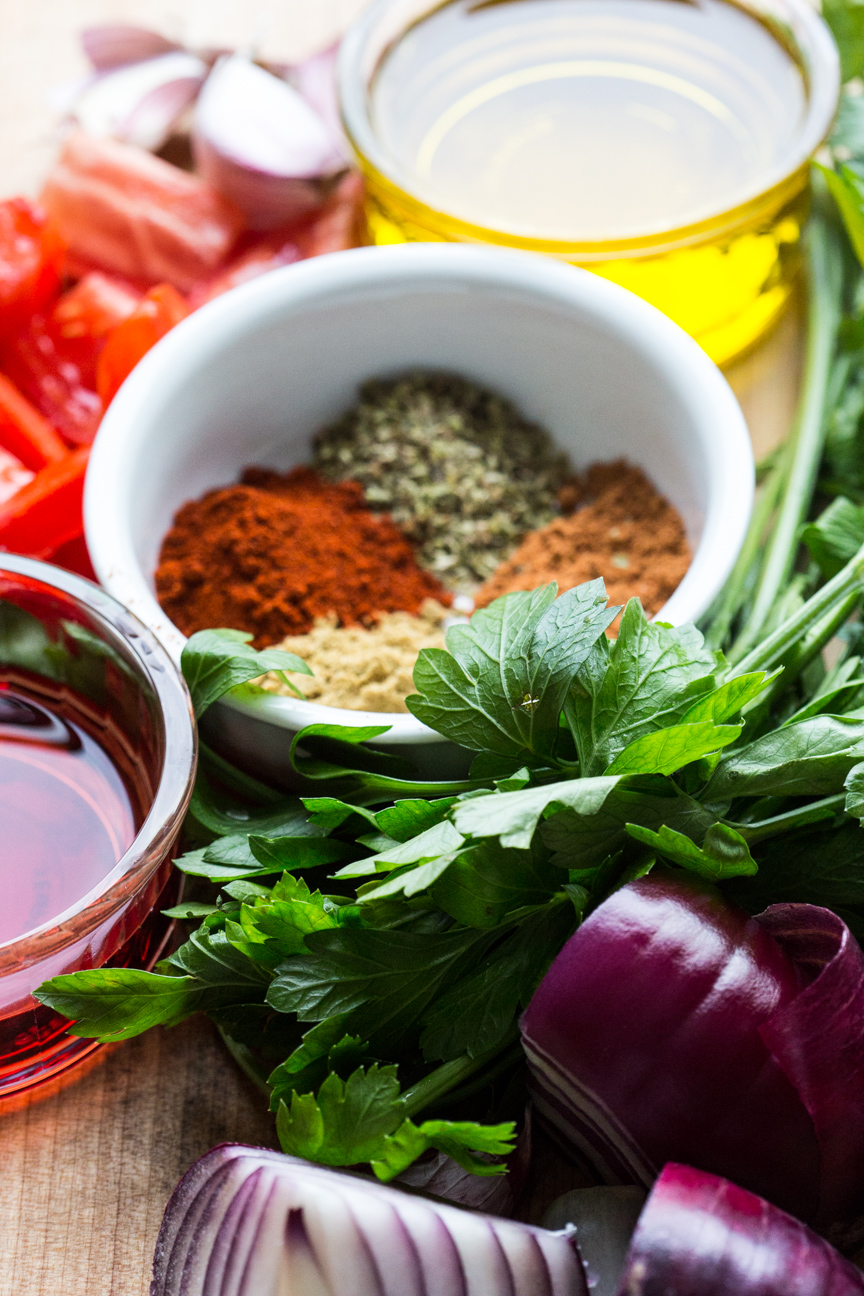 Print Recipe
Ingredients
2 tomatoes (scrape the seeds out, and chop fine)

1/4 to 1/2 red onion (chopped fine)

3-5 garlic cloves (chopped fine)

one large handful of flat parsley (chopped fine)

1/2 cup oliver oil

1/4 cup red wine vinegar

1 tsp ground cumin

1 tsp chili powder

1 tsp paprika

1 tsp oregano
Instructions
1
Chop, chop, chop all of the herbs and vegetables until very fine, especially the parsley.
2
Add the olive oil, vinegar and spices.
4
Let the marinade sit in the fridge for at least one hour.
5
This marinade is super delicious served over barbecued steak. It is also tasty with chicken.
6
Refrigerate after dinner.
7
It will keep in the fridge for a couple of days.