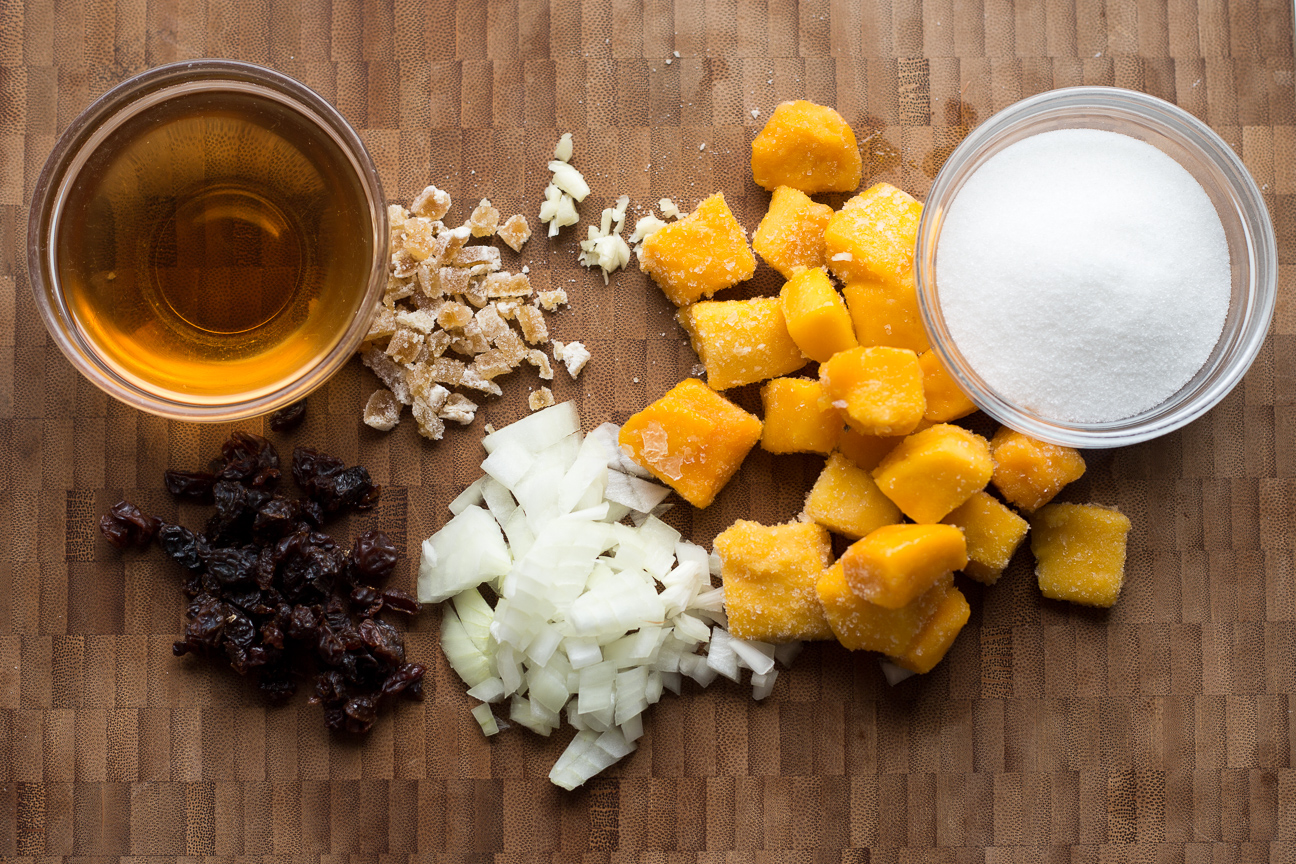 Are you a chutney fan? Do you buy a jar of chutney every time you see one in a bistro or delicatesan? Well, if you are a lover of chutney OR if  you have never even heard of the stuff, you will want to read about my recipe for The Best Mango and Ginger Chutney.
Chutney is such a great addition to any meal. Chutney is a spicy condiment made from fresh and or dried fruit, vinegar, sugar and spices. It has a sweet sour flavour from the combination of sugar and vinegar. You can use a variety of vinegars and sugars depending on how light or dark you want your chutney to look.  
Chutney is traditionally flavoured with warm earthy spices such as cinnamon, cloves, ginger or allspice. If you like your chutney spicy, you can also add chilies for some heat.  This chutney is flavoured mainly from onion, garlic and ginger, so is a more basic version, but makes it very versatile.
Chutney is fantastic eaten with grilled cheese sandwiches, deli sandwiches or roast chicken, pork roast or with a fancy roast  turkey dinner. It is also good with savoury meat pies.
In the past, I would spend a whole day making a dozen or more jars which I would seal and keep for months in my cupboard.  But with this recipe you can make a large jar of chutney in under an hour and then pop it into your fridge for your next family dinner.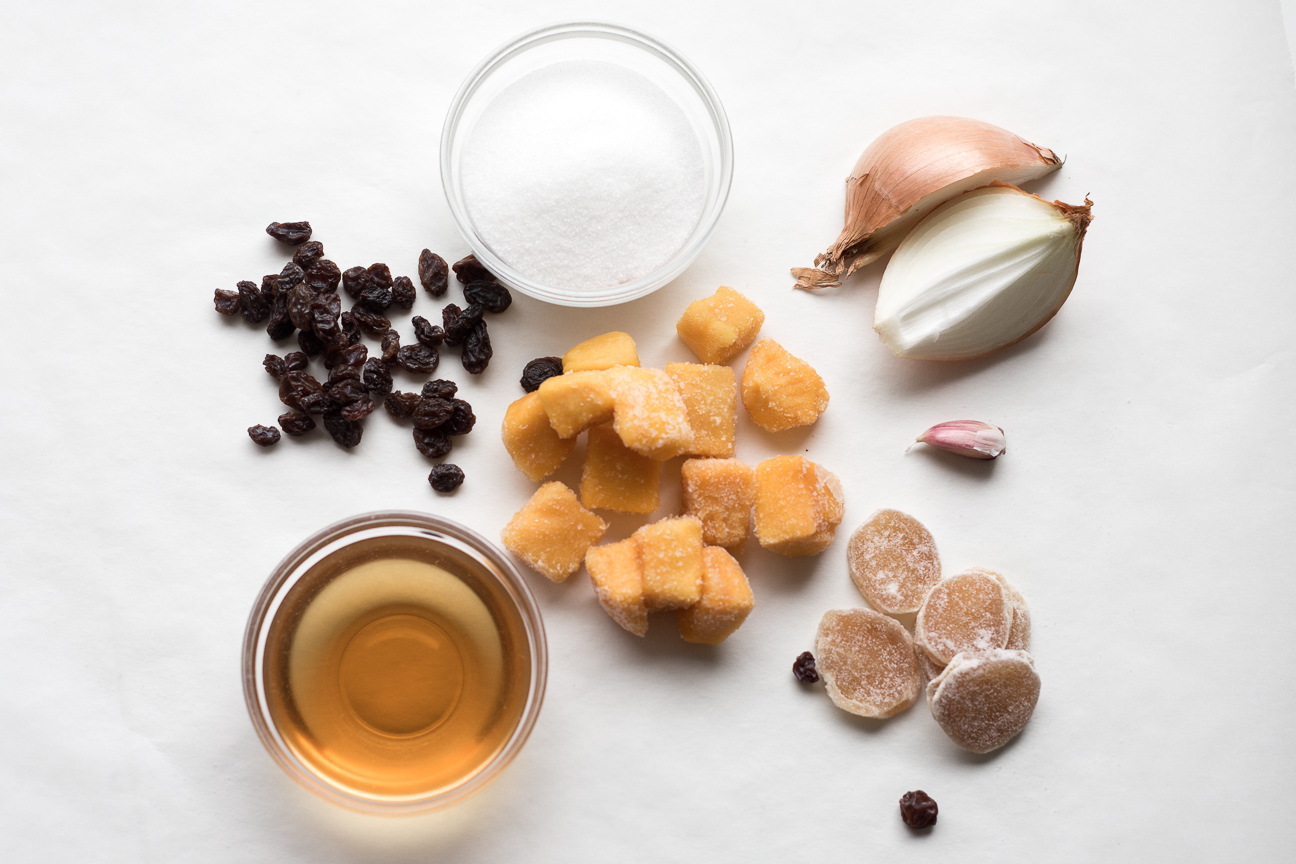 Just look at these pantry ingredients all laid out. This recipes only uses seven ingredients in total and there is not a lot of chopping, so everything is quick to put together. And most of the ingredients you should have in your pantry. The only special ingredient that you might have to buy is crystallized ginger, but even a regular grocery store sells that now.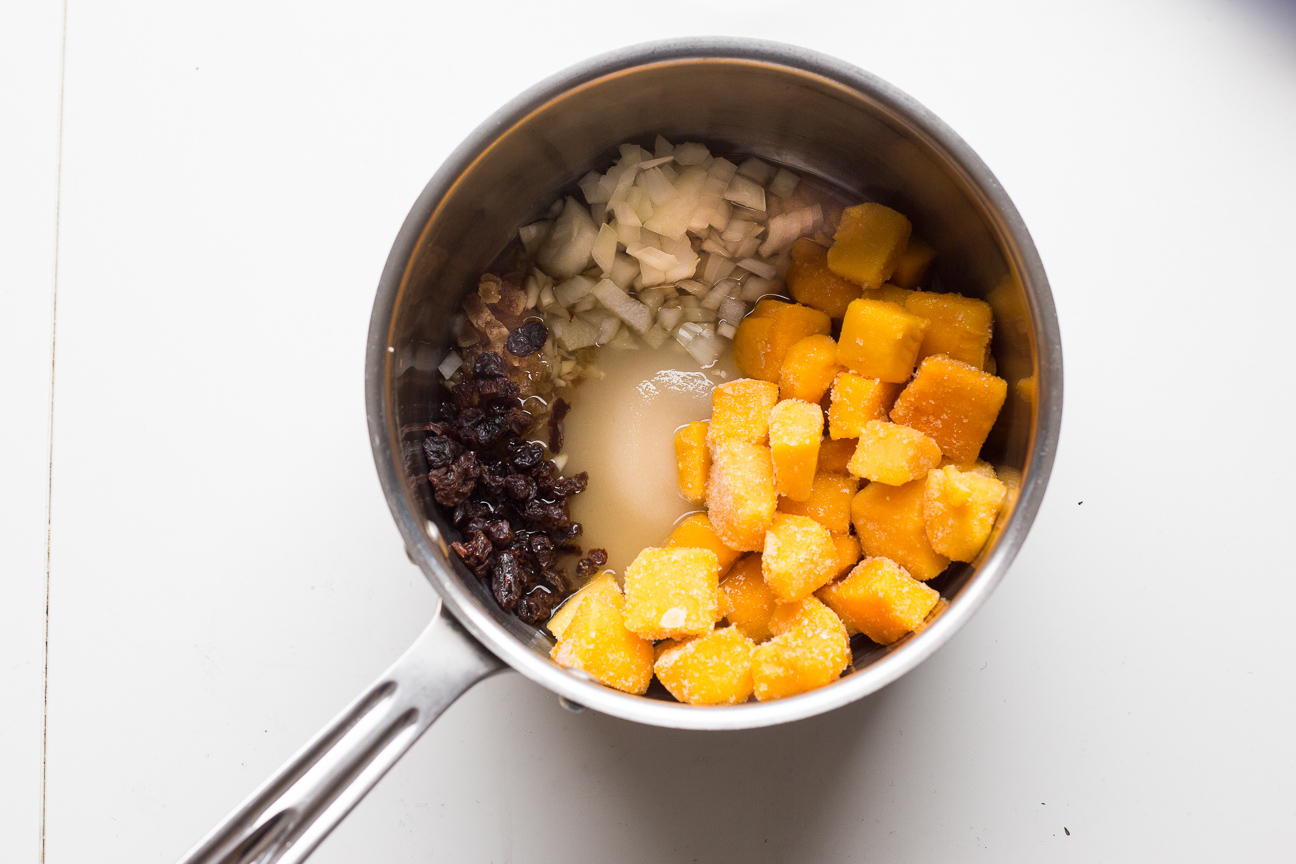 Chutney is actually super super easy to make. And like anything homemade it's cheaper and more flavorful, by a longshot.
Ok, you see that photo up above? That's all the ingredients for one large jar of chutney. In one pot. And, as you can see, I'm using frozen mangoes – couldn't much easier than that.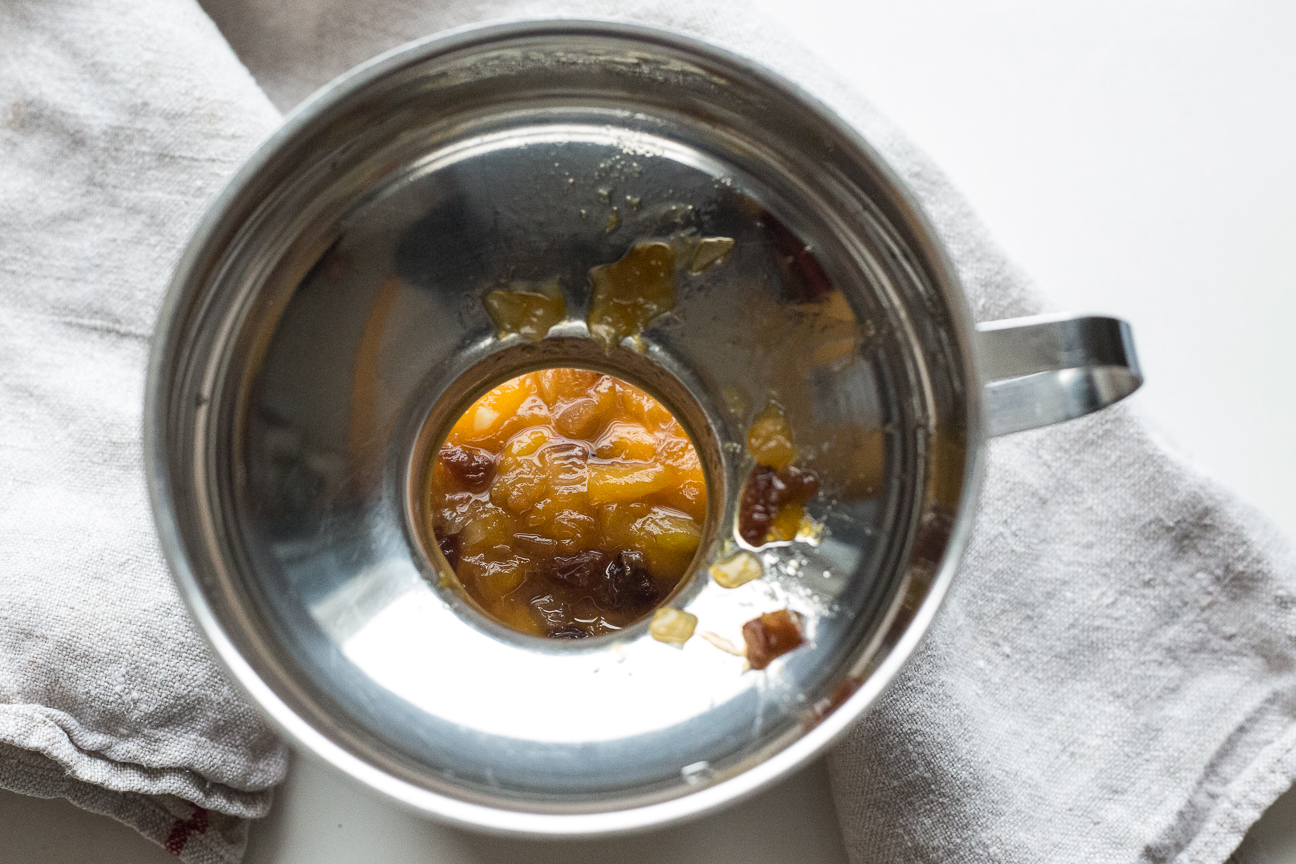 After cooking for about 20 minutes, let the chutney cool in the pot for 5-10 minutes. Then it's ready to pour into a well-cleaned 500 mL preserving jar. let the chutney come to room temperature on your counter, so you don't warm up the inside of your fridge. Once the jar is close to room temperature, you can place the jar in the fridge.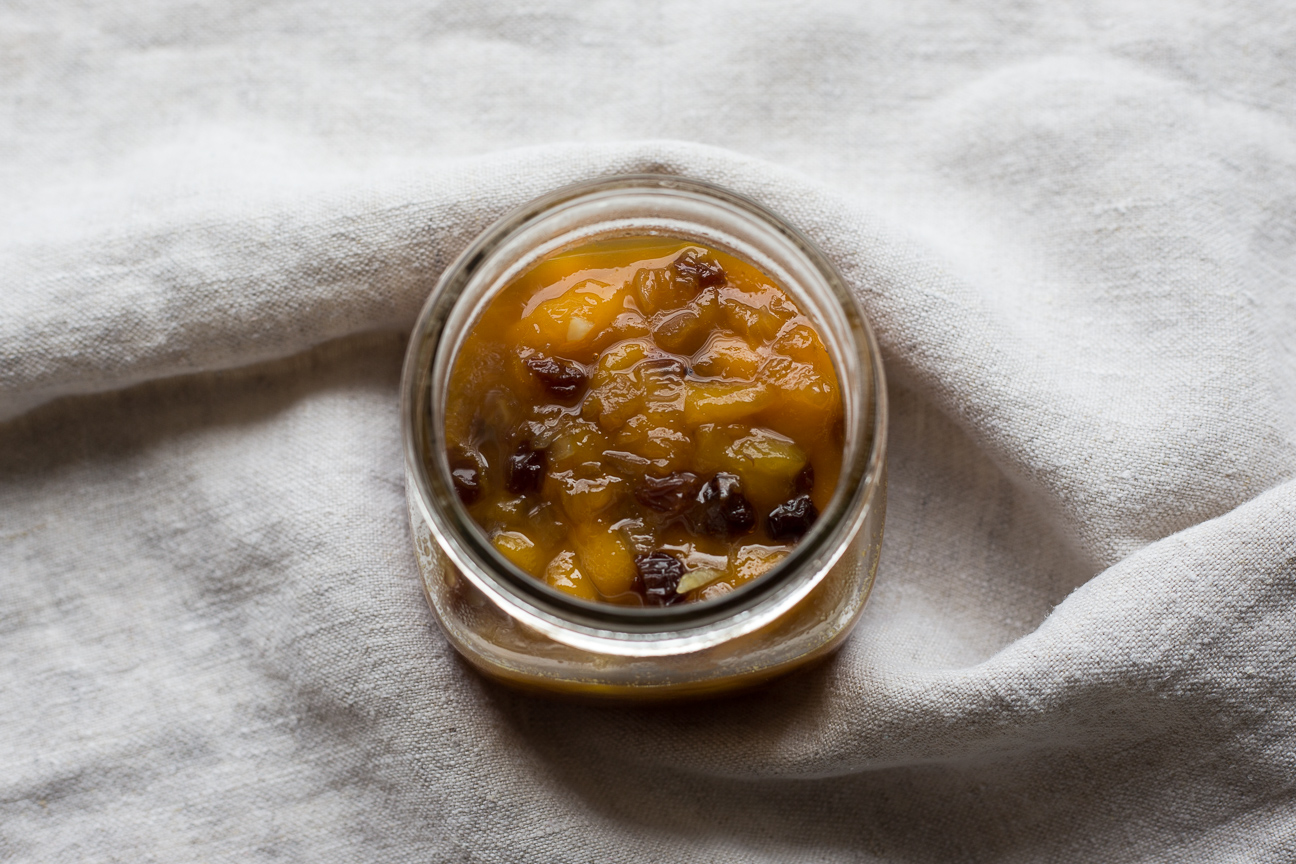 I've been making chutneys for over 30 years. Some recipes would take all day to make, and others may have needed more than one day, but I love this recipe for The Best Quick and Easy Tangy Mango and Ginger Chutney.  It's so fast and easy to make, but raises the bar on many sandwiches and dinners. It also makes an amazing gift for your friends or family.
Hope you like it.
Enjoy
The Best Quick and Easy Tangy Mango and Ginger Chutney
Print Recipe
Ingredients
makes 2 cups or 500 mL

1/3 cup sugar

1/3 cup apple cider vinegar

2 cups mango (fresh or frozen, cut into 1/2 inch pieces)

1/3 cup onion, diced

2 tbsp raisins (chopped)

1 tbsp finely chopped crystallized ginger

1/4 tsp garlic, finely chopped
Instructions
1
Chop the raisins, onions, crystallized ginger and garlic into small pieces.
2
Pour the sugar and vinegar into a medium size pot. Add the mango and the rest of the ingredients.
3
Simmer on medium heat with the lid on for about 20 minutes.
4
You can take the lid off for the last few minutes.
5
Its ok if it cooks down a bit, but you don't want it to dry out.
6
Let the chutney cool in the pot for a bit.
7
Pour the chutney into a container (warm glass mason jar, or another container).
8
Store the chutney in the refrigerator for up to two weeks.