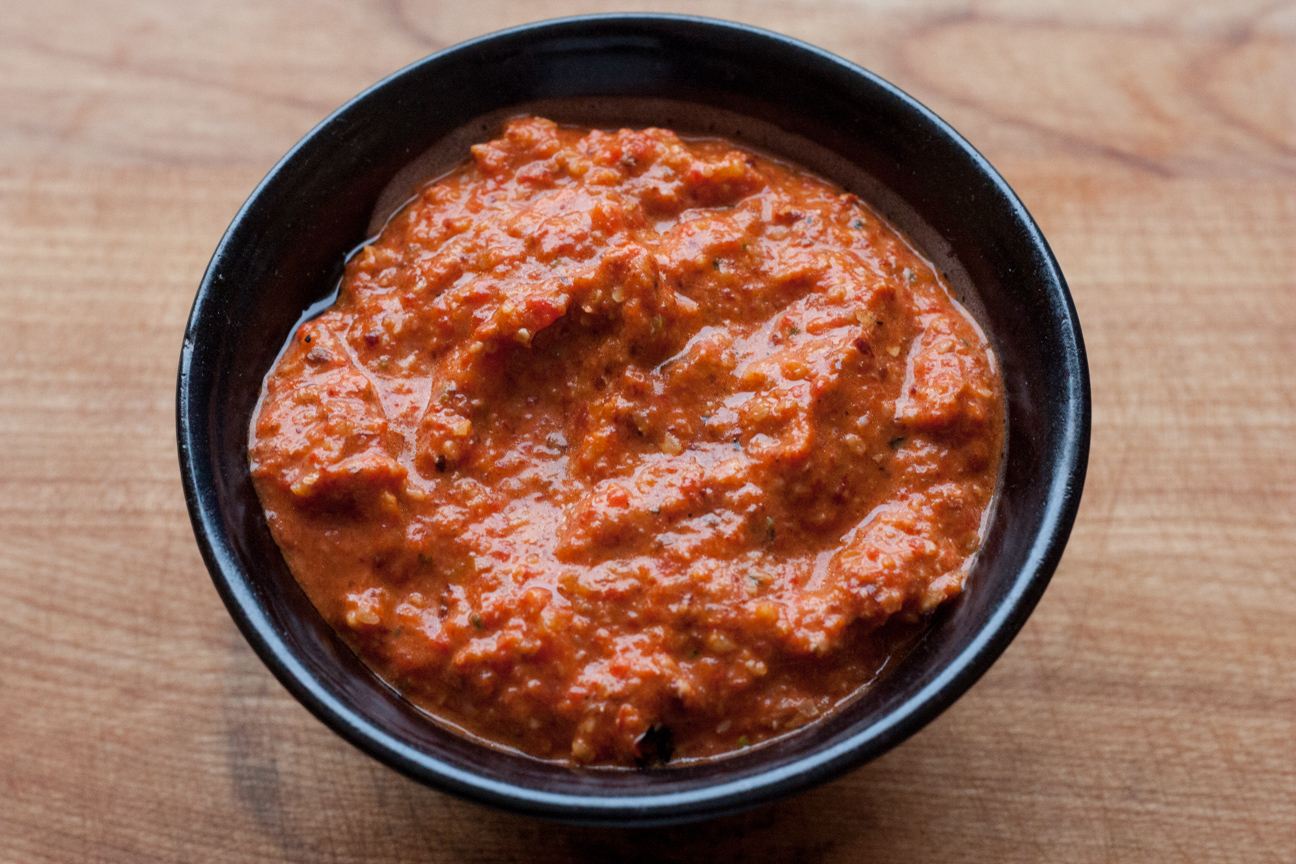 January is a great month to make changes to your daily life. Maybe you want to hit the gym more often, go to the theatre or read more books. This year, I'm going to be cooking a lot more vegetarian and vegan recipes. I've been experimenting lately with some different dinner ideas and they have all gone down a treat. This vegan roasted red pepper pesto caught everyone offguard with it's smoky flavour and heat from the chipotle.
Eating less meat and more vegetables is a much healthier and more economical way of dining. I found this recipe recently in Meatless: More than 200 of the Very Best Vegetarian Recipes and everyone in the family loved it.
I was a vegetarian for a few years when I was a teenager. Eliminating meat from my diet was easy, but back then, there were not many resources to inspire me to make interesting meatless meals. To make sure that I got enough protein in my diet, I ate a lot of eggs and cheese, and salty sunflower seeds.
Nowadays, there are SO many amazing vegetarian ideas. I love Buddha bowls, vegetarian curries as well as all the wild variations on pesto.  I love the influence that international cuisines bring to vegan and vegetarian dishes. Spices and techniques from Thailand, Vietnam, India or South America really liven up our local veggies. We're so lucky that international restaurants, recipes and ingredients have become more prevalent.
While I am familiar with vegetarian diets, the vegan diet is new to me, and perhaps to other people as well.
This vegan roasted red pepper pesto is amazing with it's smoky hot chipotle peppers and nutty almonds. It does have quite a kick to it from the chipotle pepper. If you are serving this to anyone who does not like spicy food,  decrease the chipotle pepper to 1/4 or 1/2 and add an extra half roasted red pepper. It is delicious on pasta, but you could also spread it on crackers, or a bagel or have as a dip with veggies.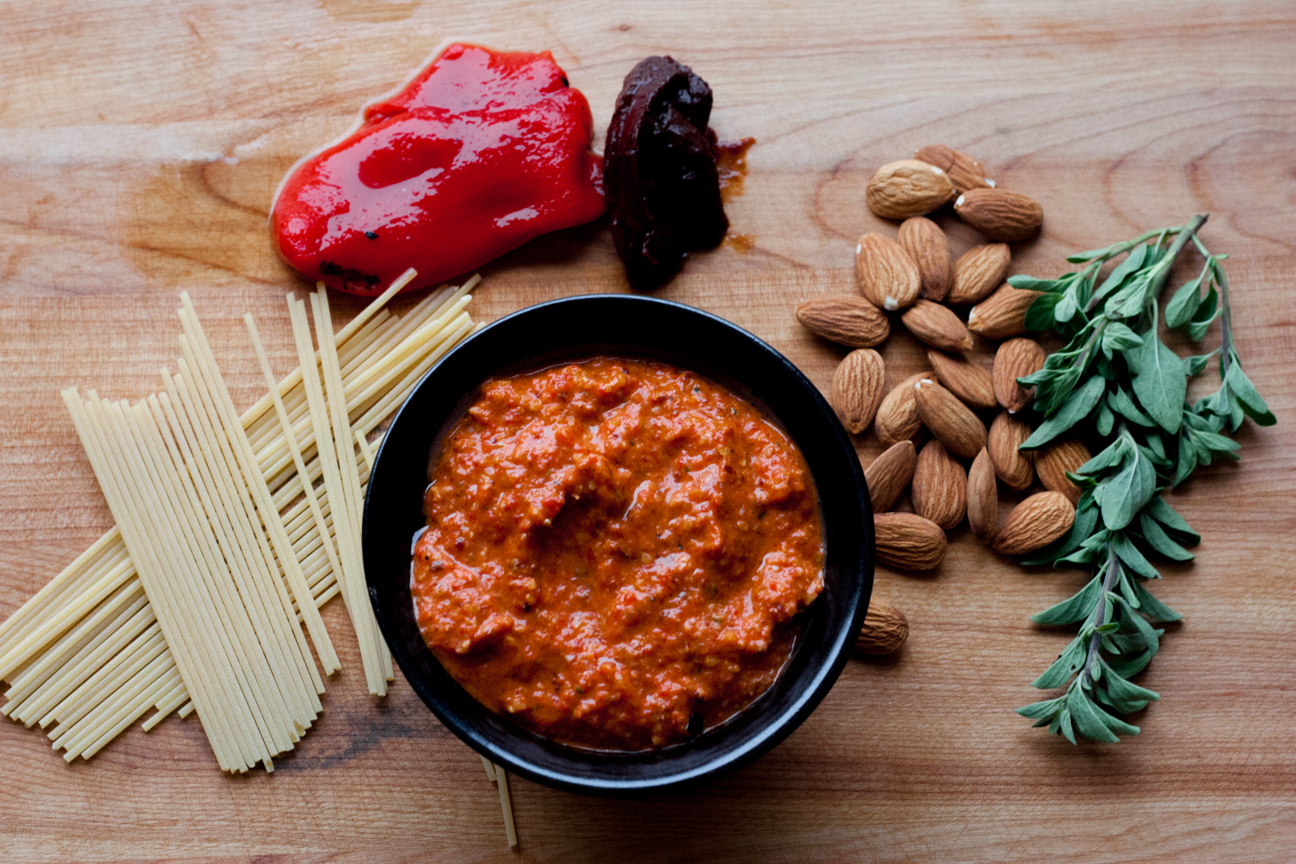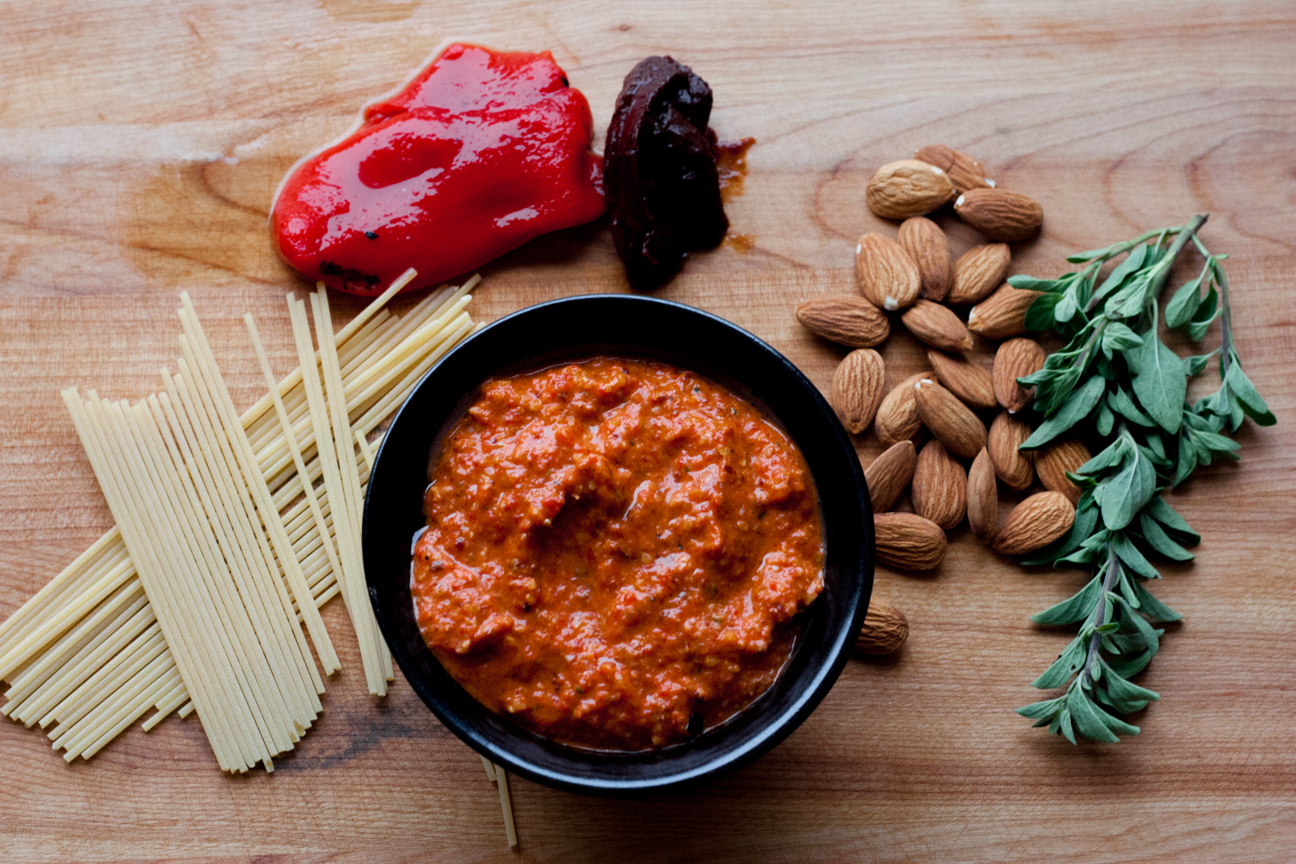 Print Recipe
Vegan Roasted Red Pepper Pesto
Ingredients
2 large roasted red peppers

1 chopped jarred chipotle chile in adobe

1 chopped small garlic clove

2 tablespoons toasted almonds

1 teaspoon fresh oregano

2 tablespoons olive oil
Instructions
1
Place all the ingredients in the food processor, EXCEPT the olive oil. Pulse a few times until roughly chopped.
2
Add the olive oil and blend until everything is mixed together.
3
Season with salt and pepper.
4
Boil up 450 grams of spaghetti. Follow package instructions for timing.
5
Toss the spaghetti with the pesto.
Notes
To toast the almonds, spread them on a parchment lined baking tray and pop them into a preheated 350 degree C oven. It takes about ten minutes for them to toast.
If  you are interested in further reading on vegan diets, here is some additional reading. Enjoy!