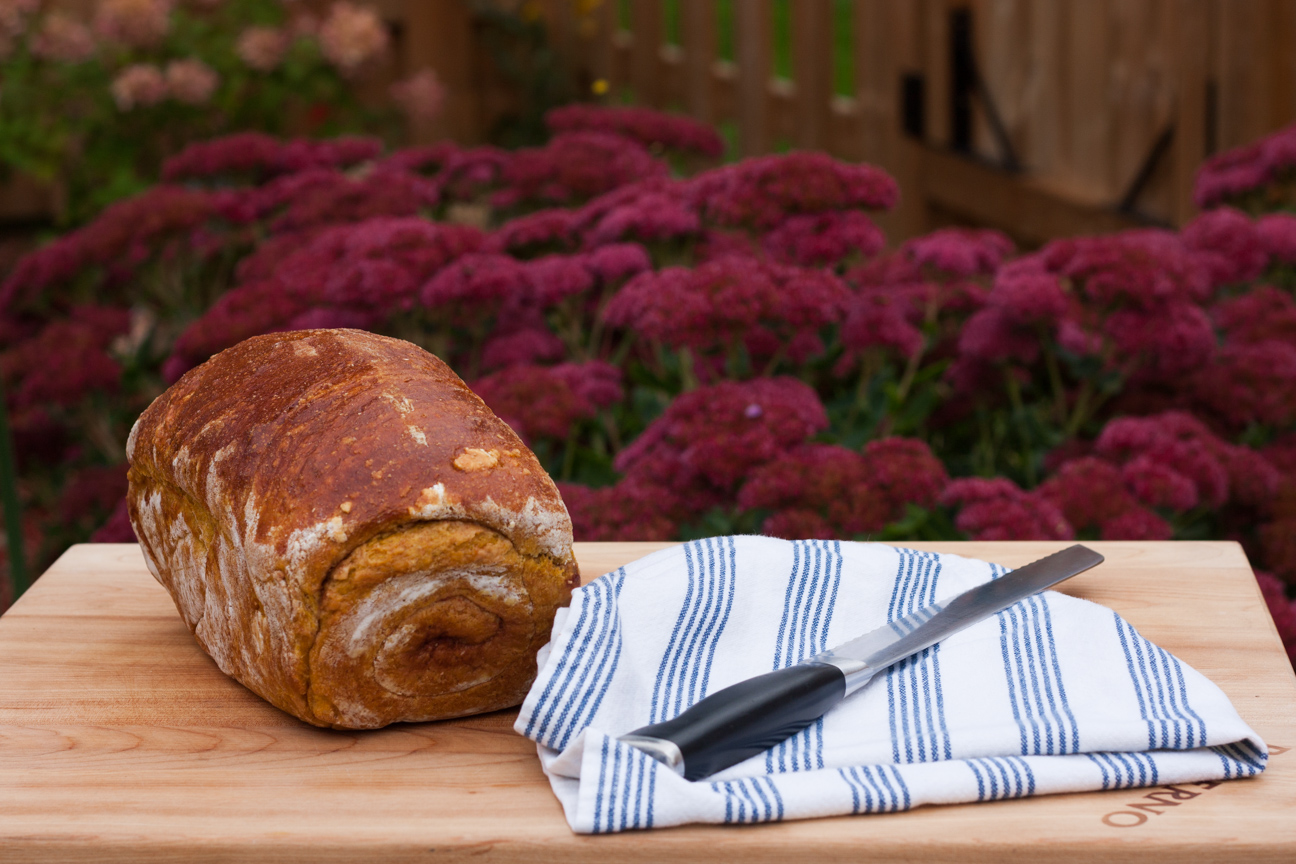 Who's up for Cinnamon Swirl Pumpkin Bread! This bread has everything: subtle spicy sweetness rolled inside a delicious pumpkin enhanced bread with a really good crumb. It is delicious on it's own or toasted and spread with cinnamon butter.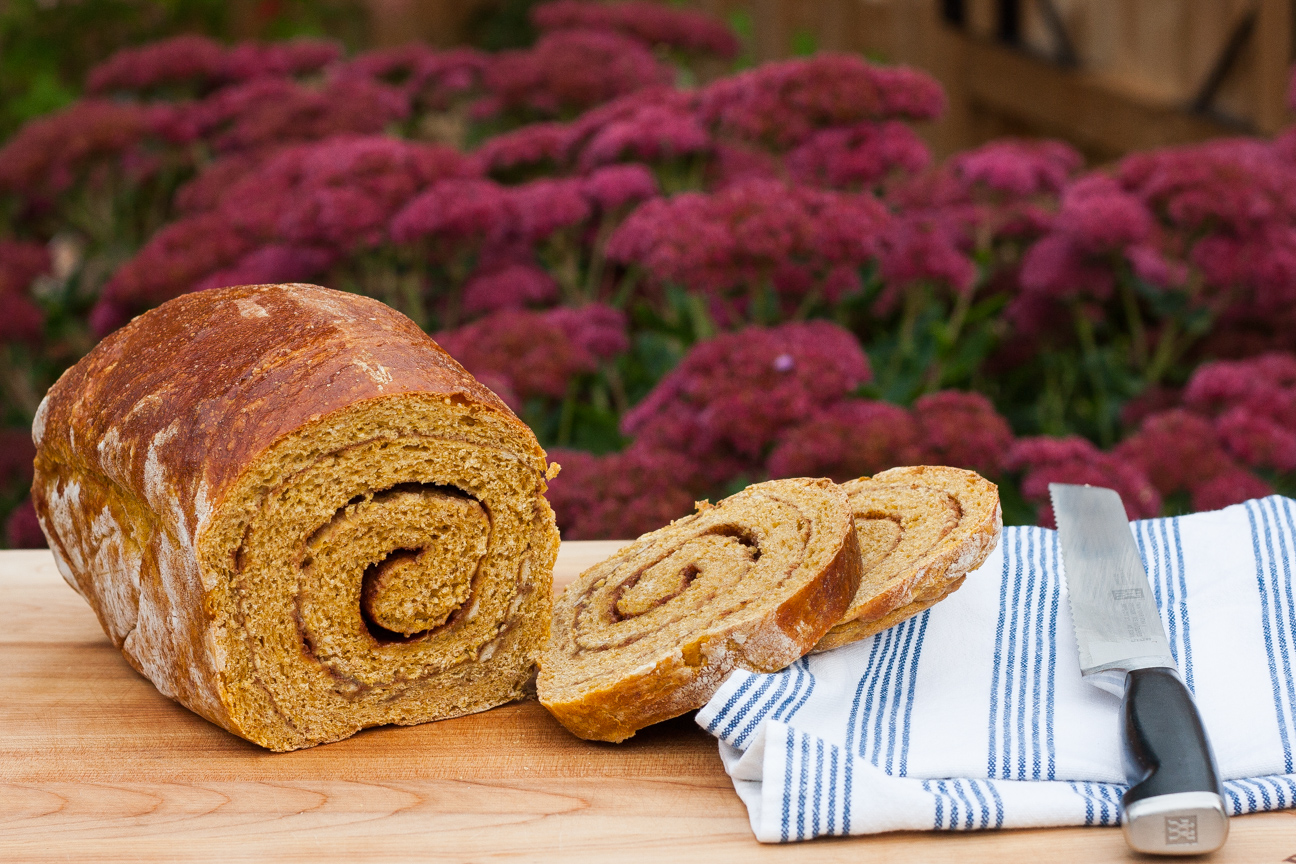 I always make pumpkin pie at Thanksgiving and then wonder why I don't cook with pumpkin more often. Pumpkin is fantastic in so many baked goods. It has a beautiful colour and texture. And it is the perfect vehicle for all those delicious baking spices such as cinnamon, nutmeg and ginger.
This Dairy-Free Cinnamon Swirl Pumpkin Bread is made with coconut milk, so it's a dairy-free dessert. Whether you eat dairy products or not, you will not miss them in this sumptious loaf.
This bread has two rises in it, so it'll take a few hours before it comes out of the oven. But a lot of that time is inactive, just waiting for those busy yeast cells to multiply and plump our dough up. So, while the bread is doing both of it's rises, you could do some other fun stuff like read a chapter in a book, do some gardening, or go for a nice long walk.  However you spend your day, you will definitely have a feeling of satisfaction when this lovely Dairy-Free Cinnamon Swirl Pumpkin Bread comes out of the oven.
Not only do I love the taste of pumpkin, I just love the look of them: big, orange globes that come in so many shapes and sizes. Pumpkins are super fun to grow. As they grow on a meandering low-trailing vine, you don't necessarily need a separate, huge garden to grow them. They can wind their way through your flower garden, too.  We grew some a few years ago, in a small veggie garden we created in our backyard. It was super fun. Our kids really enjoyed watching the pumpkins grow throughout the summer. Our pumpkins didn't get super big, but by the end of October we had six pumpkins that we drew faces on for Hallowe'en. How fun is that!!!!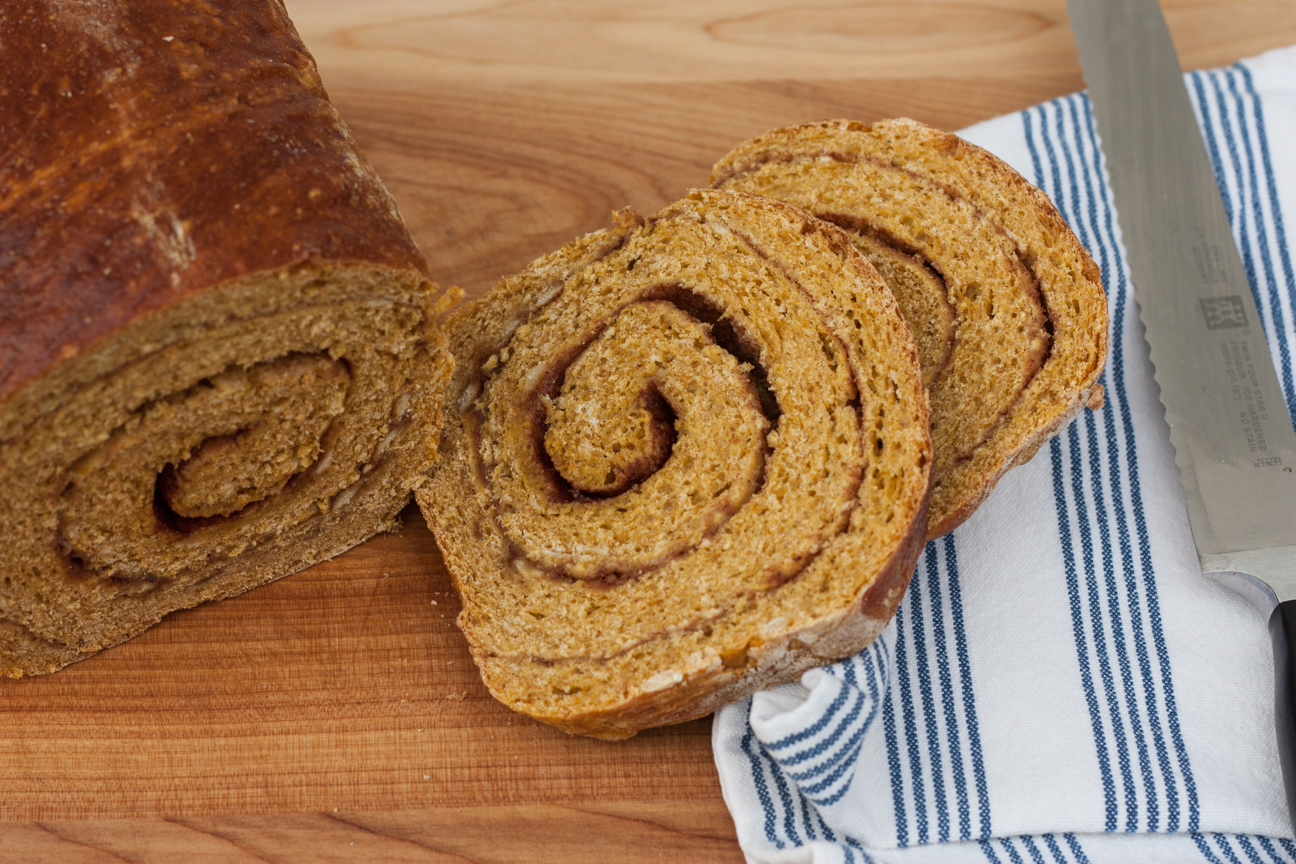 This loaf is perfect as it is, but if you wanted extra sweetness, you could add a drizzle of icing over the top of the loaf.
Enjoy!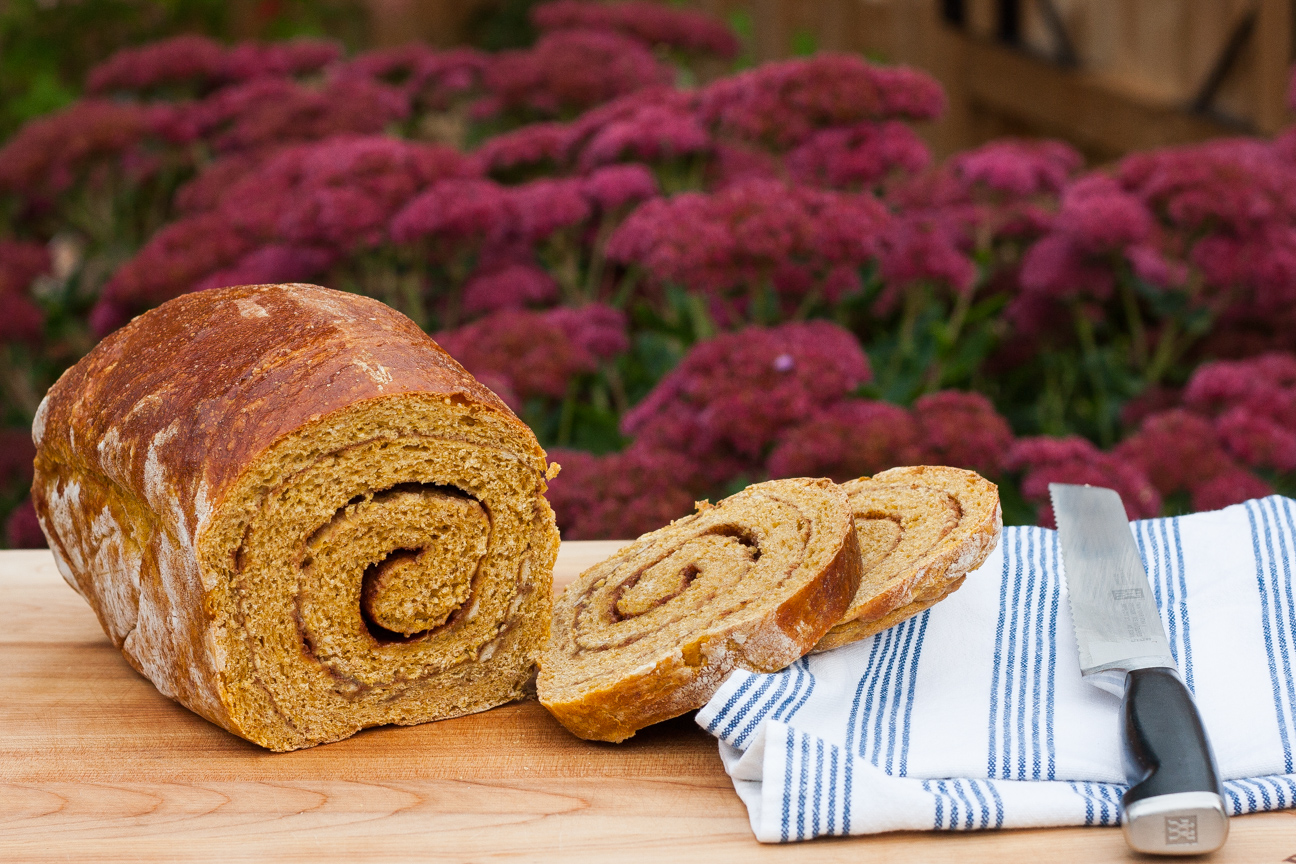 Print Recipe
Cinnamon Swirl Pumpkin Bread
Ingredients
1/4 cup warm water

2 1/2 tsp active dry yeast

2/3 cup coconut milk

1 egg

3/4 cup pureed pumpkin

1 tablespoon oil

3 1/2 cups all-purpose flour

1 cup whole wheat spelt flour

1/4 cup brown sugar

1/2 tsp salt

1/2 tsp cinnamon

1/2 tsp nutmeg

1/2 tsp ginger

Cinnamon Filling

water

1/3 cup white sugar

1 tsp cinnamon

1 tsp nutmeg

1 tsp ginger
Instructions
1
Dissolve the yeast in the warm water.
2
After the yeast is frothy, add the milk, egg, pumpkin, oil, 2 cups of flour, brown sugar, salt, and spices to the yeast mixture.
3
Stir by hand or use an electric mixer and mix for about one minute.
4
Using a dough hook, add remaining flour in small increments. The end result should be a dough that is just slightly sticky.
5
Place the dough in an oiled bowl. Cover the bowl with plastic wrap or a tea towel and let rise until the dough has doubled in size, about 1 1/2 hours.
6
After the dough has doubled in size, roll into a 9" X 18" rectangle.
7
Rub the water over your hands and then over the surface of the dough.
8
Sprinkle the spice and sugar mixture over top of the dough, covering the entire surface.
9
Beginning at the short side, roll the dough into a tight cylinder. Pinch the seams to close. You may have to use some water to seal the seams closed.
10
Place the dough, seam side down, in a buttered bread pan.
11
Cover with a towel or plastic wrap. Place in a warm area and let rise until almost doubled, about 1 1/2 hours.
12
Preheat oven to 350 degrees F. Bake for about 45 minutes until golden brown on top.
13
Let cool on a wire rack for about 5 minutes. Then remove from pan and let cool.
Recipe is adapted from Karma Per Diem's Pumpkin Cinnamon Swirl Yeast Bread