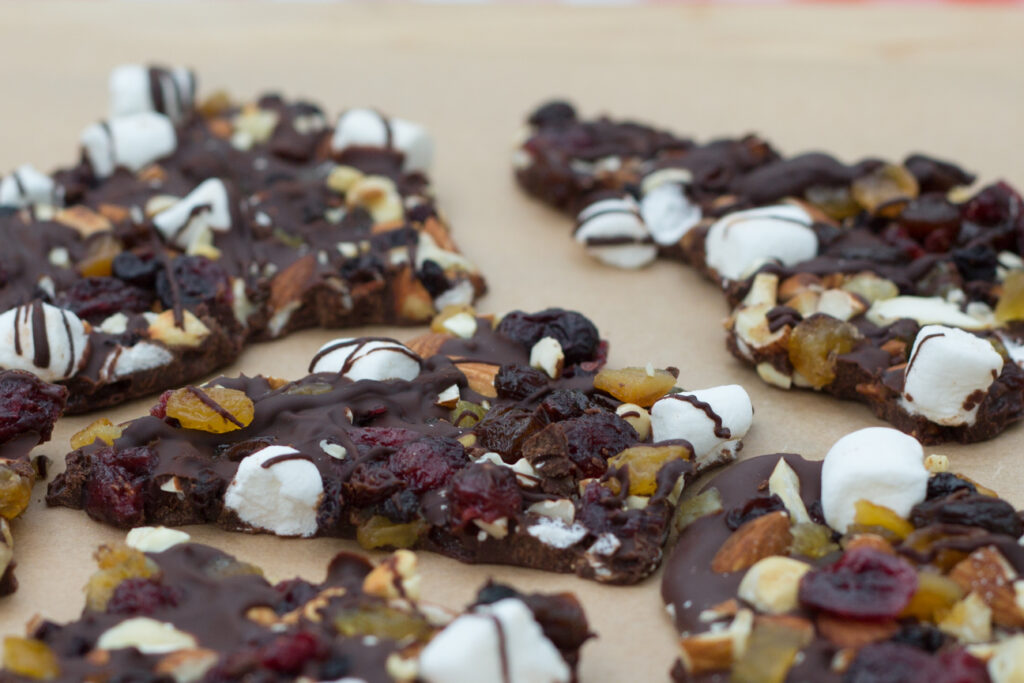 This Fruit and Nut Chocolate Bark is one of my favourite ways to enjoy chocolate. I love the mix of dark and milk chocolate swirled together with dried cranberries, raisins and toasted almonds. It's so good.
One reason why I like to keep a container of this Fruit and Nut chocolate Bark in the fridge, is because I can just break off a small piece whenever I feel like I need a hit of chocolate. And sometimes a small piece of chocolate is all I need.
I make this bark with loads of fruit and nuts, but with enough chocolate so that I get my chocolate fix. This recipe makes enough so you can share it with the whole family. In this recipe, I used a combination of dark and milk chocolate, because I like the flavour of the two mixed together. But, if you only have milk or you only have dark, that's fine too. That's the beauty of a sweet treat like this, you can make it to suit your tastes. If you want it nuttier, or you want to leave out the marshmallows: that's perfectly fine.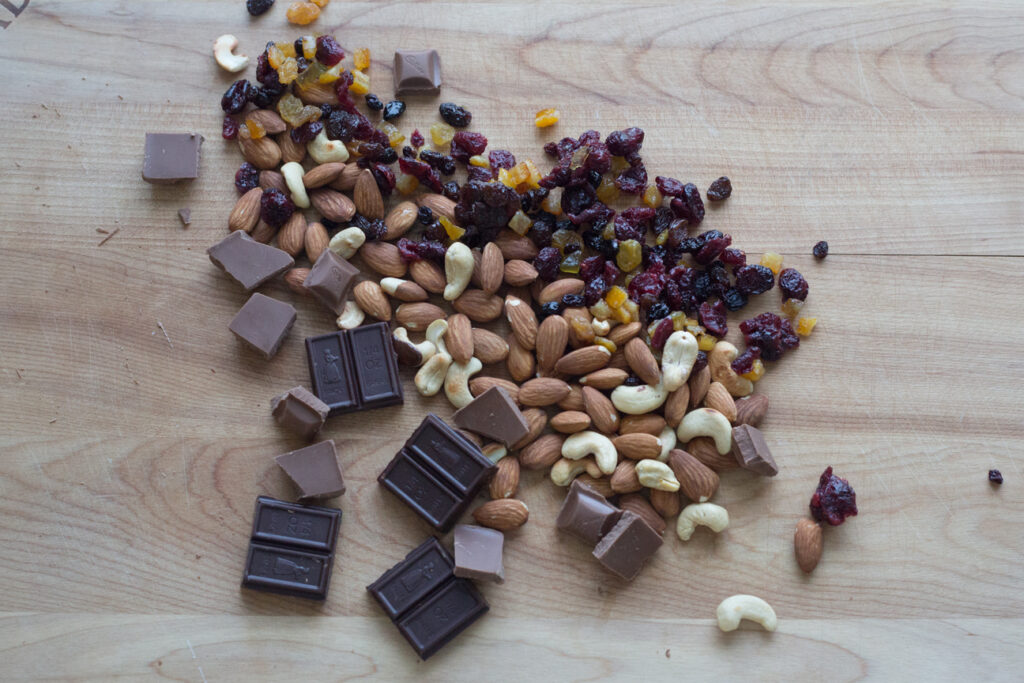 Tips on melting chocolate
Melting chocolate is super simple. However, you can burn it while melting, if you're not careful. I always melt mine in the microwave. But, you have to be super careful when melting chocolate this way.
Before you put your chocolate in the microwave, break it up into pieces. It doesn't really matter what size, but not too small. It's easier to work with if the chocolate is a decent size. I break my chocolate up into pieces that are about say 8-10 cm. When I melt chocolate in the microwave, I often use 80% power and I start with 30 second intervals. And I stir it in between. Reduce the intervals to 20 seconds once the chocolate is 2/3 melted. And as soon as most of it is melted, but there are a few solid pieces of chocolate in your bowl, you can take it out of the microwave. At this stage, just stir it around until all of the chocolate is melted.
If you don't have a microwave, or would like to do it on the stove, you will need a medium pot and a heat proof bowl that can sit on top of the pot. Add some water to the pot, and sit the bowl on top of the pot. You don't want the water to touch the bottom of the bowl. Bring the water to a simmer. Add your chocolate pieces (they can be smaller pieces using this technique) and as the chocolate begins to melt, stir the chocolate continuously until only a few solid pieces remain. Remove bowl (carefully, it will be hot) from the pot and continue to stir until everything is melted.
Pour the chocolate while it is still warm onto parchment paper on a baking tray. Sprinkle with nuts, dried fruit and marshmallows. And drizzle with extra melted chocolate for decoration.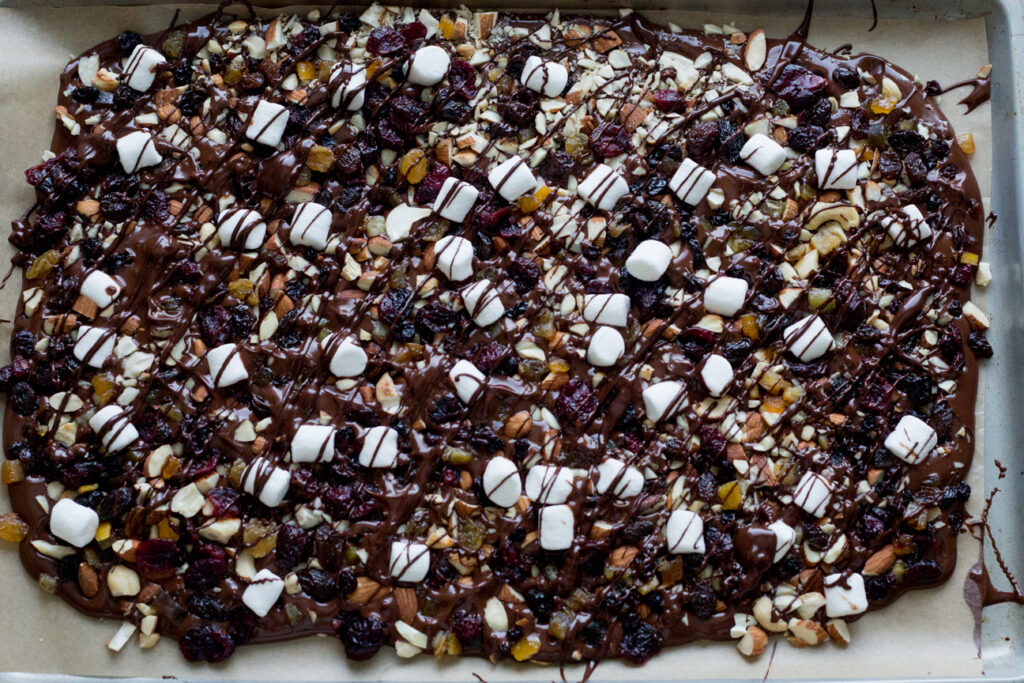 Fruit and Nut Chocolate Bark Add-Ins
There are so many different combinations of ingredients that you can add to chocolate bark. Here are some of my favourites:
try to use an equal mix of dried fruit to nuts, so that its not too sweet. And if you like it really nutty, put in more nuts than dried fruit
any of the following fruits go very well with chocolate: raisins, candied ginger, dried mango, dried cranberries, blueberries and cherries,
other ingredients that are nice are: pretzels, broken up cookie pieces (not too sweet, something like digestive biscuits, nilla, graham crackers)
I used a mix of dark and milk chocolate, because that's what I had, but you can use just dark chocolate or milk chocolate, whatever you prefer
you can use a mix of nuts, like I did, or just one type; it's up to you. Pistachios are a favourite, as they're so colourful
also, if you like sweet and salty, try adding a sprinkle of flaked sea salt on top. It goes so good with chocolate.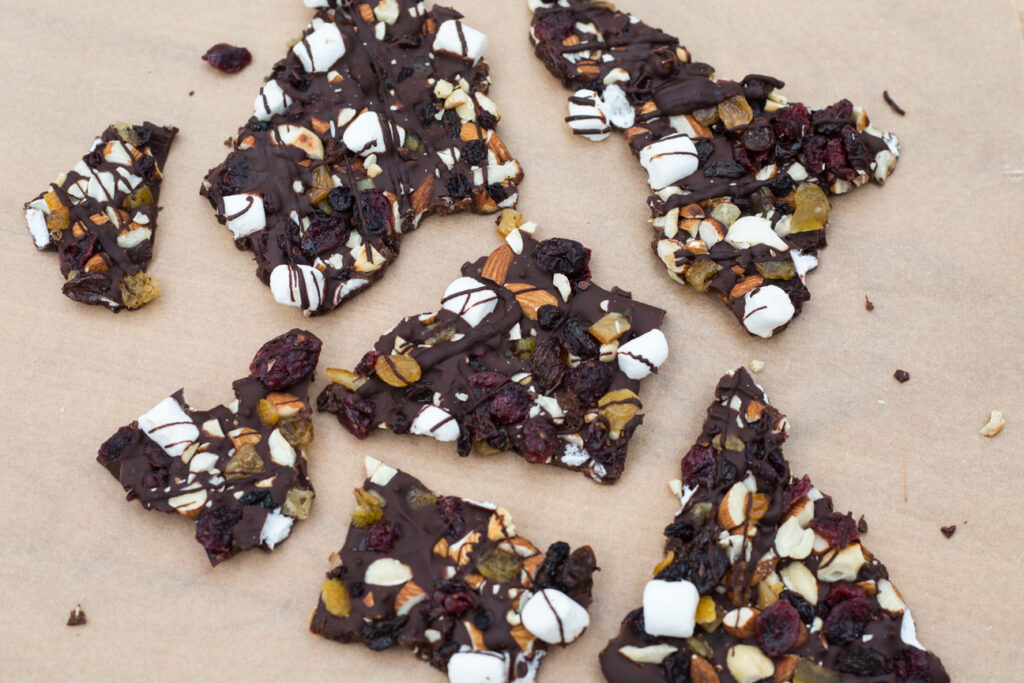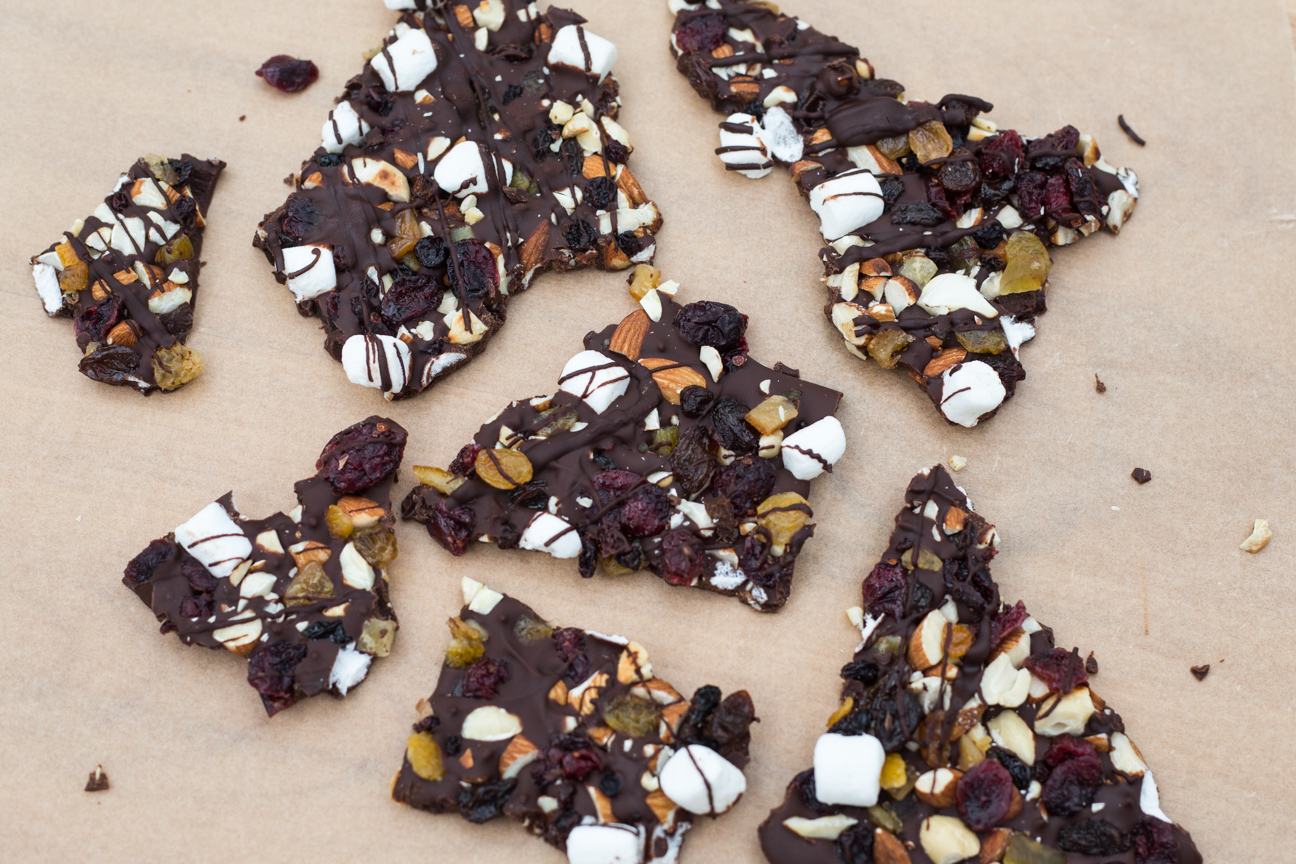 Try making some Fruit and Nut Chocolate Bark for your next family get together or movie night at home. Wherever you serve it, your guests will be glad you did.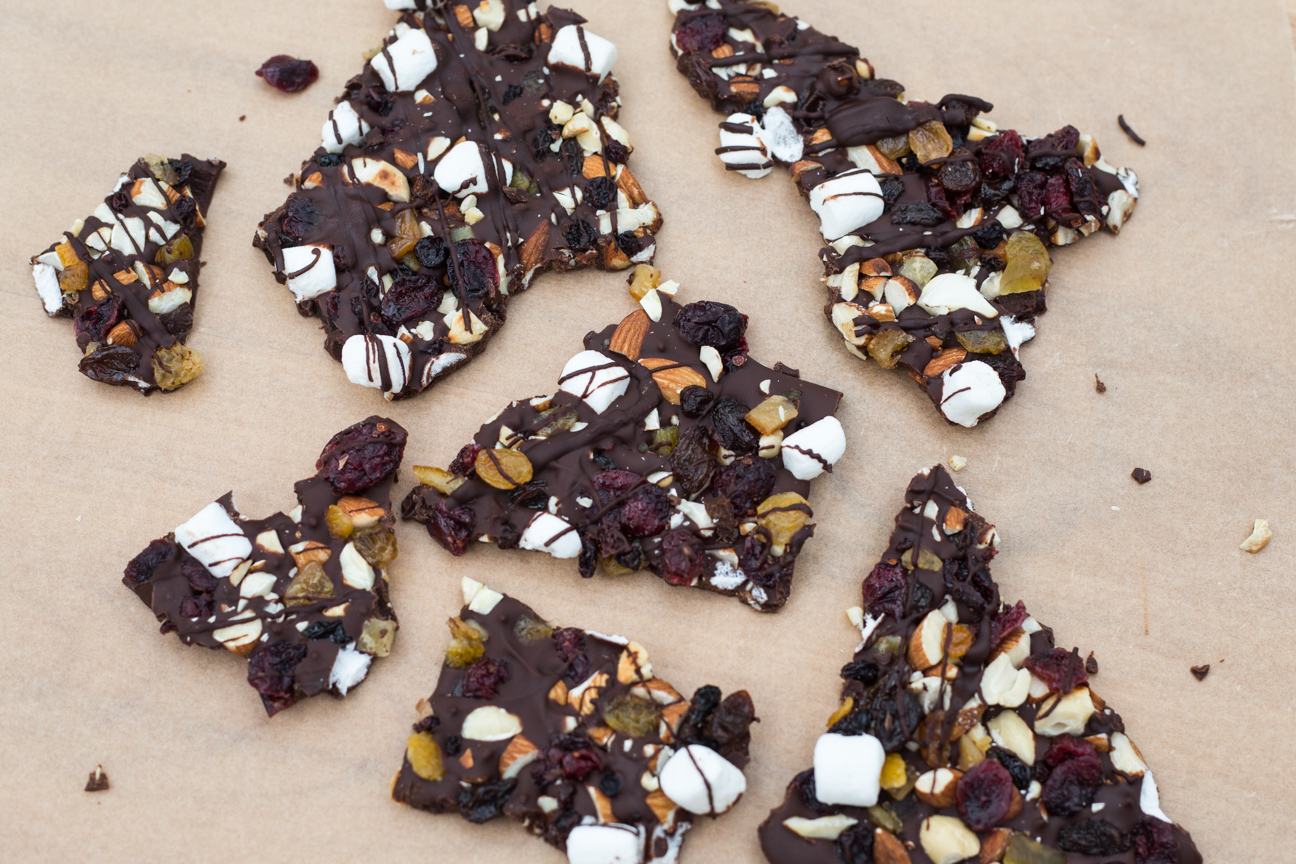 Print Recipe
Fruit and Nut Chocolate Bark
Ingredients
450 grams chocolate (can be a mix of dark and milk or all dark or all milk); leave 50 grams out to drizzle on at the end, but that's optional

150 grams chopped almonds and cashews, toasted

150 grams dried fruit (I used raisins, sultanas, dried currants, dried cranberries, citron peel)

a handful of marshmallows
Instructions
2
Toast the cashews separately if using, I find the cashews toast quicker than the almonds, so I do them separately
3
Melt the chocolate. If you do this in the microwave, start at 30 second internals on 80%, stirring in between. As it gets more melted, reduce the time to 20 seconds. When there are still a few solid pieces in the bowl, remove it from the microwave and stir.
4
Line a tray with parchment paper. The tray should be able to fit in your fridge. I used a tray that was about 30 cm X 40 cm.
5
Pour the melted chocolate on the parchment paper.
6
Sprinkle the nuts on the chocolate.
7
Sprinkle the dried fruit on the chocolate. Make sure you go all the way to the edge.
8
Sprinkle a handful of marshmallows on top.
9
Take another sheet of parchment paper, or you could use your hands, if you like. Press everything gently into the melted chocolate. Lift the paper straight up, so as not to make a smeary chocolate mess.
10
Take the remaining 50 grams of chocolate and melt this.
11
Drizzle this chocolate over the entire bark.
12
Place in the refrigerator for about four hours.
13
Once the bark is solid, break it into pieces and serve.
14
If it's warm in your house, store in the refrigerator.